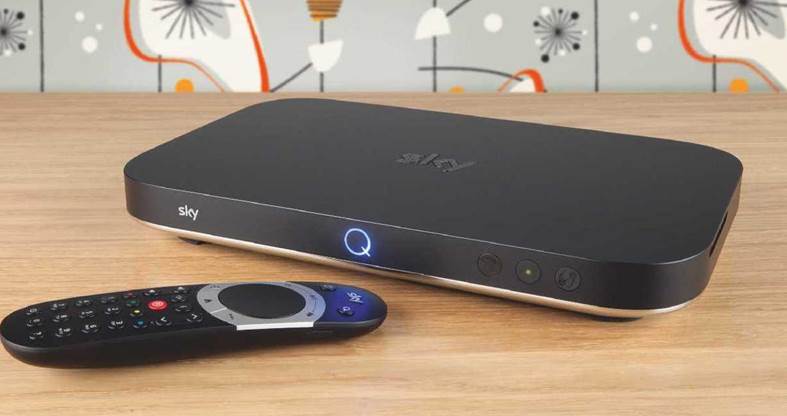 TIME ON TEST: 1.5 years. REVIEWER: Mark Craven
4K-capable satellite/ IPTV PVR
POSITION:
Sky's premier hardware package
PEERS:
Virgin Media TiVo V6; BT TV Ultra HD
WHEN SKY Q was launched at the beginning of 2016, it was the first hardware refresh from the sat-caster in some years. This gained it plenty of attention, as did its unrivaled number of tuners, potential support for 4K content, wireless multiroom functionality and promise of slick usability. Eighteen months down the line, how successful has it been?
7Review earns Amazon affiliate commissions from qualifying purchases. You can support the site directly via Paypal donations ☕. Thank you!
See also TOP 10 Soundbars & Soundbases
What's good about it?
In a word, 4K. Sky Q may have arrived in advance of any Ultra HD programming from the company, but it didn't take long to come good on its promise (4K material debuted in August 2016) and the content catalog has been generally impressive. Sports – a key part of Sky's USP – has seen Premier League football joined by Test cricket and F1, while various US and Sky original dramas (Jamestown, The Blacklist, The Young Pope et al) are available to feast upon. Image quality is excellent, particularly the live sports coverage which can feel a world apart from its HD brethren.
Additionally, there are 4K movies, and the selection is solid, with a welcome tranche of back-catalogue titles, many of which are unavailable on UHD Blu-ray. Quality here varies depending on the state of the master, but most are surprisingly robust. If you fancy watching RoboCop of The Guns of Navarone with real pixel sharpness and can't wait for their respective studios to get their physical disc act together, Sky Q is your savior. Note that all Sky's 4K material is delivered in SDR, until HLG HDR is adopted at some point in the future.
As for the hardware, the multi-tuner nature of the Sky Q Silver is a killer feature, now allowing for up to six channels to be recorded simultaneously (or five if you want to keep the live channel preview in the EPG – users can choose within Sky's Preference settings). An argument against the need for such functionality is modern-day viewers leaning towards catch-up and on-demand content delivered via the 'net. This is a valid point, but the truth is I've never had one recording clash with Sky Q, and I've ceased to even check what series links, etc, I have set up. The result is click-happy freedom – especially as the 2TB HDD proves hard to fill (there's a 1TB box also available, but this isn't 4K compliant and has fewer tuners).
Usability is improved over the Sky+HD generation, with plenty of thumbnails luring you toward content and a fast browsing experience. It's glossy on top, yet delve deeper into the settings and simplified hi-res text menus make tweaking output resolution, lip sync, audio choice, etc, a breeze. The overall hardware design is better too.
The Silver PVR is considerably slimmer and easier-on-the- eye than the Sky+HD box.
Another key plus point concerns multiroom. Previous Sky multiroom setups could leave buyers wondering where to run cable; Sky Q removes any physical connection to the dish for second-room viewing, using tuner-less Mini boxes paired to the Silver PVR (up to four, with three used simultaneously). This delivers complete access to VOD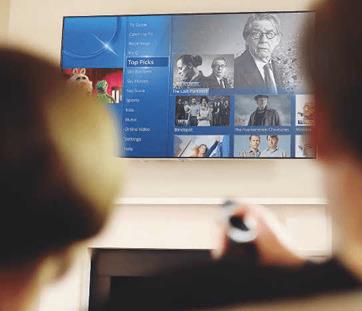 content and your recordings in addition to live TV. The multiscreen ethos extends to smart devices, and allows for some content to be downloaded for off-air viewing.
All very impressive.
What's not so good about it?
Sky's marketing machine heavily pushed the interconnected slickness of a Sky Q multi room/multi- device setup, and – while it's generally nifty – it's not without some flaws and duplicated features.
First up, using a Wi-Fi connection between a Silver PVR and Mini multiroom box isn't always foolproof.
The convenience of not having to run additional cabling can't be understated, but over my time with Sky Q I have experienced a dropped connection between master and
'No other UK platform can compete with Sky Q when it comes to content (including 4K) and usability'
slave. Adjusting the auto standby feature on the Mini (switching if off, basically) did appear to improve matters, and over time it seems Sky has made efforts to make the connection more solid. The solution to a drop-out has never been more complex than a hard power off of the Sky Q Silver PVR, and reboot. Irritating, but not a calamity.
A wired Ethernet connection is probably recommended wherever possible, though. At least Sky doesn't insist a Sky router is used.
Similarly, I've found the Sky Q app (which links a smart device to the Silver PVR) more prone to buffering/ disconnection than the alternative, but not as feature-rich, Sky Go service.
I'm not entirely bowled over by the Silver's Q touchpad remote, either. It feels good in the hand and connects via Bluetooth, but navigating the UI menus via thumb strokes without overshooting requires some skill, as does fast- forwarding/rewinding through recordings. Other family members prefer to use the more traditional zapper bundled with the Mini.
With so much content available, Sky has worked hard to make it easy to find, but it can sometimes feel that avenues for search are coming at you from all angles – the Recommendations tab, the Continue watching function, dedicated screens for Sports, Cinema and Kids, voice search, QWERTY search, similar programme tabs… The most foolproof way of finding what you want is also the most prosaic. Hit the search button, start typing, and trawl through the text list.
On-demand is rife, but there's no Amazon Video or Netflix integration here. This is to be expected, but the online apps shelf still only features YouTube and Vevo more than a year on from opening.
Should I buy it?
This is the million-dollar question. Or rather, it's the 'how much can you afford each month and do you want a dish on your house?' question.
Sky has long presented itself as the premium subscription TV option, and uses its subscriber fees to buy in and create the programming that gives it its appeal – think Premier League football, blockbuster movies and US/ UK scripted dramas. The thing is, if you're only interested in Sky content, Now TV offers a more financially palatable option, based around shorter one-month subscriptions, with no need for a dish or PVR hardware.
Sky Q, however, is where the corp does its best technical work and UI innovation. Now TV doesn't offer 4K playback or Dolby Atmos/surround sound audio, or the best user experience in the TV sphere. And it's streaming only – there's no hoarding of recorded material offered.
Sky's wealth of content does comes at a cost, although the base-level package (the Original Bundle) is an enticing per month for a minimum 18 months. Adding Multiscreen (which gives you a single Mini box) ups the monthly sub by .50, but reduces setup fees for the 2TB PVR from to . It's also required to unlock 4K. Do that, and add all that lovely movies and sports content, and you'll see your sub heading over a month.
It's a considerable investment, then (and probably won't turn the heads of Freeview users) but justifiable.
It's also a no-brain upgrade for existing Sky+HD subscribers (that platform has now been phased out for new customers). At present, no other UK platform can compete when it comes to content (including 4K) or usability
VERDICT
Sky Q WE SAY:
4K-capable, rich in usability and packed with premium content (if you're prepared to pay for it), Sky Q remains on the A-list of TV packages.
Sky Q Silver
HDD: Yes. 2TB CATCHUP CHANNELS: Yes. BBC iPlayer, ITV Hub, Sky One, Sky Atlantic, Sy-Fy and so on… CONNECTIONS: 1 x HDMI output (plus HDMI input, as yet unused); 1 x optical digital audio output; 1 x Ethernet; 2 x USB (for future use) DIMENSIONS: 232(w) x 155(h) x 34(d)mm WEIGHT: 1.7kg
FEATURES:
Bluetooth and Apple AirPlay streaming; record six shows, watch a seventh live; MiMo dual-band Wi-Fi; 4K playback; Dolby Atmos/DD 5.1 audio output; Bluetooth Q Touch controller; wireless connection to Mini multiroom boxes; YouTube; Vevo; Sky Q app; download content to smart devices
1. The 4K-capable Silver PVR is supplied with a Bluetooth touch remote
2. Sky Q's UI offers plenty of avenues to hunt down content, plus hi-res artwork
Cablesson Kaiser II 20m High Speed HDMI Cable - 8k, 4, 3D, Full HD, Ultra HD, 2160p, HDR, ARC, Ethernet - (HDMI 2.1/2.0b/2.0a/2.0/1.4) PS4, Xbox One, Wii, Sky Q, LCD, LED, UHD, CL3 certified - Blue
as of December 9, 2023 10:21 pm
Features
The Cablesson Kaiser II High Speed HDMI cable supports all the latest versions of HDMI (2.1/2.0b/2.0a/2.0/1.4) and specifications, including 8k and 4k HDMI support, ARC and 3D function and Ethernet. This fast hdmi to hdmi cable will ensure 8k and 4k resolution and 8k and 4k video (Full HD, 2160p, 18gbps) on Ultra HD TVs.
This premium HDMI wire supports most HD video and standard HDMI video and audio format such as xv Color and Deep Color | Transfers all digital audio formats such as 2.0 (stereo / mono), 2.1, 5.1, 7.1, DTS HD Master Audio, Dolby TrueHD, Dolby Digital, DTS.
This HDMI 8k cable can be use for gaming purposes such as PS4, PS3, Xbox One, Xbox 360, Wii. Use from laptops and PC to TV, for Set top boxes (Sky Q HD, Sky +, Virgin HD, Tivo Box, FreeSat HD, Fire TV, Apple TV and BT TV HD), DVD, BluRay and for 4k gaming monitors and graphic cards (nvidia gtx, ati radeon).
Designed in Oxford. Engineered using exclusive technologies and proprietary materials, multiple shielded cable to protect against interference while keeping it flexible | Connections: 2 x 19-pin HDMI connector, 24K gold plated (gold contacts) and precision-fit connector for firm grip
This HDMI cable / cord comes with a two years warranty. This 4K TV HDMI cable is perfect to use with LCD, LED, UHD, Super HD 4k and 8k TVs such as LG, Panasonic, Samsung, Sony, Toshiba, Vizio, Sharp, Philips and more.