BANG & OLUFSEN ECLIPSE Review
Double vision
B&O combines its class-leading sonics and stirring design with LG's OLED picture quality to stunning – if expensive – effect. John Archer reports
AV INFO
PRODUCT:
Premium 55in OLED
TV with integrated soundbar
Position:
7Review earns Amazon affiliate commissions from qualifying purchases. You can support the site directly via Paypal donations ☕. Thank you!
See also TOP 10 Soundbars & Soundbases
B&O's top-line TV, also in a 65in version
PEERS:
Panasonic
TX-65EZ1002; Sony KD-55A1
THERE ARE THREE things you need if you want to own a B&O BeoVision Eclipse TV. The first, inevitably given the B&O name, is a robust bank balance. The Eclipse is comfortably more expensive than rival flat screens.
The second thing budding Eclipse owners will need is lots of space. While most TVs these days focus on being as thin and diminutive as possible, this set is huge.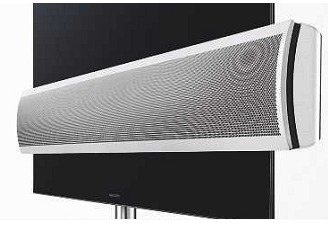 Its screen slots into the top of a colossal soundbar that extends out comfortably beyond the panel edges, and a good many inches below it. Below that soundbar sits another good few inches of dark glass, designed to create the illusion that the screen is running right through the soundbar.
It's quite stunning, and that's all before you potentially add one of B&O's floorstands to the whole kit and caboodle. The most premium of these stands sets the TV on a pole, which in turn sits offset onto one edge of a circular base plate. If you get the motorised stand option the whole TV can turn left or right on the pole, or rotate clockwise or anti-clockwise on the base, just by pressing the correct buttons on the Eclipse's exquisite (although excessively complicated) aluminium remote control.
The Eclipse can also attach to a variety of motorised or manual wall brackets all of which, again, are engineering triumphs.
The last thing you'll need to 'go Eclipse' is strong walls and foundations. When that beast of a built-in soundbar gets up and running, its multi-driver array and copious power (rated at 450W in total) shifts amounts of air that leave other TVs quaking in their tiny boots.
Superheroic sonics
With both music material and movies/TV, detail levels from the integrated three-channel arrangement are astonishing, as the Eclipse reveals subtleties of treble and bass you don't normally expect from an integrated audio system.
The mid-range, too, is open and huge, offering spectacular levels of expansion. Spider-Man: Homecoming's split-ferry action scene was conveyed with scale and drama. Bass doesn't extend quite as far down, or slam as hard, as a dedicated subwoofer would, but it's punchy, well-timed and beautifully integrated into the bottom of that monster mid-range.
There is something of a sweet spot to the Eclipse's sound, not spatially, but dynamically. Run it too quietly and it sounds subdued. Run it too loud and even its sizable speakers can become harsh. To be fair, though, the sweet spot is wide, and provided you stay within it, the Eclipse sounds awesome.
Since the TV carries built in multichannel audio decoding (though not Dolby Atmos/DTS:X), you can add to its sonic performance with extra wireless B&O speakers. Either just sides and rears, or front left and rights too, with the speakers in the TV becoming a single centre channel.
Hello darkness my old friend
While it's the Eclipse's design and immense audio abilities that set it apart from mainstream TVs, it's certainly no slouch in the picture department. In fact, I suspected this would be the case before I even switched it on. How? Because its screen is a largely untouched LG OLEDC7.
To B&O's credit, it makes no attempt to hide this.
On the contrary, the Eclipse name partly reflects the interaction between two great brands. And for the most part, B&O's approach makes absolute sense given the outstanding picture quality LG's C7 OLED TV series provides.
Spider-Man: Homecoming's beautifully dynamic images look sensational. Objects frequently shine with intensity against the sort of inky, natural, cloud-free darkness that only OLED TVs can deliver. It helps, of course, that the Eclipse can handle the …Homecoming 4K Blu-ray's Dolby Vision encode. It can also, of course, playback the HDR10 industry standard format, and is ready for HLG sources once they appear.
Colours are generally superb, looking rich and vibrant during scenes such as Spider-Man's fight with a team of mask-wearing bank thieves. This is partly because they have such deep blacks to bounce off, and partly because the LG Display panel the Eclipse uses benefits from more brightness than any previous OLED generation. This extra brightness has been key to making OLED click with HDR visuals.
The TV also delivers strong 4K detail levels. Spidey's swanky Tony Stark-created suit, for instance, looks gorgeously textured and three-dimensional, inviting you to closely inspect its fabric folds.
With no backlight in play here, pictures can be viewed from a wide angle without a disastrous drop-off in colour or contrast. However, this is actually less of a big deal on the Eclipse than usual; B&O's various mounting options give you the flexibility to angle its display to your peepers.
So wholesale is the Eclipse's embrace of the LG C7 that it even uses LG's picture processing, and deploys the same WebOS 3.5 smart system. The latter again seems a sensible choice, given how simple WebOS is to use, and how many apps it carries (Netflix, Amazon Prime Video, YouTube et al) compared with B&O's in-house smart system – although B&O's system does invite Deezer and Spotify Connect music streaming to the party.
It might have been interesting, however, to see if B&O's own processing could have fixed some occasional niggles associated with LG's OLED sets (motion handling in particular). Still, overall the Eclipse's pictures provide a stunning companion to its unprecedented audio.
Counting the cost
Obviously many people with everyday incomes will struggle to justify spending so much on a B&O Eclipse, even considering its unique design and sonic talents – mainly because LG's C7 OLED TVs, and other rivals, including Sony's A1 and Panasonic's EZ ranges, plus LG's design-conscious W7 'Wallpaper' TV, are also more affordable.
But discussing price with B&O products is kind of beside the point. All that matters for the luxury brand's target market is that the Eclipse marries the sort of indomitable design and crazy sound quality its fans expect, to easily the finest picture it has ever produced
HCC VERDICT 4/5
B&O BeoVision Eclipse
WE SAY: Partnering B&O's design prowess and audio chops with OLED's glorious pictures proves a marriage made in heaven.
But the price tag will bar most of us from enjoying it.
3D: No 4K: Yes. 3,840 x 2,160 HDR: Yes. Dolby Vision; HDR10; Technicolor; HLG TUNER: Yes. Freeview HD CONNECTIONS: 4 x HDMI inputs; RF input; CI slot; Ethernet; SOUND (CLAIMED): 450W from 1 x 1in tweeter; 2 x 2.5in full-range drivers; 3 x 4in midbass drivers BRIGHTNESS (CLAIMED): N/A CONTRAST RATIO (CLAIMED): N/A DIMENSIONS (OFF STAND): 1,390(w) x 995(h) x 122(d)mm WEIGHT (OFF STAND): 33kg
FEATURES: Built-in soundbar with multichannel decoding; option to add wireless speakers for full surround; WebOS smart system; Apple Airplay support; Spotify Connect, Deezer, TuneIn radio built-in; Bluetooth; Wi-Fi; Chromecast; floor and wall-mounting options including motorised; multiroom audio integration
PARTNER WITH
B&O BEOLAB 50:Push the boat out so far it's a mere dot on the horizon by adding these stunning, 61kg active speakers to the Eclipse party. Specs include ICEpower amplification and three 10in woofers – per pair…
1. The TV uses an LG OLED panel – and LG operating system too
2. B&0 dubs this its 'iconic planet stand' presumably because it allows the TV to 'orbit'
3. With the expanse of glass below, the soundbar appears to cut through the Eclipse display
B&O BeoVision Eclipse Review
Partnering B&O's design prowess and audio chops with OLED's glorious pictures proves a marriage made in heaven.
Add your review