Luxury projection brand SIM2 delivers its first 4K projector. John Archer finds out if it's worth remortgaging for
For a mixture of technical and licensing reasons, DLP projectors have taken longer than most to board the 4K bandwagon. Happily, they're now arriving thick and fast, from brands including Acer, BenQ and Optoma. Yet none seen to date is quite like the SIM2 Nero 4 UHD. Others have tended to push the price of 4K projection downwards; this comes to market carrying a ticket.
av info
PRODUCT: Premium single-chip 4K DLP projector with HDR support
POSITION: SIM2's only 4K PJ, but it does sell more expensive three-chip Full HD models
PEERS: JVC DLA-Z1; Sony VPL-VW760ES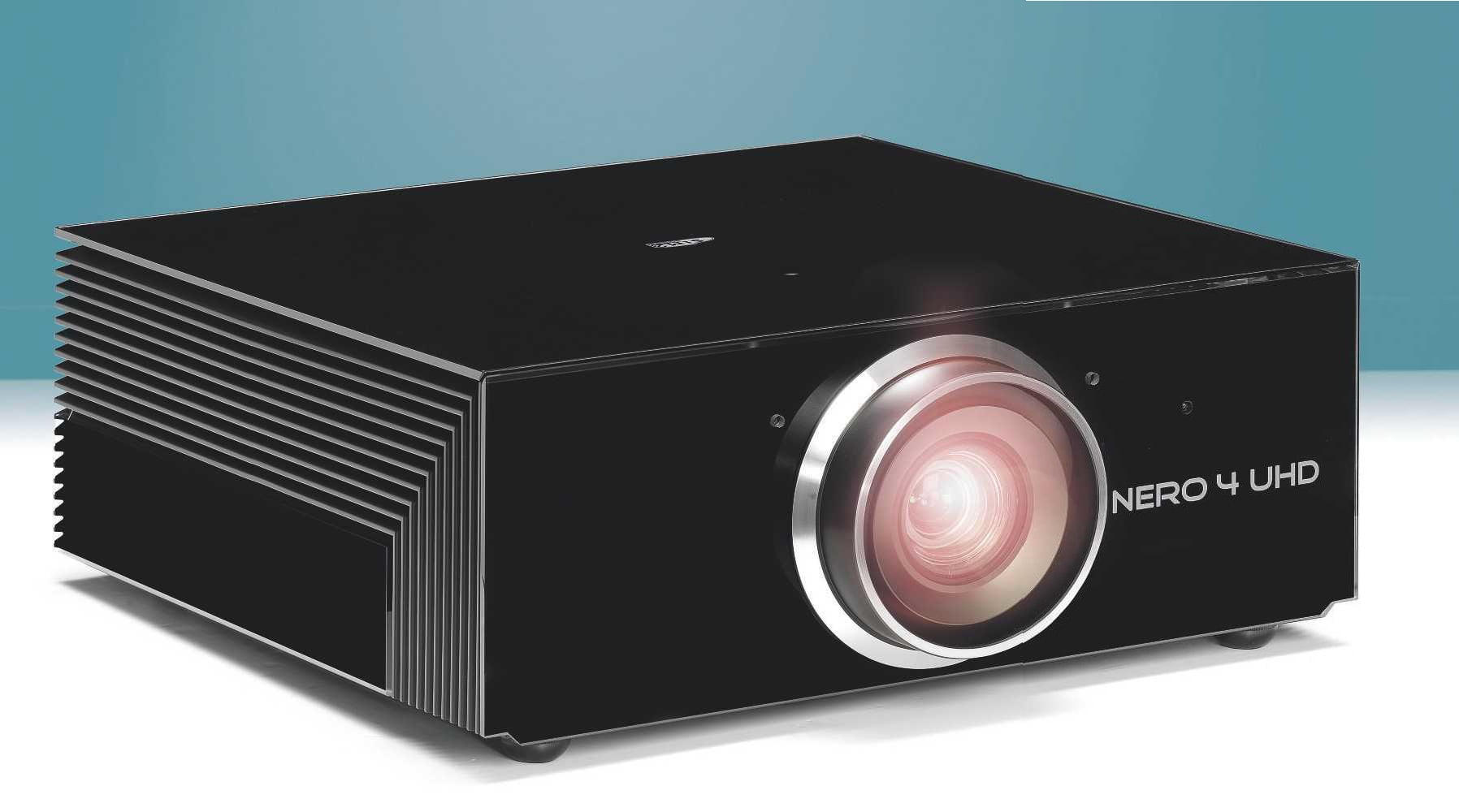 7Review earns Amazon affiliate commissions from qualifying purchases. You can support the site directly via Paypal donations ☕. Thank you!
See also TOP 15 projectors
Pricey, then, and immediately positioned against the likes of JVC's DLA-Z1 and above Sony's VPL-VW760ES.
The Nero 4 UHD stands out from the more affordable 4K DLP projector crowd with its premium optics, stunning 'crystal' design (which makes its angular black bodywork look like it's encased in glass), and ultra-high claimed brightness output of 5,000 Lumens.
This brightness makes it far better equipped than most (3,000 Lumens or less) projectors for driving very large screens in mid/large cinema rooms. Plus, hopefully, it will make the Nero 4 UHD better than any other DLP projector
1. A brightness rating of 5,000 Lumens makes the PJ suited to large screens
2. The Nero 4 UHD is more than half a metre wide and weighs 32kg
at handling high dynamic range (HDR) content, because HDR's greed for brightness is causing the projection world headaches aplenty. Surely 5000 Lumens should be enough to make HDR look right? Especially given that the Nero 4 UHD can adjust its picture settings depending on the size of your screen, in recognition of the fact that bigger images require more luminance.
The industry standard HDR10 is supported out of the box, and the PJ will be upgraded for HLG when that broadcast-friendly HDR format goes live.
To help address the wider colour spectrums generally associated with HDR content, SIM2 claims to have coated the Nero 4 UHD's optical components in 'special' substances (it won't reveal exactly what) to enhance colour performance.
When it comes to delivering 4K playback, it employs an ultra-fine lens, precise enough to deliver flawless resolution up to 93 lines per millimetre, I'm told, and a 'double flashing' system to deliver a perceived 4K resolution (ratified as real 4K by the Consumer Electronics Association) from its DLP array of pixel 'mirrors'.
The Nero 4 UHD goes beyond most projectors with its connections. In particular, there are three HDMI inputs (although only one is built to the 4K/HDR-friendly v2.0a standard, which seems a bit odd) and a v1.2 Display Port. There are also a host of system integration connections: two 12V trigger outputs, two IR receivers, an Ethernet port, and RS-232. After all, anyone buying this SIM2 will have it professionally installed – a fact further supported by the projector's in-built compatibility with the Live Colours Calibration 2.0 software package.
An installer may also take advantage of the Nero 4 UHD's motorised zoom/focus system and lens memory function to support playback of different aspect ratios without needing external lens attachments.
Two final key features of the Nero 4 UHD are that it supports 3D (though SIM2 didn't supply any glasses for testing), and that it only uses a single 4K DLP chip.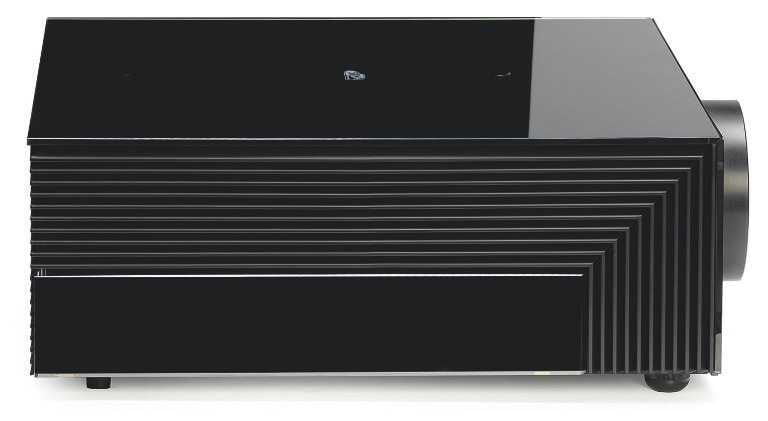 Most previous high-end models from the brand have featured three (RGB) HD DLP digital mirror devices, avoiding the colour wheel element required by single-chip DLP projectors. Images have therefore usually been gloriously free of the motion fizzing, dark area-speckling and 'rainbow' striping issues that colour wheels can cause. Unfortunately, moving to a single-chip/colour wheel solution with the Nero 4 UHD means it suffers with clear rainbowing, especially (but not exclusively) when watching HDR sources.
Different people have different tolerance to the rainbow effect. The brightness of the Nero 4's pictures, though, means rainbowing will likely prove at least a little distracting to just about everyone from time to time during contrast-rich scenes – such as those in the Power Rangers' underground HQ on the Power Rangers Ultra HD BD.
 Bright star
SIM2's high-end beast is on much firmer ground with other aspects of its performance. For starters, it usually delivers bright HDR scenes with more authenticity, sheer luminance and punch than any other HDR projector I've tested – including JVC's Z1 laser model.
The sun-drenched HDR vistas peppered throughout Planet Earth II on 4K Blu-ray, for instance, look astonishingly life-like. The Nero 4 UHD gets closer to the light levels we experience with our eyes in the real world. With this impressive – and maintained – brightness level comes a palpable sense of extra colour vibrancy and insight, when a source combines HDR's dynamism with a wide colour gamut. Planet Earth II's flora and fauna look stunning.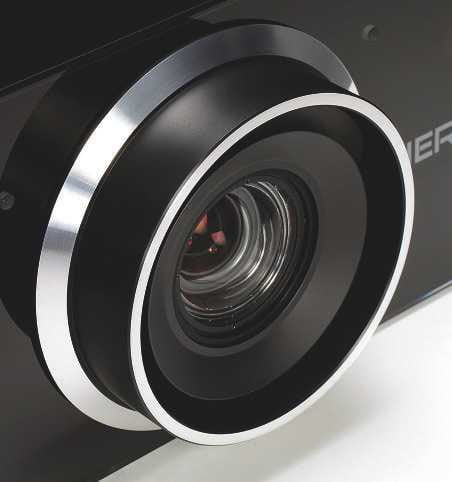 The projector also delivers spectacularly on the advantages of 4K. Ultra-detailed 4K discs such as Sully appear exquisitely sharp, clean and full of the sort of texture and depth that only 4K can deliver.
The sun-drenched HDR vistas peppered throughout Planet Earth II on 4K Blu-ray look astonishingly life-like
Sharpness feels natural, and detail holds up during camera pans and fast-paced action, thanks to some supremely effective and discreet motion handling. Even Peter Jackson's rapid swirls around the Dwarf halls near the start of The Hobbit (Blu-ray) are handled without unnatural judder or blur – despite the fact that these HD shots are being upscaled to 4K by SIM2's processing.
Time to tweak
While the Nero 4 UHD mostly rocks with its handling of bright HDR and SDR content, things aren't so rosy with dark scenes, or shots containing a mix of dark and light content. Initially, such content appeared both rather greyed-over and almost devoid of detail. When the Power Rangers first enter their underground cave, for instance, initially I could barely make out the background rock walls.
The only way to resolve this via the projector's settings was to ramp up the brightness. But doing this also dialled down the already compromised black level response.
SIM2 provided a bizarre solution: a series of settings adjustments (boosting brightness but reducing contrast) for my Oppo UDP-203 4K Blu-ray player. Normally you'd expect to be able to adjust a display device to work around playback issues, but the brand wants you to tweak at source (and alternative setup advice is available for other 4K Blu-ray players, too).
Adjusting the Oppo's output had a transformative effect on the Nero 4 UHD's HDR performance, returning shadow detail to dark areas without excessively raising general black level performance, and making areas of light and shade in mixed-brightness images seem much better balanced.
I still felt a touch short of brightness when watching HDR – a rather terrifying discovery given the Nero 4 UHD's 5,000 Lumens rating. It still felt, too, as if SIM2 has had to sacrifice some of its traditional black level depth (with all content) to handle HDR, and nothing I did fully solved the previously mentioned rainbowing. But the source tweaks resulted in an HDR image that was more enjoyable and easier to become immersed in.
Unfortunately, though, there seems to be a limit to how far the Nero 4 UHD can go even when working in tandem with your BD deck. With a 4K title that's been mastered at 4,000 nits (such as Pan) areas of peak colour and brightness glowed quite unnaturally in the context of the image around them, as well as falling prey to fizzing noise. There was also clipping in the brightest picture areas, with the projector unable to fully translate subtle peak light details to its lower brightness capabilities.
SIM2 has told me that it hopes to fix these issues via future firmware updates. I can only ultimately review what's put in front of me, however, but do wonder if a high-spec processor, such as Lumagen's Radiance Pro might be a suitable partner to help fine-tune performance. The Nero 4 UHD is capable with some content of delivering exquisite 4K HDR pictures, but needs to adapt itself to the many different source challenges out there in the Wild HDR West
SPECIFICATIONS
3D: Yes. Active 3D 4K: Yes. 3,840 x 2,160 HDR: Yes. HDR10 (HLG via future update) CONNECTIONS: 3 x HDMI inputs (1 x v2.0a, 2 x v1.4a); 2 x 12 V triggers; Display Port; Ethernet; USB for firmware update; RS-232; 2 x IR ports BRIGHTNESS (CLAIMED): 5,000 Lumens CONTRAST (CLAIMED): N/A ZOOM: 1.8x DIMENSIONS: 528(w) x 197(h) x 525(d) mm WEIGHT: 32kg
FEATURES: Single-chip DLP projector; auto pic adjust based on screen size; 3,000 hours estimated lamp life (Eco mode); 450W lamp; 12-aperture adjustable iris; lens memory; pure glass lens with 93 lines per mm resolution; motorised zoom and focus; 1.36:2.68:1 throw ratio; Live Colors Calibration 2 software; vertical (+/-75%) and horizontal (+/- 30%) lens shift; Crystal Glass cabinet
PARTNER WITH
ARCAM AVR850:
Anyone investing in SIM2's Nero 4 UHD will want a premium audio performance to go with it. Arcam's flagship seven-channel AVR delivers high-fidelity sonics, Dirac room EQ, and 11-channel processing.
3. SIM2's 'pure glass' lens promises unrivalled 4K image clarity
VERDICT
SIM2 NERO 4 UHD Review
Breathtaking with bright imagery, razor-sharp, and a maestro with motion, but there's work to be done on how well the Nero 4 UHD adapts to the full gamut of HDR content.
Add your review
Best SIM2 NERO 4 UHD prices ?
MORE DEALS

See also TOP 15 projectors