Delivers a big-screen 4K experience on a (relatively) modest budget.
Even in bright conditions it can produce a display of around 100 inches in a modest-sized room, though this can stretch to a whopping BOO inches larger rooms.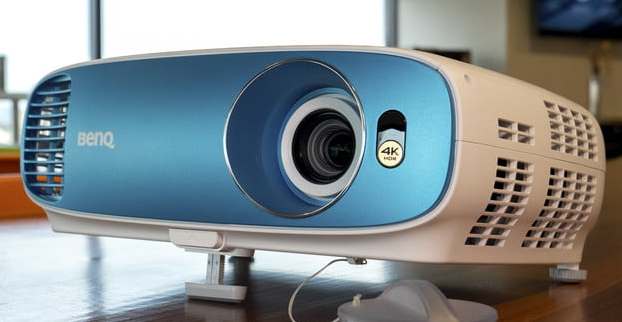 It was like the gods of fate had swept us up into their arms and tenderly kissed our foreheads when BenQ's TK800 True 4K HDR projector arrived just in time for this year's FIFA World Cup.
With this fairly compact, sleek-looking unit in place and fired up, we were able to witness every drop of sweat dripped and every bit of spit gobbed in stunning ultra-HD detail.
The TK800 is a recent addition to BenQ's range of home entertainment projectors that are geared towards sports and is similar, in terms of design, to previous models.
7Review earns Amazon affiliate commissions from qualifying purchases. You can support the site directly via Paypal donations ☕. Thank you!
See also TOP 15 projectors
The big difference is the bright blue fascia.
On the rear of the unit are two HDMI ports (one of which is HDCP 2.2), 3.5mm audio jacks (in and out), RS-232, a USB-A and mini-B USB port, 12V trigger port and VGA – although the latter is slightly redundant as it doesn't support 4K.
Removing VGA in favour of another HDMI 2.2 port would have been the best option as it would have allowed more 4K-compatible devices to be connected at the same time.
The TK800 can be used as a front or rear projector and is equally at home placed on a table as it is mounted to the ceiling.
Even in bright conditions it can produce a display of around 100 inches in a modest-sized room, though this can stretch to a whopping 300 inches in larger rooms.
So what is the quality like?
Actually pretty damn good, even if the 4K it claims to produce is achieved via pixel shifting (when the system moves the sensor half a pixel's width to 'double' the apparent resolution by creating overlapping data in successive frames) rather than a natural 3,840 x 2,160-pixel resolution.
This is made possible by Texas Instruments' 0.470-inch DMD XPR 1,920 x 1,080-pixel DLP chip that flashes four times in quick succession to produce an image that fools the eye into seeing 8.3 million pixels on screen at one time.
Admittedly, the difference is very hard to spot, but stack this next to a proper 4K Digital Light Processing projector and you'll notice a slight downgrade in the ultra-fine details.
Not that we're bothered by this as the price difference between the two would be colossal.
Focus and zoom on the TK800 are entirely manual, and the lack of lens shift means that the correct setup is vital to get the best out of it.
Bafflingly, Auto Keystone is enabled by default which diminishes the fine detail, so make sure you deactivate this for the best viewing results.
That said, as this is being marketed as a bit of a party piece as opposed to a serious home cinema projector (and is designed to project onto a white wall or hung bedsheet), it is hard to get too hung up about the really fine detail.
We can certainly vouch for it in delivering sport in stunning detail at a decent magnification and its budget price point (trust us, it is for a 4K projector) also makes it perfect from a professional point of view to showcase your Keynote presentations in well-lit conference rooms.
The TK800 also comes with a backlit remote control (which is obviously a roll-out across numerous BenQ projectors, as it features buttons for functions not present here) and is very easy to set up.
Recommended for a wide range of uses.
Verdict
Recommended
BenQ TK800 Review
It may not be strictly 4K, but for the price it produces stunning detail and clarity for a wide range of purposes..
Add your review
Best BenQ TK800 prices in the US ?

$

1,539.65
3 used from $1,281.05
4 new from $1,520.99
in stock

Best BenQ TK800 prices in the UK ?

£

128.00
1 new from £128.00
in stock


£

149.00
1 new from £149.00
in stock

MORE DEALS

See also TOP 15 projectors