Optoma's latest Full HD DLP movie and gaming projector costs more than much of the competition, but makes up for it by being fraggin' great, claims Steve May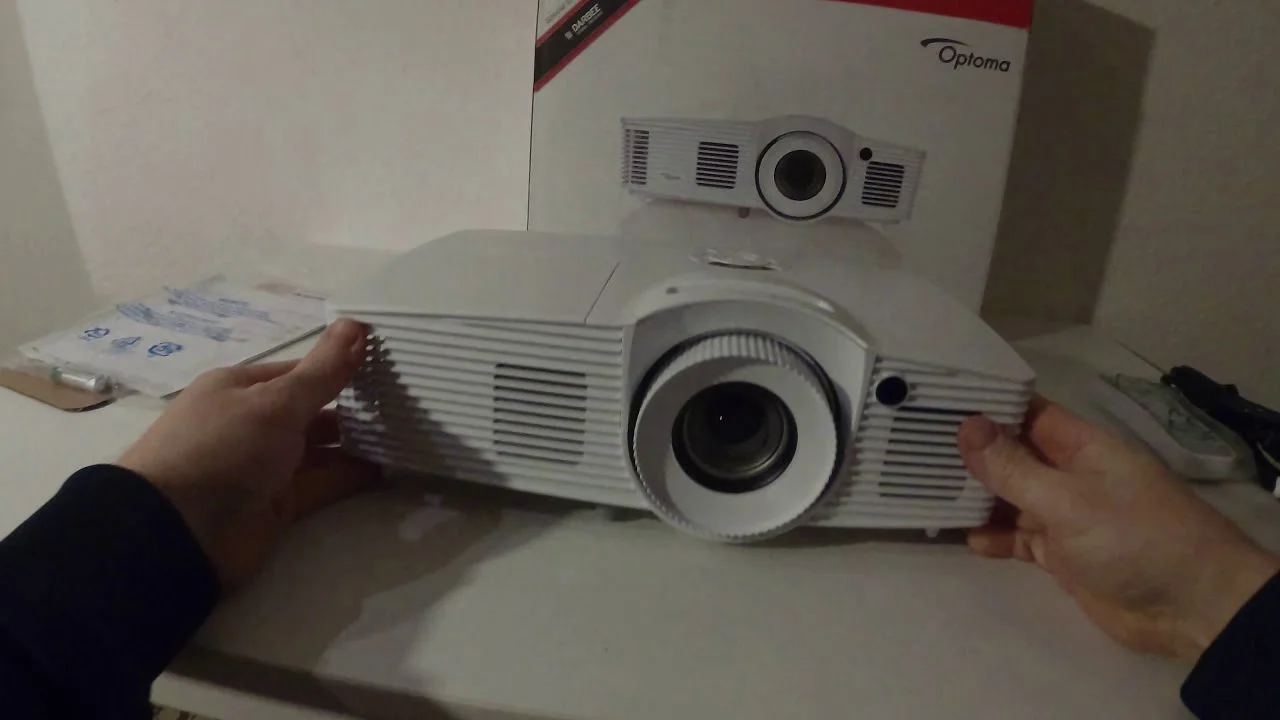 IF YOU WANT to supersize games as well as movies, Optoma's HD39Darbee could be the projector to shoot for. Whether you want to hookup a Nintendo Switch or chow down with corn chips and a freshly delivered Blu-ray, this well-specified beamer merits an audition.
It's not one of the new breed of 4K DLP projectors, nor HDR capable, but still has features that ensure a wide appeal.
First, the design. A single-chip DLP model, the HD39Darbee is small but perfectly formed. As we've come to expect from Optoma, build quality is solid, while cosmetic design is functional yet contemporary.
AV connections comprise two v1.4a HDMI inputs (one MHL- enabled for smartphone use), plus an audio mini jack output. There's also a USB-A power port, useful if you want to run a streaming media player dongle (Fire TV stick, Google Chromecast, Roku) into one of the HDMIs.
7Review earns Amazon affiliate commissions from qualifying purchases. You can support the site directly via Paypal donations ☕. Thank you!
See also TOP 15 projectors
A 12V trigger is provided for screen integration, although at this price point it probably won't find many
AV INFO
PRODUCT: Full HD projector with Darbee processing
Position: Below Optoma's 4K models, above the HD27 and HD29
DEERS: BenQ W1120; Epson EH-TW650
takers (but we applaud its provision). A 3D Sync port offers support for optional 3D glasses.
As the PJ's moniker proclaims, there's Darbee Visual Presence image processing onboard. If you've seen Darbee implemented before, be it on previous Optoma projectors, a standalone processor or Blu-ray player, there's no change here. It features three presets: Gaming, Full Pop and Hi-Def, each with variable strength.
The process, in a nutshell, applies various levels of picture enhancement – white highlights typically get lifted, contrasty edges are given sharper definition, nuanced shadowed areas are smoothed out for cleaner colour.
The application is sometimes quite subtle, at other times all too obvious.
Deciding if any of this is genuinely beneficial is rather more challenging than you might imagine. To help identify the impact it's having, there are demo modes which either split the screen or illustrate with a scrolling wipe.
As is standard on a multimedia projector, the HD39Darbee carries an integrated speaker system (rated at 10W) which provides a functional level of audio. It's worth ensuring that your source outputs PCM. If the projector gets a Dolby Digital bitstream, easily done with Blu-ray player or set-top box, it results in a rather nasty rasping sound.
The projector doesn't take long to get up and running. Aiding you are a 1.6x zoom, a vertical lens shift offering 17 per cent play, and keystone correction. A test pattern grid makes it easy to get focus right. Basic image parameter adjustments include brightness, colour, contrast and sharpness. There's also variable gamma (in addition to content presets, you'll find selectable 1.8, 2 and 2.4); colour management (and ISF modes); and Dynamic Black, Engaging the latter bumps contrast, but brings with it a hike in operational noise.
Lamp it up
The HD39Darbee is a definite light cannon, making Optoma's 3,500 Lumens brightness rating believable. Whether you'll need all the luminance on tap depends on your environment. If you have control over light in your viewing room, the Eco lamp setting is the best option, extending claimed lamp life and dropping running noise to a moderately low 29dB. With ambient light the Bright setting comes into its own. Of course, with the projector at full beam, the internal fan predictably goes into overdrive.
Picture quality is immediately impressive. As with all single-chippers, Full HD images appear razor-sharp. With no panel alignment to contend with, DLP can offer almost clinical precision.
Black level performance is on the right side of acceptable; indeed, I was impressed by the tonal integrity of the image. A letterboxed HD presentation of The Victors, an episodic monochrome war melodrama from 1963, highlights the expansive greyscale – fatigues, skin tones, forests and mud all look convincingly cinematic. Black- and-white movies are a great revealer of DLP's rainbow fringing trait, but significantly I was not aware of intrusive rainbowing in areas of high contrast.
Letterbox bars do retain an element of greyness, but there's enough contrast to give images solidity.
The projector covers the REC.709 colour space, and vibrancy is high. When Tom Hanks is being chased down by Somali pirates in Captain Phillips (Blu-ray), the pursuing
This Optoma gets the balance right. It convinces with movies but is also a fast, colourful gaming display
skiff is buffeted in the wake of the ship. The glistening sea and blue-sky backdrop look glorious, without the image feeling over-saturated.
Of course, the HD39 can razzle dazzle when it wants to. The multicoloured fandango that is Strictly Come Dancing becomes a whirlwind of colour. Reds just about resist tangoing into orange, blues pop and sequins shine appropriately.
So what of Darbee processing? Previous experience suggests it can be an unpredictable benefit, dependent on source. Here, having watched a sizeable swathe of Captain Phillips at normal viewing distance, with Darbee in Hi-Def mode, the Optoma's picture definitely seemed to lose snap when it was switched off. Darbee proves particularly beneficial on projected skin tones, and sharpened up Tom Hanks' spectacles no end.
As well as offering Darbee, this PJ wants to woo gamers with its brightness and low-latency, and it succeeds.
Fast-paced Battle Royale shooter Fortnite looks tremendous. Played on a PS4, the clarity and vividness of the image was striking. Bright, crisp visuals plastered 100in across aren't just eye candy – they make taking pot shots at rival players on the horizon a good deal easier than on a flat screen half the size.
The Optoma's Enhanced Gaming mode claims a 16ms response time on 1080p60 content. However, I didn't experience latency issues in the regular Gaming mode, either. There was never a sense that joypad controls weren't responding as fast as they should.
Fortnite has a somewhat cartoony style, but the projector also looked pristine with the more photo-realistic visuals of Star Wars: Battlefront 2. Colours pop, details ping, and there is more than enough contrast to emphasise image depth.
There is a dedicated Darbee mode for Gaming, but I could spot no obvious visual difference when playing a frenetic shooter. Its influence is far more evident on traditional video content.
Although the HD39Darbee lacks specific image interpolation modes, motion handling is actually rather good. With a moving HD resolution pattern, subjective detail held out to around 800 lines. There are no image processing artefacts to speak of; pans are judder-free, if a little blurry. Consequently, the HD39Darbee is a good option for sports fans.
Convincing, compact
Often with a bright multi-purpose media-room style PJ there's a level of compromise, be it in colour fidelity or operating noise. This Optoma gets the presentational balance about right. It looks convincing with movies but is also a fast, colourful gaming display. And the compact form factor is very convenient
VERDICT
This entertaining all-purpose movie and games projector is cinematic when it needs to be, but offers low-lag gaming too. Darbee processing proves a welcome extra.
Recommended 4.5/5
Recommended
OPTOMA HD39DARBEE Review
This entertaining all-purpose movie and games projector is cinematic when it needs to be, but offers low-lag gaming too. Darbee processing proves a welcome extra.
Add your review
Best OPTOMA HD39DARBEE prices in the US ?

$

104.17
3 new from $98.99
in stock


$

108.99
1 new from $108.99
in stock

Best OPTOMA HD39DARBEE prices in the UK ?

£

168.97
1 new from £168.97
in stock

MORE DEALS

See also TOP 15 projectors
SPECIFICATIONS
3D: Yes. Active 3D (glasses optional) 4K: No. 1,920 x 1,080 HDR: No CONNECTIONS: 2 x HDMI (v1.4a); USB-A (power); 3.5mm audio output; 12V trigger; 3D Sync port BRIGHTNESS (CLAIMED): 3,500 Lumens CONTRAST (CLAIMED): 32,000:1 ZOOM: 1.6x DIMENSIONS: 314(w) x 114(h) x 224(d)mm WEIGHT: 2.8kg
FEATURES: Single-chip DLP image engine; 10W built-in audio; claimed lamp-life of 10,000 hours (Eco)/4,000 hours (Bright); 29dB fan noise (Eco); Cinema, Vivid, Game, Bright and User picture presets; 1.4-2.24:1 throw ratio; test pattern grid for setup; vertical keystone correction; MHL support; Darbee Visual Presence processing; Enhanced Gaming Mode; Dynamic Black; auto power off
PARTNER WITH
AMAZON FIRE TV STICK:
Now with Alexa voice skills integrated, this Wi-Fi streaming HDMI dongle ushers in a world of movie/ TV apps, plus games and media players. Use the Optoma PJ's powered USB port to keep it juiced.
1. The PJ's 1.6x zoom and focus are tweaked via manual rings on the lens housing
2. Like the projector, the handset is compact, too