A relative newcomer in the consumer market, can Riva's years of industry experience give it the edge?
As the new generation of intelligent speakers puts an emphasis on sound quality, Clif Joseph listens to six popular models. 
Wireless Speaker Systems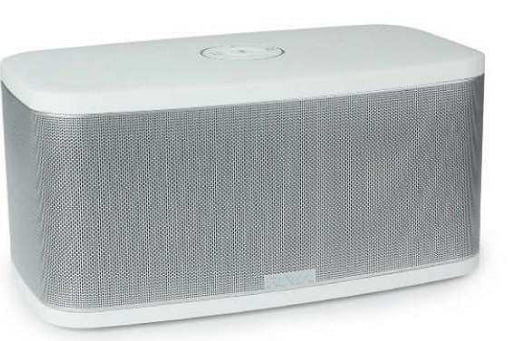 DETAILS
PRODUCT Riva Audio Stadium
ORIGIN USA/China
TYPE Wireless multi-room smart speaker
WEIGHT 6.4kg
DIMENSIONS (WxHxD) 365 x180 x200mm
7Review earns Amazon affiliate commissions from qualifying purchases. You can support the site directly via Paypal donations ☕. Thank you!
FEATURES
Quoted power output: 200W
Up to 24-bit/ 192kHz playback
Wi-fi; AirPlay 2; Bluetooth; DLNA; 3.5mm jack; optical digital; USB port
DISTRIBUTOR Riva Audio
TELEPHONE 0871 9006000
WEBSITE rivaaudio.co.uk
Something of an unknown in the UK, Riva's recently released Stadium certainly makes an impression. The chunky speaker weighs in at a hefty 6.4kg and houses three woofers and tweeters, powered by six amps to provide a full 200W output. There are also four passive bass radiators, with two each on the front and back.
The Riva Voice app is only available for iOS and Android mobile devices, but the speaker supports Amazon's Alexa voice technology, AirPlay, Bluetooth and DLNA for network media players along with a 3.5mm line-in, optical input and USB port.
The app isn't that slick and takes a few attempts to successfully connect the speaker to my home network. Multi-room features haven't been finalised at the time of launch, but AirPlay support allows me to stream Tidal's MQA music from my office Mac, which is a nice touch. Like others, Riva says that AirPlay 2 will come in a future software update along with Amazon Alexa software and multi-room support.
Sound quality
Riva's experience in the music business stands it in good stead (see boxout), and the Stadium can handle the quiet moments in Bohemian Rhapsody as comfortably as the heavy rock riffs. There's a warm, full tone to the piano, a crisp, sustained shimmer on the cymbals and then just the lightest touch on the chimes.
It takes Queen's operatic wall of sound in its stride, carefully balancing each set of voices, from the deeper tenor chants up to the glass-cutting falsetto. The sheer power of the speaker means Brian May's guitar riff takes off like a rocket, but doesn't overwhelm the rest of the band and it's Taylor's sharp cymbal strikes that ring out and set the pace.
Turning on a sixpence, it kicks into a gentler mood with The Blower's Daughter picking up the barely audible strumming in the opening and gently lifting the sound up to drift through the air. The simple four-note refrain on the cello carries a world-weary sadness of tone – made even more poignant when it's repeated later in the song with the more fragile sound of the violin.
The Stadium even handles the mournful Flight From The City with a well-judged lightness of touch. The four bass radiators keep the deeper piano notes firm and contained, while the rich tone of the strings slowly draws you in. Meanwhile, it shows the gentlest of touches on the chimes that seem to float just out of reach.
The sound quality of the Stadium recommends itself and if Riva is able to deliver the promised multi-room features in its updated app, it will represent excellent value for money
OUR VERDICT
Highly Recommended
Riva Audio Stadium Review
Despite a quirky app, sound, features and value are hard to beat
PROS
Powerful and precise sound
Good wired and wireless connectivity
CONS
Some functionality awaiting software update
Add your review
|
Read reviews and comments
Best Riva Audio Stadium prices ?
MORE DEALS

STADIUM ROCK
There's a reason why this speaker is called the Stadium – and it's not just down to its enormous 200W output. Riva Audio is an offshoot of Audio Design Experts, and CEO Rikki Farr has a long history in promoting and producing live music, including early performances from Jimi Hendrix, Led Zeppelin and Pink Floyd. Farr is a technology pioneer and an early adopter of wireless technology in live performances, which required the development of 'live concert time alignment' tech that is now widely used in the industry. Riva's audio research continues with features such as the Stadium's 'Trillium' system, which up-mixes two-channel stereo to produce a wider virtual soundstage through the three sets of drivers – front, left and right – housed within the speaker.