A turntable ready for balanced connection. Noel Keywood looks at the Pro-Ject X8.
With this turntable Pro-Ject X8 talk up the fact that it comes with True Balanced Connections, for lower noise and increased dynamics. So I looked for an XLR connector at rear and couldn't find it! This puzzled me, but I suddenly realised what they were doing here. The X8 is a high-end all-in-one package complete with moving coil cartridge. As standard it comes with a conventional unbalanced signal cable. But it can be upgraded to balanced working.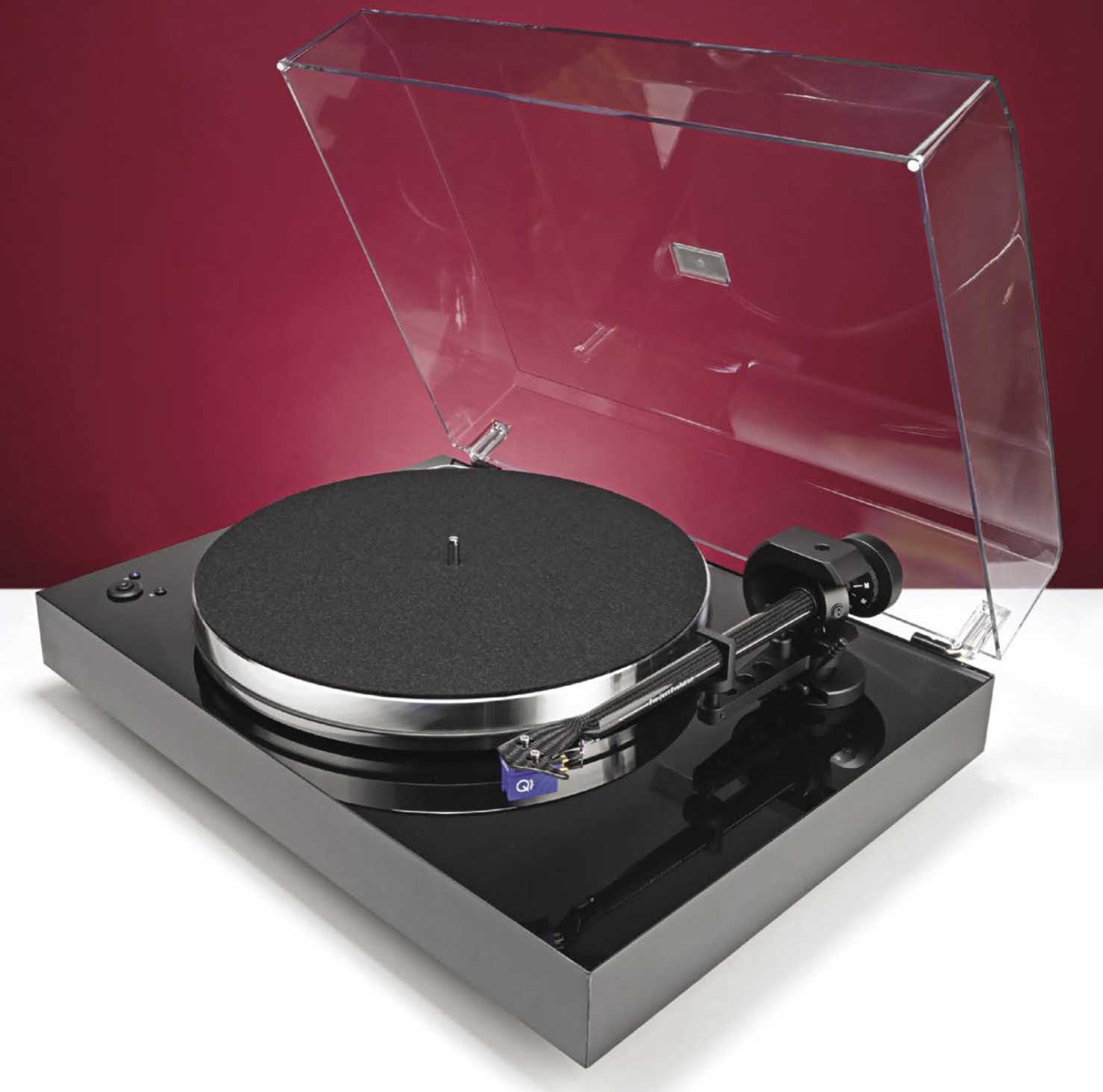 How? With a balanced-input phono stage, Pro-Ject quoting their own S3 B priced or DS3B (dual input) – relatively low prices for what are specialised, fully discrete preamps. A custom interconnect cable is needed too.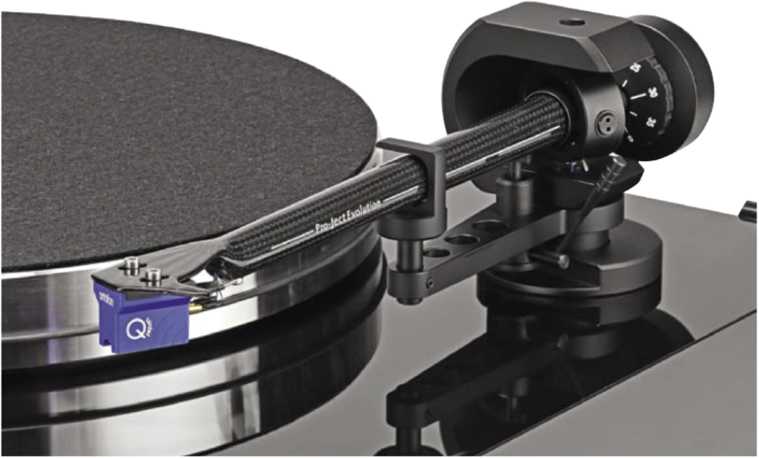 Pro-Ject's light, stiff carbon fibre arm with flat integrated headshell platform and finger-lift. Strongly built and with good bearings, it can be fully adjusted. An undamped lift/lower lever sits at right for manual control.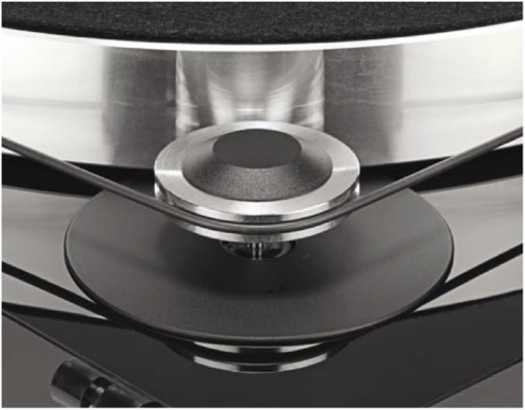 The single-step motor pulley of its synchronous motor is on display. Speed change is electronic, by push button.
The X8 is a two-speed belt drive turntable, driven by an electronically controlled a.c. motor, making speed selection (33/45rpm) by push button, no belt fiddling required. It comes with a tapered carbon-fibre arm that is strictly manual in operation, plus an Ortofon Blue moving coil cartridge that if bought alone costs a modest – a very low price as MCs go. Put this little lot together and you can see the X8 package is an entry to high-end techniques, insofar as balanced working has yet to be taken up seriously – for reasons I'll come to explain.
In keeping with its high-end pretensions the X8 is weighty, coming in at 15kgs, so if it goes on a shelf it needs to be a strong one. Some 10kgs of this lies in a solid plinth that sits on three damped, height-adjustable legs.There's a clear acrylic cover that sits on friction hinges. Mounted on the plinth is an inverted bearing with ceramic ball at top, in the plane of the stylus tip, to lessen the effects of precession in the bearing – and this worked well measurement showed. Magnets are used to lessen the load on the bearing since it supports a 5.1 kg machined alloy platter with damping ring on its underside.
7Review earns Amazon affiliate commissions from qualifying purchases. You can support the site directly via Paypal donations ☕. Thank you!
RECOMMENDED VIDEOS FOR YOU...
See also TOP 15 turntables
Plinth dimensions are 465mm wide, 150mm high with lid closed, and 350mm deep. With lid open height increases to 415mm and depth (lid overhang at rear) to 420mm (17in) so some space is needed for placement.
The 9in (230mm) arm uses high quality bearings with minimal play and is constructed in one piece from wrapped carbon fibre, having a tapered profile for stiffness.The head shell is part of the arm tube, which makes cartridge changing more fiddly but improves the arm's structural integrity. In Project fashion a flat finger lift is fitted, which I found all but unusable because it is too close to the LP surface and slips out of the fingers. However, most people use a lift/lower I believe and this is fitted, but it is not damped to provide slow descent, so a little dexterity is required.The arm must be manually lowered and lifted: there are no auto-mechanisms of any sort, nor auto-stop.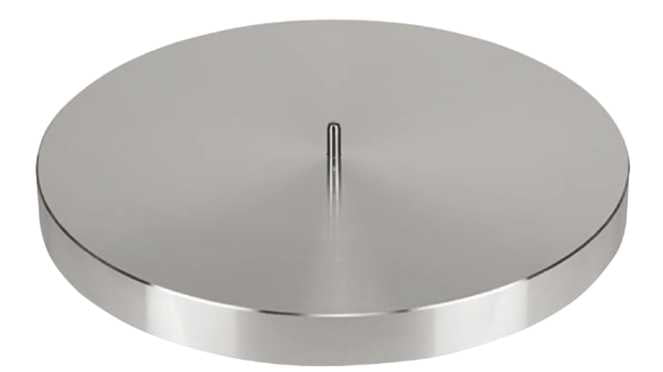 The heavy (5.1kg) machined alloy platter eliminates flutter (high rate speed variations).On top sits a simple felt mat.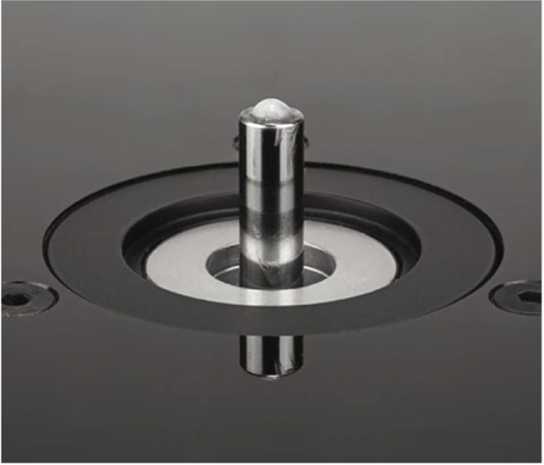 Pro-Ject's inverted bearing. The lower part is male, not female. This puts the contact area in the same plane as the stylus – not below it – minimising the effects of wobble in the bearing.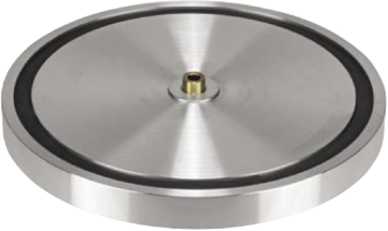 Pro-Ject fit a damping ring to the platter's underside, to silence bell-like ringing modes.
To ease set-up Pro-Ject include a big, colourful and clearly written manual with excellent pictures, power supply that provides a safe 15V (0.8A).This means there is no earth to the mains, avoiding a hum loop.There is an earth wire from arm to amplifier only.
SOUND QUALITY
I connected up to the unbalanced inputs of our Pro-Ject RS2 phono stage that in turn fed a PrimaLuna EVO 300 Hybrid amplifier, used here for its top-end push because the Quintet Blue needs assistance here. Loudspeakers were our Martin Logan ESL-X hybrid electrostatics connected through Chord Company Signature Reference screened cables.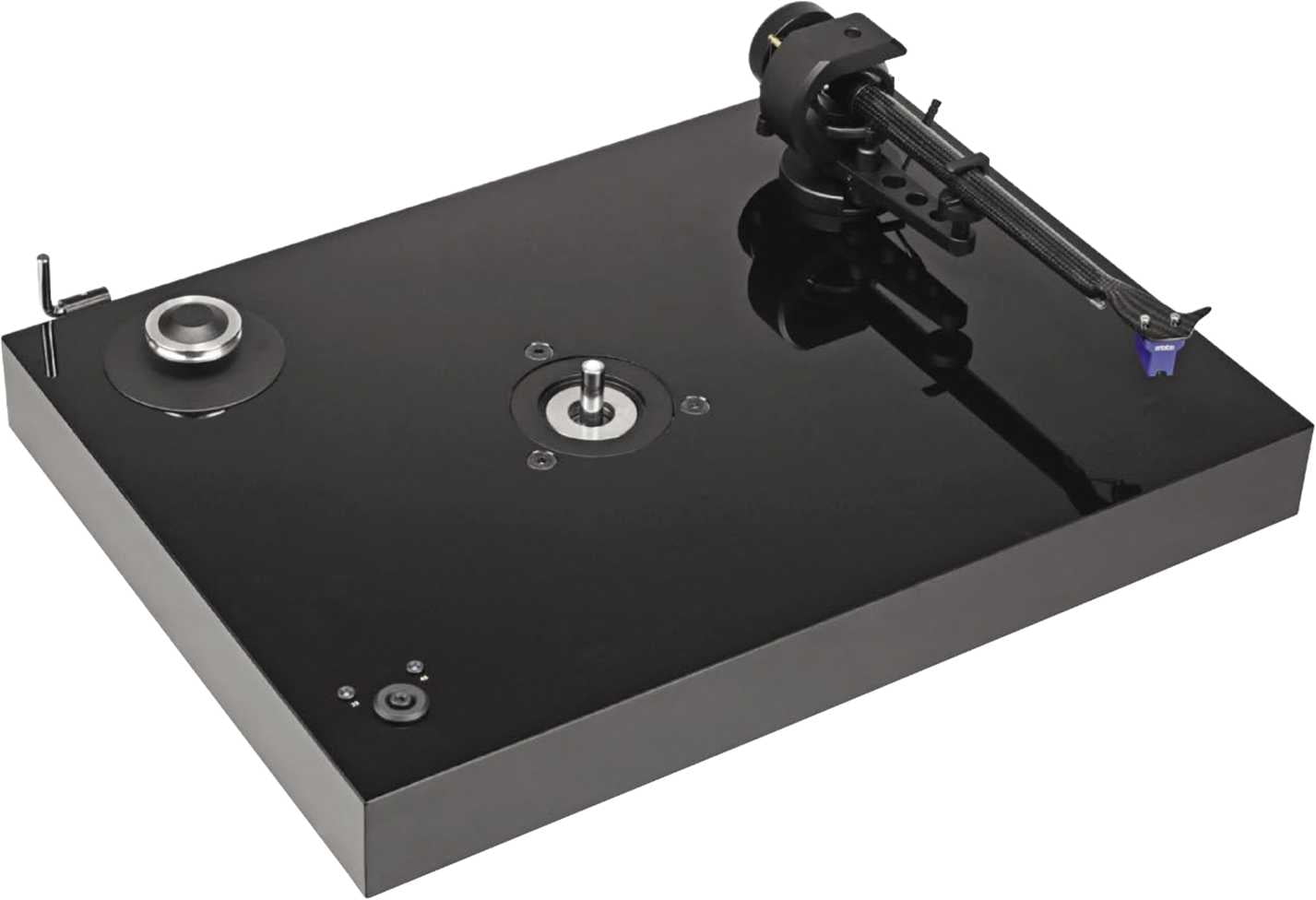 A simple but heavy plinth (10kg) supports a similarly heavy 5.1kg platter that sits on the central inverted bearing. Magnets are used to oppose weight and stabilise platter movement, smoothing speed. This gave near Direct Drive performance.
That the Ortofon Quintet Blue was soft up top was abundantly clear immediately, spinning Neil Young's After The Goldrush (allanalogue re-master) that is usually quite strong in treble content, especially when the mike is close to his strummed guitar (as it often is). Here the Blue lacked differentiation between strings and muted their bite, for example at the start of Only Love Can Break Your Heart. But the upside was an easy demeanour that many people want or expect from vinyl, with no high end spit.
What you get is the total opposite to CD then, if in emphasised extent here. However, the sound stage was wide and images on it generous in size and solidity. Backed by stable tempo the whole came over as slickly confident – and very relaxing.There was no hint of uncertainty as the RX8 went about its business.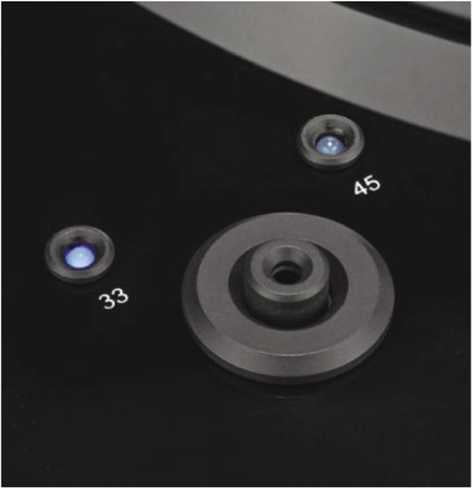 Speed change is by push button: 33 or 45rpm. This changes frequency of the on-board drive oscillator/ampli-fier: more stable than relying on local power station frequency!
Another plus point was strong, firm bass and the sense of dynamic push that comes from it. In appropriate high-end fashion the X8 sounded big bodied and muscular. With Alison Goldfrap's Lovely to CU the stabbing synth had weight and menace, rising from the vinyl in mighty form it seemed. Funny how LP can achieve this sense of visceral power, something CD never did. But it takes a solidly built turntable, like the Garrard 401 on a massive plinth, to show what's possible and the X8 managed very well in this area.
Spinning noisy oldies like Decca's The World of Blues Power (1969) from Britain's 1960s blues era, the X8 gave a usefully authentic take on things, putting plenty of weight into the sound to anchor drums and bass from All Your Love for example, making John Mayall's vocals firm and clear. I was little aware of ticks and pops, my attention drawn instead to the realistic solidity of images, the slick nuances of Peter Green's playing made obvious in Greeny. I was drawn in and enjoyed in simple fashion an LP once played to death! The X8 brought it to life.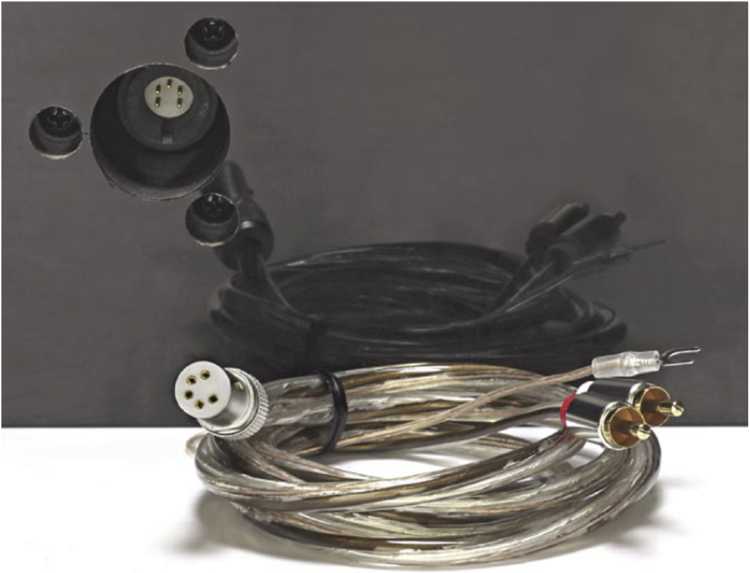 At left the five pin SME-style arm pillar socket of our unbalanced cable, gold plated phono plugs at right This socket allows balanced connection also.
CONCLUSION
I felt in the end this was a package with a serious turntable, a decent arm but a somewhat limiting cartridge. I struggled with the Quintet Blue's lack of treble detail, speed and insight. But at the same time it did deliver powerful dynamics and a big meaty sound much in keeping with vinyl's perceived heritage.Add in its completely inoffensive nature and you have a perfect counter to dodgy digital, for all those who want to relax when listening to music, especially from old, worn LPs.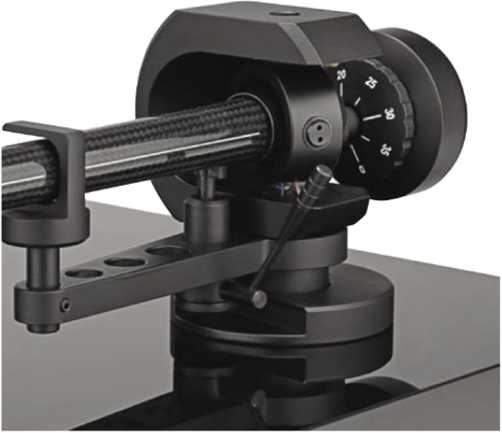 The counterweight has a calibrated dial to apply tracking force.
The X8 is a high-end starter package best upgraded with a better MC cartridge and the balanced working method Project talk about, using their SB3 phono preamp with balanced connecting lead.
With an easy and enjoyable sound the X8 is a turntable package worth considering.
MEASURED PERFORMANCE
The 3150Hz test tone of a DIN 45-452 test disc measured 3170Hz on our Wow&Flutter meter, a +0.6% speed error which is on the high side. Around 1% is considered audible as a change of pitch so this is still acceptable and speed can be adjusted.
The amount of speed change (wander) was very small, resulting in a very low DIN weighted Wow & Flutter value of 0.06% (0.04% to Japanese JIS standard), this comparing well with Direct Drives. There was no DD cogging flutter at 6Hz either our analysis of Wow&Flutter shows.
The arm has a first bending mode at 175Hz, our analysis of vibration with a Bruel&Kjaer accelerometer on the head shell shows, and there was significant second order flexure at 350Hz. Dips at these structural resonant frequencies appear in the Ortofon cartridge frequency response trace, an unexceptional result. The arm is lively.
Ortofon's Quintet Blue MC cartridge tracked reasonably well, just clearing a 60muym lateral cut at 300Hz on a CBS STR-112 test disc. The maximum 45muym vertical cut was cleared too, albeit with obvious second harmonic distortion from VTA error. Frequency response (JVC TRS-1007) rolled down slowly toward high frequencies, measuring -2dB at 10kHz – enough to give a slightly warm sound, somewhat in vinyl tradition, if less accurate than is possible nowadays.
A good if not perfect set of results, speed being a tad fast, and the arm lively.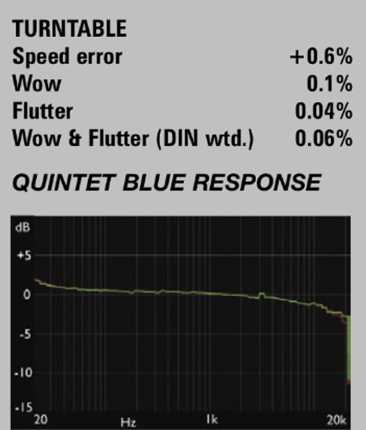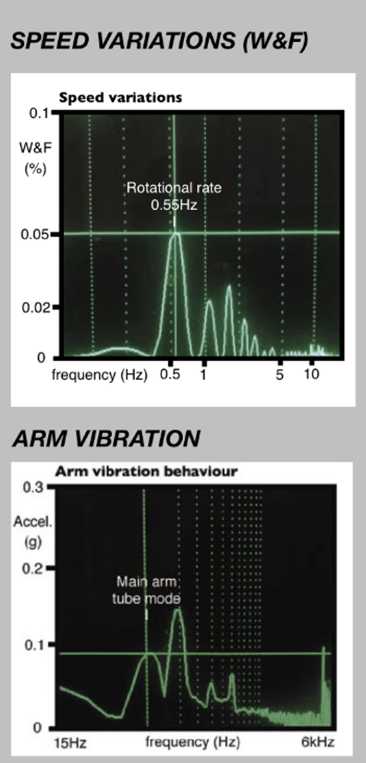 EXCELLENT – extremely capable.
VERDICT
PRO-JECT X8 TURNTABLE Review
LP replay with high quality and classic soft sound.
PROS
strong dynamics
excellent sound staging
balanced option
CONS
soft treble
undamped arm platform
poor finger lift
Add your review
Best PRO-JECT X8 TURNTABLE prices in the US ?

$

2,499.00
1 new from $2,499.00
in stock

Best PRO-JECT X8 TURNTABLE prices ?
MORE DEALS

See also TOP 15 turntables
Henley Audio
+44 (0)1235 511166
www.henleyaudio.co.uk