Triangle team up with Pro-Ject for their first vinyl spinner. John Pickford reports.
I knew in advance that Triangle's first foray into vinyl replay was in collaboration with a highly respected turntable special­ist, however I was surprised when it turned up in a box bearing the Pro-Ject logo.
Unboxed, the turntable looked smart enough with a traditional minimalist design and the Triangle logo in the bottom right-hand corner. But hang on, what's this? Bang in the middle of the dust cover was another logo, only this time it was the same as the one on the box: Pro-Ject.
The deck came with tonearm ready-mounted and its headshell equipped with an Ortofon OM- 10E cartridge. It's not quite plug and play though as you still have to mount the platter and attach the darive belt. Of course, it's sensible not to ship a turntable with its platter in place, pressing down onto the bearing, however, fitting
"With the tonearm I noticed the lack of bias compensation"
the drive belt was a bit of a faff. This wasn't helped by the fact that the platter does not have a groove in its periphery. I've plenty of experience attaching drive belts yet this one took several attempts before it was in place; a vinyl-loving novice would have a real struggle with this, I thought.
With my attention turning to the tonearm, I noticed the lack of bias compensation and was a little surprised to see the counterweight almost dangling off the end; I would have thought it better designed to be closer to the pivot.
Although the arm is made of aluminium, in use it felt on the flimsy side of things and there was unacceptable flex in the armrest.
7Review earns Amazon affiliate commissions from qualifying purchases. You can support the site directly via Paypal donations ☕. Thank you!
See also TOP 15 turntables
Looking on the bright side, the phono cable is Pro-Ject's Connect it E, which is far more substantial than the thin, red and white plastic phono-equipped cables I might have expected to see attached to a tonearm like this. And it features gold-plated RCA connectors. No exotic material is used for the platter though, just MDF with a standard black felt mat.
There's no switch for selecting 33 or 45 rpm – you have to manually adjust the drive belt – and the power switch is located on the side of the plinth, which does at least preserve the minimalist yet stylish look of the unit. Despite this, the basic design and uninspiring tonearm ultimately made the turntable feel like – if you'll forgive the pun – an unfinished project.
Following an enjoyable experience streaming hi-res audio into Triangle's Twin AIO loudspeakers, I hooked-up the turntable and played Scott Walker's It's Raining Today from Scott 3 (Philips 1969) as it was the last track streamed through the AIO system.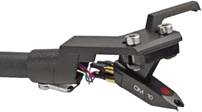 The tonearm comes equipped with an Ortofon OM-10E cartridge.
I have to admit my expectations weren't exactly sky high for the turntable's sonic abilities, however I was still underwhelmed. Scott's reverb-soaked vocals were robbed of atmosphere while the strings and hand-held chimes lost their sparkle: a disappointing result.
The turntable is identified as RCA in the app, denoted by a pair of phono sockets. The Line input is via a 3.5mm stereo jack plug.
At the price, Triangle's Turntable does not represent particularly good value for money and you can do far better elsewhere. Pro-Ject's Essential III A is a similar looking design and comes in a classy high- gloss finish. The tonearm is more solid looking and features bias compensation;and the OM 10-E equipped deck can be yours for well under £.
Audition the Triangle Turntable with the Twin AIO system if all your components must display the same company logo. But be aware, it still says Pro-Ject on the lid.
MEASURED PERFORMANCE
The Pro-Ject turntable was remarkably speed stable, Wow&Flutter measuring 0.12% (DIN wtd). There was a peculiar flutter peak at 5Hz under analysis but very little basic speed wander, so no subjective 'drunkeness' or vagueness of pitch. Speed was accurate too at +0.2% fast. Overall a surprisingly good result, since speed wander is common in budget belt drives, generating impulsive wow especially.
The 0M10 cartridge fitted was set to track at 1.8gms, right at top of Ortofon's recommended 1.25-1.75gm range. Its tracking was so poor as to need this, and absence of bias correction in the arm did not help. Ortofon claim 70 muym tracking, but we measured 45 muym (CBS STR-112 test disc), with obvious mistracking at 60pm. In the midband (1kHz) results were even worse, just 10cms/sec being cleared on B&K QR-2011 test disc. The suggestion here is that the 0M10 – an old design – will mistrack on vocals.
Frequency response falls slowly toward high frequencies so it will have a soft sound. This can be brightened slightly by increasing load capacitance to 400pF.
This cartridge is past its sell-by date: modern budget designs like Ortofon's 2M Red or Audio Technica's AT-3600L (also in this issue) manage far better.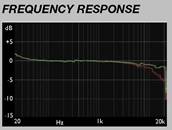 VERDICT
Triangle turntable review
A stylish, cartridge equipped turntable let down by below par sound quality
PROS
elegant, minimalist style
excellent speed stability
cartridge included
Add your review
Best Triangle turntable prices in the US ?

$

1,000.00
1 new from $1,000.00
in stock

Best Triangle turntable prices in the UK ?

£

1,269.21
1 new from £1,269.21
in stock


£

1,269.21
1 new from £1,269.21
in stock

MORE DEALS

See also TOP 15 turntables
Specifications
| | |
| --- | --- |
| Product Name | Triangle Active Series Turntable with Ortofon Cartridge (linen Gray) |
| Platter | MDF |
| Tonearm | Straight, aluminum |
| Effective arm length | 8.6-inch (21.8cm) |
| Effective tonearm mass | 8 grams |
| Overhand | 22mm |
| Cartridge | Ortofon OM-10E |
| Tracking force range | 1.25 - 1.75g (12.5 - 17.5mN) |
| Recommended tracking force range | 1.25g (12.5mN) |
| Tracking angle | 20-degree |
| RCA cable | Pro-Ject Connect It E - gold-plated connectors |
| Dimensions | 420 x 112 x 330 mm |
SCV London (UK distributor) www.scvdistribution.co.uk
+44 (0)3301 222500