Based on Vertere's flagship RG-1 Reference Groove turntable, there's a host of innovation in the brand's new SG-1 Super Groove. Read our Vertere SG-1/SG-1 PTA HB Review.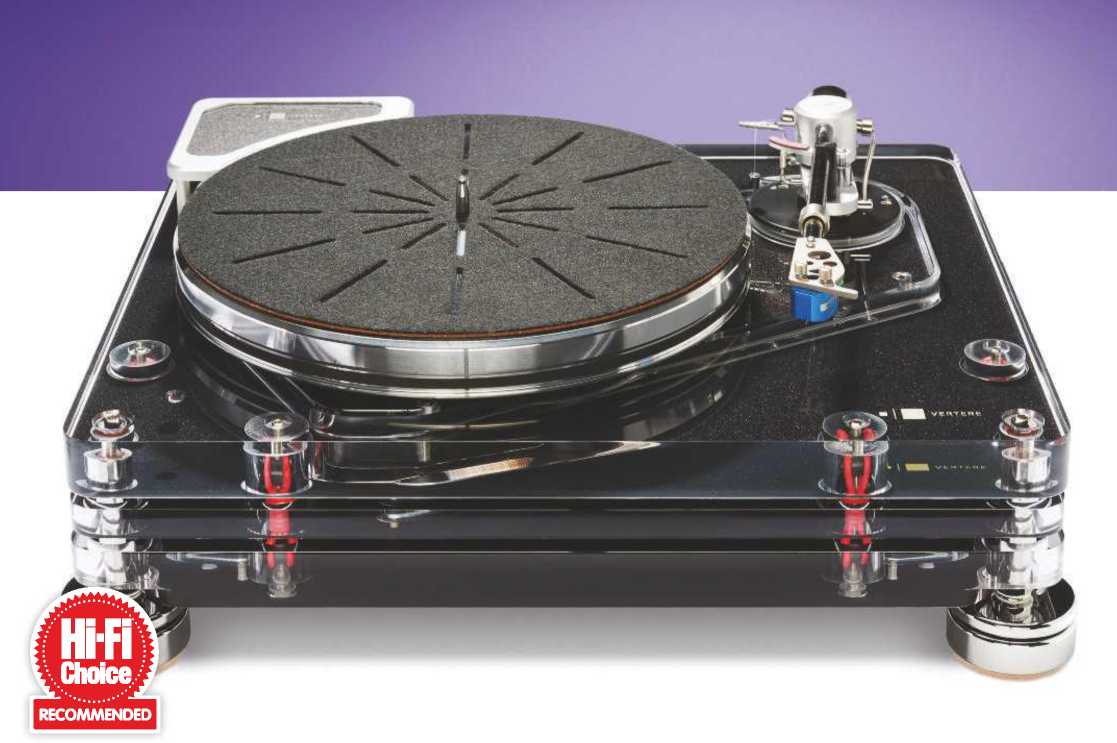 Anyone who has followed Vertere's founder Touraj Moghaddam, all the way back to the early days of Roksan, cannot fail to have been impressed with his iconoclasm. A lifetime later, he's still making cutting-edge turntables from out of leftfield. We knew that he hadn't mellowed as soon as he dissuaded us from using a clamp or a weight on the LP, before removing the spindle with a flourish. This is our introduction to the SG-1 Super Groove, one model below the flagship RG-1 Reference Groove.
In its Clear finish, seen here, the SG-1 retails for £, while £ pays for Black, Pearlescent, or Champagne. All are elegant, the two levels of 30mm-thick cast acrylic for top and bottom strata of the plinth, with a 15mm intermediate level of acrylic, creating a futuristic see-through look. To the deck are added the SG-1 PTA HB tonearm (£), the middle of three models, with Verum tonearm cable (£), and Motor Drive Imperium PSU (£), also the middle of three, along with Redline Mains and Motor Link cables, for a heady package price of £.
details
PRODUCT Vertere SG-1/SG-1 PTA HB
ORIGIN UK
TYPE Belt-driven turntable/arm with electronic speed control
WEIGHT 20kg (turntable)
DIMENSIONS (WxHxD) 490 x 240 x400mm
FEATURES
33 and 45rpm
SG-1 PTA HB carbon fibre tonearm
Motor Drive Imperium PSU
DISTRIBUTOR Vertere Ltd
WEBSITE vertereacoustics. com
Break with convention
With most high-end vinyl spinners being massive, often of all-metal construction and fearsome weight, the use of cast acrylic is another of those clues that Touraj marches to the beat of a very different drum, the deck weighing a 'manageable' 20kg. As he explains, cast – rather than machined – acrylic was chosen for its inherent damping properties, while the three-tier design offers isolation from airborne and structural interference.
The uppermost 30mm acrylic layer is supported directly on the deck's three adjustable feet while the lower slab 'hangs' via six constrained silicone rubber bands. The middle 15mm cast acrylic layer is supported by and decoupled from the lower layer, hosting the platter/bearing and tonearm 'sub-chassis' that is located via another six domed decouplers – one at the rear and five at the front.
The 24-pole synchronous motor is mounted in its own state of isolation in the far left corner of the top plinth. A flat, ground-polymer belt runs around the circumference of the single-piece aluminium platter, which rotates on a stainless steel bearing spindle in a high-copper, phosphor bronze bearing housing.
Even the platter is slightly unconventional. It's topped with a 3mm-thick bonded acrylic layer to which is added a fabric/cork mat with a series of cut-outs. Here you are invited to experiment even though Vertere wants you to use it cloth side up, and maybe you could use it without any mat. We try both, ultimately preferring the cork – which also has a strobe pattern imprinted on it for checking the speed. Then comes the clincher: the spindle is removable, more of which anon.
7Review earns Amazon affiliate commissions from qualifying purchases. You can support the site directly via Paypal donations ☕. Thank you!
RECOMMENDED VIDEOS FOR YOU...
See also TOP 15 turntables
The three feet, meanwhile, extend slightly beyond the edges of the tri-layer chassis, so it's worth checking if the 490 x 400mm (width x depth) footprint is accommodated by your favoured choice of racking. More compact at 254 x 58 x 214mm (WxHxD), the external Motor Drive Imperium PSU controls on/off, speed change, and fine speed adjustment. Small toggle switches handle the first two operations, while fine speed tuning is achieved using a rotary offering ±0.25 and ±0.75 percent steps. Another detail for those who value pride of ownership is the deck's inbuilt LED illumination, also powered by the Imperium, which lights up the cover over the motor pulley that bears the Vertere logo.
We were expecting the complexlooking carbon-fibre arm to be a bit of a handful, thinking of old-school uni-pivots which are, in the main, a pain to set up, but this isn't quite a uni-pivot. Rather, Vertere's Tri-Point Articulated (TPA) bearing makes it something of a half-way house between uni-pivots and other types and is very straightforward to adjust for VTA, azimuth (with outriggers on the counterweight) and, thanks to the tube's sliding collar, fine tracking force.
The SG-1 flaunts undeniable finesse above powerful lower registers
We install a DS Audio Master 1 optical cartridge in the SG-1 PTA HB tonearm, feeding an Audio Research REF 6SE preamp and choice of two power amps – an Audio Research REF 75SE and D'Agostino Momentum M400MxV, driving Wilson Audio Sasha DAWs. The presence of the latter proves fortuitous, as we soon discover that the SG-1's forte is copious bass, and it takes seconds for it to give the Sashas a workout.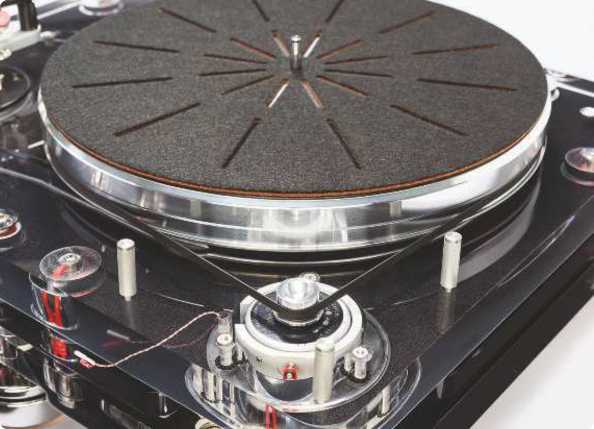 Sound quality
Most audiophiles will admit that first impressions are rarely wrong, despite exhortations to the contrary about needing to live with a product for months. That's a weasel's way of hiding a component's weaknesses, because you can get used to anything, including most sonic irritants. Seasoned listeners, though, trust their ears and the Vertere SG-1 is a complete knockout from the get-go.
At first, however, we must take a leap of faith and return to those bygone days when we simply put an LP on the platter – no puck, clamp or vacuum hold-down. We're so used to employing one of the three that it is almost like an act of heresy not to. Successfully undermining our conditioning, during setup, designer Touraj whips off the spindle and places it on its magnetic resting spot on the plinth, near the front left corner, saying it's needed only to centre the LP.
Amazingly its removal (and the absence of any form of hold-down) has no deleterious effect on the bass. It sounds rich, powerful, extended, and nearly as dazzling as that of open-reel tape. We kick off proceedings with a series of raucous, bass-rich LPs, which we hoped might expose Vertere's spindle/anti-clamp folly as more eccentricity, but the sheer power of the lower registers on Boogie 'Til You Puke from Root Boy Slim & The Sex Change Band With The Rootettes suggests otherwise.
An example of syncopated funk reminiscent of Little Feat, with a dose of Dr John and a whiff of Captain Beefheart thrown in for seasoning, the track is ripe for dissemination by those enthusiasts who adhere to the concept of 'Pace, Rhythm and Timing', as if these are by-products of the system and not simply of the recording being played at the correct speed. We like to think we've moved on from that benighted era and the truth wins out: the SG-1 simply extracts all that the grooves contain.
HOW IT COMPARES
The great vinyl revival has not only seen the growth of more turntable brands than at any time in the black stuff's history, but also the birth of more high-end solutions than ever before. Vying for your attention alongside Vertere's SG-1 is the £ Air Force III Premium from Japan's TechDAS with its pneumatic suspension, vacuum LP hold-down, and a space in each corner for a tonearm of your choice (so four in total!). SME has an unsurpassed reputation for the precision engineering of its turntables and the 'Diamond' finished Anniversary version of the 30/2A – yours for £ – is a sublime example. The sound is rock-solid, underpinned by quite superb pitch stability and perfectly matched to SME's own tonearms.
INSIGHT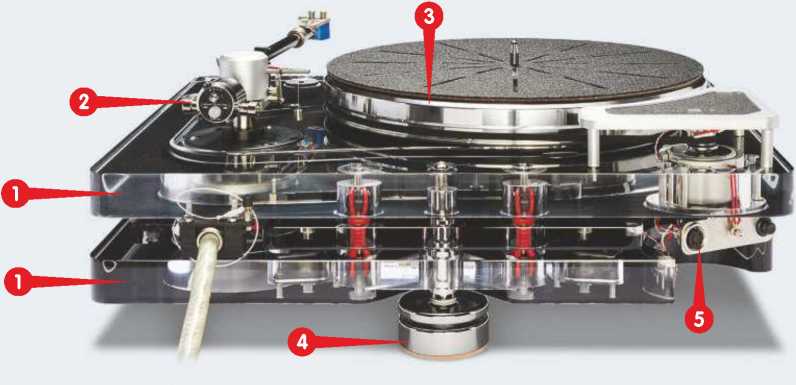 1) 30mm-thick cast acrylic layers
2) Counterweight with adjustable 'wings' for fine azimuth tuning
3) Alloy platter with 3mm acrylic surface and felt mat
4) Adjustable foot
5) 7-pin DIN connector for the Imperium PSU's dedicated motor link cable
What follows is a more mournful track, I'm Not Too Old For You, the SG-1 is able to demonstrate its prowess in the midband, with Root Boy's gravelly vocals richly textured and full of emotion. You can sense the sheer anguish when he delivers the immortal line: "When you turn seventeen, I'll just be thirty-two". Behind him, with impressive depth, is a wall-to-wall array of instruments and backing vocalists, The Rootettes' singing with angelic sweetness. Better still and experienced even through our first listening session, the SG-1 proves itself a model of consistency and musical coherence.
This properly hits home with the 45rpm, double-LP release of Love's magnificent 1967 classic Forever Changes, a Left Coast milestone that excels not just musically and lyrically, but sonically as well. We've already heard and admired the delicate ballad Andmoreagain oh, at least a few hundred times, but the SG-1 adds new prominence to a few subtle details that we hadn't recalled having such presence. Then again, this is the first time we've heard it with the DS Master 1, so here we must show some restraint. What can't be denied is the foundation that the SG-1 creates.
Forever Changes never really registers as particularly bass-biased, and it isn't disproportionate via the SG-1, but the LP certainly seems to have gained more body. What the Vertere/DS Audio front-end is emulating – also against our conditioning – is bass that's more in line with the kind of 'fill' anticipated from open-reel tape but rarely from vinyl. To test this, we decide to dig out an LP from Love's stablemates at Elektra – we speak, of course, of the one and only Clear Light.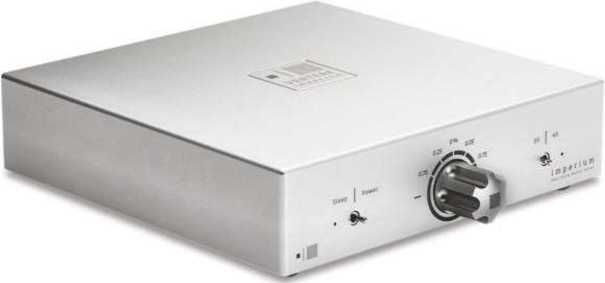 The Imperium outboard PSU offers subtle speed adjustment
The SG-1 reveals new details in recordings that we've heard hundreds of times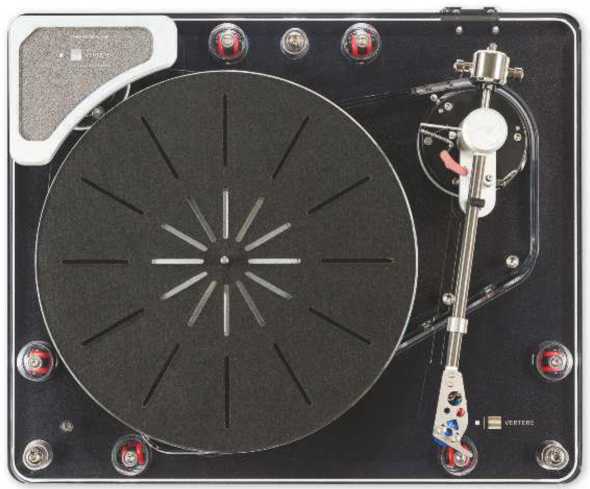 Six suspension points are visible through the three-layer cast acrylic deck
The American psychedelic rock band's eponymous long player was recorded by the band some two months earlier, in April 1967, in the same studio – Sunset Sound – and with the same engineer, Bruce Botnick. Like The Doors' debut recorded the previous year, it possesses a distinct character which separates it from other LA bands of that fecund period, while distancing them further from the competing sound of San Francisco's bands. The best part of 65 years on, these LPs remain paradigms of rock with subtlety.
So nakedly revealing is the Vertere SG-1, and so coherent its demeanour that you can hear with minimal effort the signature sound of both Botnick's skills (as heard on Buffalo Springfield's Again album) and the pioneering and superbly tasteful mid-Sixties Elektra label per se. It's a delicious blend of the incisive and the soothing as if fuzz-tone guitars and massed strings are natural allies. Yes, Clear Light and Love (and The Doors) are siblings.
With the SG-1 flaunting undeniable finesse above palpably powerful lower registers in recordings so endowed, it seems to be in direct contradiction to the long-held, near-religious belief that an LP should be all-but-glued to the platter. Yes, the truly commanding TechDAS Air Force III Premium at twice the price and with vacuum hold-down and air-bearing, can extract a trace more mass and solidity, but that's not the point. The SG-1 satisfies nearly as much by going in a different direction. Like we said earlier, Touraj is nothing if not an iconoclast.
Conclusion
Even cacophony does little to faze the SG-1. Few saxophone solos are as madly screechy as the one found in Astronaut Food from Sopwith Camel's second album, 1973's The Miraculous Hump Returns From The Moon. Think of the weirdest noises ever made by the astounding Sun Ra and you're close: soaring treble, rapid attack, red-hot transients.
By the time we get to the more sedate charms of Carole King's 1971 smash-hit LP Tapestry – chosen for a relaxation session by wallowing in its deliciously convincing piano and yet more floor-filling bass – we are well and truly hooked. This really is something special – regardless of the absence of puck, clamp or vacuum hold-down •
OUR VERDICT
Recommended
Vertere SG-1/SG-1 PTA HB Review
An iconoclastic classic
PROS
Cavernous bass
Delicate handling of quiet moments
Add your review
Best Vertere SG-1/SG-1 PTA HB prices ?
MORE DEALS

See also TOP 15 turntables