The smallest floorstander in the twenty5i range is very elegant looking, but Ed Selley finds it still packs one hell of a punch. Read our PMC Twenty5.23i Review.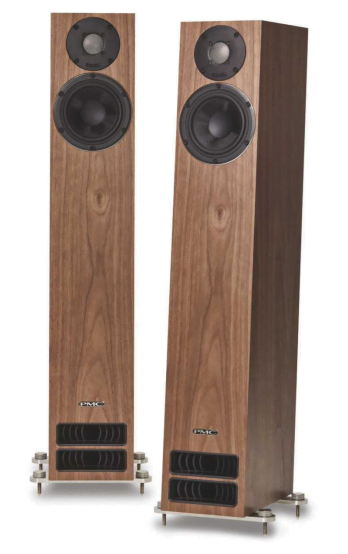 DETAILS
PRODUCT PMC twenty5.23i
ORIGIN UK
TYPE 2-way floorstanding loudspeaker
WEIGHT 15kg
DIMENSIONS (WxHxD) 162 x 907 x 330mm
7Review earns Amazon affiliate commissions from qualifying purchases. You can support the site directly via Paypal donations ☕. Thank you!
See also TOP 10 Subwoofers
FEATURES
•  19 mm soft dome tweeter with 34mm surround
•  140mm mid/bass driver
•  Quoted sensitivity: 86.5dB/1W/1m (8ohm)
DISTRIBUTOR PMC Ltd.
TELEPHONE 01767 686300
WEBSITE pmc-speakers.com
When the time comes for a company to update a popular line, there are a few schools of thought as how best to go about it. Some rework their offerings and release something that looks decisively different. Others proceed to gently evolve a design over years or even decades, pursuing incremental changes but keeping a consistent basis. PMC has found a third way where it releases a range of speakers that looks superficially identical to what came before, but with a significant amount of change.
The twenty5i range is, as the 'i' suggests, an improved version of the preceding twenty5 series. The 23i is the smallest of three floorstanders and if you stick it next to its predecessor, discerning between the two is like a fairly stiff game of spot the difference. In reality, the 23i is changed quite
The 23i's imaging is a significant step forward over what has come before
significantly from the older model – starting literally from the ground up.
The cabinet is mounted on a pair of plinth bars with adjustable spikes. During testing and development, PMC discovered its old bar and spike system was generating a 470Hz resonance that was feeding back to the cabinets and causing interference in playback. The answer is new decoupled bars with cutouts in their upper edge in which damped foam washers are placed to isolate the cabinet from the floor more effectively than before. The overall footprint of the spikes stays much the same, striking a decent balance between stability and space taken up.
Another significant but tricky to spot difference concerns the tweeter and crossover. The former has been changed in all the new models to a 19mm dome derived from the one used in the newly updated fact range. This is complemented by a 34mm rolled surround so the inner dome generates high frequencies while the surround fills in below it. It does this filling in so effectively that the tweeter in the 23i is responsible for everything from 1.7kHz. This is one of the lowest crossover points I can remember seeing in a two-way design at any price.
The crossover is also heavily revised. As well as allowing for this new 1.7kHz point to be hit, there are new components in the signal path in the pursuit of a flatter overall response and the board that they are mounted on is now black. This serves to differentiate the new models from their predecessors and looks pretty smart as well.
The mid/bass driver is largely unchanged from previous twenty5 models, but as this was the main focus of development the last time around that isn't too surprising. The 23i uses a single 140mm woven cone that works with a 7.8 foot-long transmission line that exits the speaker via a pair of 'laminair' ports designed to control the flow of air exiting the cabinet, preventing eddies. This transmission line and the new tweeter combine to give the 23i a quoted frequency response of 28Hz to 25kHz, which from a speaker with these relatively compact dimensions is no mean feat.
There are some cosmetic tweaks, too. The metal rear panel is now in a brushed finish and the cabinets can be specified in oak, walnut, white sheen or diamond black. Magnetic grilles are provided, ensuring that there are no unwanted perforations on the front panel. The result is a handsome- looking speaker and it's easy to see why its become the strongest selling
Introducing PMC's new 19mm soft dome tweeter
member in the range. The overall standards of build and finish are extremely good and its small size should allow it to work in rooms where burlier rivals might struggle. This being said, the asking price does feel a little high compared with some similarly svelte rivals.
Sound quality
From the outset, the changes reap benefits. Historically, any review I wrote of PMC speakers featured a passage about the need to place them effectively before they really exhibited what they could do. The 23i still benefits from at least cursory attention being given to its positioning, but this is now more about tweaking what it does rather than unlocking its potential. The manner in which this speaker images is a significant step forward over what came before.
Connected to a Naim Supernait 3 (HFC 456) and a Chord Hugo 2 and 2Go (HFC 465), the PMC opens up the 24/96 Qobuz stream of Ray LaMontagne's Monovision into a wonderfully immersive and three dimensional space that extends both outward from the cabinet and has an uncanny perception of front-to-back depth to it. This creation of space is something it effortlessly does almost regardless of musical choice and largely independent of partnering equipment. No less importantly, it manages to do this even at very low volume levels.
Unpicking the specific impact of the decoupled feet, the tweeter and the crossover revisions is tricky and, to a degree, somewhat pointless. I will say that the feet offer a level of decoupling from the surrounding environment that is hugely impressive. If you are after a speaker that will behave itself on a suspended floor, this is a very good place to start your search. Otherwise, this feels like a PMC floorstander that 'dials-in' to spaces more easily and more effectively If this sounds anticlimactic, it really shouldn't. The 23i wields its transmission line-induced heft with an immediacy and precision that showcases that – however obsessive modelling the airflow from a bass port might sound – the effects on the speed and precision of the low end that results is truly impressive. You can really lean on the 23i, playing something like Sturgill Simpson's ballistic Sing Along it delivers the drive and impact with all the urgency it needs to sound wholly convincing. This somewhat edgy recording does demonstrate that at the other end of the frequency spectrum this is still not the most forgiving speaker in its category, but – given PMC's heritage – it probably isn't too surprising that the 23i is at heart something that behaves like a monitor.
This also means tonal realism is extremely good. The curious, vaguely unsettling yet beautiful Tunng Presents… Dead Club is a feast of beautiful instrumentation and delicate harmonies, and the PMC is absolutely in its element from the opening chords of Eating The Dead. There is an understated competence to everything that the 23i does that takes a little time to appreciate and really only makes itself felt when you switch back to something that isn't quite so assured. It's admirably transparent too. Moving the PMC over to a Cambridge Edge A, working as both amp and decoding, it reproduces the warmer, fuller and more relaxed presentation of the Edge very effectively This does serve to ameliorate some of that slightly unforgiving element in the upper registers too, suggesting that a little care in partnering will make a useful difference to how it performs.
Conclusion
This is a speaker that looks and feels very similar to its predecessor and loses absolutely nothing of the positive qualities it possessed. Instead, it works in new talents that broaden its appeal still further. It isn't cheap and you can point to rivals that will challenge it in relatively straightforward rooms. Where the 23i starts to make its worth felt is as these locations become more challenging. Thanks to the care extended on the decoupling, the ability to create a consistent and believable stereo image and the clout it can wield from a comparatively small cabinet, the PMC can continue to deliver its many virtues as rivals start to struggle. The twenty5.23i looks like business as usual, but in fact marks an impressive step forward for the company It isn't very big, but it is rather clever
VERDICT
Recommended
PMC Twenty5.23i Review
A handsome and highly effective speaker that delivers performance beyond its size in locations that rivals will struggle with
PROS
Spacious, detailed and powerful sound
Easy to place
CONS
Can be unforgiving
Expensive
Add your review
Best PMC Twenty5.23i prices ?
MORE DEALS

See also TOP 10 Subwoofers
HOW IT COMPARES
The Neat Ekstra that featured in the Beautiful System in HFC 469 is taller than the PMC, but shares a similarly compact footprint that still delivers prodigious low end. It's also fairly unfussy about placement, is attractive and well made… and costs £ less. This is a significant price difference that is hard to overlook. However, the decoupling plinth bars of the 23i see it dial into upstairs spaces far better than the Ekstra.