The Borea BR8 floorstanding loudspeaker from Triangle of France charms Noel Keywood. Read our TRIANGLE BOREA BR08 Review.
Long ago Triangle (France) made loudspeakers that scythed the ears, there was so much treble. Then, I was told, the founder/designer was invited to relinquish his post when funding came in from an industrialist who owned a few cha­teaus and accompanying vineyards. Their speakers changed overnight to become both more sophisticated and accurate, garnering a string of top reviews from us. With this as back­ground we were pleased to secure their recent Borea BR08 floorstander for review.
That the BR08 looks much like B&W's 603 S2 also in this issue is pure happenstance. We didn't deliberately select floor standers that look alike, more that a white baffle against a light oak veneer cabinet is current trend – and it does look smart, that's for sure. Beneath the skin there are techno­logical differences, but the biggest and likely most influential to most potential buyers is price, the Triangle is inexpensive by market norms and 30% cheaper than the B&W – quite a saving.
The BR08 has a similar array of drive units, comprising silk-dome tweeter to handle highs, a synthetic cone midrange unit and two synthetic cone bass units. Triangle quote their operating ranges as up to 215Hz for the (black) bass/midrange units, the (white) midrange unit extending this to 1.5kHz above which it rolls down smoothly measurement showed, the tweeter handling all above. Making this a three-way floorstander with two bass units and the potential for powerful bass.
The bass units are loaded by a reflex port that sits on the front baffle, not the rear as is usual. This potentially sends internal cabinet colouration direct out to listeners, the reason front ports are rarely used, but measurement showed Triangle's port was free of such colouration.
Standing 1020mm high, 206mm wide and 314mm deep the cabinet is sizeable, weighing a reasonable 18.85kg. There are optional pedestal plates for better stability, and soft feet or spikes that screw into the cabinet direct or the pedestal plates to give the 'speaker firm placement.
The finish of our samples was superb, their light oak veneer having a coarse wood grain. I've been told in the past that what I thought was artificial veneer was in fact real wood veneer with protective matt lacquer (whoops — my mistake!) and Tannoy supplied a tub of beeswax to be rubbed into their veneered monsters, suggesting real wood veneer needs protection. So the raw wood finish here is certainly a draw, possibly with drawbacks.
7Review earns Amazon affiliate commissions from qualifying purchases. You can support the site directly via Paypal donations ☕. Thank you!
See also TOP 10 Subwoofers
Connection is through single­wire terminals, so no ability to bi-wire or bi-amp. – or to reduce treble with 1-2 Ohm resistors as I tend to do.
Finally, the specs claim a massive 92dB sound pressure level (very loud) from 1 Watt and that's what we measured. Meaning the BR08s need little power, 40 Watts being more than enough. You can drive a loudspeaker this sensitive with 9 Watts from a single-ended valve amp for example. The Triangles are more sensitive than all others of their size and type, being comfortably ahead of rivals in this respect.
Initially I drove the BR08s from an Audiolab 6000A Play amplifier, through Chord Company Signature Reference loudspeaker cables but the sound was a tad lifeless and puzzlingly "not right". Swapping over to a new Creek Voyage i20 brought instant happiness: now the BR08s sounded lovely. Being sensitive I could not help but hook up our Icon Audio Stereo30 SE single-ended valve amplifier afterward and this combination was superb, showing just how good the Triangles can be.
Like all synthetic cone loudspeakers the Triangles needed a long run in; we gave them 72 hours. As measurement suggested they were tonally quite dry – no warmth – but even and clean. What initially confused me was they seemed a tad soft, almost veiled, but this was after using the B&W 603 S2s of which I had retained memory I suspect. The Creek amplifier showed that they were not veiled, but mild yet revealing in a very subtle way. As I settled into this delivery, supported by the superb Creek (well, it is £ against £ for the Audiolab) my listening notes became studded with the words "smooth" and "svelte".
Josefine Cronholm's vocals were silky yet I could hear right into what was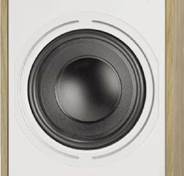 going on, without having it all thrown at me as modern shouty 'speakers tend to do. The BR08s were both relaxing and revealing at the same time.
The deep bass line in Holly Cole's The Train Song came over well, being in good balance, but there was some boxiness here when I wicked up the volume. And with Loreena McKennitt's Gates of Istanbul I felt bass became a little soft and ponderous as volume went up, likely due to port distortion since the port is relatively small.
This isn't meant to be a comparative review against the B&Ws, but it was interesting how they had better bass quality but were not as slickly smooth as the Triangles. Loudspeakers are a terrible set of trade-offs: choose your poison! No doubt the B&Ws were most dramatic, but no doubt the Triangles were more sophisticated.
And with our Icon Audio Stereo30 SE valve amplifier they really shone. Now I was getting the dynamism and spaciousness of the valve sound, but the Triangles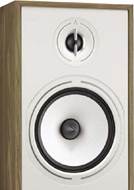 were conveying the music with slick and easy precision. So glad I bothered to change amps with these 'speakers because they are mild and gentle, yet quietly revealing and – got to use the word again – svelte. No crash-bang here, just a nicely correct view of the music, un-enhanced. I think that is why I needed a high quality amplifier with similar properties, ones the BR08s could both reveal and support.
There is a suggestion, from measurement, that deep subsonics are available. In our large room (6550 cu ft) I did not get to hear them, but I suspect in a room 18ft long with a first mode at 31Hz the Triangles would rumble when placed against an end wall.
Quietly impressive is how I'd sum up the sound of Triangle's BR08 loudspeakers. Cooly accurate, subtly smooth and easy on the ear; no shouty midrange, no piercing treble, just the music. Add in attractive styling and finish, enormous sensitivity making 40 Watt amplifiers more than enough, plus a price just under £ and I can't help think that Triangle may be pitching these as loss-leaders to gain traction in the UK's saturated loudspeaker marketplace. Quite a bargain – and well worth hearing.

Triangle's Borea BR08 has impressively smooth frequency response, our third- octave pink noise analysis shows, with grille off. This is best-case, which was 20 degrees off-axis. When measured on-axis treble rises by +2dB above 10kHz, giving a slightly brighter sound when toed in toward listeners; the BR08 is best pointed straight down a room. It retains strong upper mid-band and treble output for good delivery of detail and sharp imaging. With grille on, the upper midrange dipped slightly (-1dB or so) around 6kHz.
Further down the frequency range the lower midband rises a little, the front port (red trace) contributing to output around 200Hz. It also delivers very broad output from 100Hz down to a low 30Hz, this breadth of bandwidth suggesting very strong damping across the bass region. The impedance curve confirms this by absence of high peaks around port resonance (40Hz), making the 'speaker a 5 Ohm resistive load with minimal reactance (energy storage). This is a notionally ideal situation as an amplifier load. Likely it is front firing because of its contribution.
Front firing ports carry a potential penalty in making box-boom colouration obvious, but the red port trace shows little output above 200Hz, suggesting little of this effect.
Broad bass output peaking at 30Hz from the port suggests strong but well damped deep bass from the Borea. As low bass output does not rise, it is probably best positioned close to a rear wall, in a medium (16ft long) or larger room.
Sensitivity measured a massive 92dB from one nominal Watt (2.8V) of input, meaning the BR08 will go loud from just a few Watts: just about any amplifier would suit, 40 Watts being plenty enough. Overall impedance measured 5 Ohms, using pink noise to represent music, with d.c. resistance of 3.9 Ohms (set by the bass units) and our impedance trace shows this.
Triangle have engineered the Borea's front facing port to play a strong role in bass control and output, tuning it to run very low for deep bass. Further up the band output is smooth and accurate. NK
TRIANGLE BOREA BR08
OUTSTANDING – amongst the best
VALUE – keenly priced
TRIANGLE BOREA BR08 Review
Accurate, refined sound and need little power. At the price, a bargain.
PROS
smooth easy sound
accurate
need little power
CONS
bass gets soft at high volume
single-wire only
Add your review
|
Read reviews and comments
Best TRIANGLE BOREA BR08 prices in the US ?
Best TRIANGLE BOREA BR08 prices in the UK ?

£

899.00
3 new from £899.00
in stock


£

999.00
1 used from £779.00
2 new from £999.00
in stock

MORE DEALS

See also TOP 10 Subwoofers
Specifications
| | |
| --- | --- |
| Product Name | Triangle Borea BR08 3-Way HiFi Floor Standing Speakers, Light Oak, Single |
| Quantitu00e0 | 1 disponibile |
www.trianglehifi.com