Optoma hasn't just sliced the price of 4K projection, it's made 3D cool again, argues Steve May
IT'S BEEN QUITE some time since I leapt from a cliff and soared through the clouds on the back of a Toruk. But it's as exhilarating today as it was when I first took the plunge in 2009. Back then. James Cameron's Avatar was a 3D cinema sensation, but that dimensional euphoria has been hard to recreate of late.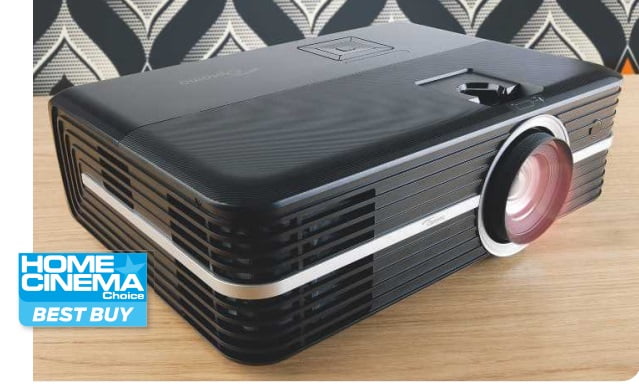 Still, things are looking up. Optoma's low-cost 4K beamer, the UHD51. is part of a new generation to offer 3D compatibility, albeit in 1080p. And it turns out this projector is a grand reminder of just how much fun bigscreen 3D can be.
Smart and compact
Design-wise, the UHD51 should be easy to accommodate. It's smart and compact, and relatively light too. at 5.22kg. so ideal if you want to install it on a shelf or ceiling mount.
It's an easy PJ to get to grips with. Optoma offers a great-looking graphical interface, and there's an internal test pattern generator to ensure sharpness and linearity. Zoom and lens shift (vertical) are managed manually.
There's a variety of SDR viewing presets but to be honest there's not a huge amount of difference between them, certainly compared to the differences you might see between presets on a TV display. With Blu-ray/ TV content the Cinema mode
7Review earns Amazon affiliate commissions from qualifying purchases. You can support the site directly via Paypal donations ☕. Thank you!
See also TOP 15 projectors
Lamp-based 4K HDR DLP projector
Middle of Optoma's growing 4K stable
BenQ W1700; Acer V7850; Vivitek HK2288
became my go-to default, and it's actually quite atypical for a Cinema mode, being punchy, with clean, uncoloured whites and excellent colour.
The UHD51's lamp brightness has just two settings. Eco and Bright. The former extends the life of the lamp to a claimed 10.000 hours, but more significantly drops the operating noise of the projector down. There is a visual consequence though. Watching animated sequel Kung Fu Panda 2 (BBC Two HD), the white feathers of Master Crane lose a little of their luminance when you switch to Eco. The picture still has a high level of 'snap', though, and you probably wouldn't notice the difference without an A/B comparison.
The PJ's six-segment colour wheel covers 100 per cent of the REC.709 colour space.
This unit doesn't therefore support wide colour as used on UHD discs, instead downconverting to the standard currently embraced by TV and vanilla Blu-ray. This isn't a major issue. The palette of Kung Fu Panda, within a REC.709 container, is ferociously lush. A journey by our rotund hero into a perilous pagoda is bathed in all shades of red. but the image is never noisy.
DLP's trademark clarity is evident in both HD and Ultra HD sources. Its pin-sharp accuracy is superb. Refreshingly. I didn't experience any rainbow flicker, either. I found the picture smooth and coherent, and largely immune from contrast-induced artefacts.
For raw detail and naturalistic texture, the gritty North London drama Save Me (Sky Atlantic 4K) has much to offer. The forlorn inner-city estate exhibits a wealth
SPECIFICATIONS
3D: Yes. Active 3D 4K: Yes. 3,840 x 2,160 HDR: Yes. HDR10 CONNECTIONS: 2 x HDMI inputs; PC VGA input; 3.5mm audio input; 3.5mm audio output; optical digital audio output; USB (powered); 12V trigger; RS-232; Ethernet BRIGHTNESS (CLAIMED): 2,400 Lumens CONTRAST RATIO (CLAIMED): 500,000:1 ZOOM: 1.3x DIMENSIONS: 392(w) x 281(h) x118(d)mm WEIGHT: 5.22kg
FEATURES: XPR single-chip DLP design; 5W built-in audio; 4,000-hour claimed lamp life (Bright mode), 10,000 hours (Eco mode); 25dB fan noise; 3D playback at 1080p24; 1.21:1-1.59:1 throw ratio; vertical lens shift;
ISF modes; PureMotion frame interpolation of detail, and there's a preponderance of emotive close-ups to convey the drama.
The imagery is quite striking.
Black level performance is good enough. It's probably unreasonable to expect a low-cost projector like this to be able to differentiate the same level of shadow detail as an OLED screen, but it certainly has no problem differentiating between 0 and 10 per cent black on a greyscale. Use of the supplied Dynamic Black tool is largely down to taste.
I preferred it Off on this model, however some might like the denser blacks it produces.
Playing Transformers: Revenge of the Fallen (Ultra HD Blu-ray) rewards with a nice sense of HDR dynamism. This PJ doesn't mute the image in an attempt to fake highlights; sparks and explosions generate genuine peaks. The Optimus Prime forest face-off also provides a stunning example of the blistering clarity the UHD51 is capable of.
Image smoothing is offered in the form of PureMotion processing. This is actually quite benign in operation (which is a good thing), and irons out horizontal panning judder. I'd recommend keeping PureMotion Low for movies and TV content, but experimenting with High for sports.
And then there's the surprise star turn. Optoma's UHD51 will project 3D in 1080p and it looks glorious. Images exhibit extreme depth with minimal crosstalk. There are no 3D glasses supplied, so you'll need to invest in a pair of Optoma's ZD302 DLPLink spex. But it's worth the expense.
Brilliantly priced, a rock-solid performer and with enough setup flexibility not to make installation a chore. Optoma's UHD51 shakes up the home cinema projection market. 4K has relegated Full HD to the cheap seats.
HCC VERDICT
Highly Recommended
Optoma UHD51 Review
Optoma doesn't cut corners with this entry-level UHD/3D hero. Images are sharp, colour-rich and dynamic.
Add your review
Best Optoma UHD51 prices in the US ?

$

108.48
2 new from $108.48
in stock


$

108.99
1 new from $108.99
in stock


$

133.99
1 new from $133.99
in stock

Best Optoma UHD51 prices in the UK ?

£

107.09
1 new from £107.09
in stock

MORE DEALS

See also TOP 15 projectors