Can a discreet 5.1 system deliver sonic goods without causing domestic strife? Steve Withers finds out. Read our Monitor Audio MASS 5.1 Review.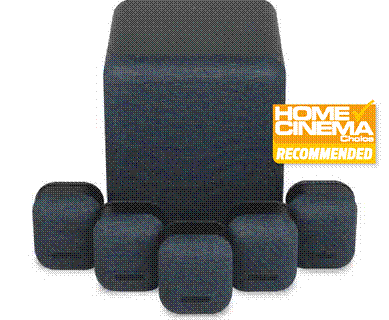 AV INFO
PRODUCT: Affordable 5.1 sub/ sat package
POSITION: Below Apex and Radius in Monitor Audio's range
PEERS: Wharfedale DX-2; Q Acoustics 3010i
HIGH-END SPEAKER SYSTEMS catch the eye and ear, but the reality is not everyone has a large enough lounge, let alone a dedicated room, to fit floorstanders or standmounts. Compromise can be the name of the game.
Such a compromise often comes in the form of a subwoofer and satellite system to provide a discreet solution. That's clearly what Monitor Audio thought when launching its MASS system back in 2013. The company leveraged off its experience making larger speakers to deliver a more lifestyle-friendly alternative. MASS has now been updated, and it's been given more than just a lick of paint.
The new system will set you back £ and the MASS Satellite bookshelf speakers look very different from the older versions, although that's probably a good thing. The previous design, with its angular cabinets, was an acquired taste. This new generation is softer on the eye, with a cloth finish that should easily blend with the furnishings in your living room. There's a choice of two colours: 'Midnight' (black/ blue) and 'Mist' (white/grey).
7Review earns Amazon affiliate commissions from qualifying purchases. You can support the site directly via Paypal donations ☕. Thank you!
See also TOP 10 Subwoofers
RECOMMENDED VIDEOS FOR YOU...
The MASS Satellite speakers' revised sealed cabinets have been tuned, we're told, for wider dispersion and better integration with the MASS Subwoofer, aided by improved rigidity thanks to internal bracing.
The Satellite is a two-way design, with a 3.5in midbass driver, and a 0.75in soft dome tweeter. The frequency specifications are what you'd expect given the diminutive cabinet, and while not the most sensitive of speakers at 80dB, it has a nominal impedance of 8 Ohms which should be easy to drive with a decent budget AV receiver.
The speakers' binding posts are now at the bottom facing rearwards (rather than on the underside facing downwards) and hidden behind a removable panel that helps keep things tidy. A dual purpose mounting point enables use with MASS stands or wall brackets.
The basic MASS system is 5.1 but if you fancy expanding to a more immersive 7.1 configuration, there is the option to buy the Satellites individually at a cost of £ each.
Wide and detailed
Monitor Audio has ditched the C-CAM drivers that graced the previous MASS system, but the new Satellites are able to deliver an equally lively sound. I didn't need to push them too hard to get an impressively wide and detailed soundstage, which is important, because a living room-friendly system like this is unlikely to be driven at unsociable levels.
The new speakers manage to avoid brightness, but at the same time deliver an exciting sonic signature. They had my Spidey-
SPECIFICATIONS
MASS Satellites
DRIVERS: 1 x 0.75in soft dome tweeter; 1 x 3.5in MMP II midbass driver ENCLOSURE: Sealed FREQUENCY RESPONSE (CLAIMED): 105Hz-34kHz SENSITIVITY (CLAIMED): 80dB POWER HANDLING (CLAIMED): 70W DIMENSIONS: 122(w) x 147(h) x 107(d)mm WEIGHT: 1.12kg
MASS Subwoofer
DRIVERS: 1 x 8in MMP II woofer ENCLOSURE: Front-firing, sealed FREQUENCY RESPONSE (CLAIMED): 34Hz-150Hz ONBOARD POWER (CLAIMED): 120W REMOTE CONTROL: No DIMENSIONS: 320(w) x 359(h) x 350(d)mm WEIGHT: 10.2kg FEATURES: Stereo phono input; LFE input; 0-180 degrees phase switch; crossover control; volume control; Impact, Movie and Music EQ; automatic standby option; 12V trigger
senses tingling as I watched the 4K platter of Spider-Man: Into the Spider-Verse, which boasts a dynamic soundtrack that makes riotous use of the surround channels. The climax sees numerous Spider-People battling a rogue's gallery of villains and here the MASS system steps up to the surround plate. As characters swoop around the room and webs shoot everywhere, this six-pack creates a sense of space that's addictive. The identical nature of the five satellites results in excellent tonal balance, with one speaker handing over to the next in a seamless fashion.
Within all this frenetic comic book mayhem, there's clarity in spades. The detail of the overall performance translates into a believable aural presence, whether with dialogue from the centre channel or surround effects. The MASS system also manages to pull off the key trick that any sub/sat combo must achieve: it sounds bigger than it looks. This ability to produce a largescale soundfield while remaining discreet is arguably its raison d'etre.
Perhaps the only sign of weakness rears its head as the Kingpin enters the fray, and the system fails to fully convey the sheer scale of Spider-Man's heavyweight arch-enemy. Compared to the previous incarnation, this sleeker new system has a performance that's more nuanced but loses some impact.
Still, considering the limited amount of real estate this sub/sat combo takes up, it can engineer an impressively big and open sound. Don't expect bass to damage your foundations, and you'll love it.
Verdict
Recommended
Monitor Audio MASS 5.1 Review
A discreet and affordable 5.1 surround sound system that blends sweetly with your furnishings while still making its presence felt.
Add your review
|
Read reviews and comments
Best Monitor Audio MASS 5.1 prices ?
MORE DEALS

See also TOP 10 Subwoofers