Prepare to meet a wireless speaker unlike any you've ever seen or heard before. Read our Devialet Phantom Reactor 900 Review.
DETAILS
PRODUCT Devialet Phantom Reactor 900
ORIGIN France
TYPE Active loudspeaker system with wireless streaming
WEIGHT 4.3kg
DIMENSIONS (WxHxD) 157 x 168 x 219mm
FEATURES
7Review earns Amazon affiliate commissions from qualifying purchases. You can support the site directly via Paypal donations ☕. Thank you!
See also TOP 10 Subwoofers
• Quoted power output: 900W peak
• 1x 30mm aluminium full- range driver
• 2x 100mm aluminium bass drivers
• Audio input: optical
• Streaming: AirPlay; Spotify Connect; Bluetooth
DISTRIBUTOR Devialet UK
TELEPHONE 0808 1684944
WEBSITE devialet.com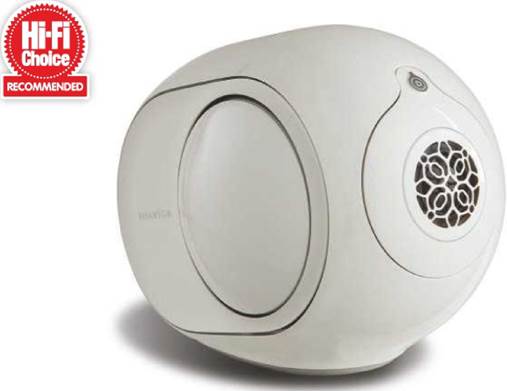 Devialet sells two Reactor models and, despite the think-twice £ price tag, we've opted for the more powerful 900 – frankly unable to resist the lure of listening (in x2 stereo) to something so compact and unutterably cute boasting 900W of hybrid Class A/D peak power and bass that dives down to a barely believable 18Hz. Hold in mind that, with a 600W peak rating, the less expensive Reactor 600 isn't as loud but goes just as low.
Effectively a shrunk version of the bowling ball-sized and shaped Phantom, the disconnect between the Reactor's Cinderella-sized footprint (almost as small as the B&W's) and its mighty output is disconcerting to begin with. Likewise the unit's weight for its size and the puffer-fish like action of its delicate side cheeks in use, especially when generating serious bass. Concealed beneath the 'cheeks' are 100mm aluminium coned drivers arranged in a push/push configuration while, firing straight ahead, is a 30mm full-range driver. The in-built DAC is good for up to 24-bit/192kHz. The quickest and
IN SIGHT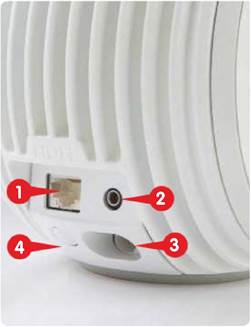 1 Ethernet port
2 3.5mm analogue input
3 Mains socket
4 Power on/off
easiest speaker to setup, playback options comprise Bluetooth, Spotify, AirPlay and UPnP Only Spotify Connect is embedded and there are no EQ functions.
Sound quality
With the price of a pair of Reactors pushing £, it's only reasonable to hope it sounds a bit special in stereo, and not just in the expectation that, with so much grunt at its disposal, it'll blow the cobwebs off the coving. Well, it certainly does that, at the same time sounding incredibly clear and clean. Bass power and extension frankly defy belief for something so bijou and cutely ovoid. The claimed maximum sound pressure level of 98dB should come with a flashing red light and neighbourhood siren alert and 18Hz, even at -6 dB, is deep into major subwoofer territory. Give the Reactor its fill with Mike Stern and Jeff Lorber and the result is so viscerally funky it could transport you, HG Wells style, back to seventies LA.
What impresses me more than this, though, is what happens when you turn the volume right down. Even the best passive standmount speakers and amplification tend to shed some of their musical mojo at late-night levels, especially at the frequency extremes. Not so the Devialet. The famous double-bass intro on Simply Red's Sad Old Red sounds just as rich, thickly textured and resonant, Mick Hucknall's pipes just as pure and expressive. The bass bomb on McDonald's God Rest? At two clicks above a whisper it still goes through the floor, but in a localised, un-boomy way that wouldn't wake a light sleeper in a Japanese bedroom with paper-thick walls. What's more, the dynamic structure of the track is kept perfectly in proportion.
There are speakers in this group that are faster, warmer and more rhythmically on point, but none of them can do that.
Verdict
Recommended
Devialet Phantom Reactor 900 Review
Not for the faint hearted or shallow of pocket, but rather wonderful nonetheless
PROS
Size and unique design
Astonishing power and bass
CONS
High price
Some rivals are lighter on their feet
Add your review
Best Devialet Phantom Reactor 900 prices ?
See also TOP 10 Subwoofers