Amazon's Echo Studio is the 3D audio speaker we've been waiting for, says Steve May. Read our AMAZON ECHO STUDIO Review.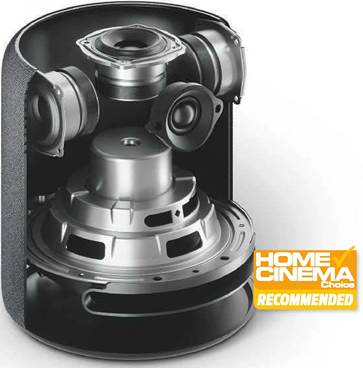 A top-firing driver is implemented for immersive audio
AMAZON'S ECHO STUDIO is a dramatic evolution of its Alexa-enabled smart speaker proposition. Launched in support of the company's HD music subscription service, it's both hi-res audio capable and Dolby Atmos enabled (Amazon Music HD being the first streaming service to offer Atmos tunes).
This all-in-one obviously has aspirations that go far beyond the monophonic desktop speakers Amazon has been touting previously.
The Studio is significantly bigger than previous Echoes. Hardly surprising given that it accommodates a trio of 2in midrange drivers (one of which is upfiring), a downward-firing 5.25in woofer and 1in tweeter.
It still rocks the familiar cylindrical shape, and comes wrapped in grey fabric (as yet there are no colour alternatives).
7Review earns Amazon affiliate commissions from qualifying purchases. You can support the site directly via Paypal donations ☕. Thank you!
See also TOP 10 Subwoofers
Inside there's a 24-bit DAC (Amazon doesn't reveal any further specifics).
Setup is much like any other Echo device, with one small difference: the
AV INFO
PRODUCT: Dolby Atmos 3D audio smart speaker
POSITION: Amazon's premium audio-only Echo device
PEERS: Google Home Max; Harman Kardon Citation 100
speaker exploits its near-field microphones to run a short room calibration routine.
The Studio offers the usual Alexa smarts. It's receptive to voice commands, even when playing at volume, and has a built-in Zigbee hub, enabling control of compatible smart home kit, such as light bulbs and switches.
Ace of bass?
It's immediately noticeable that the Studio sounds considerably more muscular than previous Echo speakers. Onboard power is rated at 300W (peak, with salt) and it exercises its woofer with enthusiasm, dropping deep and low with scant regard for pets and infants.
It's also capable of high detail, although there's not quite the differentiation that you might expect between 16- and 24-bit sources, probably because the Studio downscales higher-res sources to 24-bit 48kHz, we're told.
While hi-res audio playback is therefore compromised, a run through of Amazon's 'Best of 3D music' playlist quickly confirms that Dolby Atmos tracks play with preternatural height and width. 7Rings, by Ariana Grande, balances spatial clarity with a deep, pulsing bassline. Similarly, an immersive mix of the Free classic All Right Now lifts vocalist Paul Rodgers on to a pedestal, while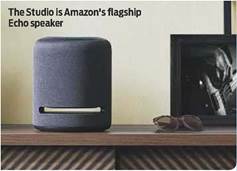 bass and guitar rock at his feet. But its character won't be to everyone's taste. Bass output is uncouth, belligerent even. The speaker can be partnered with the Echo Sub for even deeper rumbles, but such a move would surely border on lunacy.
Thankfully it does have a sweeter nature. John Williams Rey's Theme, from Star Wars: The Force Awakens, is as sharp as a rapier, the sonic imaging pin-point and precise.
Atmos functionality doesn't make this a surround experience. The execution is more theatrical staging than cinematics, with plenty going on front of house and occasional shenanigans in the wings. Non-3D content can be upscaled, using a spatial enhancement setting, but it's not recommended.
More enticing is the possibility of syncing two Echo Studios in a stereo configuration, and linking with an Amazon Fire TV device to deliver streamed Dolby Atmos audio from encoded content – a smart alternative to an Atmos-enabled soundbar.
Inventive audio
The bullying bass output gets a little rowdy, but there's no doubting the value and ingenuity of the Echo Studio. Its Atmos execution is crafty and inventive, and volume is prodigious. It's early days for 3D audio streaming, but this makes us eager for more
VERDICT Amazon Echo Studio
Recommended
AMAZON ECHO STUDIO Review
 A Dolby Atmos smart speaker turns out to be a brilliant idea - this is easily the most exciting Echo you can buy right now.
Add your review
Best AMAZON ECHO STUDIO prices in the US ?
Best AMAZON ECHO STUDIO prices in the UK ?

£

160.00
1 new from £160.00
in stock

MORE DEALS

See also TOP 10 Subwoofers
SPECIFICATIONS
FEATURES: Amazon Alexa in-built; automatic room EQ; supported music services including Amazon Music, Apple Music, Spotify, Deezer, TuneIn; built-in Zigbee smart home hub; Wi-Fi; Bluetooth
DRIVERS: 3 x 2in midrange drivers; 1 x 1in tweeter; 1 x 5.25in woofer ONBOARD POWER (CLAIMED): 330W CONNECTIONS: 3.5mm auxiliary/mini digital optical input DIMENSIONS: 206(h) x 175(w) x 175(d)mm WEIGHT: 3.5kg