Q ACOUSTICS HAS earned quite the pedigree across its family of affordable audio gear over the years and, while its soundbars are a firm favourite in Shopper's testing lab, the freshly released 3010i bookshelf speakers show that it's not just TV audio the firm excels at. Read our Q ACOUSTICS 3010i Review.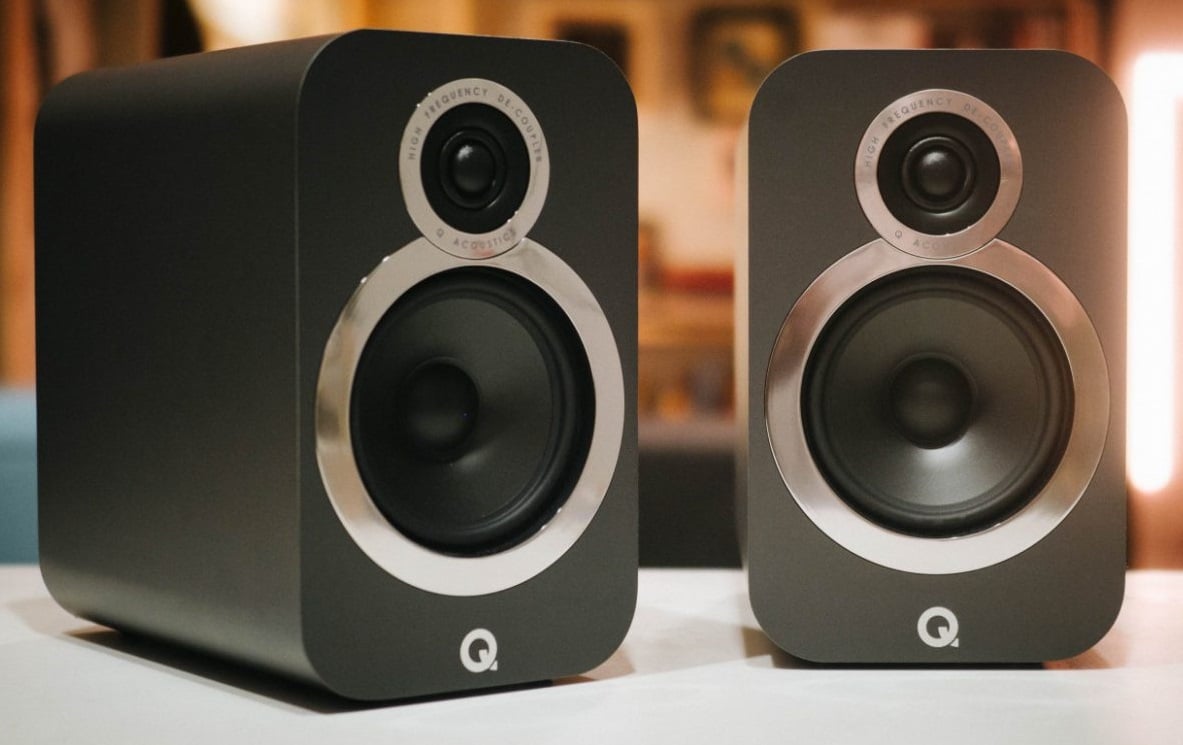 https://www.youtube.com/watch?v=yHJnrE25f80
Basically, the 3010i are the new, improved version of the Q Acoustics 3010. These passive bookshelf speakers sit in the middle of Q Acoustics' range, and promise full-bodied sound from a very compact design. The driver specifications are similar to the outgoing model, partnering a 100mm mid/bass driver with a 25mm ring dome tweeter, but the speaker cabinet has had some major changes.
The 3010i's individual speaker units are still a dainty 150mm wide, but they now stand 18mm taller and are a considerable 50mm deeper. That increased cabinet size has allowed Q Acoustics to squeeze an even bigger sound out of them and, in tandem with a reworked crossover (the electronics that split the high and low frequencies between the two speaker drivers), you can expect improvements across the board.
The only thing to bear in mind is that you can't just plug these directly into your laptop. As these are passive speakers, you'll need external amplification in the form of a hi-fi amp or AV receiver.
BOXES OF TRICKS
This is a handsome pair of speakers. You can forget the classic hi-fi boxes of yesteryear, however: the 3010i cut a far more modern, streamlined dash. The rounded-off corners look great and, if the matt white pair we tested aren't to your tastes, you can pick up a pair in more subdued graphite grey, black or walnut veneer.
7Review earns Amazon affiliate commissions from qualifying purchases. You can support the site directly via Paypal donations ☕. Thank you!
See also TOP 10 Subwoofers
Whichever you choose, the 3010i's build quality is beyond reproach. The point-to-point cabinet bracing makes for an impressively solid-feeling pair of speakers.
Knock on the side of either one and the cabinets sound well damped, which bodes well for sound quality.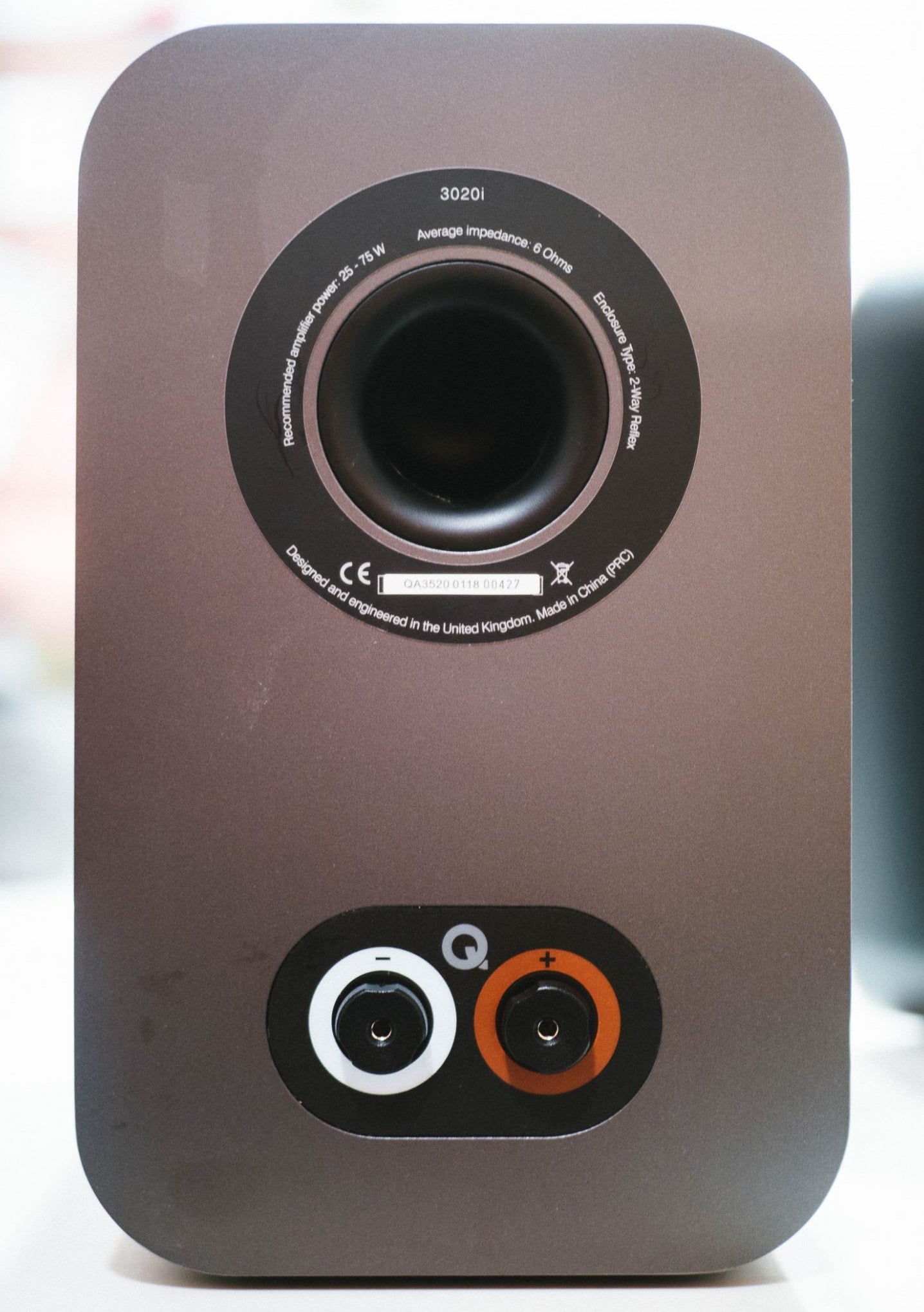 There are other neat design touches. If you don't fancy getting Blu Tack on your pristine bookshelves, rubber feet on the 3010i's underside give the speakers a solid connection to the surface beneath. What's more, threaded holes on the underside make it possible to screw them directly to a pair of dedicated wall mounts, which is perfect if you're thinking of using them as rear speakers in a surround-sound setup.
Q Acoustics has responded to one of the minor complaints about the previous generation, too. Flip the 3010i around, and you'll notice that the angled binding posts of
We tested the 3010i with a wide range of equipment, and they consistently delivered a sound belying their tiny stature
the previous generation have been replaced by a much more sensible side-by-side pair. Better still, 4mm banana plugs now slot all the way in; on the previous model, the plugs always sat proud of the binding post.
TUNED TUNES
We tested the 3010i with a wide range of different equipment and in a variety of locations, but one thing remained constant: whether they were hooked up to an 18-year- old Sony amplifier, Naim's Uniti Atom, sitting on dedicated stands or just plonked on a bookshelf, they consistently delivered a sound belying their tiny stature.
Compared with their predecessors, the 3010, the 3010i initially sound a little flat and lacking in excitement. The forward, attacking sound of the 3010 has been softened, with Q Acoustics taming the punchy, in-your-face mids and highs in favour of a more refined, delicate balance.
The benefits soon begin to reveal themselves, however. Voices and instruments initially seem to lose a little clarity and presence, but compared to the 3010, which could sometimes sound nasal and congested, the 3010i sound far more natural and full-bodied, with music looming larger and deeper between the speakers.
Orchestral music benefits hugely from the 3010i's added scale and more refined tonal balance and, while both models are too small for truly earth shaking bass, the 3010i go a couple of notes deeper than their predecessors, providing decent output down to around 35Hz. Crank them up, and it's surprising how much bass these little speakers can put out.
The 3010i have their limits. There isn't the depth or the detail, nor the ability to unpick dense layers of instrumentation that you'll get from pricier speakers such as the PMC DB1+, but the overall performance is incredible. In this featherweight category, the 3010i are highly impressive performers.
TREAT YOUR SHELF
The Q Acoustics 3010i ably prove that old adage: good speakers really do come in small, attractively designed, affordable packages.
Whether you're looking to put together a hi-fi system on a budget or simply don't have room for larger stand-mount or floor-standing speakers, the 3010i are unlikely to disappoint. These compact bookshelf speakers pack more sound per pound than you have any right to expect for the money.
Sasha Muller
Verdict
Q Acoustics upgrades its excellent 3010 speakers, and the new 3010i deliver a welcome injection of power and poise.
Best Q ACOUSTICS 3010i prices in the US ?

$

329.00
1 new from $329.00
in stock

Best Q ACOUSTICS 3010i prices in the UK ?

£

160.00
12 new from £160.00
in stock


£

164.00

£179.99
11 new from £164.00
in stock

MORE DEALS

See also TOP 10 Subwoofers
Specifications
DRIVERS 4 • RMS POWER OUTPUT 125W • DOCK CONNECTOR None • WIRELESS No • DIMENSIONS 253x150x252mm (per speaker) • WEIGHT 4.1kg (per speaker) • WARRANTY One year RTB • PART CODE 3010i