Mission revive their original 770 loudspeaker – in modern form. Noel Heywood listens. Read our MISSION 770 Review.
At a time when loudspeakers were mostly veneered boxes to blend in with the furniture, Mission came out with the 770 – styled to stand out rather than blend in. The sound was matchingly modern too. It was the company's first product, gained a big reputation and here is an updated re-creation – still called 770 – designed to continue the tradition, price £.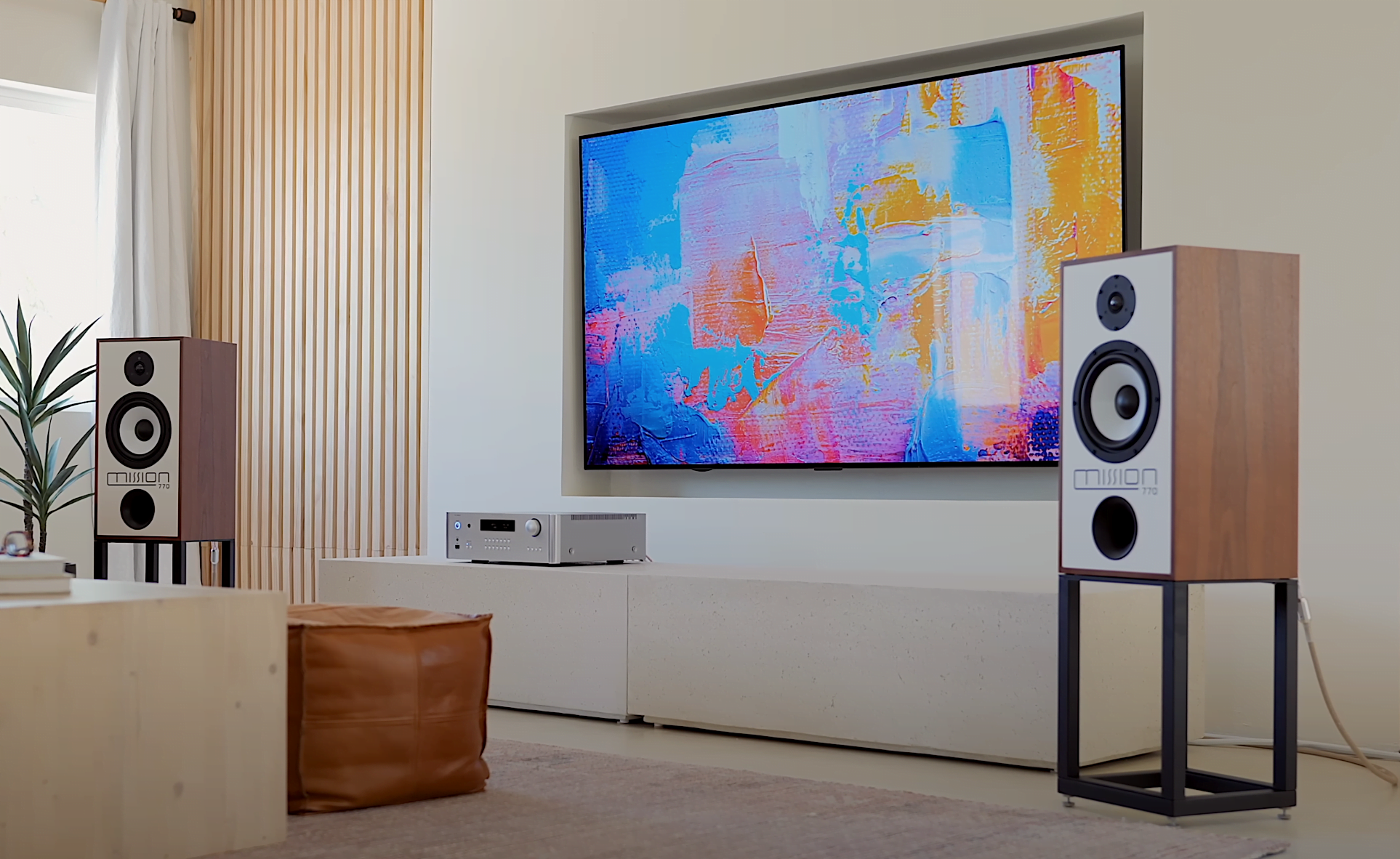 The 770 I reviewed long ago and remember little about, except that it wasn't especially large or heavy. The new 770 is – my overriding first impression. This is a substantial stand-mounting speaker, weighing 19.2kg apiece, the cabinet measuring 590mm high, 300mm wide and 300mm deep, excluding the terminals. It's a chunky square shape that, when on its dedicated stands, tops out at 1030mm high – the height of a floor stander. So we're talking big here and with loudspeakers this usually translates to a "big" sound. It did.
The 770 was Mission's first loudspeaker, designed for a brighter, faster, more modern sound than the old paper plodders. I was told this by designer Farad Azima, founder of Mission, in a meeting with him during a heatwave where I quietly melted whilst he was driven by enthusiasm for his first product. Anyway, the 770 went on to be a successful entree into loudspeaker manufacturing (and much else), with a factory in Huntingdon opposite Meridian and near to Quad in the UK's hi-fi heartland.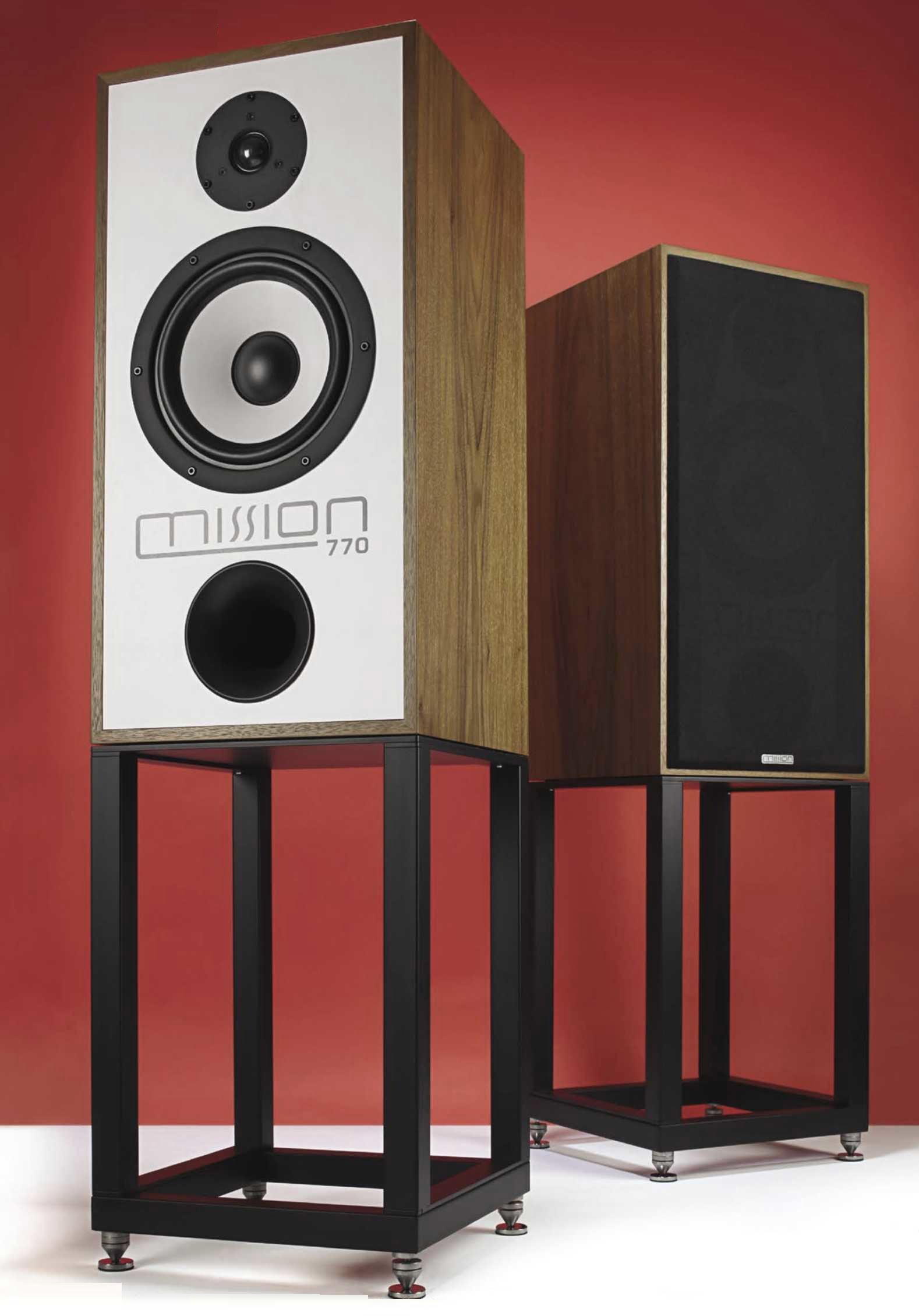 All of which explains why it has been re-launched in updated form over 40 years later, as a tribute and as a sympathetic update for those who want a traditional (app-free!) loudspeaker.
The 770's 28mm micro fibre dome tweeter with back damping to suppress resonances in the acoustic chamber. Being large it goes low smoothly.
The original 770 had a polypropylene cone bass/midrange unit and the new one does too, mineral loaded to form a polypropylene composite with improved properties.
7Review earns Amazon affiliate commissions from qualifying purchases. You can support the site directly via Paypal donations ☕. Thank you!
See also TOP 10 Subwoofers
RECOMMENDED VIDEOS FOR YOU...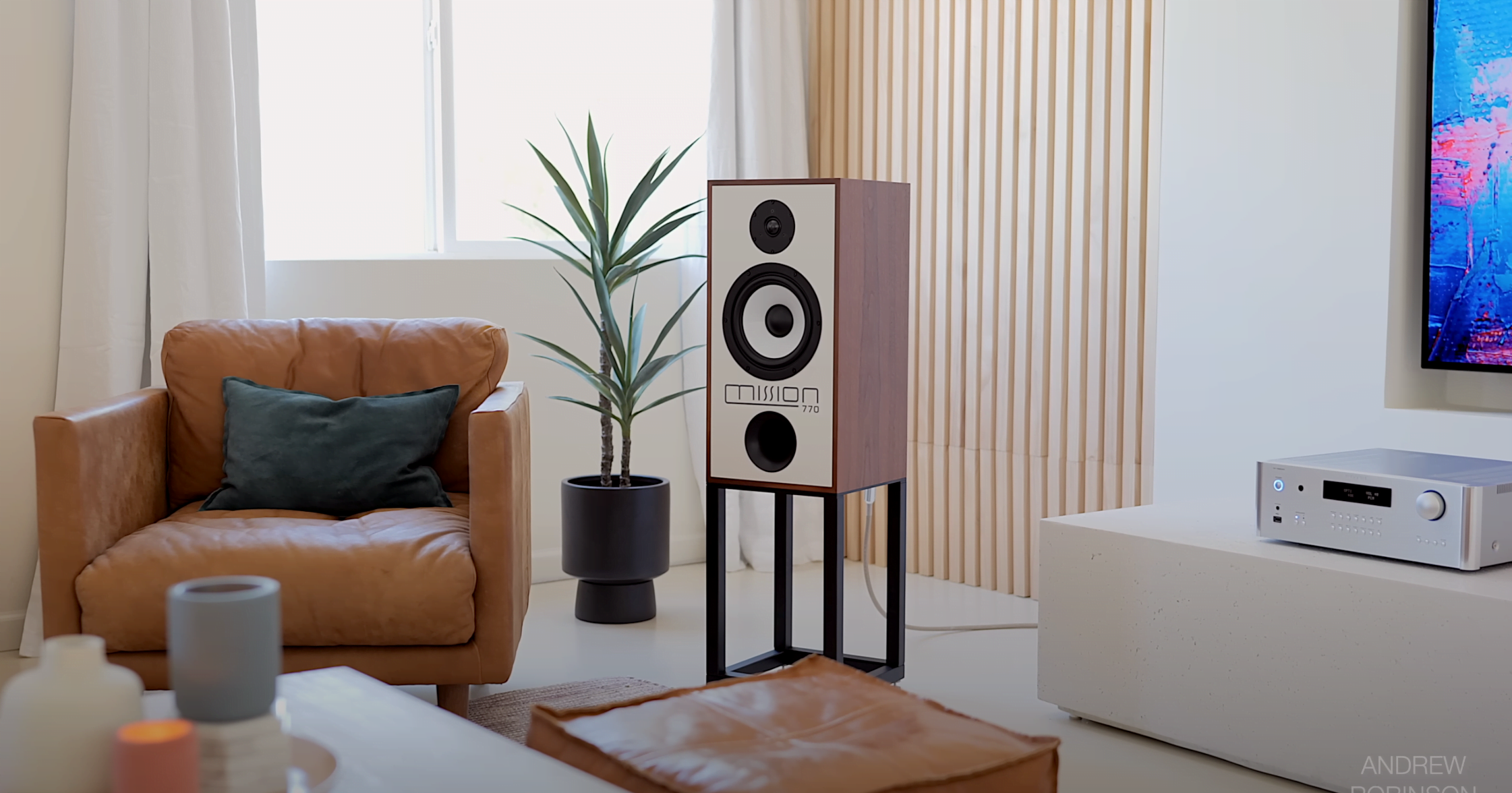 The motor assembly is more sophisticated, having a powerful magnet for greater sensitivity and stronger dynamic ability. In the intervening years computer aided design (CAD) has come to dominate this field, which today's owners of Mission – the International Audio Group (IAG) – use to optimise drive unit behaviour. Things have moved on.
Computers now also optimise cabinet and port behaviour, which the new 770 benefits from. True to the original, the port sits on the front panel, where most now are placed at rear to reduce audibility of box boom. A baffle has been placed behind the port to suppress this effect.
Above the bass/midrange unit sits a 28mm microfibre dome tweeter with rear chamber damping. Slightly larger than the usual 25mm (1 in) dome, it has better behaviour below its 2.9kHz crossover frequency, Mission say. Our measurements confirm it runs smoothly up to 20kHz, free from the peaks and dips that come from resonant behaviour, for a smooth clean sound. In keeping with the design ethos of the original, treble level has been kept in line, with no lift to artificially brighten the sound, making the new 770 perfectly accurate. I got to see the internal crossover network and can confirm it uses top quality, audiophile components, but although the bass and treble sections are physically separated they meet at the input terminals for mono-wiring only.
Although the new 770s are big they are an easy amplifier load and do not need a lot of power, around 40W to go very loud. For those interested in the figures, we measured a loud 87dB from 1W input.
The stands come in their own box and are an Ikea-style assembly job. Stare at the line diagram on single paper sheet with its numbered steps and get twiddling with a hex key and a bag of bits. The result is a light but strong square steel frame with adjustable floor cones (not carpet penetrating sharp spikes). There are protective pads for those who would rather not have woodworm-like holes in their floorboards, a problem with all spiked loudspeakers of course. If the visual presence of the large-area front fascia is too much – they loom large – there are black, acoustically transparent grilles that attach with magnets. Getting the speakers onto the stands is a bit of a lift – well, it was for me! – and that's because the cabinet employs dual-layer construction, damping pads and bracing for conspicuously rigid and weighty construction.
SOUND QUALITY
I kicked off using our PrimaLuna EV0300 Hybrid amplifier to drive the Mission's, expecting its powerful FET amplifier to control proceedings for beneficial purpose – but I was wrong. Dramatic definitely – but also very forward. It was when I tried to play Fleetwood Mac's Go Your Own Way (24/96) that the Pause button got hit. Mine is far from a good recording, supposedly 24/96 according to the track data but sounds like an early digital transcription for CD upsampled to 'hi-res'. Classic Rock like this has to be playable no matter what and I felt uneasy about this track via the 770s.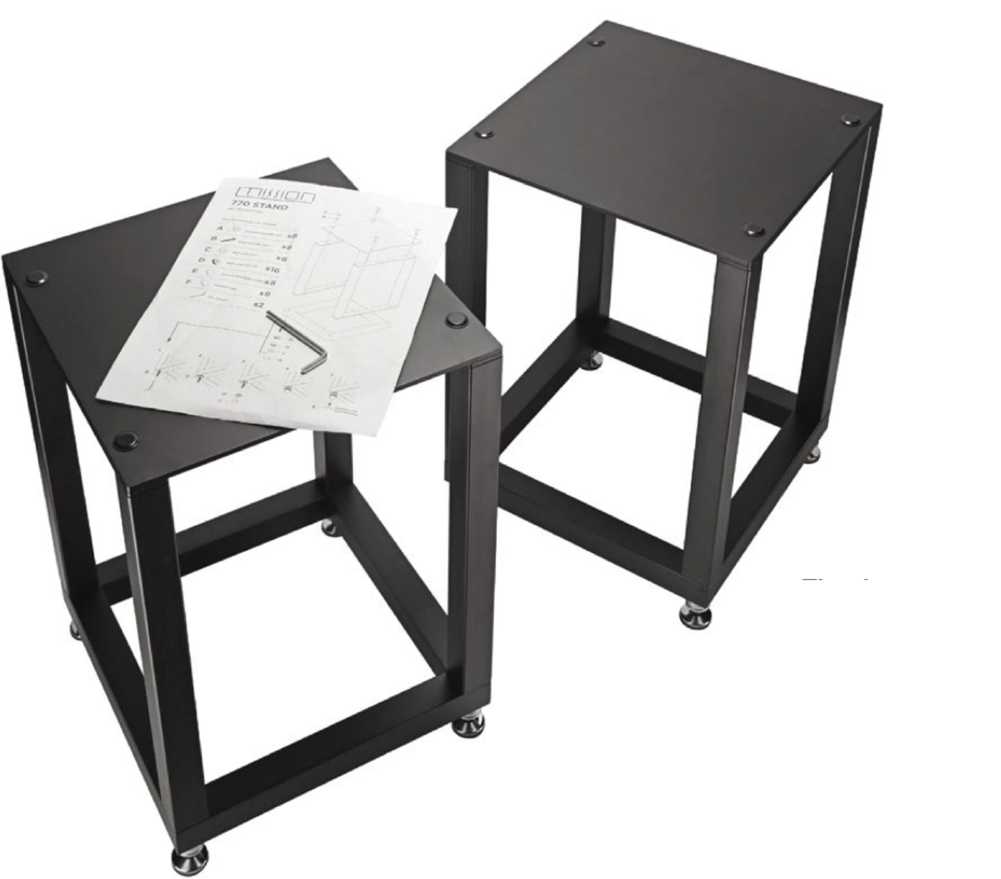 The dedicated stands must be assembled from a flat pack, using a simple numbered instruction sequence – and a hex key. They are rigid and carry rubber top pads to steady the large cabinets. At bottom are height-adjustable floor cones for stability, plus optional protective floor pads.
Explaining why I hit Pause and swapped over to our silky-smooth, darker sounding Creek Voyage i20 amplifier. This softened the delivery into amenable balance where the multi-track 'chorus' was less forward.
Moral of the tale being the new 770 is clear, forward and fast, or "well lit" in alternative parlance. I've rarely heard Sinead O'Connor sounding so far out of the mix, so close to me, when singing Foggy Dew (CD). Got to clearly hear about the "Huns with their long range guns" here, but the Bodrans of the Chieftains had force that shook my lounge.
Likewise with Dadawa's Canton Story (CD), the massive drum strikes were wonderfully resolved, not only reproduced with laconic power but also with timbral insight. Here the 770s were a conspicuously modern, computer optimised big box loudspeaker out in front with technical ability. They have bass speed and insight, in addition to sheer power. The bass/midrange unit sends out a lot of information.
Back to Fleetwood Mac's Go Your Own Way – and with the Creek it was less sheeny, revealed as a not-too-clear recording, vocal harmonies a tad strident, as expected from an old recording.
A simple veneered rear panel with one set of terminals for mono-wiring. The identical width I depth dimensions can be seen here, giving the cabinet a solid, square appearance.
With Dreams from the same album (Rumours) this standard '70s Rock track was solid and fast, Mick Fleetwood's drum work and crashing cymbals kept in clean order, free from distorting emphases. That allowed me to relax whilst enjoying the speed and as well as the dynamic weight at low frequencies.
The choral sections in Handel''s Peace of Utrecht (DSD) were crisp and clear, shining out, whilst harpsichord chimed in lucid fashion. The 770s shine a strong light, making for vivid revelation. They also set up a capacious sound stage, giving the Trondheim Soloists a sense of scale behind Marianne Thorsen playing Mozart's Violin Concerto No3 (24/96). Her violin was crisply clear but smooth and detailed too.The sense of smoothness and cohesion in the sound was helped by treble that passed unnoticed: it was just part of the music rather than a disconnected entity.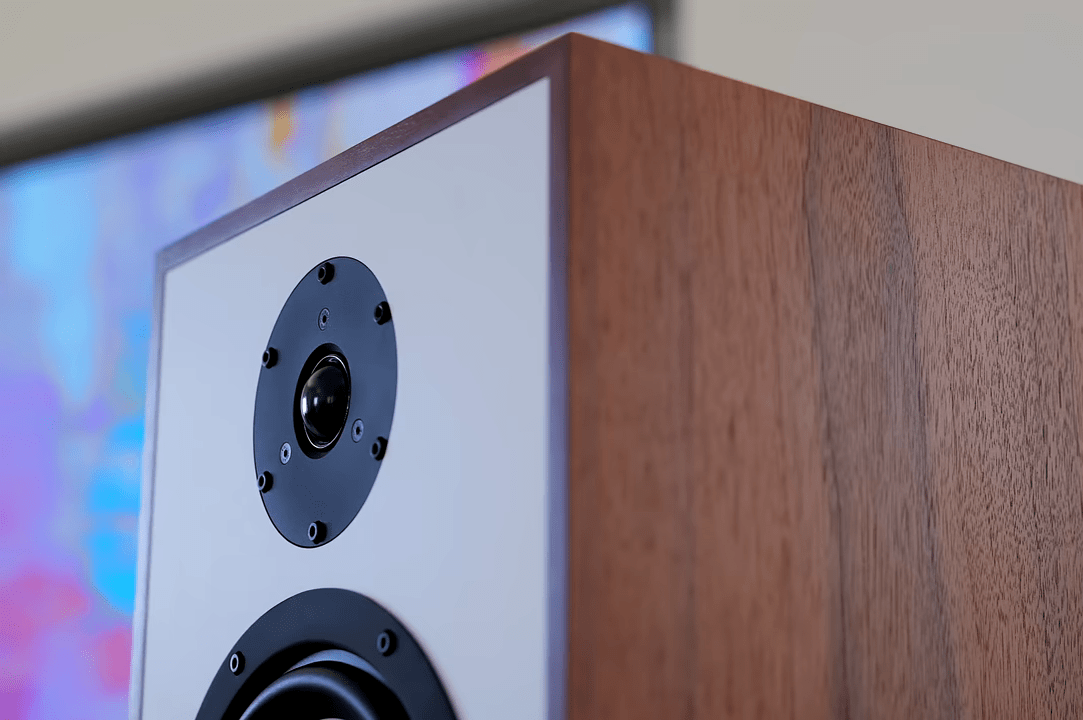 Mission use a 8in polypropylene bass driver in the new 770, but it has been stiffened with a mineral additive to form a better behaved composite for clear, projective midband sound.
Drawbacks? A small sense of the sound being box-bound existed, likely colouration from the front mounted port, as well as a rear wall reflection back out through the cone at 1200Hz. Curiously, this was barely noticeable with the Creek amplifier due to its enveloping quality, whilst the PrimaLuna – being cooler in delivery – made the effect more obvious.
CONCLUSION
The new Mission 770 brings total accuracy and smooth revelation to a loudspeaker that comes over as clean and powerful. Without artificial emphasis anywhere it manages to be forward, revealing and highly detailed: squeaky clean yet correctly so. With powerful low bass and great bass resolution this is a loudspeaker worth hearing.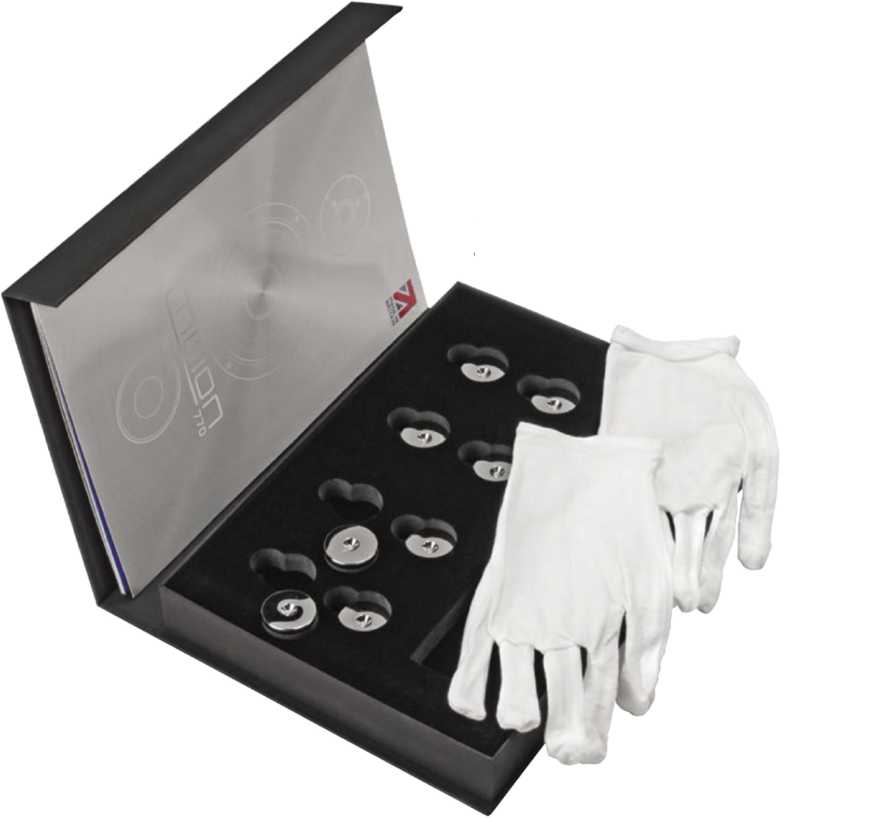 The floor protectors come in a lavish presentation case complete with white handling gloves to ensure fingerprints don't spoil the aesthetic. They help keep paw prints off the loudspeakers as well.
MEASURED PERFORMANCE
This new version of the 770 aims to keep close to the original in outline, improved to best current standards. There is no crossover dip between the two drive units our frequency response analysis shows, improving detail. The trace is relatively smooth across the entire audio band, the 28mm dome tweeter perfectly aligned with output from the 8in bass/ midrange unit to avoid excessive treble.
In similar vein, bass runs smoothly down to 50Hz before rolling down slowly below this point, the port (red trace) adding to output at a low 30Hz, making deep bass possible.
The new 770 is very modern in having a near-flat response to deliver superb accuracy, without treble emphasis. Crossover frequency is quoted as 2.9kHz.
The port output trace shows some activity from internal modes around 630Hz and 1200Hz that may be audible from the front port. Identical cabinet width and depth don't help here, nor x2 height.
Unusually, perhaps to mimic the original, the new 770 has an 8 Ohm bass/midrange unit, this value forming the d.c.r. minimum reached in the impedance trace. Overall impedance, taking into account reactive peaks,
measured 9 Ohms with pink noise – a very high value. This lessens current draw and usually compromises sensitivity, but at 87dB from one nominal Watt (2.8V) of input it is still sufficiently high for amplifiers of 40W or more to suit.
The new 770 is a smoothly accurate, broadband loudspeaker that reaches low. It meets highest modern standards.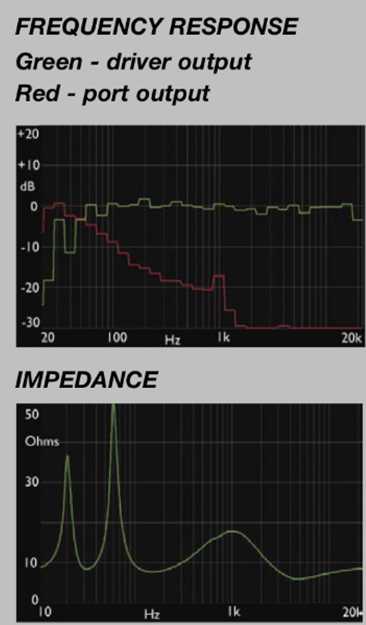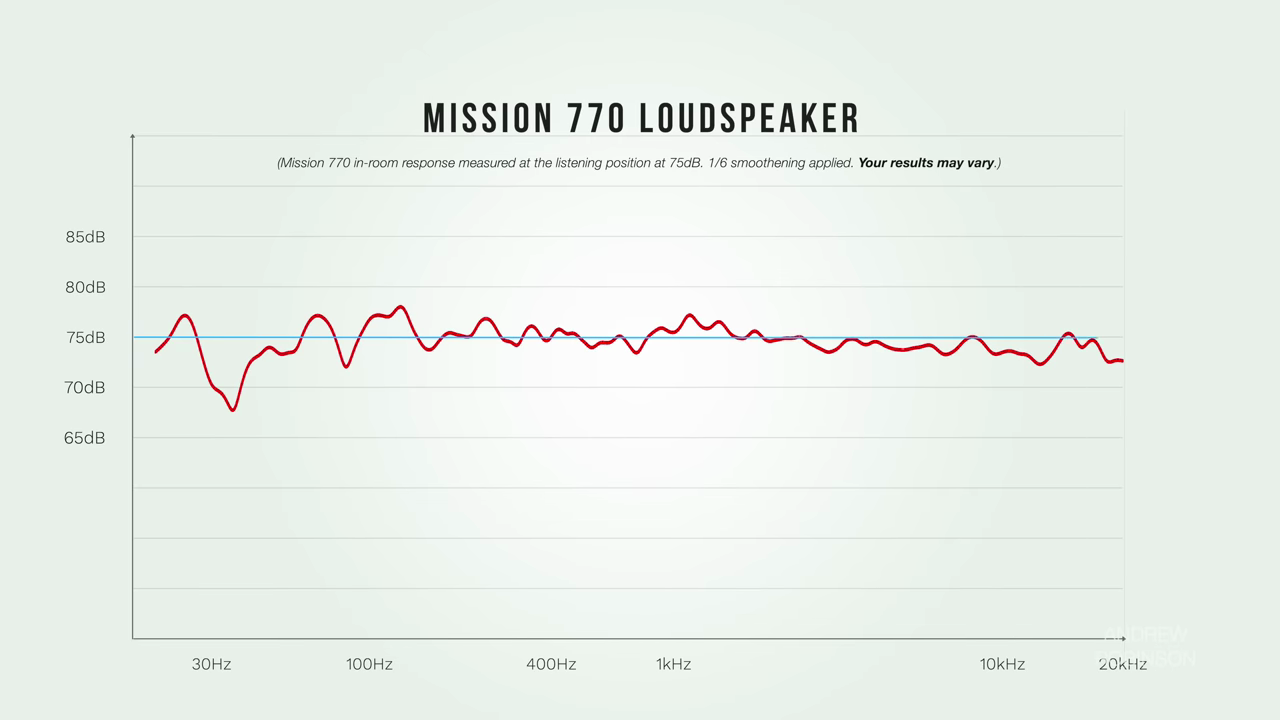 VERDICT
MISSION 770 Review
Crisply clean and detailed, with great bass - but an easy listen.
PROS
high accuracy
crisp and clear
deep, powerful bass
CONS
visually intrusive
slightly box-bound
Add your review
Best MISSION 770 prices ?
MORE DEALS

See also TOP 10 Subwoofers