Q Acoustics Concept 50 loudspeakers are small but ambitious. Noel Keywood listens. Read our Q Acoustics Concept 30 Review.
Price £ What? The Concept 3O's are small Q Acoustics loudspeakers, but not of their usual budget nature. The "concept" here appears to be teasing out higher quality from a small loudspeaker – not a novel idea but one with a successful history, from Rogers LS3/5a to Wharfedale Diamond.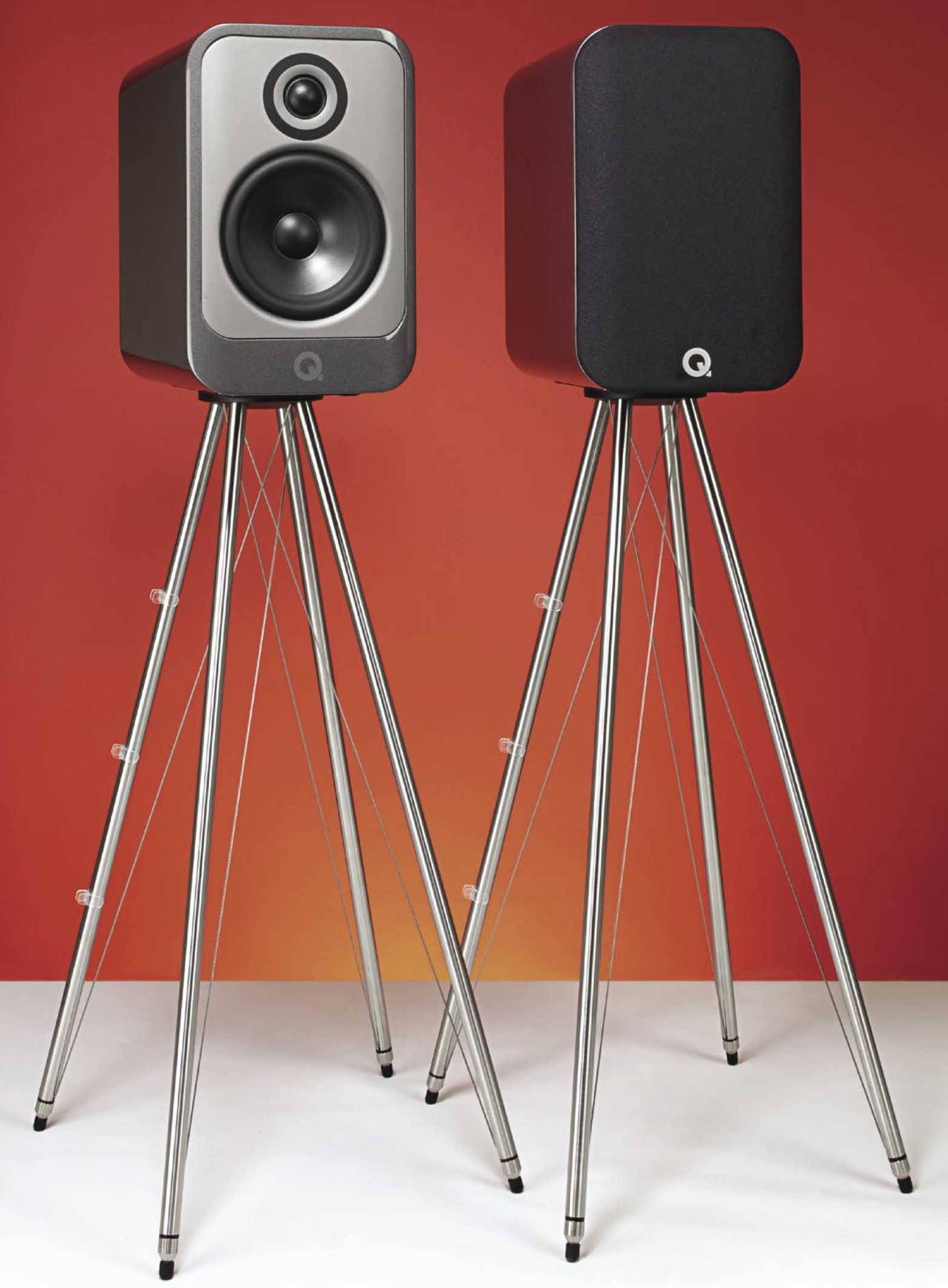 Always good to get more from a small cabinet because they're cheaper to manufacture and transport, and they appeal to the missus. Or should I say they blend in with the curtains better (!). Whatever, Q Acoustics follow this train of commercial thought with the Concept 30, question being: does it justify its existence? And to start at the end, the answer is "yes", if a high quality mini is what you want.
In the company's now-large range of loudspeakers the Concept 30s sit below the similar Concept 300s that come in at £ and are slightly bigger, but above the 30301s at £ that are slightly smaller.That's one large price range as small two-ways go.
The Concept 30 measures 284mm high, 180mm wide and 319mm deep overall including rear projection of terminals. Weight each is 7.9kg – quite heavy for the size – and they are solidly built.
Rap the cabinets and the '30s sound dead, helped by a sturdy aluminium front sub-panel and a multi-layer Gelcore construction that damps high frequencies. The finish is glossily immaculate. Small, light cloth grilles attach by magnets and they are acoustically transparent. At rear are substantial bi-wire terminals.
7Review earns Amazon affiliate commissions from qualifying purchases. You can support the site directly via Paypal donations ☕. Thank you!
See also TOP 10 Subwoofers
RECOMMENDED VIDEOS FOR YOU...
As you can see from our pictures, this is a conventional two-way design with small 125mm (Sin) bass/midrange unit of unspecified cone material that appears to be a formed plastic,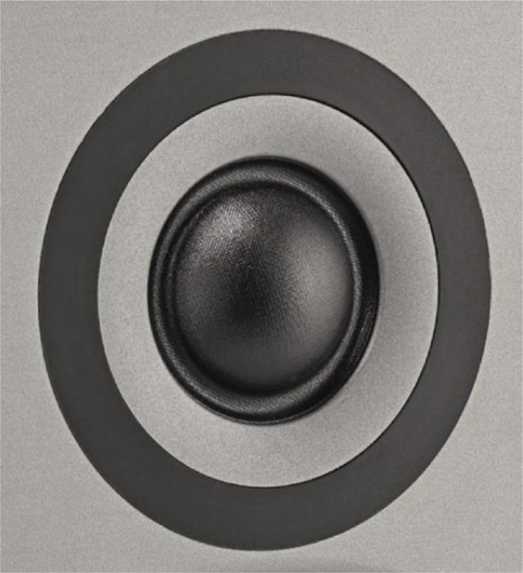 What appears to be a fabric dome tweeter 25mm (1in) diameter, sits in a shallow horn depression to improve flatness and sensitivity. It is smoothly contoured in to prevent obstruction to surface waves.
with central dust cap of the same material.The tweeter is a 25mm (1in) woven silk dome it appears, but again Q Acoustics don't specify the material used. No aluminium here so none of its sheen I'll note, which is fine by me. The crossover sits on an isolated platform attached to the cabinet's base to reduce vibrations into it. Bass loading is by a rear facing reflex port, tuned to 50Hz our measurements show.
Peculiar were a pair of stands Q Acoustics provided that were none too stable; we used our own conventional stands instead.
Specs
| | |
| --- | --- |
| Bass Unit | 1 x 125mm (5.0″) |
| Treble Unit | 1 x 25mm (1.0″) |
| Frequency Response (-6dB) | 54Hz – 30kHz |
| Nominal Impedance | 6 Ohms |
| Minimum Impedance | 3.9 Ohms |
| Sensitivity (2.83V @ 1kHz) | 87dB |
| Recommended Amplifier Power | 25W – 100W |
| Crossover Frequency | 2.4kHz |
| Distortion (120Hz – 20kHz @ 2.83Vrms) | <0.2% |
| Effective Volume | 7.0L |
SOUND QUALITY
Initially I connected up the Concept 30s to our Creek Voyage i20 amplifier but, like the Concept 50 I reviewed some months ago (Mar22 issue), the combo gave a soft sound lacking verve. Moving to PrimaLuna's Evo300 Hybrid amplifier with its wideband, fast FET power amp changed this, bringing in both sparkle and grip. This is a matter of symbiosis: sometimes the Creek will be preferable to the PrimaLuna, just not in this case.
Spinning CDs was our Oppo BDP-205D Universal player with its ESS ES9038Pro DAC, connected direct to the PrimaLuna. Hires came from a MacBook Pro running on battery for isolation, connected by USB to the Oppo to benefit from ESS conversion to analogue. Cables were from Chord Company.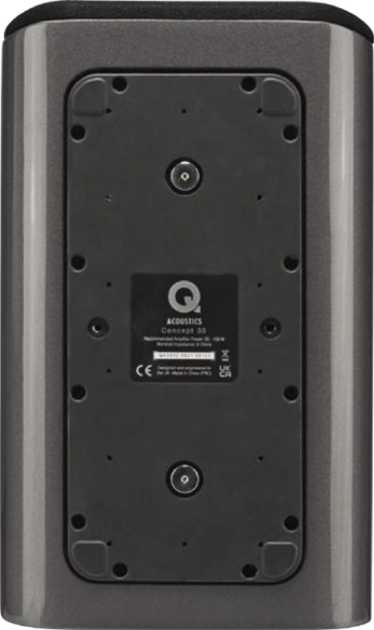 The base has a solid aluminium panel that internally supports the crossover and externally can be bolted to a stand.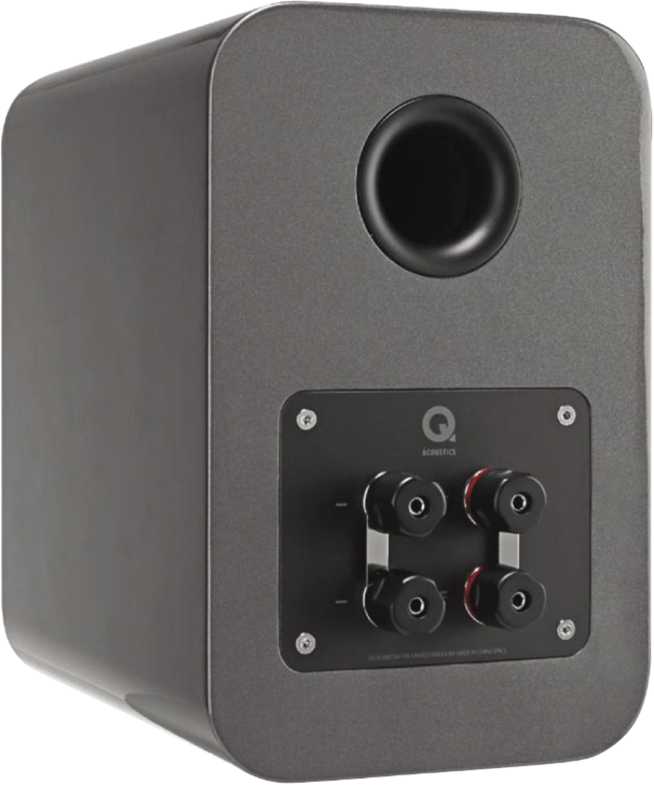 Bi-wire terminals at rear allow for bi-wiring or bi-amping (separate bass and treble amplifiers), as with all such bi-wire loudspeakers. At this price however some may wish to biamp.
From the off the Concept 30s came across as balanced and refined. As measurement had suggested there was no shriek from a prominent tweeter, nor hissy high treble. However, the upper mid-range was strong, pushing out a lot of detail in the edgy live recording of Willy DeVille singing Spanish Harlem, his voice thrusting out strongly. Some edginess here, but since that's in the recording our reference electrostatics show, the Concept 30s were being honest in effect. They throw out badness. Overall however, my early impressions were of a smoothly balanced and correct sound.
As the music rolled by I realised that the good impression these loudspeakers give comes from a relatively sweet tone. With Antonio Forcione playing Tears of Joy his guitar strings had a honeyed twang.Trumpet and piano good recordings, but blemishes were revealed too.
As Q Acoustics claim, the Concept 30s are free from colouration – and this was another way their sound came over as easily natural. Lack of box echo and panel resonance helped clear their delivery of the colourations that shout "coming from a box", allowing the sound stage to float freely between and slightly ahead of the cabinets. Add in good revelation of stage depth in a recording and the result is – and was – convincingly live, at least from recordings with microphones.
Bass quality was impressive from such small cabinets. In my I 7ft long lounge these little things played the deep bass intro to Holy Cole's Train Song firmly and with dynamic bounce, hitting the lows with precision. It seemed almost laughable how well they conveyed the sense of this track at low frequencies, if not the visceral heft a bigger cabinet provides.They can play the lowest bass notes measurement showed and this was obvious. I was impressed.
It was with the Minnesota
"It seemed almost laughable how well they conveyed the sense of Holy Cole's Train Song at low frequencies"
rang out clearly from Josefine Cronholm's In Your Wild Garden, her vocal also standing out firmly between the loudspeakers, well projected forward.There was a smoothness to the sound from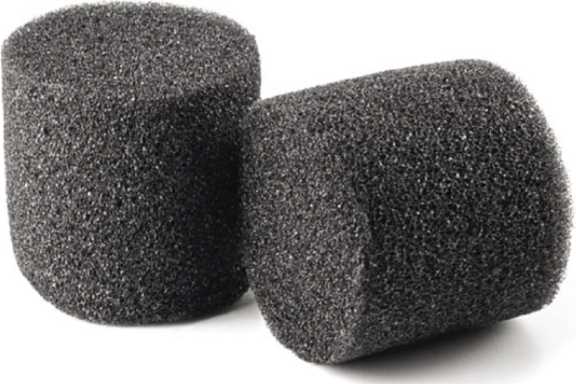 A pair of foam bungs is supplied to damp down bass if necessary, but these are not bass heavy loudspeakers. The bungs may well help in a small, boomy room.
Orchestra playing Korsakov's Dance of the Tumblers (24/96) that I became aware the Concept 30s are 'fast'.This performance had a pace I have not heard before, with cleanly defined kettle drum strikes and snappy interjections from brass; there was no smear or overhang to pollute time domain definition. But the rasp to brass in this recording was a little 'obvious' shall I say. And with Fleetwood Mac's Dreams (24/96) cymbal clashes from Mick Fleetwood's drum kit had similar rasp, plus some splash. So with both Classical and Rock, strong upper midband projection brought out some coarseness in the upper midrange. Whether this was due to cone break-up in the bass/midrange unit or just strong projection of distortion in the recording is not something I can easily be sure about, our electrostatics suggesting there is some rasp in the recording but not to such an extent.
CONCLUSION
The Concept 30s offer a refined sound that has all of the purity claimed for the sturdy, braced, Gelcore damped cabinet used. Add in a pair of quality drive units well integrated electrically and the final result was impressive. I especially enjoyed their smooth accuracy. They have, I'll note, a forward sound with strong projection of upper midband detail that on complex orchestral works could throw brass sections forward.This character trait apart they conspicuously offer great sound quality at the price, if not with the bass heft a bigger cabinet provides.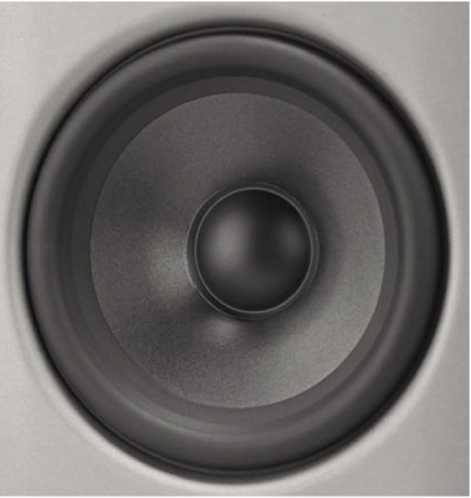 Q Acoustics use a thermoplastic cone with matching central dust cap for continuity of sound, since high frequencies radiate from the cap, as always with any such drive unit.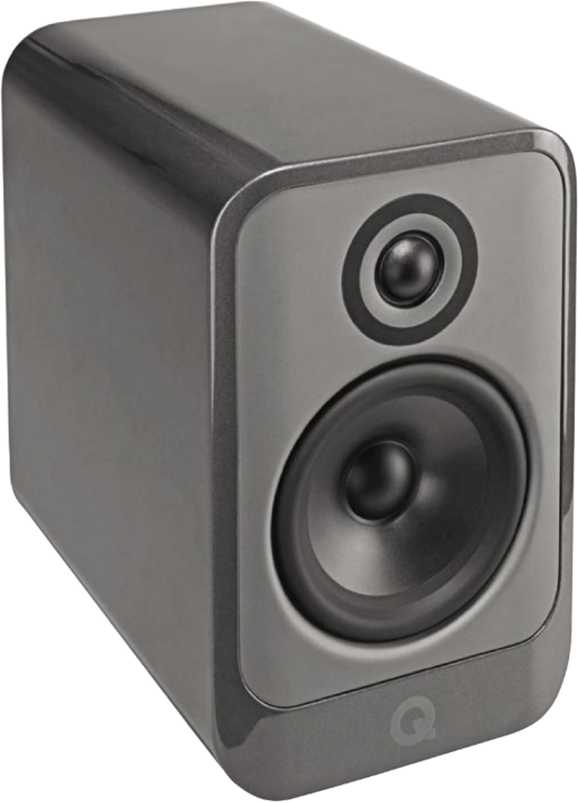 The bass/midrange unit and tweeter smoothly match into the front panel to ensure a similarly smooth frequency response under measurement.
MEASURED PERFORMANCE
Unlike the Concept 50 loudspeaker tested in our March 22 issue, the smaller Concept 30 measured flat across the audio band, its tweeter being set to match output from the small bass/ midrange unit. With only minor perturbations right across the frequency range colouration from local resonances will be low, and the tweeter itself runs flat without peaking, suggesting smooth treble. Integration between drive units was good, giving consistent results off-axis.
Output from the small bass/ midrange unit falls away slowly below 200Hz our analysis shows, to suit close-to-wall mounting. The roll down is relatively slow and the rear port tuned to 50Hz (red trace) provides a little extra power low down, but this is not a bass heavy loudspeaker.
Our impedance trace shows by the width of the dip around 50Hz where the port operates, that the bass unit is well damped, leaving fairly narrow residual peaks. The usual rise occurs as frequency increases due to inductance in crossover and voice coil, impedance falling above 2kHz as the tweeter comes into the picture, drawing current. Impedance minimum is 4.7 Ohms (d.c.r.) and overall impedance measured out as exactly 6 Ohms, making the Concept 30 a standard load.
Producing a loud 87dB sound pressure level (SPL) from one nominal Watt (2.84V) of input, the Concept 30 is impressively sensitive for such a small cabinet – around 85dB is common; 40W or more will be enough to go loud.
This is a smoothly accurate loudspeaker that will sound detailed but without treble sharpness. It runs low but will not have especially heavy bass, being suited to near wall placement in a small-ish room around 14ft long maximum. NK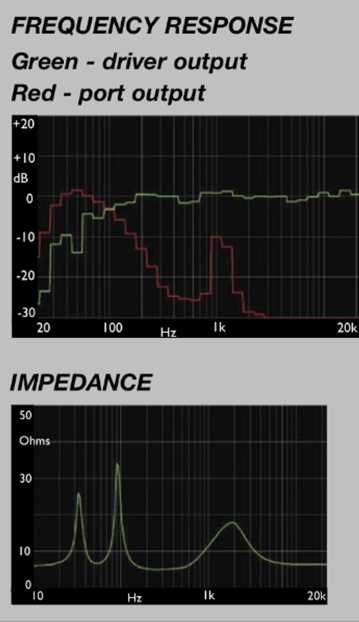 OUTSTANDING – amongst the best
VERDICT
Q Acoustics Concept 30 Review
A balanced and refined sound, lively and fast. Conspicuously capable all round.
PROS
pure and uncoloured lively and fast
sensitive
CONS
limited bass weight
brash at times
Add your review
Best Q Acoustics Concept 30 prices in the US ?
Best Q Acoustics Concept 30 prices in the UK ?
MORE DEALS

See also TOP 10 Subwoofers
Q Acoustics
+44 (0) 1279 501111
www.qacoustics.co.uk