Kingston's UV400 is the cheapest drive on test, with this 480GB model available at the time of writing. It is, however, a brand-new drive that's only arrived in the past few months, so it's not just old tech being sold off at discount. Instead, it uses Toshiba's latest 15nm 2D planar TLC NAND coupled with a Marvell 88SS1074 4-channel controller. This setup enables the range to offer up to 550MB/sec read and 500MB/sec write for sequential performance, and 90,000 and 50,000 IOPS for random 4KB read/write operations.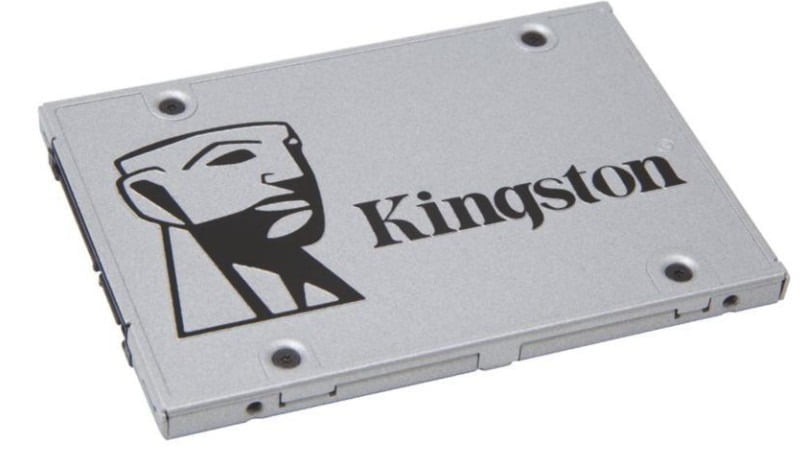 We were only able to get the 480GB drive in time for this group test. However, that's sure to be the choice drive for people considering this range, so it will give us a good indication of the performance buyers should expect. Otherwise, you can also pick the drive up in 120GB, 240GB and 960GB variants.
Like most TLC SSDs, a portion of the UV400's NAND is configured to run in SLC mode, which allows for much faster write speeds. Once it's full, though, performance drops off as data is written to the slower TLC NAND. On this 480GB version, that SLC portion is around 8GB in size according to our tests.
As such, unless you're regularly copying files larger than 8GB to your SSD, you shouldn't see performance slowing down.
The drive itself looks great, with an all-metal outer casing that has a rough, sand-blasted finish. A painted Kingston logo means you can't just peel off a sticker for a minimalist look, but the logo is tidy, with no extra information cluttering up the front. The basic drive comes with no extras, as you'd expect
"The drive looks great, with an all-metal outer casing that has a rough, sand-blasted finish"
given its low price.
7Review earns Amazon affiliate commissions from qualifying purchases. You can support the site directly via Paypal donations ☕. Thank you!
However, an upgrade kit version is also available (pictured), which provides all the cables, drive mounts and software you'll need to upgrade. It costs about more than the basic version. All versions of the drive come with a three-year warranty.
When it comes to testing, the UV400's performance deficit is clear across the board. However, in many benchmarks, it still holds its own. Initial sequential read and write speeds are around 510MB/sec and 490MB/sec respectively while 4KB random read and writes aren't too far behind the competition.
However, a quick large file transfer test reveals that sequential write performance really drops when that SLC cache is full, down to around 90MB/sec. That isn't atypical for entry-level drives, but comparatively, the MX300 settled on around 300MB/sec in the same test. Hit the drive with even more intensive workloads and it really struggles, as you'll find with most planar TLC NAND drives.
However, the real-world feel of this drive for many users won't be a great deal worse than any of the others on test, simply because of the limitations of the SATA interface. It was mainly during our intense lometer tests that we really noticed the drive slowing down. The UV400 clearly isn't a bargain option for anyone requiring consistently high levels of performance.
CONCLUSION
Kingston's UV400 drive offers good overall performance if you're simply looking to upgrade from a hard drive. However, its limitations are clear. If you regularly move around large files, you'll come up against its slow sustained write speeds, and power users will find its overall performance a little limiting. Still, with such a low asking price for 480GB of solid state storage, it's definitely a viable option for anyone seeking the largest capacity SSD for the least amount of money.
VERDICT
The UV400 doesn't set the world of SSD performance alight, but it's a decent SSD for a rock-bottom price.
Add your review