You're in Charge! Martin Pipe enjoys JBL's little Charge 5 speaker with a big sound. Read our JBL CHARGE 5 Review.
I'm quite taken with the distinctive character of JBL's Charge 5 wireless speaker, which resembles a blimp with the ends cut off. In their place are what look like 65mm drivers. Could this little barrel of music be one of those rarest of things, a stereo Bluetooth speaker? Alas not; there'd be no point, as the close spacing – 210mm – is hardly the stuff of meaningful imaging.Those drivers at either end are actually passive bass radiators, that work with an internal long-throw 50 x 90mm bass/mid driver of custom design, augmented by a 20mm dome tweeter to aid reproduction of highs.
According to JBL, they are respectively powered by 30W and I0W on-board amplifiers. Both of the transducers are nevertheless part of a single channel, fed by an internally-derived mix of left and right channels. In other words, it's mono. However, it can join forces with another Charge 5 to reproduce your music in glorious stereo.
The 960g Charge 5 is evidently pitched at lovers of the outdoor life, if its outer toughness and IP67- rated water resistance are anything to go by. Connectors are waterproof or covered by sealed bungs, and the controls are rubberised.A slight flat is incorporated into the base so that the unit sits on a surface with its tweeter facing frontwards.
The beefy 27Wh lithiumpolymer battery buried within the speaker is able to charge a 'phone, the base hiding a USB-A port into which a USB charging cable is plugged. JBL supplies a USB-C cable for modern phones. Using the 'powerbank' capacity of the Charge 5 to charge devices will impact its running time as a speaker, which is claimed to be up to 20 hours of playback from a 4-hour charge. Said playback is available only via Bluetooth – in this instance, version 5.1, with support for the A2DP 1.3 and AVRCP 1.6 profiles. There's no analogue input (another socket to worry about letting in water?), while the Charge 5's second port is a USB-C type purely for charging the internal battery: no charger is supplied.
I tried plugging the speaker into a PC with the supplied cable, hoping that it would take over audio duties, but Windows refused to recognise it.A pity, as this speaker could have been a potent alternative to a laptop sound system. However, it does allow the PC to (albeit slowly!) charge the unit.Another drawback is that the sealed nature of the Charge 5 complicates repair or replacement of the battery.JBL recommends charging the unit "at least every three months…to protect battery lifespan".
Using the Charge S is simplicity itself. It's easy to set up for use with Bluetooth-enabled audio sources like smartphones, tablets, computers or even compatible hi-fi products including Project's Phono Box BT E phono stage. After turning it on, simply hold down the backlit Bluetooth button to initiate pairing. Once paired, the Bluetooth device sends audio wirelessly to the Charge 5.The controls can raise or lower volume (the source device's own volume control is remotely-changed) and. depending on the capabilities of your source equipment, pause playback or skip tracks.Thanks to a feature called 'PartyBoost' – enabled or disengaged with a button that resembles the BBC Sounds logo flipped sideways – you can use multiple JBL devices to play the same tracks. I can imagine that sort of thing going down well at festival campsites. Controls and actions are confirmed by various sound effects.
7Review earns Amazon affiliate commissions from qualifying purchases. You can support the site directly via Paypal donations ☕. Thank you!
See also TOP 10 Subwoofers
RECOMMENDED VIDEOS FOR YOU...
There's also a simple 'app' -JBL Portable – for Android and iOS devices. This would probably be a lot smaller than 52MB (in its Android form), were it not for the somewhat pointless 'faces' animation that kicks it off. JBL Portable allows you to update the unit's firmware, monitor battery level, turn off audio-feedback sounds and switch PartyBoost between its normal mode and one that allows two compatible speakers within range to 'join forces' and reproduce music in stereo (you can assign a channel to each).
Interestingly,JBL Portable would not install on my Pixel 3a until I had given it'location awareness' permission – apparently this is a requirement for BLE (Bluetooth Low Energy) devices.
I would be interested to learn if this property will eventually be harnessed by object-based audio technologies. Because their placement within your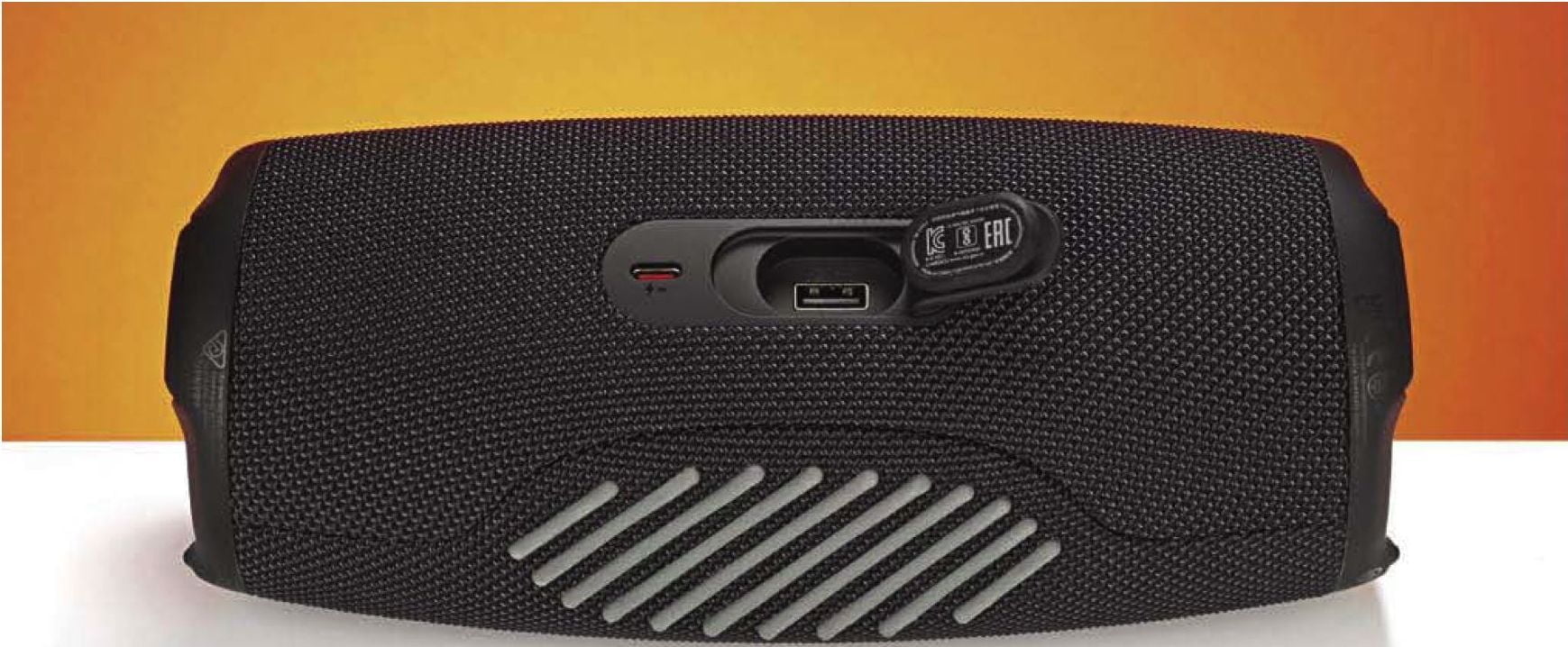 room is known, the positioning of various soundtrack elements could then accurately reflect the sound design of the content. With several such Bluetooth devices, you could get a convincing and immersive experience.
Even as it is, the Charge 5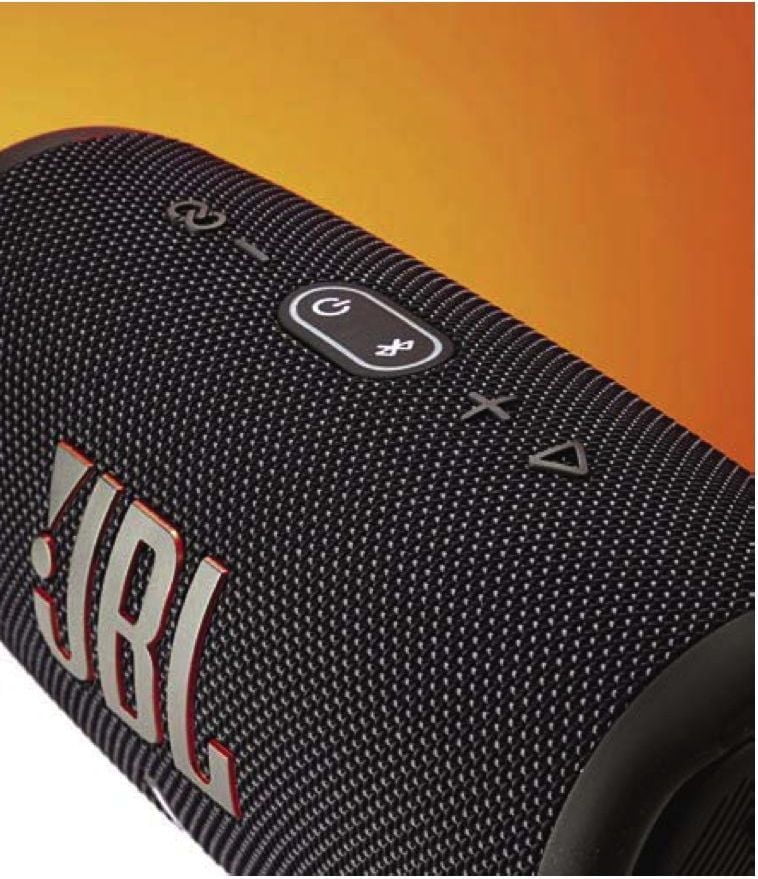 The Charge 5's controls are shaped 'bumps' on the waterproof skin, its central Bluetooth and standby buttons being backlit. They're flanked by volume adjusters that override your source device's own controls.
The button that resembles the BBC Sounds logo flipped sideways engages 'PartyBoost', which allows you to use multiple JBL devices, while the 'arrow' pauses/resumes playback or skips tracks. is a rather startling performer. Although not hi-fi in the traditional sense, it certainly makes for enjoyable listening – for long a trait associated with JBL products and sounds far, far bigger than you would expect from something so compact. I left the thing playing (viaVLC) music stored on my Pixel 3a and, downstairs in the kitchen making a cuppa, nearly accepted that the noises coming from above were from conventional full-sized speakers!
I found that the Charge 5 even manages to hold its own with bassheavy tracks like Link and e62l's Antacid (The Theory of Evolution); the lower octaves of those analogue synths are given surprising room.Then again, the Charge 5 was designed primarily for those who listen to energetic dance and rock music, its presentation and tonal balance reflecting this. Sure, there are obvious practical limits but the sheer scale of what the device can dish up is nevertheless a pleasant surprise.Treble is crisp and well-defined, with obvious benefits for the percussion that drives the music its target listeners enjoy; not even the dextrous polyrhythms of Talking Heads' Born under Punches (Remain in Light) posed much of a challenge to the Charge 5.There are traces of 'thickness', and a slightly cuppy colouration that can affect speech, but taken in context such limitations are not too serious.
JBL seems to have worked some kind of miracle here, in terms of the sheer scale of the sound the Charge 5 can deliver. Sure, it's only mono – but two can work together for stereo.Thanks to this PartyBoost feature, even more JBL speakers can be wirelessly linked to ensure that big sound can be heard around the house, dorm or campsite!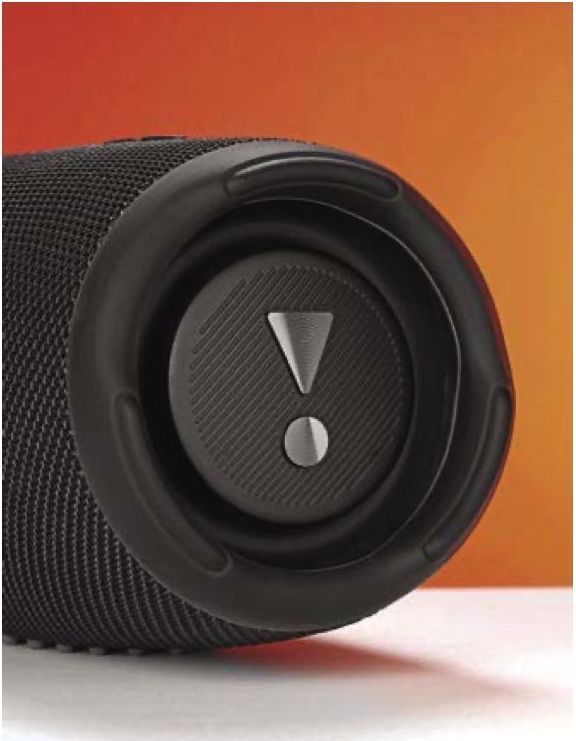 At either end of the Charge 5 are what look like 65mm drivers, rubberised for water resistance and embossed with an element of the JBL logo for effect. However, they're actually passive bass radiators that work in conjunction with an internal long- throw 50 x 90mm bass/mid driver of custom design. For treble 'sparkle', JBL has also included an independently- driven front-facing 20mm dome tweeter. But the Charge 5 is mono (unless 'paired' wth a second unit).
JBL CHARGE 5 Review
Small and unobtrusive, the Charge 5 will fill your phone with juice – and your room with music!
PROS
a wonderfully 'big' sound from a small object
acts as a 'power bank', as well as a speaker
neat waterproofed design (in a choice of 8 colours)
CONS
lack of analogue connectivity USB port can't be used 'directly' for laptop audio
sealed design makes repair difficult
Add your review
Best JBL CHARGE 5 prices in the US ?

$

129.95

$179.95
10 used from $123.02
13 new from $129.95
in stock


$

129.95

$139.95
2 new from $129.95
in stock


$

529.90
1 new from $529.90
in stock

Best JBL CHARGE 5 prices in the UK ?

£

148.25
1 used from £135.00
5 new from £147.75
in stock


£

149.00

£179.99
2 used from £135.23
1 new from £149.00
in stock

MORE DEALS

See also TOP 10 Subwoofers
Specifications
| | |
| --- | --- |
| Product Name | JBL Charge 5 Portable Waterproof Bluetooth Speaker |
| Modu00e8le nu00b0 | JBLCHARGE5SQUADAM |
| Environnement d'exploitation | Intu00e9rieur & Extu00e9rieur |
| Capacitu00e9 multipiu00e8ce sans fil | Non |
| Appairage stu00e9ru00e9o | Oui |
| Primary Wireless Connection | Bluetooth |
| Connectivitu00e9 Bluetooth | Oui |
| Entru00e9e USB | 1 u00e0 l'arriu00e8re |
| Taille du haut-parleur d'extru00eames graves | 52 x 90 mm |
| Ru00e9ponse en fru00e9quence | 65 Hz u00e0 20kHz |
| Sensibilitu00e9 | 80 dB |
| Haut-parleurs blindu00e9s | Non |
| Tu00e9lu00e9phone u00e0 haut-parleur | Non |
| Autonomie approximative de la pile | 20 heures |
| Chargement de l'appareil | Oui |
| Tu00e9lu00e9commande | Non |
| Indice de protection (IP) | IP67 |
| u00c9tanche u00e0 la poussiu00e8re | Oui |
| Ru00e9siste aux chocs | 0 m |
| Splashproof | Oui |
| Ru00e9siste u00e0 l'eau | 1 m |
| Autres fonctions | PartyBoost |
| Microphone inclus | Non |
| Horloge | Non |
| Ru00e9veil | Non |
| Profondeur | 9,4 cm |
| Largeur (pouces) | 8,8 po |
| Hauteur (pouces) | 3,8 po |
| Profondeur (pouces) | 3,7 po |