With an extensive specification, this is an attractive Bluetooth speaker boasting a host of extras. Read our Tibo Sphere 6 Review.
Adopting a slightly different approach, Tibo makes a selection of Bluetooth-only portable speaker designs at lower price points, but by the time you reach its Sphere range you get a lot more to play with. As well as aptX Bluetooth, the Sphere 6 is fined with wired and wireless internet allowing for network streaming, access to Tidal, Spotify and Napster plus internet radio services (see boxout).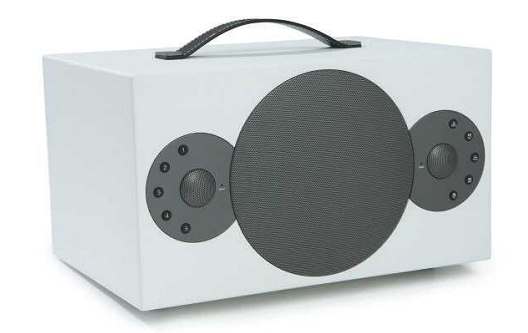 Details - Tibo Sphere 6 Review
PRODUCT
: Tibo Sphere 6
ORIGIN: UK/China
TYPE:  Portable Bluetooth/network speaker
WEIGHT: 4.2kg
7Review earns Amazon affiliate commissions from qualifying purchases. You can support the site directly via Paypal donations ☕. Thank you!
See also TOP 10 Subwoofers
DIMENSIONS (WxHxD): 309 x 210 x170mm
FEATURES
Quoted battery life: 8 hours
2 x 19mm tweeters
1 x 127mm mid/bass drivers
Bass reflex port
Bluetooth wireless v4.0 with aptX
DISTRIBUTOR Tibo Ltd.
TELEPHONE 01525280907
WEBSITE tibo-electronics.com
The speaker has two 19mm tweeters placed either side of a single 127mm driver and is the only model in the group to be bass reflex ported. The built-in amplifier power is quoted at 80W, while battery life claims to give a minimum of eight hours.
Its considerable bulk comes across more as a powered speaker than a truly portable one, but along with the comparatively tiny Bang & Olufsen and DALI models, it sports a carry strap. Voice prompts are enabled for
pairing and network activity and although the robotic voice is underwhelming, it is helpful.
Sound quality
With "Bluetooth connected" solemnly confirmed by the prompt, the Sphere 6 demonstrates the most forward presentation of all the speakers in the test. Hahn's violin is never actively harsh, but there is certainly a clear hardness to the upper registers that leaves higher notes sounding a little thin and metallic. There is also less of a feel of her movement as she plays, and it confirms that the Tibo is the most mono-sounding speaker of the group. It does have some virtues, though. It delivers a lively and potent rendition of The Raven with a deep and impressively agile bassline underpinning a midrange that makes better use of that slight forwardness. It might not be truly refined, but it is a lot of fun. There is also a more than reasonable level of detail retrieval, which helps the overall believability of the music.
With the sparser presentation of San Jacinto, the Tibo is a more of a mixed bag. Once again, there is a decent level of bass extension to underpin the track, but the lack of stereo separation hinders the perception of space that it really needs to sound convincing. Meanwhile, the slightly hard treble means that vocals lack the warmth and engagement that is available elsewhere, while as the chorus reaches its peak the Sphere 6 is a little bright and hard to be truly comfortable. State Of Mine is handled much more convincingly so that the entire track moves with a more commendable level of drive and entertainment. Bass extension and general levels of detail are good and with significant volume levels in reserve, the Tibo should work well in larger spaces
VERDICT
Tibo Sphere 6 Review
Impressively flexible at the price, but it lacks refinement
PROS
Impressive feature set
Lively and potent sound
CONS
Can sound a little bright and hard controls can be slightly confusing
Add your review
Best Tibo Sphere 6 prices ?
MORE DEALS

See also TOP 10 Subwoofers
SIX APPEAL
When it comes to network audio functionality, the Sphere 6 has a similar system to Tibo's Smart Streamer (HFC 442). It uses the same control app and setup, while the robotic voice prompts initially assist you in the same way. This range of features give the Sphere 6 options like multi-room, which simply aren't available to its other speakers. The counter to this is that the slightly hard presentation and lack of stereo width is as apparent with network audio as it is via Bluetooth. The final concern is that operation is much more fiddly via the front panel than any other speaker here. While the five preset buttons are useful, the ones that cover the other functions are all being asked to do a few too many things to make the Sphere 6 straightforward to operate.