GIGABYTE Pushes The GTX 1060 To The Extreme
A few months ago when GIGABYTE sent us its GeForce GTX 1080 Xtreme Gaming graphics card, we had been anticipating its arrival since we saw it in person at Computex in June. But when we recently got our hands on the considerably more affordable GIGABYTE GeForce GTX 1060 Xtreme Gaming, we were surprised at just how many of the higher-end card's extras trickled down to the smaller sibling. This card has some serious muscle under the hood, aggressive aesthetic appeal, and enough impressive features to push it to the front of the pack in a very competitive market segment. Read on to find out why it makes such a great upgrade for gamers. NVIDIA's DNA Before we dig into the particulars of GIGABYTE's dramatically altered WINDFORCE cooler, the custom PCB, and the software goodies that'll let you enjoy lots of eye candy in even the most demanding games, let's recap NVIDIA's not-insignificant contribution to the brew. The GP106 GPU at the heart of the GTX 1060 is manufactured at the same 16nm FinFET process as the rest of the Pascal GPUs that ship on the 10 Series graphics cards. The slimmed down GP106 measures 200mm² and has a 4.4 billion transistor count that's almost 62% of that of the GTX 1080. Compare that to the previous generation GM206 inside the GTX 960, which features 2.94 billion transistors.
This card has some serious muscle under the hood.
But even the transistors have undergone a radical transformation between NVIDIA's 9 and 10 Series GPUs. The ones in the 1060 are more efficient dual-gate transistors, which are capable of dynamically powering down the channel to minimize current leakage.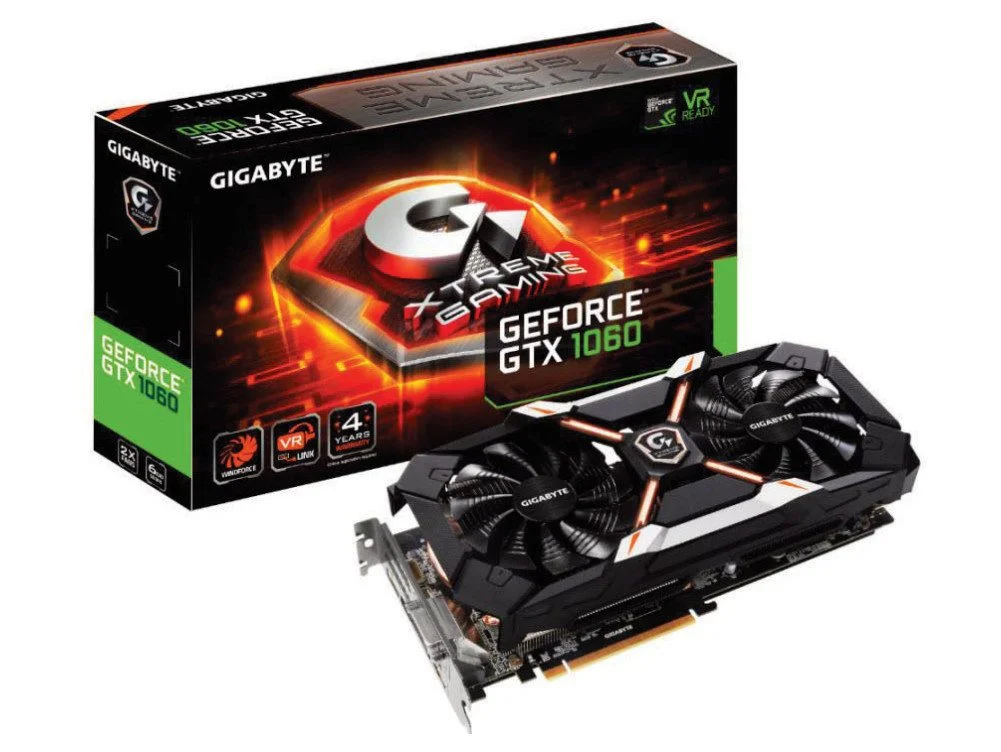 Architecturally speaking, the GTX 1060's GPU consists of two graphics processing clusters, 10 streaming multiprocessors, 1,280 CUDA cores, 80 texture units, and 48 ROPs. Because Pascal's Raster Engine is independent of the GPCs and SMs, this chip features 75% of the GTX 1080's ROPs, but just half of its CUDA cores.

The memory controller's 192-bit bus is another feature that's 75% of that of the GTX 1080. There are GTX 1060's that ship with 3GB or 6GB of GDDR5, but as GIGABYTYE's flagship 1060, you better believe there's the full 6GBs installed here.

Even though this isn't the high-end Pascal, this card enjoys almost all the same benefits, including support for DirectX 12, OpenCL 1.2, OpenGL 4.5, HDMI 2.0b, HDCP 2.2 support for 4K content, 4th generation delta color compression, a new PureVideo feature set, and GPU Boost 3.0. There are also a couple of new features that gamers will really appreciate.

Simultaneous Multi-Projection is a feature that effectively corrects the fish-eye distortion you experience at the edges of games when you use three monitors at ultra-wide resolutions. This feature is made possible thanks to dedicated SMP hardware built into the GPU's Polymorph Engine. This tech also has a hand in efficiently rendering the two distinct images that are necessary to make VR a convincing and immersive experience.

The in-game photography tool called Ansel is another cool feature that lets you pause the action in Ansel-supported titles and use a free camera to explore the environment and take ultra-high resolution screenshots. One feature you won't see from any GTX 1060 is SLI support.

Yo Dawg, I Heard You Like Overclocks The GTX 1060's reference base and boost core clocks are 1,506MHz and 1,708MHz, respectively. GIGABYTE's GTX 1060 Xtreme Gaming, paired with the firm's Xtreme Gaming Engine, supports three clock rates. In Eco mode, the boost clock is a hair higher than that of the reference design, at 1,734MHz.

In Gaming mode, effectively the default setting of this card, the base and boost clocks are 1,620MHz and 1,848MHz.

In OC Mode, the clocks go up to 1,645MHz and 1,874MHz, respectively.

The effective data rate of the GDDR5 memory also gets a bump in the GTX 1060 Xtreme Gaming, from 8,000MHz to 8,160MHz.

GIGABYTE's Secret Sauce Whenever we discuss the factory overclocked base, boost, and memory clocks of a graphics card, particularly ones as impressive as those featured on this card, we have to acknowledge the role the VRM design, card components, and cooler play in maintaining this level of performance.

The WINDFORCE 2X cooler on this card actually shares a lot of the same features as the cooler attached to the GTRX 1080 Xtreme Gaming, including the 100mm dual ball-bearing fans (there are two here) which are large enough that they can spin slower while moving a larger amount of air compared to traditional 90mm fans. The blades of the fans feature a triangular trailing edge and a series of five ridges that result a 23% increase in airflow. Although the fans aren't stacked like they are on the 1080, the left fan spins clockwise as the right fan spins counter-clockwise, which manages to spread cool air across more of the heatsink and PCB surface. All told, the cooler on this card pushes its length to just a little over 11-inches long.

You won't be surprised to learn that under those fans is an aluminum fin heatsink threaded with copper heatpipes, but both components are tweaked to perform better on this card. The series of three heatpipes are flattened and welded to a massive copper base plate that covers the GPU as well as the banks of VRAM the flank the GPU. These are composite heatpipes, which uses a sintered copper powder inner tube, and liquid running between axial grooves in an outer layer of copper, which GIGABYTE claims yields up to a 29% increase in cooling capacity compared to standard copper heatpipes.

The aluminum fins feature an angled design with unequal fin heights, which increases the surface area of the heatsink, reduces noise levels, and results in a 4% increase in cooling performance.

The plastic and aluminum shroud is very reminiscent of the 1080 Xtreme Gaming, even down to the large X design between the two fans. There's also a brushed aluminum black backplate with orange racing stripes and a large Xtreme Gaming logo. There are RGB LED accents on both the face of the card, in the form of a series of four light bars, and the top edge, which features another Xtreme Gaming logo and a Fan Stop LED indicator, which lets you know when the graphics card is running cool enough that the fans don't need to spin.

GIGABYTE's Xtreme Gaming Engine also lets you tweak the LEDs to cycle through 16.8 million colors using a variety of effects and modes.

Attractive backplates are all the rage in graphics cards these days, and GIGABYTE's GTX 1060 Xtreme Gaming continues the trend.

GIGABY TE's Gauntlet Sorting technique, which involves rigorous testing, ensures that only the best performing GPUs are put into its top performing graphics cards. This card ships with a 3-year warranty and the company gives you a fourth year once the card is registered. GIGABYTE can offer such a generous warranty because it uses its Ultra Durable components, including a 2-ounce copper core PCB, the same solid state capacitors and metal chokes as are used in the Titan X, and tier 1 memory. Add to this a 6+1 power phase VRM and cool-running lower RDS(ON) MOSFETs to ensure voltage output remains steady and stable regardless of the application. Another extra you get when you buy from GIGABYTE is the Xtreme Protection aerospace-grade PCB coating, which prevents corrosion and dust accumulation, and resists moisture.

When it comes to display outputs, there's a little bit of everything here.

Although this card comes from the factory with an impressive set of base and boost clocks, you can use the Xtreme Gaming Engine to push them even further yourself. There's an 8-pin PCIe power connector on the back corner of this card and NVIDIA recommends using a 400-watt PSU, at minimum. Fun fact: the GTX 1080 Founder's Edition requires the same auxiliary power connector.

Troubleshooting a faulty graphics card can be a nightmare scenario, but GIGABYTE installed an LED indicator near the power port that lights up whenever there's a disruption in power, making it easier to pinpoint the problem.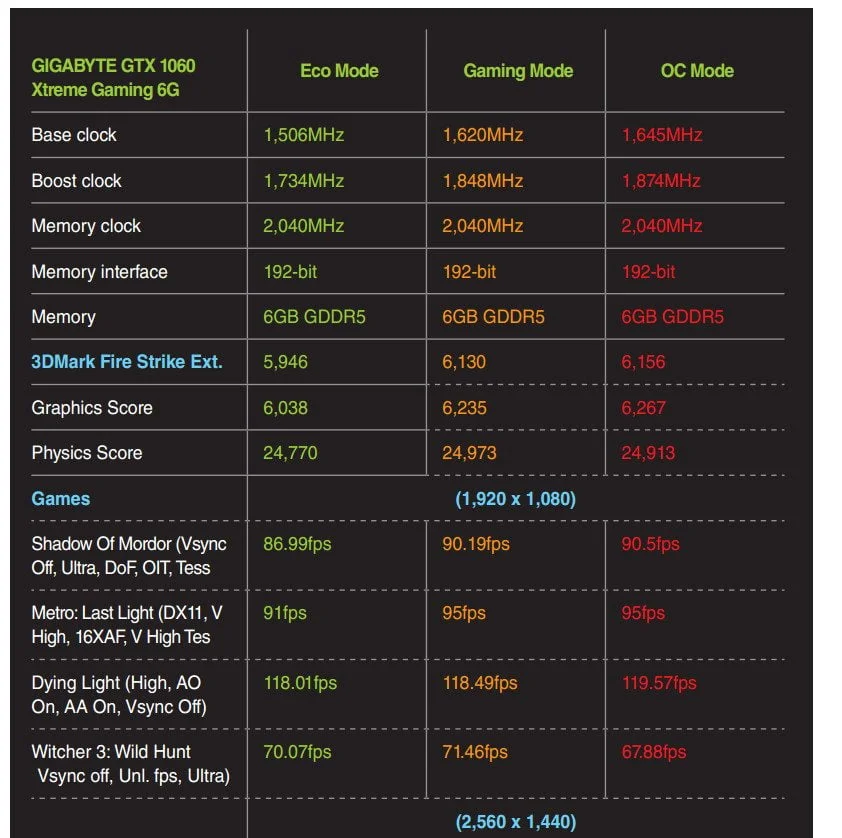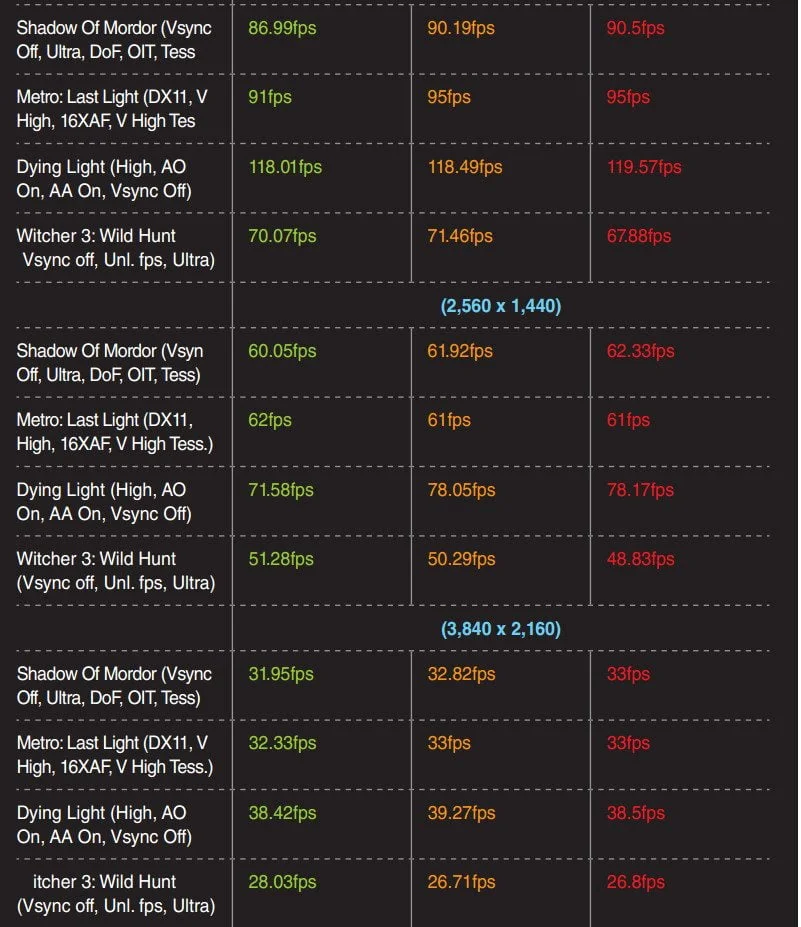 Test System Specs:
Processor: Intel Core i7-6950X;
Motherboard: GIGABYTE GA-X99-Ultra Gaming;
Memory: 16GB HyperX Predator DDR4-3000;
Storage: 240GB OCZ Vertex 3 MAX IOPS SSD;
OS: Windows 10 Enterprise

This is a VR-Ready graphics card in in every sense. There are a pair of Xtreme VR Link HDMI ports on the front of the card (internally, facing the case's front panel), as well as one more HDMI port on the back bracket, three DP ports, and a DVI-D port, which gets disabled when you take advantage of the internal HDMI ports. Needless to say, GIGABYTE has your display output bases covered.
Peak Performer The GIGABYTE GTX 1060 Xtreme Gaming graphics card delivers playable framerates at resolutions up to 4K in every game except The Witcher 3. At 1440p, the card consistently offers excellent framerates in these demanding games, even with the settings maxed out. If you're still using a single 1080p display, then there's really nothing out there now, or on the horizon, that you won't be able to enjoy at max settings. This card runs fast and hard, and its 2.5-slot cooler has the capacity to handle some impressive overclocks. If you're in the market for a powerful GTX 1060, this is one of the best there is.

$1,649.00
×
Product prices and availability are accurate as of the date/time indicated and are subject to change. Any price and availability information displayed on Amazon.com (Amazon.in, Amazon.co.uk, Amazon.de, etc) at the time of purchase will apply to the purchase of this product.
1 new from $1,649.00