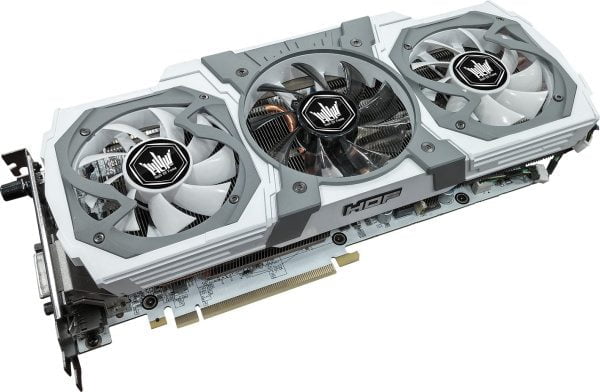 Galaxy drops a letter, and boosts the build qualityThis is the first graphics card we've reviewed with the Galax brand name, and it couldn't be more different to the budget offerings we've previously associated with Galaxy graphics cards. This is one serious piece of hardware, redesigned from the ground up to extract every possible ounce of sweat out of the GTX 970 GPU at its heart.
Removing this card from its packaging reveals an absolute whopper of a card. It's using a new 10 layer PCB, reinforced by a sturdy backplate. It's much bigger than normal GTX 970 PCBs, apparently to deliver cleaner electrical paths. The 8+2 phase VRM should deliver best-in-class power stability, while the huge Triple Force cooler is as heavy as it is sexy. A total of seven, yes seven, heatpipes suck the heat from the GPU, which is then dissipated by twin 80mm fans separated by another 90mm fan. According to the marketing material, it uses special IR3595 Digital PWM controllers that deliver twice the switching frequency of previous generations, and it's also apparently equipped with aerospace quality power inductors. Twin 8-pin power connectors give this baby plenty of juice for overclocking, and its twin BIOSes allow Galax to override NVIDIA's limiting voltage regulations. All sounds very impressive, right?Output duties are handled by a DL-DVI port, three full DisplayPort 1.2 outputs and a single HDMI 2.0 output, allowing up to four displays to be connected simultaneously. Of most interest on the face plate of this card though is the large black button next to the DL-DVI output, which allows the user to shove this beast into "Hyper Boost" mode. When combined with a piece of software called HOF_NVVDD, which was created by the community, it's possible to dump up to 1.3V through the GPU, a big increase on the 1.21V that the GTX 970 is usually limited to. We'd strongly recommend water cooling if you're going to pump this much juice through it though.Galax has endowed this card with a huge 1380MHz Boost speed straight out of the box, making it the fastest factory overclocked GTX 970 on the market. However, we managed to get a crazy 1540MHz out of the GPU with the voltage set to 1.21, making this the best GTX 970 for overclocking that we've seen. It's a doozy of a product, but you will pay extra to be able to brag about your 1500MHz+ clock speed. BENNETT RING
Make no mistake, this is arguably the best GTX 970 around. Whether you want to pay the premium for it is up to you.