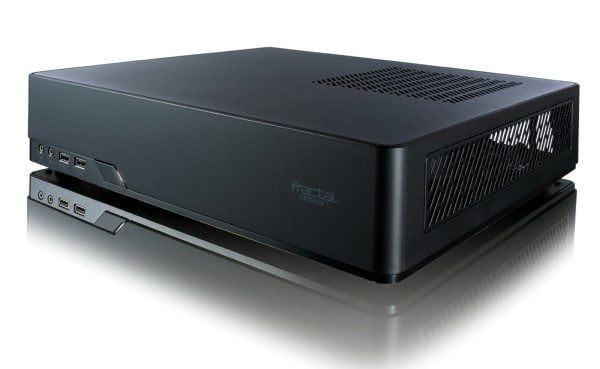 Nowadays, HTPC cases come in a variety of shapes and sizes. On one hand, you have the tiny, handheld cases that are "big" enough for a computer on a card. On the other, you can go with a case so large that it lets you stuff a full-fledged high-end system inside. Fractal Design's Node 202 falls somewhere between these two extremes, but one thing is clear as soon as you unbox it: This case looks the part.
The Node 202 is roughly the same size as a current-gen videogame console. Its looks certainly fit in among the rest of your HTPC components, and thanks to the included stand, you can orient the case horizontally or vertically. The case itself consists of essentially two structures—the base, which holds all of your system's hardware, and a top shell that covers and contains everything. The shell has a steel top panel and plastic side panels, so the front of the case has a clean, matte finish. The base itself is primarily steel, making the whole chassis quite sturdy, and some plastic. Although there are no fans in the case itself, the Node 202 has vents strategically placed to allow ventilation for the hardware that needs it most (CPU, GPU, PSU). You wouldn't want to go crazy overclocking your components with this case, but we're not at all concerned that they'll overheat. All in all, the construction is solid, exactly what you'd expect from Fractal. Inside the Node 202 is room to build a burly PC, but you also need to be aware of its limitations. First, you must use a Mini-ITX motherboard, which isn't a huge concern when you consider that there's a quality Mini-ITX motherboard available for any CPU you choose. Now, cooling that CPU is another matter. In order to fit inside the Node 202, the CPU cooler can't be taller than 2.2 inches, which limits you to a low-profile cooler (and even some of those will be too tall). You might be able to get away with a closed-loop liquid cooler, but that will force you to sacrifice the case's graphics card chamber in order to install the cooler's radiator. Our recommendation: Stick with a squat heatsink and fan. Let's talk about that graphics card chamber, shall we? The Node 202 will hold one dual-slot graphics card up to 12.2 inches long, which is awesome, but the more significant restriction is the Node 202's included Integra SFX 450W power supply. The Integra still has enough juice to drive a pretty powerful graphics card. Conservatively, a GeForce GTX 960 falls under the Integra's 450W threshold, but you can probably get away with more as long as you stick with a quad-core CPU. In order to separate the graphics card in its own chamber, Fractal includes a riser cable that attaches to the graphics card's PCIe slot connector, threads through an opening in the Node 202's chamber partition, and then connects to the motherboard's PCIe x16 slot. We've seen this tactic used in other compact cases, and it works well here, as well. Fractal also produces a Node 202 that doesn't include an Integra SFX 450W PSU. If you prefer this option, it will only set you back, but you'll still need an SFX form factor PSU that has a maximum length of 5.11 inches. Some HTPCs barely have enough local storage for an operating system and thus function as streaming clients that pull content from networked storage or the Internet. At the opposite end of the spectrum are HTPCs that have enough local storage for a massive movie library. The Node 202 has a pair of 2.5-inch drive mounts, which will be enough for some, but those with massive media collections will probably need an external or networked storage option to supplement an HTPC built inside the case. All that said, Fractal's Node 202 is a terrific foundation for an HTPC. It lets you install a lot of high-end components, and it will blend right in with the rest of your home theater gear.
Specs (case): Dimensions: 3.46 x 14.84 x 12.99 inches (HxWxD); Materials: Steel, plastic; Motherboard support: Mini-ITX; Drive bays: 2 x 2.5-inch internal; Fans (optional): 2 x 120mm bottom (GPU chamber); Ports: 2 x USB 3.0, audio I/O
Specs: (PSU): 80 PLUS Certification: Bronze; Maximum wattage: 450W at 50 C; 12V rails: 2 (18A each); 3.3V max: 21A; 5V max: 22A; Connectors: 1 x 20+4-pin ATX; 1 x 4+4-pin ATX12V; 2 x 6+2-pin PCIe; 2 x SATA; Warranty: 3 years.