The design of Elipson's latest range allows it to be concealed in-wall, but Ed Selley thinks its talents are easy to spot
Infinity and beyond
When making a 'perfect' home cinema system, drivers across each channel should be identical, the crossover to the sub should be as low as possible (or the speakers so capable there's no need for one at all) and bass extension should be on axis with the LCR speakers.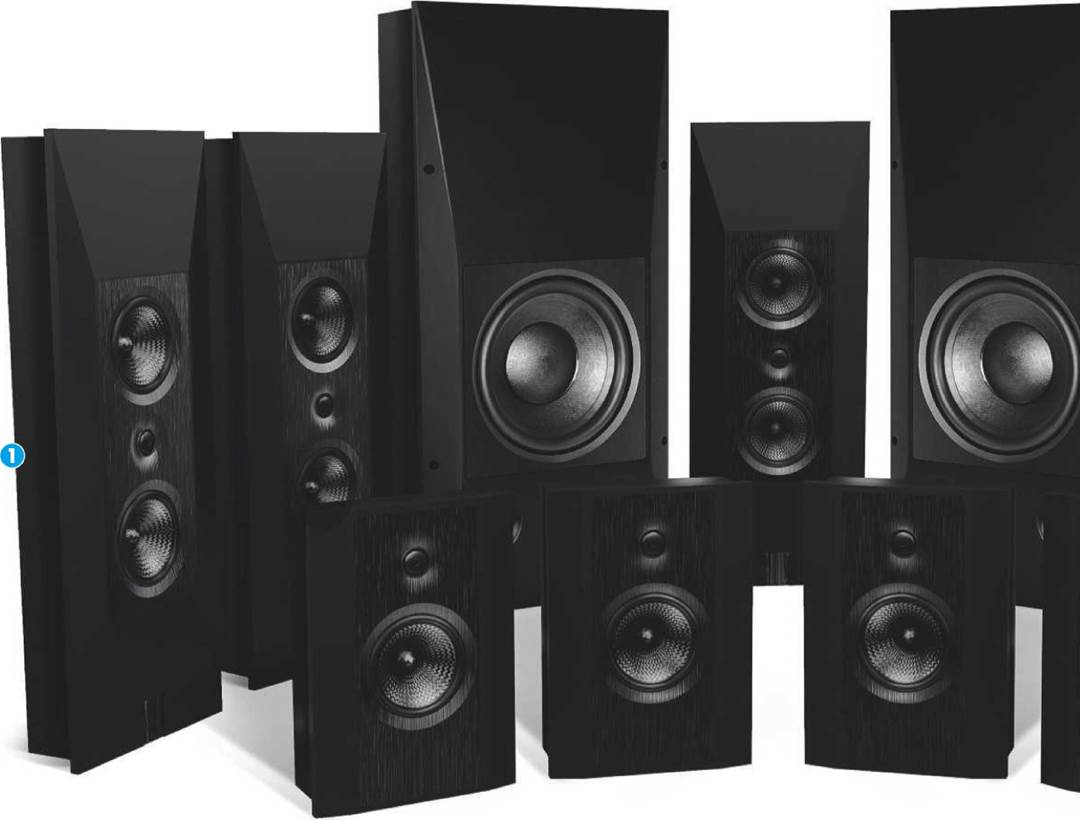 Well, that's the ideal anyway, and all these are tricky but not impossible. The last one is a bit of a head scratcher though. Ideally, dialogue shouldn't simply be on-axis with your screen, it should emerge from it. The speakers you see here are a potential solution.
Manufacturer Elipson has been busy in recent years, firstly adding the Facet range of speakers (see HCC #291) before looking toward the custom installation market.
Its new Infinite lineup takes the company further into high- end territory and lets it make a play at pro cinemas at the same time.
7Review earns Amazon affiliate commissions from qualifying purchases. You can support the site directly via Paypal donations ☕. Thank you!
See also TOP 10 Subwoofers
Three models in the four-strong range are designed to be placed in a wall cavity, or on a wall. This comes in handy when considering a typical room may comprise both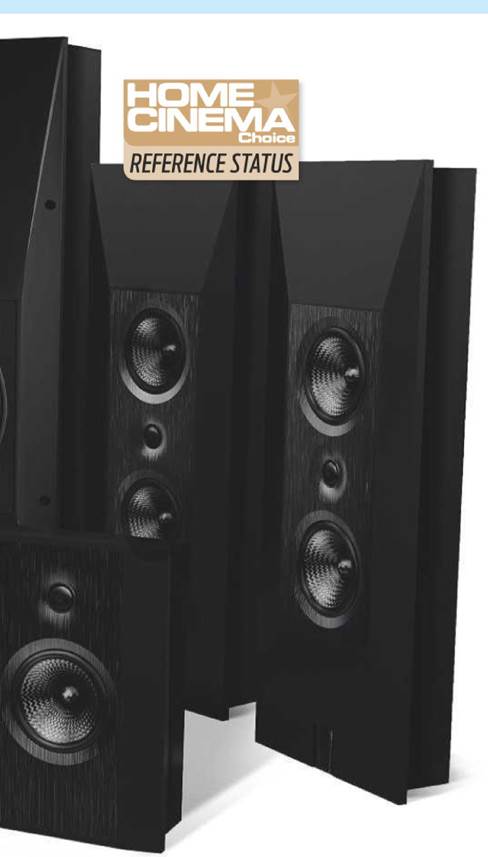 AV INFO
PRODUCT: In-wall/on-wall speaker system
POSITION: Elipson's premium home theatre proposition
PEERS: ATC HTS Series; Artcoustic SL Series
1. Elipson's 12in subwoofer is passive – the brand sells the separate A1000 power amplifier
cavity walls that will happily accept such a speaker, and supporting walls which won't. Rather than supply an optional back box, Elipson has designed the Infinite range with a cabinet that allows you to choose freely between the two states.
There are two traditional speakers in the range; the Infinite 8 and Infinite 14 are passive designs for use in the LCR, surround and height channels. These are joined by the Infinite S12 to handle LFE.
The Infinite 8 and 14 both use the same driver design. The tweeter is a 1 in silk dome wrapped in a ring to aid dispersion. This is joined by a 6.5in midbass driver – one in the Infinite 8 and two in the Infinite 14 – made from a Rohacell and Carbon Fibre sandwich intended to be stiff, strong and light. Both speakers have a roll-off point (75Hz or 60Hz) that allows for any subwoofer to be operating in a comfort zone below the point of real directionality.
If the Infinite 8 and 14 are recognisably derived from conventional speakers, the S12 is more interesting.
Instead of the usual practise of combining the amplifier and bass driver in the same cabinet, it's a passive design. This is partly because getting mains to a device in the wall is not completely straightforward, and servicing it in the future could also be difficult. As such, the S12 consists of a hefty 12in woofer with Neodymium motor components in a front-ported chassis less than 30cm deep.
To provide the required oomph, the last member of the Infinite series is not a speaker but an amplifier. The A1000 has been custom designed for the task and deploys 1,000W, into four ohms, via DSP control so you shouldn't struggle to drive a S12 to any level that takes your fancy.
It's a stereo amp too, so .2 installations are possible.
You can combine any combination of Infinite 8 and 14 with S12s (the models are all sold individually) either on-wall, in-wall or in-ceiling. Neither is this a theoretical benefit either, as the satin finish on the speakers and the inclusion of a grille is enough to ensure that having them in sight is not going to be offensive. Yes, they're big and black, but they have a sense of style.
As it wasn't practical to test a system in a domestic situation, I journeyed to AV retailer Musical Images in Beckenham, Kent, where a 7.2.4 Infinite system has been installed. It features Infinite 14s across the LCR channels, supported by two S12s. Infinite 8s are then used in the rear and height channels, all being driven by a Denon AVC-X6500. Courtesy of a JVC projector and projector screen, the front speakers (and woofers) are mounted on-axis with the image you see.
Distinction and definition
It's hard to overstate what a difference this makes to the way the Elipson system generates a soundfield. The final showdown on the Bifrost in Thor: Ragnarok (4K Blu-ray) retains the sense of overblown intensity that sums up the whole movie, but here there is distinction and definition that can so easily be lost in the mass of action. Dialogue isn't simply on-axis with the screen, it is perfectly locked to it, and after a few minutes something pretty special happens. When reviewing something, it's necessary to keep a focus on the item you're actually supposed to be writing about. More than almost any other speaker package I've listened to recently, the Infinites make this almost impossible.
Simply put, with the placement advantage they enjoy, the speakers become part of the performance in a manner that even hugely talented rivals struggle to get near.
The more believable the content onscreen, the more compelling this effect becomes. The bombing of the hospital ship in Dunkirk (4K Blu-ray) is at once enormously and effortlessly visceral and incredibly           >
2. Behind the screen at Musical Images' AV demo room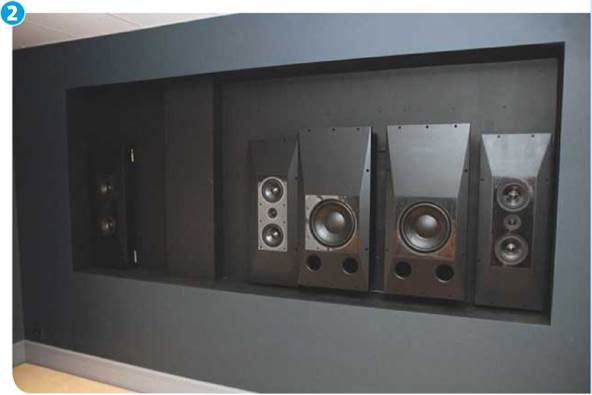 delicate. The impact of dropping bombs is felt as much as heard, and the split amplification and power arrangement of the S12 and A1000 has no effect on the ability of this array to sound absolutely devastating.
It's about far more than brute force, though. As the ship begins to sink, the sound of water entering the hull, the cries of the soldiers and half-a-hundred other details combine in a manner that is utterly believable, and the bleak open space of the harbour is something that extends far beyond the confines of the listening room.
Part of this comes about through the relatively healthy sensitivity of the Infinite speakers (91dB in the case of the Infinite 14). The Denon receiver never has to reach outside its comfort zone to achieve a room-filling level of sound. This isn't to say these in-wall/on-walls won't benefit from decent amplification – speakers as naturally revealing as these will always tell you what is happening further up the chain – but the AVC-X6500 isn't a premium model either.
Strange to relate, for a set of speakers that have the headroom that these do, it isn't monster-scale material that shows off their greatest strengths but more claustrophobic scenes. It would be wrong to describe the Gemini launch in First Man (4K Blu-ray) as a 'small scale' scene as very little about orbit-capable rockets is compact. What the Elipsons do with incredible effectiveness is bring the terrifyingly constrictive nature of the capsule to life.
It becomes a horrifying symphony of mechanical noise, vibration and terror in a way that conveys the risks and dangers of early space flight. Once again, the simple expedient of having the speakers behind the screen and part of the room is enough to integrate them into the overall viewing experience in a way that conventional cabinets will struggle to do.
This unobtrusive ability is often best shown by simpler material than it is more bombastic fare. The meeting and fight between K and Sapper Morton in Blade Runner 2049 (4K Blu-ray) is superbly handled. The dynamic spikes in level are ruthlessly presented, and having the same driver and tweeter combination in every channel means the handover between the enclosures is wonderfully smooth and controlled. It's a real wall of sound, capable of delicacy and drama, excellent detail and imaging. You become aware that the bubbling of the pot on the stove is present throughout their entire dialogue, and little notes like this lift the visuals still further.
Performance potential
It would be foolish to pretend that Elipson's range is a one- size-fits-all solution to how you go about constructing an AV system. They aren't 'affordable' when considered as boxes on their own and to achieve the invisible results that Musical Images has, more investment is needed in installation. Yet by ensuring they can also be used on-wall, Elipson has increased flexibility and decreased potential costs. That they've done this while hitting reference-level performance for the price point is something to celebrate
HCC VERDICT 5/5
Best price
Elipson Infinite Series 7.2.4 Review
An outstandingly cinematic set of installation speakers that delivers spellbinding performance across a huge range of material.
Add your review
Best Elipson Infinite Series 7.2.4 prices ?
See also TOP 10 Subwoofers
SPECIFICATIONS
Elipson Infinite 14
DRIVE UNITS: 2 x 6.5in Rohacell midbass drivers; 1 x 1in soft dome tweeter ENCLOSURE: Sealed, in-wall/on-wall FREQUENCY RESPONSE (CLAIMED): 60Hz-30kHz SENSITIVITY (CLAIMED): 91dB POWER HANDLING (CLAIMED): 150W DIMENSIONS:
360(w) x 950(h) x 138(d)mm WEIGHT: 18kg
Elipson Infinite 8
DRIVE UNITS: 1 x 6.5in Rohacell midbass driver; 1 x 1in soft dome tweeter ENCLOSURE: Sealed, in-wall/on-wall FREQUENCY RESPONSE (CLAIMED): 75Hz-30kHz SENSITIVITY (CLAIMED): 88dB POWER HANDLING (CLAIMED): 100W DIMENSIONS:
330(w) x 440(h) x 138(d)mm WEIGHT: 10kg
Elipson Infinite S12 (subwoofer)
DRIVE UNITS: 1 x 12in doped paper woofer ENCLOSURE: Front dual-ported FREQUENCY RESPONSE (CLAIMED): 28Hz-100Hz SENSITIVITY (CLAIMED): 92dB POWER HANDLING (CLAIMED): 500W DIMENSIONS: 450(w) x 950(h) x 273(d)mm WEIGHT: 33.5kg
Elipson Infinite A1000 (subwoofer amplifier)
ONBOARD POWER (CLAIMED): 1,000W Class D (into 4 ohms) CONNECTIONS: 1 x XLR
stereo input; high-level input; high-level output; stereo phono input; stereo phono output; IR port; 12V trigger DIMENSIONS: 425(w) x 89(h) x 368(d)mm WEIGHT: 12.5kg FEATURES: Adjustable phase and crossover; eight-band equalizer; auto standby mode
PARTNER WITH
BRYSTON SP4: Treat this high-end speaker system to high-end processing. Bryston's SP4 caters to 16-channel (9.1.6) systems – with Auro-3D, Dolby Atmos and DTS:X support – via balanced XLR outputs.
3. A 112mm mounting depth is needed for in-wall installation of the Infinite 14 and 8