Devialet step ahead to their latest Phantom 1 loudspeaker. Noel Keywood ponders the new. Read our DEVIALET PHANTOM 1 108 DB GOLD Review.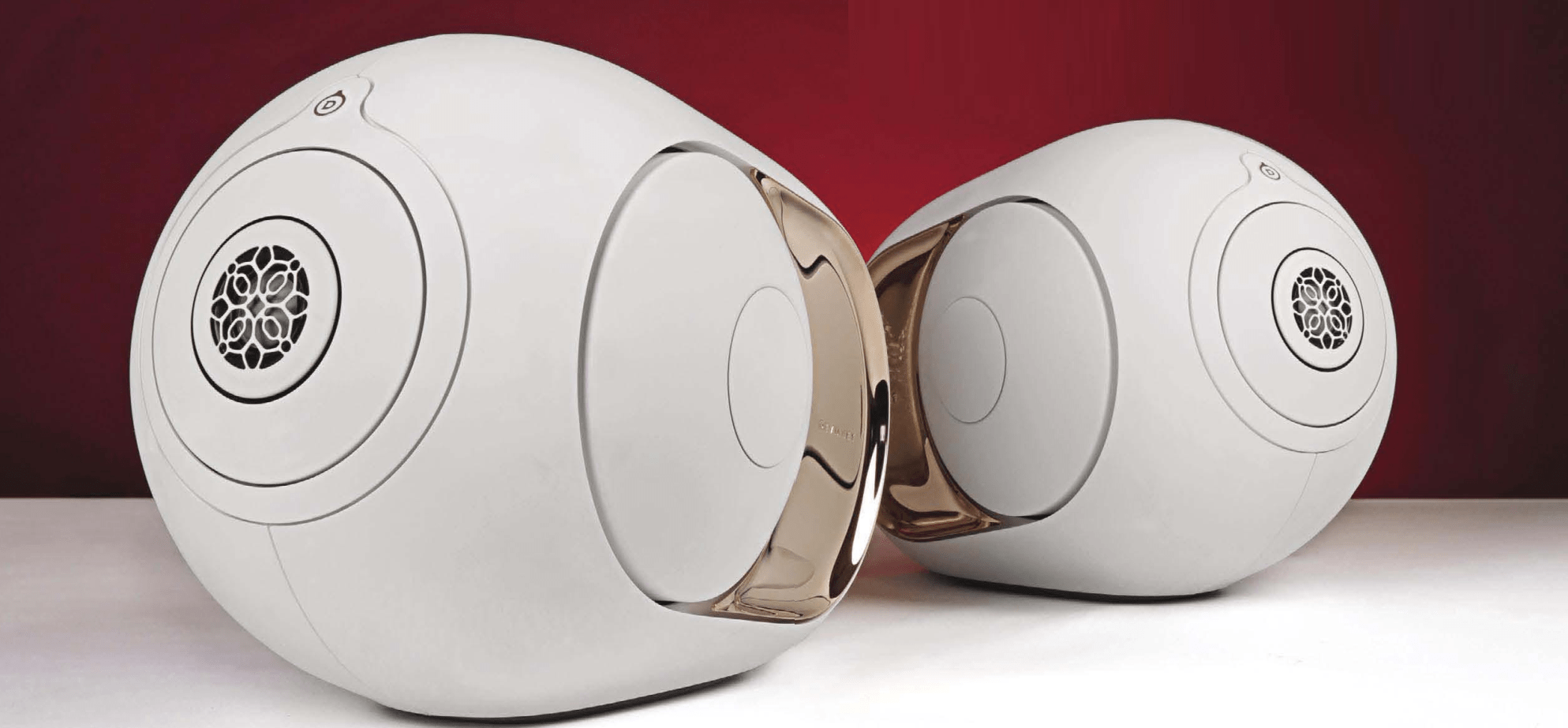 We were impressed by the original Phantom Gold loud­speaker, reviewed in the June 2017 issue. Devialet (France) recently announced an update, the Phantom I Gold loudspeaker I'm reviewing here, in 108dB form. What you get is quite unlike most else but definitely worth hearing. No big cabinets, few wires – no hi-fi. Just a space-age ovoid module producing sound – and an unusual one at that. Our version comes in £ for a ste­reo pair – not cheap. There is a less powerful 103dB version, sans gold.
The Phantoms are best run without wires. Each cabinet needs a mains power connection for its on-board electronics but that apart the design ethos is to eliminate cables and should you attempt to introduce them, as I did for measurement, the going becomes difficult.
In spite of small size, with dimensions of 252 mm wide, 342 mm deep and 255 mm high, the Phantom I 108 dB Golds came in at 11kg apiece on our scales – heavy. Point being they are not easy to manipulate, especially since the side bass units are exposed, so best not to lay them on their sides while trying to get cables in. I used them on stands; custom stands are available from Devialet.
Spotting three cable connectors on each loudspeaker and recognising their usual purpose I used all of them during testing, but in use ran via wi-fi and Apple Airplay. The mains input is a conventional IEC socket in limited space. Devialet supply a matching white plug-and-cable assembly or a normal mains cable can be used, but there's insufficient room for the large plugs common in specialist cables. There's no need to adjust mains voltage; the internal power supply is a switch-mode, as expected in such a small case. If the 'net is being distributed through the mains then the Devialets can pick it up, via PLC (Power Line Cable), another reason not use a specialist cable since many come with ferrite RF filters.
Devialet say the internal amplifier produces 1100 Watts and is an ADH analogue/digital hybrid where "the analog amplifier reproduces an unspoilt signal and sends it to the digital amplifiers, which are then able to translate it digitally". Today's Class Ds produce massive power at great efficiency, with little heat – no need for heatsinks. The 'speakers ran cool in use, but then I don't use much power: 40 Watts is plenty enough to run very loud in my 17ft lounge – at least with a conventional system.
7Review earns Amazon affiliate commissions from qualifying purchases. You can support the site directly via Paypal donations ☕. Thank you!
See also TOP 10 Subwoofers
Shrinking size right down means much more power is needed to develop strong bass, explaining Devialet's need for power. And I'll tell you before getting to Sound Quality that these little things produce massive bass; they are active and equalised internally to go lower than any conventional loudspeaker.
How does all this happen with no wooden cabinet? Devialet refer to Olson's notion of a pulsating sphere (an idealised point source) to produce sound and this is what they have engineered in the Phantom. At each side lies an aluminium bass unit with what appears to be a plastic protective dome cover. They radiate outward as a pulsating sphere and move violently in practice, needing and having enormous travel just to move enough air. The Phantoms need a heavy cabinet just to resist the severe vibrations. You get to see all this in use: the 'speakers work hard for a living.
At front there is an annular plastic ring fronting an aluminium midrange unit they say. At centre lies a titanium dome tweeter that fires out through the ornately pierced stationary grille.
So this is a three-way loudspeaker of point-source (monopole) nature and measurement showed it behaved like one, with impressively symmetric acoustic output, unlike box or panel loudspeakers. How this translates into real life experience is another matter, since benefits have to be weighed against drawbacks; the small bass cones work hard to produce low bass.
In yesterday's terminology the Phantom is an active loudspeaker. Fasten seat belts for today; there are no analogue inputs, the 'speakers are digital only. Hidden in the power cable well at rear of each loudspeaker are an RJ45 ethernet socket and a digital optical connector, both difficult to get at and best not used if you want to avoid cables. If you want to connect up with secure, fast ethernet then two cables are required from the router, one for each loudspeaker no less. Best to use wi-fi and Apple Airplay to avoid such cabling. A Dialog link is only needed for a stereo optical digital cable; Devialet's latest app (successor to Spark) copes with stereo operation.
My MacMini running Mojave (10.14.6) saw the Phantoms and pushed music to them from iTunes, Audirvana+ and Audacity so a laptop could be used for this purpose, but the Mac's Audio Devices control panel (Audio/Midi) showed CD quality (16/44.1) only, something Audirvana+ confirmed, the latter converting DSD to PCM. Looks like the internal (24/96) DAC cannot handle native DSD.
Whilst my Windows 10 PC saw both speakers on the Network, Windows Media player said they were not working – something I have never experienced before.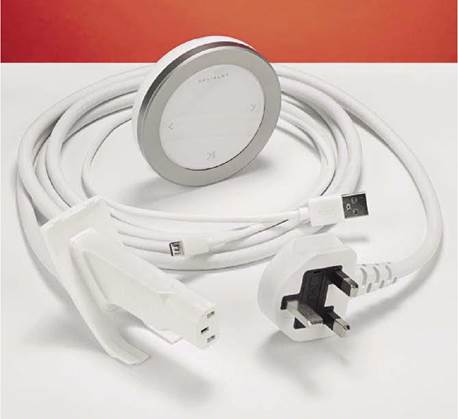 Each 'speaker comes with a mains lead and integral cover to give a smooth outline at rear. An aperture in the cover pro­vides access for ethernet or optical S/PDIF cables, if used. At centre a battery powered remote control with charging cable.
Devialet say that UPnP is supported but not DLNA (they usually go together). Most streamers work best with Windows; this one seems optimised for Mac. You can install Airplay on a PC by many different methods, including iTunes for Windows and this may be a workaround, although I don't much like iTunes and Apple are phasing it out I believe.
I suspect most people will play from on-line sources like Tidal or Spotify, or from music files on the 'phone, since the 'speakers are app controlled, Devialet recommending their new replacement app for Spark. However, mconnect, 8player and my excellent Onkyo player (with EQ) all saw the Phantoms and played to them from an iPhone 10X. Only Spotify Connect is embedded in the latest Devialet Operating System (DOS) 2, not Tidal, Qobuz and Deezer as in DOS1. Devialet say bass filters will become available in DOS2.
There is Bluetooth for direct play from a portable player that may not be network linked. Otherwise I'm not sure I can see the logic of using Bluetooth in a wi-fi system. The speakers are now compatible with Roon to enrich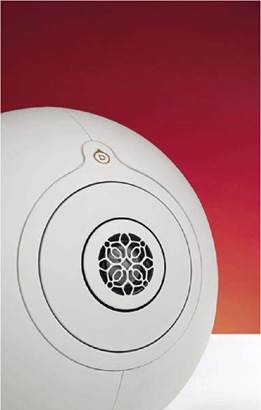 Behind the ornate grille lies a tita­nium dome tweeter. Surrounding it is the annular ring of what is said to be an aluminium midrange unit.
the listening experience with data, artwork and assured link quality. And each speaker has a small remote control unit.
I was a little baffled by the thought of trying to hook up LP, which I suspect would demand a Dialogue stereo optical input fed by the digital optical output of an ADL GT40a phono stage. This would be a way to introduce analogue Line inputs too.
SOUND QUALITY
First I must talk about what was so obviously different – bass. In a nutshell, it was massive and at times frightening. Subsonic rumblings I have never heard before permeated my listening room and drifted through the house. With Dadawa's Canton Story I'm prone to wick volume up a bit to hear her delicate background chant that, when brought to a halt by a massive drum strike, the Phantoms delivered not only vast bass but seismically low bass. Running this a few times I'd say each bass unit moved a full 5mms (I feared for the cones) to generate ground­shaking low bass power. My Onkyo player app confirmed energy down to 20Hz in the recording (it has a spectrum analyser in EQ) and measurement had shown the Phantoms will produce this. They did!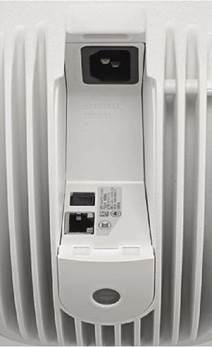 Cable outlets in the rear well are RJ45 for ethernet, TOSLINK optical for S/PDIF digital and a normal IEC mains socket. There's also a power/status indicator.
Long ago, designing a crossover for the Celestion SL6000 dipole bass unit able to reach down to 5Hz, I used a high-pass filter at 20Hz to prevent the cones going bonkers on record warps; I watched in awe and fright as the Devialets mimicked the '6000s without this filter, massive cone excursions looking dramatic.
I have reservations about this amount of bass, so selected EQ on my Onkyo player and dialled in bass cut. It dried bass out and the cones stopped their severe excursions yet there was still a lively low end. Devialet note that the Phantom app lacks EQ or filters and suggest use of a player with them if the sound doesn't suit. Night Mode can be selected but this was too drastic; the Onkyo filter can be adjusted to suit.
Most recordings lack strong bass, so generally this wasn't an issue, but the Phantoms have the ability to shock in this area, going lower than box loudspeakers by obvious degree. Bass quality from their small, hard working cones wasn't as clean as large-area 12in cones – we're talking chalk and cheese here – but whilst the Phantoms didn't hit me in the stomach like large Tannoys they still impressed.
Bass apart, the Devialets had a crisp and concise sound, rather than a warm cuddly one; they are more technically correct than romantic. Treble was obvious but not excessive. Playing 1980s "perfect digital recordings" as they were trumpeted in their day (hah!), Gerry Rafferty's Time's Caught Up On You (1992) sounded bright, coarse and edgy. It's a sonically poor early digital recording (or
"the sound was clear and focussed across a sound stage held tightly between the loudspeakers"
transcription from master tape) and the Phantoms made this bleakly obvious.
Under measurement both white and pink noise test signals had a slightly hollow reverberant quality from the case and this occasionally seeped through when listening – with Steve Winwood's One More Morning for example, where his dominant vocal shines a spotlight on loudspeaker ability.
Similarly, Renee Fleming invoked this small colouration when singing Un bel di Vedremo from Madame Butterfly. But the sound was clear and focussed across a sound stage held tightly between the loudspeakers – a characteristic of point sources. Very intense. Vocals were starkly clear: the Phantoms project what comes across as a dry, clean sound.
Whilst the close miked guitar strings of Nils Lofgren's Keith Don't Go were vivid, there wasn't the spikiness that uneven tweeters can add. It's obvious that Devialet have sought accuracy in the sound and have achieved it.
With such a large low end the Phantoms managed well with classical, giving orchestras a sense of scale. Sometimes deep atmospheric rumblings picked up by the mics would seep through, from the Royal Albert Hall in which the London Symphony Orchestra were playing Handel's Messiah, for example.
CONCLUSION
The new Phantom 1 Golds from Devialet offer a vivid yet accurate sound quite unlike any other. Fast, insightful and very powerful they impress. Add in absence of cables or hi-fi hardware and they amaze by achieving so much from apparently so little. Quite a system then, aimed at those who want to banish cable clutter. But not cheap.
MEASURED PERFORMANCE
Frequency response of the Phantom 1 Gold 108dB measured substantially flat from 30Hz to 16kHz, our third octave analysis of pink noise shows. This is from a measuring-microphone position slightly off-axis and represents the speakers pointing straight down a room; it gives the flattest response.
Measured on-axis, representing the speakers firing directly at listeners, treble lifts slightly by +2dB and the loss above 16kHz disappears, so a brighter sound balance will be apparent when used with this alignment.
Where passive loudspeakers cut off below 40Hz unless they have very large cabinets, the Phantoms have been electronically equalised to run an octave lower, down to 20Hz. This results in very large cone excursions when playing music that has a lot of energy around 30Hz, typically generated by synths and close-miked or electronic drums; volume has to be kept down or a bass-cut filter used under these circumstances. Devialet say a bass filter is coming in a future update of their DOS2 operating system that runs on a ARM Cortex processor. Software players with adjustable bass EQ are otherwise a good choice they say.
The Phantom 1 Gold 108dBs are engineered to produce an accurate sound balance, measurement shows. They also have unusually deep bass.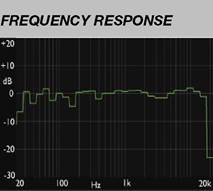 DEVIALET PHANTOM 1 108 DB GOLD STEREO PAIR
OUTSTANDING – amongst the best.
VERDICT
DEVIALET PHANTOM 1 108 DB GOLD Review
A complete streaming hi-fi within two small futuristic cabinets, controlled by an app. Impressive.
PROS
Deep, powerful bass
Ease of use
Accurate sound balance
CONS
No analogue inputs
Need lengthy set-up
App control only
Add your review
Best DEVIALET PHANTOM 1 108 DB GOLD prices ?
MORE DEALS

See also TOP 10 Subwoofers
Specifications
| | |
| --- | --- |
| Product Name | Devialet Phantom I 108dB Gold Speaker |
| Product Type | Speaker |
| Enclosure Color | Gold |
| Speaker Type | 3-way - active |
| Continuous Power | 1100 Watt |
| Frequency Response | 14 - 27000 Hz |
| Total Harmonic Distortion | 0.0005% |
| Max Output Level (Max SPL) | 108 dB |
| Maximum Sampling Rate Supported | 96 kHz |
| Multiroom | Yes |
| Multiroom Technology | AirPlay 2 |
| Amplifier | Integrated |
| Interfaces | IEEE 802.3 (Ethernet), IEEE 802.3z (Gigabit Ethernet), IEEE 802.3u (Fast Ethernet), Bluetooth, IEEE 802.11a/b/g/n/ac, HomePlug AV (HPAV) 2.0 |
| Bluetooth Profiles | Advanced Audio Distribution Profile (A2DP), Audio/Video Remote Control Profile (AVRCP) |
| Bluetooth Audio Codec | SBC, AAC |
| AirPlay | Yes |
| Network Protocols | UPnP |
| Internet Streaming Services | Spotify Connect |
| App-Controlled | Yes |
| Driver Details | Speaker: 2 x woofer driver - aluminum Speaker: mid-range driver - aluminum Speaker: tweeter driver - titanium |
| Connector Type | LAN (RJ-45) Digital audio input (optical) (TOSLINK) |
| Included Accessories | Remote control, power cable |
| Power Source | Integrated power supply |
| Voltage Required | AC 100-240 V (50/60 Hz) |
| Width | 9.9 in |
| Depth | 13.5 in |
| Height | 10 in |
| Weight | 25.13 lbs |
| Service & Support | Limited warranty - 2 years |
Devialet www.devialet.com