This Google-equipped ecosystem of wireless speakers, soundbars and more is a powerful entrant to the world of wireless multiroom audio. Read our HARMAN-KARDON CITATION Review.
Harman-Kardon's Citation range is something new to Australia in the wireless multiroom space, where you can have music in every room of your home, using wireless speakers which are all connected by your home network, so that you can play music in just one room or to multiple rooms at once, or to the entire home, all under the control of your phone or tablet.
And more than that with the Citation range — each unit is also a Google Assistant speaker, so you can both control it by voice command and use it like any Google speaker, asking it questions, setting timers, controlling other smart home elements. This also brings the whole system under the control of Google's Home app, which may already be familiar to many users, so making the Citation range particularly easy to use.
And with two soundbars and a subwoofer also in the Citation range, your wirelessly musical home can also include TV audio systems as part of the party.
It's an extensive range, so let's see what they all have in common, before stepping through some of the range from little to large.
The Citation ecosystem
The Citation series has launched here with not only the usual wireless speakers and soundbar that you might expect from a multiroom range, but with a broader group of products all the way up to the impressive Tower speakers — full-size floorstanding active speakers carrying 2 x 200W of power and still incorporating both Google Chromecast and Voice Assistant. There's modern hi-fi for you! Also onboard is the clever WiSA wireless technology which aims to simplify expansion into surround sound system — throughout the range there are options to use the Citation speakers individu­ally or build a system up to 5.1 channels.
7Review earns Amazon affiliate commissions from qualifying purchases. You can support the site directly via Paypal donations ☕. Thank you!
See also TOP 10 Subwoofers
Linking the designs is the use of aluminium detailing plus a dirt-repellant and flame­retardant wool fabric by Danish firm Kvadrat in 'Winter Gray' or 'Classic Black'. We've seen Kvadrat elsewhere in hi-fi from companies of renown including KEF and Bang & Olufsen, so Harman-Kardon is in good company here. The finish is both stylish and sturdy.
The impressively large initial ecosystem has 11 products in all, eight of them already available in Australia through Harvey Norman, with more to follow in December, we're told. So far we've had our hands on three of them, and the news is all good.
Especially as in addition to Bluetooth, Google's Chromecast is at the heart of each unit. As well as providing access to music streaming services, some free and some on subscription, the Google Home app allows you to connect and combine sources and speakers from different brands, as well as other Citation speakers. And the Google Home app is mightily simple to use. It takes only a few minutes to connect each unit to a network and run any updates. High-res audio playback up to 24-bit/96kHz is possible, and supported file
A shoe-in for those who already use Google smart speakers and would like a far higher level of audio for both music and TV audio…
formats run from MP3 to WAV, FLAC, Vorbis and Opus. Each unit should update automati­cally whenever new skills become available.
There's also AirPlay 2 on board, which gives Apple device owners another way to stream and to address multiple speakers.
Wireless speakers
The core of any multiroom system is its range of standalone wireless speakers, and the Citation range is well-stocked with stylish Google-equipped units, including two interesting variations which will arrive in December. Those two are the Citation 200 — which is a portable unit that swings on a nice carry handle — and the Oasis, which offers something unique in multiroom: a stylish bedside wireless speaker-cum-alarm clock which has an exceedingly handy wireless charging pad on top, and a sleep mode that turns off Wi-Fi while you're snoozing. Harman has such a fine track record in bedside units (both from Harman-Kardon and from JBL) that we can't wait to get our hands and ears on this new design.
Meanwhile there are three other standalone mains-powered wireless speakers in the range — the little Citation One Mk2, the Citation 300, and the Citation 500. We've enjoyed time with two of these.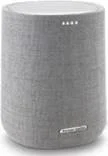 Citation One Mk2.
How come a Mk2 on a new range? Well Citation launched earlier in some other markets, but the upside of the late arrival in Australia is that we get the upgrade advantage straight off. The bonuses include
AirPlay 2 and being able to pair two Citation One Mk2s for use in stereo. As with many small wireless speakers, a Citation One alone is mono, using a single 20mm tweeter and accompanying 9cm woofer — both forward­firing, with a bass radiator to the rear. There's a quoted 40W of amplification built in. At 2kg, it feels pleasantly weighty for the size. Note there is no auxiliary input on this model.
Touch-sensitive controls are on top for volume, Bluetooth pairing and microphone usage, plus a multi-use button for music playback and and operating (or stopping) the included alarm. We found all the Citation speakers to set up quickly and easily through the Google Home app, after which they can be controlled through Google Assistant using their on-board microphones.
Despite its size, the Citation One managed to achieve the big sound which seems a signature of the whole Citation range, while also offering a smooth and relatively easy listen. A lot of that big sound comes from the bass, which was full, even a bit pushed, so that it's not a unit to put in a corner; give it a bit of space to avoid bass issues. While it's not the last word in detail, the sound was enthusiastic and punchy, and difficult not to like. If you're going with a Citation-stocked home — or fancy a significant upgrade on one of Google's own speakers — don't think twice about popping the Citation One in a small room, maybe even two, since you can then use the pair as wireless rears in a Citation 5.1 surround set-up.
Citation 500.
At over 37 cm wide and 12cm high,  the Citation — 500 is a larger standalone wireless speaker, weighing 7.6kg, yet the lighter grey fabric wrap in particular prevents it seeming quite as imposing as some similarly-sized rivals. That Kvadrat beautifully wraps around and tucks into the elliptical top panel, into which is embedded a smaller ellipse housing a 10cm-wide display. No big blocky LED-style lettering here; this display is impressively high-res and colour, so it illuminates at start-up with the Google Home symbol telling you to connect using that app — which took barely any time at all. And once you're playing, the display can even put up a teeny-tiny album cover and full track details.
With Chromecast inside along with AirPlay 2 and Bluetooth, you can pretty much flick any app's output from any smart device to the 500; you could even splash out and use Roon's paid software to address all your Citations via Chromecast or AirPlay with its lovely app.
The 500 proved a huge-sounding speaker from the get-go, with a solid and expansively rich low end which reacts from the mid-30s of hertz, with little peaks at 100 and 150Hz from our sample. It gave the bass on Lou Reed's Walk on The Wild Side a real resonance and prominence, similarly McCartney's rolling bass on Come Together (2019 Remaster, from Tidal).
This is a stereo unit, each channel served by a 25mm tweeter and 13cm woofer, and it spreads music particularly well, especially from a nearfield desktop position, where we even enjoyed something approaching separation and a sense of acoustic depth within the soundstaging; Van Morrison's Moondance had its flute genuinely to the left, while Morrison was firmly forward of the mix, piano to the right rear. This isn't something many standalone speakers manage. From a distance across a room, of course, you're back to more of a point-source sound, though still friendly and full — even fuller given near-wall positioning, and with that edginess tamed by distance. The intro to Tyler, The Creator's EARFQUAKE was expansively open and fizzy, and the three bass notes of the verses were all fully delivered — a good many systems drop at least the lowest of these.
A price puts the Citation 500 among some strong competition, but it matches these for quality close up, bar an occasional edginess, and as for quantity, it went mighty loud before any notes of distortion crept in. A solid performance here.
TV audio
The Citation range includes a nice batch of options for TV audio, comprising two soundbars, both with full Google streaming and voice options, along with a wireless subwoofer and a pair of wireless surround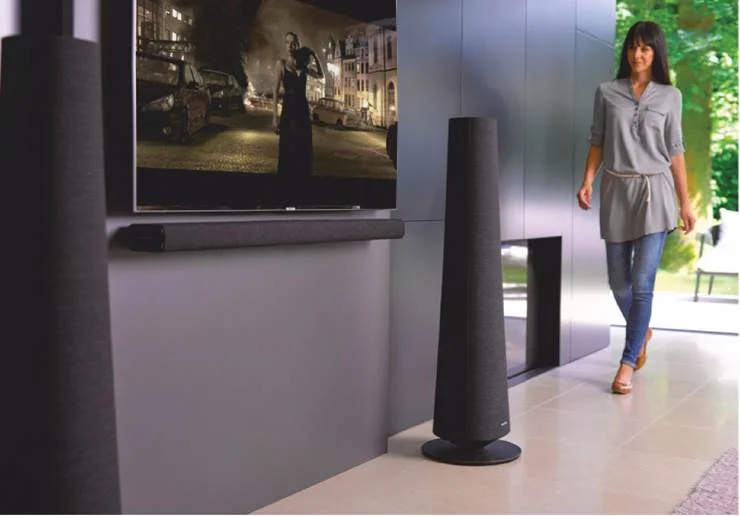 speakers. Various other of the standalone wireless speakers can also be pressed into temporary service as surround speakers, should you want to expand the soundbar's performance for that special movie night.
The Citation Bar is the larger soundbar, a 115cm-wide three-channel bar, with each channel having a dedicated 20mm tweeter and twin 100x50mm oval woofers, unusually well-equipped with three HDMI inputs and an ARC-equipped HDMI output on to your TV. To this can be added the Citation Sub wireless subwoofer for that deeper movie-style bass, and the Citation Surround speakers, tall wireless units with usefully small footprints.
The other soundbar is the newer and more compact Multibeam 700, just 79cm wide, and for which you won't require separate surround speakers as the Multibeam part of its name describes its claimed ability to deliver surround channels from its front position. We're always cynical of bars that attempt this with mere sound processing, but the Multibeam 700 uses angled speakers that bounce sound off side walls, a method which can be far more effective. You can still add the physical Surrounds and Sub, or even reduce it to centre-channel duties if you position it between the pride of the Citation range — the large floorstanding Towers.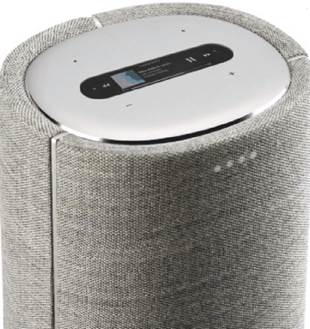 Citation Towers
Clearly the standout product in the range, the Citation Towers are a pair of wireless floorstanders (above) that slot seamlessly into the Google Home multi-room ecosystem. At the pair they are quite an investment, but you are getting a lot of tech for the money — not only the Google and streaming abilities offered by the whole range, but here also sheer speaker size and quality.
In driver terms, each Tower comprises a 25mm tweeter, a pair of 10cm woofers and a downward-firing 20cm sub, with 200W of power driving them. They weigh a hefty 19kg per speaker — and both come in the same box, so bring a friend to help carry them home!
Each one measures 116cm tall, and again the choice of the lighter grey Kvadrat finish makes them less imposing than they might otherwise appear, while the tapering design oozes class. They feel like premium speakers.
They connect to each other automatically, the right-hand speaker acting as master to the left-hand slave unit, and as with the rest of the range you set them up using the Google Home app. The right speaker is also where you'll find the touch-screen controller, a high- resolution colour display strip located on top of the speaker (see left), which allows you to select source and change volume.
And they offer a range of set-up possibilities, including being part of a 5.1 surround-sound system. As for music, you can send that to the Towers via Bluetooth or Chromecast.
Sonically they proved big and bold, with the sound remaining large even when not loud. Even at half volume the Towers had authoritative weight, dishing out deep bass and a gloriously rich midrange well balanced by smooth and evenly delivered treble frequencies. Stereo imaging was good, too, and that's something you just won't get from even premium one-box solutions. The low-end could perhaps be more clearly defined, but they still punched out basslines with glee; there was plenty of drive overall, even if they could sometimes struggle to paint the finer lines of expression. The Towers thrive in the mids, where voices were full of body, and overall there was an infectious confidence, an enthusiasm for power.
Conclusion
With Chromecast onboard, the Citation range gains easy use and high-res streaming as well as multiroom grouping, AirPlay 2 and Bluetooth. The look and build are great, and we're impressed by what we've heard so far. Their Google orientation makes them a shoe-in for those who already have a Google smart speaker in their home and would like to grow its abilities into a far higher level of audio for both music and TV audio around the home.
HARMAN-KARDON CITATION WIRELESS MULTIROOM
•  Extensive range of wireless audio
• All Google-equipped
• Stylish fabric-wrapped designs
•  No criticisms here
Contact: Harman Kardon Australia Telephone: 02 9151 0376 Web: www.harveynorman.com.au
harman/kardon Citation Subwoofer Small, Black
out of stock
as of September 18, 2023 10:14 am
Features
| | |
| --- | --- |
| Part Number | HKCITASUBSBLKEU |
| Model | HKCITASUBSBLKEU |
Harman Kardon - Wireless Speaker, Citation Sub, 200 W, Google Assistant, Grey
as of September 18, 2023 10:14 am
Features
| | |
| --- | --- |
| Part Number | HKCITATIONSUBGRYEU |
| Model | Citation Sub |
| Color | grey |