Sporting some fashionable new finishes, this beautiful and truly portable speaker really comes up trumps. Read our Dali Katch Review.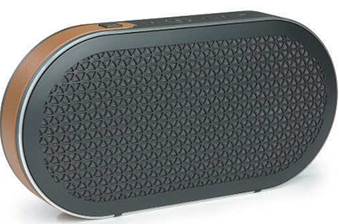 DETAILS
PRODUCT: DALi Katch
ORIGIN: Denmark/China
TYPE: Portable Bluetooth speaker
WEIGHT: 1.1kg
DIMENSIONS (WxHxD): 269 x 138 x 47mm
7Review earns Amazon affiliate commissions from qualifying purchases. You can support the site directly via Paypal donations ☕. Thank you!
See also TOP 10 Subwoofers
FEATURES
• Quoted battery life: 24 hours
• 2 x 21mm tweeters
• 2 x 90mm mid/bass drivers
• 2 x bass radiators
• Bluetooth wireless v4.0 with aptX
DISTRIBUTOR DALI Audio UK Ltd.
WEBSITE dali-speakers.com
As the smallest offering from DALI's Active Series of speakers, the Katch is also the most affordable. For your money you get aptX-enabled Bluetooth 4.0 and a 3.5mm line input, plus a USB charge output port to allow for network streaming to be added using Chromecast Audio (see p115) for extra functionality.
A pair of 25W amplifiers under the hood power two 21mm soft dome high-frequency drivers and a brace of 90mm low-frequency units that are further bolstered by a pair of rectangular passive radiators arranged on either side of the unit to achieve an arc of sound. A second Katch can be added to operate as a stereo pair. Two preset EQ modes (see boxout) provide a degree of tonal tailoring and battery life is quoted at 24 hours at 'normal' listening levels.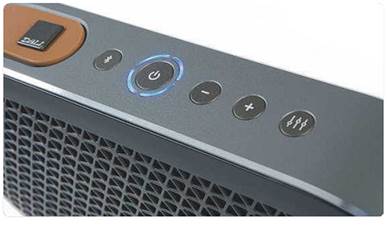 Given the number of drivers in it, the most notable thing about the Katch
The solid build makes it ideal for use on the move is just how slim it is – measuring a touch less than 50mm thick – and how it has only fractionally more mass than Bang & Olufsen's Beoplay P6. Our review sample comes in the new jet-black finish – which isn't really all that black – and feels genuinely portable, thanks to the inclusion of a leather carry strap.
Sound quality
Aided by clear audio prompts, setup is a painless experience and the Katch looks set to put in a fine performance. Hilary Hahn's violin sounds clear and rich, ensuring that this is one of the few speakers in the group to give a sense of her movement as she plays. High notes are delivered without any unwanted harshness or aggression and for a single-chassis speaker, there is an appreciable stereo image too.
GoGo Penguin sounds pleasantly spacious, helped in no small part by the quality of the piano and the impressive levels of fine detail, which ensures that the plucking of the bass notes are clear and easy to follow. Outright bass extension is not as deep as some of the speakers in the group, but the speed and integration it offers goes a long way towards compensating for such shortfalls.
Moving to San Jacinto, the Katch continues to impress. Its ability to produce something akin to stereo is very helpful here and the balance it strikes between high-frequency energy and refinement is very well struck. Gabriel's vocals are clear and have a convincing texture and presence to them that draws your attention, while the sense of get up and go with Nile Rodgers and Chic on State Of Mine is the best of the speakers in the test. It is light on its feet and effortlessly funky, and its ability to find little details in the midrange really help to draw you further into the music
Dali Katch Review: OUR VERDICT
Highly Recommended
Dali Katch Review
An elegant and remarkable speaker design that performs brilliantly
PROS
Engaging, detailed and tonally believable sound; design and build
Add your review
Best Dali Katch prices in the US ?
Best Dali Katch prices in the UK ?
MORE DEALS

See also TOP 10 Subwoofers
KEEP CLEAR
The Katch offers two preset EQ modes. DALI suggests using the speaker in its 'Clear' mode for general use, which has been specifically voiced for more of a neutral performance and consequently is the setting that is selected throughout the critical listening test. The other preset is called 'warm' and is claimed to boost the speaker's low-end so that it can be used either at lower volume levels for when you don't wish to disturb others or in larger spaces for when you do.
While it certainly does the job it sets out to do, any frequency boost comes at the expense of some of the energy and drive that the Katch so effortlessly brings to the music when listening in 'Clear' mode. Nevertheless, it makes an already flexible speaker that little bit more versatile.