A bulletproof app and restyled speakers put Yamaha's MusicCast platform in Mark Craven's good books
PRODUCT: Wireless multiroom speakers
Position: Newest additions to MusicCast, joining AVRs, soundbars, a sub and more
PEERS: HEOS by Denon; Sonos Play series; Dynaudio Music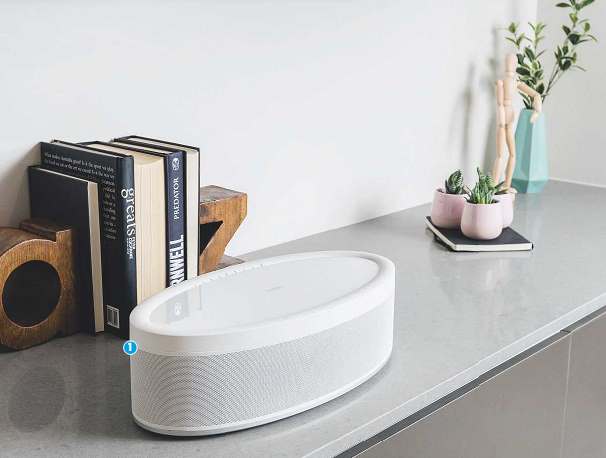 Yamaha MusicCast remains an obvious multiroom audio solution for home cinema fans. Its product range is extensive (and revamped and expanded for 2018), and includes AV receivers, processors, soundbars, subwoofers, streamers and – naturally – standalone speakers. The latter are where it goes toe-to-toe with the likes of Sonos.
The MusicCast 50 and MusicCast 20 tested here are the new additions to its wireless speaker lineup, and are welcome. Previous models such as the wall-mountable ISX-80 offered design innovation, but didn't quite feel up to the task of challenging the multiroom competition. With the arrival of the MusicCast 50 in particular, the platform now has the traditionally styled, room-filling speaker it always should have.
7Review earns Amazon affiliate commissions from qualifying purchases. You can support the site directly via Paypal donations ☕. Thank you!
See also TOP 10 Subwoofers
This unit offers a stereo driver array, with 4in woofers joined by 1.1in soft dome tweeters. These sit in a front-firing configuration, despite the speaker's oval shape and semi-wraparound grille perhaps suggesting a 360-degree approach. Each channel gets a 35W amplifier.
The design is safe and unflashy. The speaker's top plate is uncluttered apart from soft-touch controls around the edge. One bank offers status lights for the source/wireless settings, the other features volume controls and preset keys. On the back panel are 3.5mm and phono audio inputs, a digital optical audio port and Ethernet socket.
Also auditioned is the MusicCast 20, a smaller model with a single (3.5in) woofer and tweeter, backed up by dual passive radiators. While this would be a natural fit for uncritical listening in a bedroom or den, two of them can be paired for stereo listening, or used as wireless surrounds in a home cinema setup with compatible Yamaha gear (2018 AVRs and the BAR 400 and BAR 40 soundbars).
Style-wise, the MusicCast 20 is a clear relation to the MusicCast 50 with its curved chassis, although the top-plate itself hides controls, and there are no physical inputs beyond Ethernet.
Operational simplicity
The speakers replaced a Dynaudio Music 3 in my setup, providing a useful comparison. The pricier Dynaudio sounded better than both, as expected, but Yamaha's MusicCast app and general all-round operational simplicity made the niggles of Dynaudio's software more niggly than ever.
Setting up a MusicCast speaker still isn't plug-n-play, but is fairly straightforward. To get going, hit the Connect button on the speaker's rim, and then log onto the MusicCast Wi-Fi network on your smart device. This will ask you to connect to your own Wi-Fi, which, if you're like me, involves a hunt for the password. With this done, you can then assign the speaker to a room, give it an image, and establish multiroom links with others. From here on, control is via the app or the speaker's on-body controls. There's no remote. At times I missed having one, but it does mean you don't have to find a place for it when not using it.
Yamaha deserves a pat on the back for its app.
The design is tidy, if a little unglamorous in terms of text/colour scheme, and it's quick to navigate. Integrated services include Spotify, Deezer, Tidal, Qobuz and Napster, plus a 'net radio portal (with a 'Popular Stations' menu
1. The speaker's optical input means TV hookup is possible
2. The MusicCast 50 splits its drivers into L/R channels, each given 65W of juice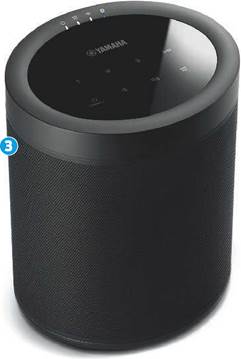 that is presumably Europe-wide or just oddly curated). There are also AirPlay and Bluetooth options, plus server, aux, digital and 'This Phone' tabs. The layout can be customized so unused sources are shoved out of sight.
A great trick of MusicCast is that it signals the format of the streamed content – so those with Deezer Hi-Fi, for instance, will know if a track is available in lossless FLAC.
During audition, the app didn't quit or freeze once, and delivered a firmware update with ease. An odd quirk, though, is that it's not possible to skip forward or rewind through a track, despite a bar showing the time currently elapsed. You'll fruitlessly tap this with your finger.
A step in the right direction
Compared to the last Yamaha standalone units I heard, the MusicCast 50 feels a bit like a larger-scale iteration of the WX-030, and moves beyond the somewhat cold and unorganized delivery of the ISX-80. There's noticeable bass presence, which segues into clean, warm mid-tones and reasonably crisp trebles. As alluded too, it isn't a match for Dynaudio's Music 3, which sparkles with greater clarity, dynamic drive and low-end impact. But the performance of this desktop stereo unit still impresses.
Playing tracks via Deezer Hi-Fi finds the MusicCast 50 in good voice with guitar-driven rock and fizzy pop. There's a pleasing depth to its delivery that works well with the funk-fuelled rhythm section of Aerosmith's Walk This Way, or the relentless drive of Royal Blood's Figure It Out.
In fact, it can sound a little over-egged; then you discover that the Bass Boost sound preset is on by default in the app. Far better to switch to Standard, and then use the sliders of High, Mid and Low to tune its performance to your taste.
Although a stereo design, the MusicCast 50 doesn't create much soundstage width to hammer home two- channel effects. The delicate L/R production of, say, Muse's Madness is largely lost.
More impressive is its uncoloured balance through the frequency range. There's a sense that extreme low-end presence and treble details are AWOL, but there's a solid grip on what's there in between. The 2011 remaster of Pink Floyd's Time begins with clocks ringing cleanly, followed by echoing percussion and synth effects. Vocals and guitar then kick in with good separation; the ensuing solo sounds pure enough to make you want to mime along.
The MusicCast 20 offers the same overall approach, albeit monophonic and with a reduction in scale. It's not the sort of speaker you'd set aside time to sit down and listen to, but is more than adequate for everyday multiroom use. It's also easy to imagine a pairing filling out the surround channels of a living room AV system with wireless charm; and this would surely be a better, more immersive option than using a single MusicCast 50, which is an alternate Yamaha suggestion.
Rock-solid
Both the MusicCast 50 and MusicCast 20 broaden the appeal of the platform, as new models should. Their styling feels better judged than previous Yamaha speakers, as does their performance. The larger unit is well-equipped for permanent installation in a media den, while its baby brother offers a lot for its price tag. And key to the attraction of both is the rock-solid nature of the MusicCast app and its healthy roster of integrated services ■
VERDICT  4/5 – Yamaha MusicCast 50
Slick operation and smart styling give this punchy wireless stereo speaker a leg up, although a bit more dynamism would be welcome. Physical connections add flexibility.
VERDICT 4/5 – Yamaha MusicCast 20
An obvious multiroom partner to the MusicCast 50 that's smaller in stature and sonic scale but also in price.
An intriguing alternative to wired rears with a Yamaha AVR.
SPECIFICATIONS
MusicCast 50
DRIVERS: 2 x 4in woofers; 2 x 1.1in tweeters AMPLIFICATION (CLAIMED): 2 x 35W CONNECTIONS: Digital optical audio; 3.5mm; stereo analogue phono; Ethernet AUDIO FORMAT SUPPORT: FLAC, WAV and AIFF (192kHz/24-bit); ALAC (96kHz/24- bit); MP3; WMA DIMENSIONS: 400(w) x 123(h) x 200(d)mm WEIGHT: 4.5kg
MusicCast 20
DRIVERS: 1 x 3.5in woofer; 1 x 1.1in tweeter; 2 x passive radiators AMPLIFICATION (CLAIMED): 40W CONNECTIONS: Ethernet AUDIO FORMAT SUPPORT: FLAC, WAV and AIFF (192kHz/24-bit); ALAC (96kHz/24-bit); MP3; WMA DIMENSIONS: 150(w) x 186(h) x 130(d)mm WEIGHT: 2.2kg
FEATURES: Dual-band Wi-Fi; Bluetooth; Alarm/Snooze/Sleep function; AirPlay; MusicCast Surround; MusicCast app includes Tidal, Spotify, Deezer; Amazon Alexa support; network streaming; preset customisation; BassBoost
PARTNER WITH
MUSICCAST BAR 400:
Yamaha's 2018 soundbar offers DTS Virtual: X processing, a wireless subwoofer, and HDMI connectivity with 4K HDR passthrough. Add two MusicCast 20 speakers to enjoy discrete 5.1 audio.
3. Both Yamaha's MusicCast 20 and 50 are available in black and white finishes