Homegrown TV corp Cello hopes to make a splash with this competitive 4K debut, even if it gives HDR a cold shoulder. Steve May reports. Read our CELLO 55 PLATINUM P55ANSMT-4K Review.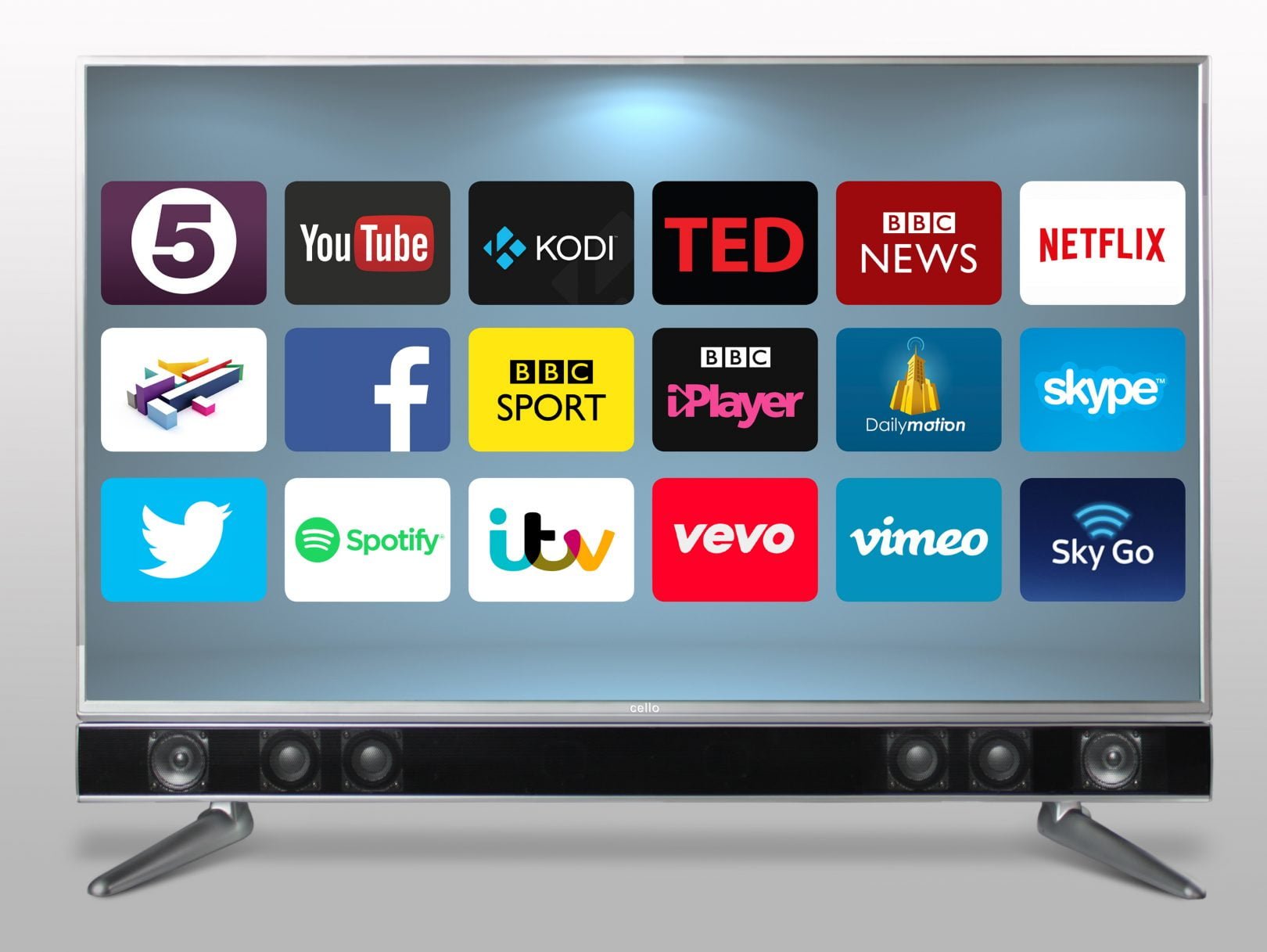 You may also like:
4K SDR flatscreen
POSITION: Between 50in and 65in Platinum stablemates
PEERS: Hisense H55N6800; Philips 55PUS6272
7Review earns Amazon affiliate commissions from qualifying purchases. You can support the site directly via Paypal donations ☕. Thank you!
BRITISH TV BRAND Cello has moved into the roiling 4K waters with a dramatic-looking 55-incher. Better known for its budget smallscreens, its Platinum line represents a considerable step up the performance ladder for the company.
First impressions are good. At 88mm deep, this may not be the thinnest TV around but it's reassuringly solid. The silver-grey styling also makes a change from regulation black, and the slimline bezel is nicely finished.
There's no central stand, just two widely- spaced feet, so you'll need appropriate furniture to accommodate it. The set's obvious distinguishing feature, the forward-facing driver array, lends an air of additional AV intent.
All three of the sets HDMI inputs support 4K content, and are joined by a trio of 2.0 USBs, legacy AV inputs for older kit, an optical digital audio output and, unusually, a microSD card reader. The tuner is Freeview HD.
Although ostensibly smart, this connected set actually runs an early version of the Android TV OS. I found it a drag to set up, and ultimately not at all satisfying. Far better to invest in an Amazon, Roku or Now TV box and be done with it.
The user interface is similarly simplistic. There are basic picture presets, namely Standard, Dynamic, Cinema and Personal, but no deep adjustment of image parameters is on offer. There are no interpolation modes to retain motion detail, either.
Bizarrely, the Cinema mode zooms into the picture, presumably to minimise letterbox black bars, trimming picture detail left and right. Needless to say this will be anathema to any self-respecting film fan.
Thankfully, the 4K panel doesn't falter when it comes to delivering 2160p detail. Native 4K content is presented without compromise or unwanted artefacts. The Crown (Netflix 4K) exhibits royal levels of detail and texture.
This LED-lit set doesn't stretch to a deep black, which can lead to some hollows and lack of depth. In Luke's bartender suit (Luke Cage, Netflix 4K), shadowed areas are empty. But the Cello has no problem with detail in the
The TV's soundbar features six drivers wider image. Colour vibrancy is reasonable, although this isn't a wide colour gamut panel.
Unfortunately, the TV overscans 5 per cent by default (for no good reason), so you might want to disable that sooner rather than later.
As it transpires, this big Cello has considerable gaming potential. Due to the paucity of image processing, input lag is reassuringly low at just 30.3ms in HDMI video mode. This drops to 26.5ms in HDMI PC mode, which is good fraggin' news.
Not so good news is a lack of HDR compatibility – your 4K BDs will play out in SDR here. Then again, it's not particularly bright either. I measured a full white field at 175 nits, with a 10 per cent white window mustering just 184 nits. Consequently, this is a screen best viewed in low light.
An absence of HDR doesn't mean that 4K images can't still have eye-catching impact, but it's a feature shortfall that potential buyers should weigh up.
Where this Platinum shines, unsurprisingly, is audio. In truth there's nothing particularly hi-fi about the 16W sound system here, but the six-driver array sounds a good deal more fulsome and involving than rival budget screens with puny downward-firing stereo speakers.
Bigscreen for your budget
There are few sectors hotter than the budget 4K TV market right now, with Philips and Hisense particularly dominant. This 55-incher keeps Cello in the running. You'll not want to use the ageing Android smart platform, and the lack of HDR compatibility is a demerit, but for an affordable big screen for movies and gaming, it warrants a closer look
SPECIFICATIONS
3D: No 4K: Yes. 3,840 x 2,160 HDR: No TUNER: Yes. Freeview HD CONNECTIONS: 3 x HDMI; 3 x USB; digital optical audio output; Ethernet; composite AV; CI slot SOUND (CLAIMED): 16W BRIGHTNESS (CLAIMED): 200 nits CONTRAST RATIO (CLAIMED): 4,500:1 DIMENSIONS (OFF STAND): 797(w) x 1,250(h) x 88(d) mm WEIGHT (OFF STAND): 16.25kg
FEATURES:
LED illumination; built-in Wi-Fi; microSD card reader; Android 4.4 TV OS; Cinema, Standard, Dynamic and Personal image presets; audio presets
VERDICT
CELLO 55 PLATINUM P55ANSMT-4K Review
There's no HDR support but decent sound and low input lag make this 2160p cheapie a contender for a budget 4K mancave.
Add your review
Best CELLO 55 PLATINUM P55ANSMT-4K prices ?