HDR doesn't really shine on this Philips 6000 series 4K cheapie, says Steve May, but there are other elements here that catch the eye. Read our PHILIPS 43PUS6262 Review.
AV INFO
PRODUCT: 43in 4K HDR TV with Ambilight
Position: Actually one of Philips' mid-range sets, above 5000 and 4000 series
PEERS: Toshiba 43U6763; Hisense H43N5700
WITH THIS LATEST 6000 series offering, Philips has thrown the gauntlet down to rivals fighting for trolley action in the budget UHD TV aisles. Not only does this 43-incher offer 4K resolution and HDR compatibility, plus a trendy Freeview Play tuner, it's throwing in Ambilight as a deal clincher. On paper at least, the 43PUS6262 looks a winner.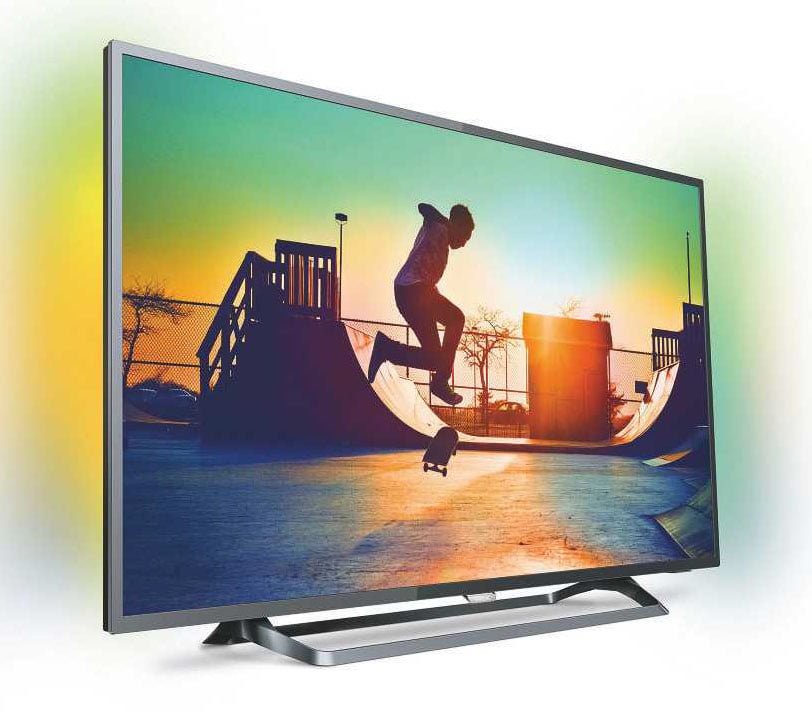 7Review earns Amazon affiliate commissions from qualifying purchases. You can support the site directly via Paypal donations ☕. Thank you!
You may also like:
The finish and stand may be lightweight, but the thin-bezel design is smart enough and connectivity (three HDMIs, Ethernet, Wi-Fi, optical digital audio, etc) covers the basics.
Freeview Play guarantees all key catch-up TV services via its EPG. There's also a generic smart hub with Netflix, YouTube and Amazon apps, amongst others. Netflix caters for 4K HDR, while Amazon and YouTube support 4K.
Image quality is generally impressive, but inevitably there are caveats. On a screen this small, the true benefits of UHD picture resolution are not going to be discernible at a typical viewing distance. Still, the sheer pixel density brings a pleasing smoothness to both Full HD and UHD sources.
HDR support is a pyrrhic attraction, because the set isn't intrinsically bright.
I measured peak white luminance, in a 5 per cent window, at just over 350 nits, which is little different from what you would find on a comparable SDR model.
A consequence is that with HDR content, the screen appears to drag down the overall picture level, giving quite a dull image. Watch Star Trek Discovery (Netflix), and you certainly won't see the show's HDR lens flare and lighting effects in all their glory.
Select SDR, though, and the set behaves rather differently. Standard dynamic range pictures are crisp and bright.
There are also issues with the set's limited black level and lost near-black detail. But again this is easier to accept on a
The 6000 series is Philips' entry-point for Ambilight
low-cost screen. A word of caution: the screen itself is reflective, which can impact contrast and clarity in a brightly light room, so plan accordingly.
Motion handling is a bit of a blunt trauma. Standard, Smooth and Sports presets all introduce unwanted motion artefacts. For movies, select the Off function if you want to keep films looking cinematic.
All these criticisms need to be balanced against the provision of Ambilight, which even in its basic two-sided guise is a delight. You can paint your walls with the colours of onscreen action, or bathe in solid washes.
If music is your bag, then the set will pulsate its LED lights with the beat, and gaming can make your room positively psychedelic.
Ambilight transforms this 43in set from just another small screen to a lifestyle lighting device. For a bedroom or den, the atmosphere that Ambilight creates is a huge bonus – and remember, it can be integrated into a Hue smart lighting system, which merely adds to the fun.
While adding bulbs, consider some external sound augmentation. The TV's audio performance is best described as adequate.
Second-room selection?
In the world of budget UHD TVs, this Philips is a temptation. I would never advocate buying a 43in set as a primary 4K display, so if we take it as read that this is a second-room purchase, picture criticisms are mostly irrelevant. Far more important is the convenience of Freeview Play, key apps, and the general acceptability of its images. Throw Ambilight into the mix, and it only gains appeal.
VERDICT
PHILIPS 43PUS6262 Review
This 4K screen doesn't skimp with connected services. HDR may be ineffective, but we're drawn to Ambilight like moths.
Add your review
Best PHILIPS 43PUS6262 prices ?
MORE DEALS

SPECIFICATIONS
3D: No 4K: Yes. 3,840 x 2,160 HDR: Yes. HDR10 TUNER: Yes. Freeview Play HD; HD satellite CONNECTIONS: 3 x HDMI with HDCP 2.2; optical digital audio; Ethernet; component AV; 2 x USB SOUND: 20W BRIGHTNESS (CLAIMED): 350 cd/m2 CONTRAST RATIO (CLAIMED): N/A DIMENSIONS (OFF STAND): 971.3(w) x 575.17(h) x 77.3(d)mm WEIGHT (OFF STAND): 8 .7kg
FEATURES: Built-in Wi-Fi; DLNA multimedia playback; Miracast; two-sided Ambilight; Pixel Plus UHD image processor