Audio-Technica has updated its hugely successful affordable direct-drive turntable, so Ed Selley gives it the shake down. Read our Audio-TechnicaAT-LP5X Review.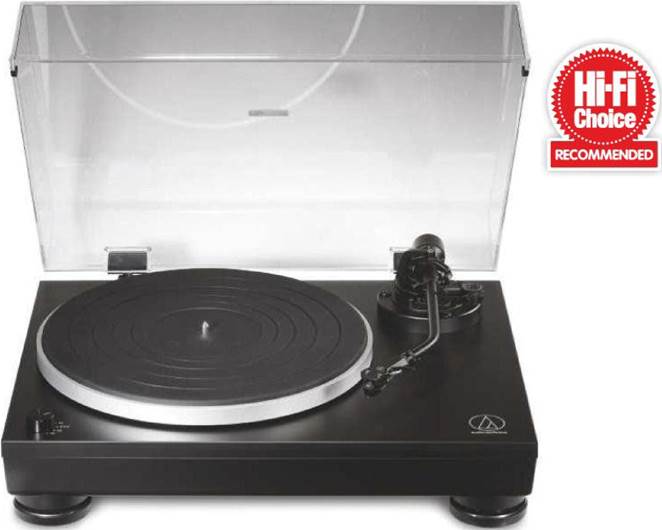 DETAILS
PRODUCT Audio-Technica AT-LP5X
ORIGIN Japan/China
TYPE Direct-drive turntable
WEIGHT 7.3kg
DIMENSIONS (WxHxD) 450 x 157 x 352mm
FEATURES
•  33, 45 and 78rpm
•  J-shaped tonearm
•  VM-95E cartridge
•  On board MM/MC phono stage
DISTRIBUTOR Audio-Technica
TELEPHONE 0113 2771441
WEBSITE audio-technica.com
Audio-Technica enjoyed enormous success with the original AT-LP5 (HFC 405) and five years later has updated it to the LP5X. This is still a direct-drive turntable with a J-shaped tonearm that is fitted for use with a detachable headshell, but the bearing and platter have been revised and the motor that acts on it can now also rotate at 78rpm. The power supply has been changed and no longer performs DC conversion on board, instead using an external wall-wart PSU with the on/off button of the original being changed to auto standby.
There is still an internal phono stage that can be switched in and out of the circuit, but it now also has a gain setting for moving-coil designs. As before, a USB is fitted for digitising records. There is now a VM-95E (HFC 444) cartridge in a new headshell. This means that the full selection of 95 series styli are available as a snap on upgrade without any adjustments.
The basic appearance of the LP5X is little changed from its predecessor, but the darker finish for the top plate and new logo look smarter than before and the lid is now supplied as standard. Crucially, it's still one of the easiest models at the price to set up, with no belt to fit and a generally logical assembly process. As first turntables go, this is a design that won't spring any unwelcome surprises.
Sound Quality
It's been several years since I have listened to the original LP5, but a few minutes with the LP5X running into a Cambridge Audio Edge A and Focal Kanta No1 speaker (HFC 454) brings back some memories – with some new discoveries too. This is still a impressively pitch-stable turntable. The lack of waver to the sustained piano of Sarah Jarosz's World On The Ground ensures that everything else sounds believable. The noise floor is usefully low and, while this isn't a device capable of Technics-style subterranean bass, the low end it does possess is well controlled and usefully detailed.
The biggest step forward is thanks to the VM-95E. Where the original LP5 could be a little hard at the top end, the LP5X is able to stay smooth and refined even with less than stellar pressings. The tonal realism of voices and instruments is improved too. Annie Lennox's Diva has a wholly convincing presentation – a well-judged combination of soundstage, tonality and dynamics that ensures that you stop listening to the record player and concentrate on the music.
No less importantly, all the fun of the original remains present. The Audio-Technica tears into the ballistic silliness of Sturgill Simpson's Sound & Fury with genuine enthusiasm. Without tipping over into sounding forced or unnatural, the LP5X reveals itself to be a dab hand at latching onto the time signature of the music in question and making it integral to the performance. With very gentle pieces, some of this turntable's rivals might still offer a better feeling of flow, but there isn't much in it.
The final very welcome attribute of the Audio-Technica is the ease of upgrading it. Putting a VM-95SH stylus on the body takes 20 seconds and brings immediate gains to the fine detail, particularly towards the inner edge of the record. Adding an external phono stage – in this case an iFi Zen Phono suggests that the internal one, while perfectly capable, might be the limiting factor in the overall performance, but it is still decent enough for the overall cost.
Conclusion
Judged at the £ asking price, there's very little that this turntable gets wrong. The useful combination of foolproof setup and strong performance that the original did so well are retained here and augmented by a better specification and further improved sonics. The result is a very fine proposition that should be on any serious shortlist at the price
OUR VERDICT
Audio-Technica AT-LP5X
A great upgrade to the original LP5 that delivers a very strong performance
PROS
Enjoyably propulsive and engaging presentation
Comprehensive spec
CONS
Internal phono stage is good rather than great
Add your review
Where to buy ?
£369.00
in stock
10 new from £307.83
as of September 27, 2021 8:41 am