Acer's V6820i budget 4K projector may offer voice control, but Steve May believes that silence can still be golden. Read our ACER V6820i Review.
THE HUMBLE HOME cinema projector is the latest piece of entertainment hardware to answer the siren call of voice control. Acer's V6820i isn't distinguished by its compact good looks or 4K trappings, more that it can be cajoled by crooning to an Amazon Alexa speaker.
info
PRODUCT: 4K DLP projector with Alexa support
Position: Below Acer's V7xxx series of 4K home cinema PJs
PEERS: Optoma UHD51; BenQ W1700
As it transpires, setting this up is a right faff. By the end of the process I was ready to tell Alexa where to get off.
Firstly you need to create an account with Acer (find the site, select Work with Alexa, then Create Device Account), then bind said account with said projector, using a 22-digit serial number and matching Pair code. Then enable the appropriate skill, and partner the projector via your Acer account. Foolishly I thought I'd get away with just plonking the V6820i on my home network and getting Alexa to do the hard work.
And the end result of all this friction? The ability to turn the projector on or off by barking at your Alexa speaker; selecting the HDMI input (there are only two); and altering the volume of the V6820i's integrated sound system (which you may not want to use at all).
7Review earns Amazon affiliate commissions from qualifying purchases. You can support the site directly via Paypal donations ☕. Thank you!
See also TOP 15 projectors
Hmmm. Alexa is undoubtedly well suited to things like music navigation and smart home control, but these PJ party tricks are pretty pointless. There's another good reason why you won't want to use voice control, but we'll come to that shortly. So what else does this Acer have to offer?
Design and build quality are certainly worth shouting about. The V6820i is relatively compact and extremely glossy.
All black, it sports air inlets and outlets front and side, while an offset bronze lens, with manual zoom, provides a splash of glamour. The projector is light enough to ceiling mount or pop on a bookshelf.
The V6820i's zoom is 1.3x, and throw ratio 1.21-1.59:1. You'll need between 2.4m and 3.2m to throw a 110in image.
On top you'll find the lens shift dial (offering a maximum offset vertical lift of 15 per cent) and zoom. A menu control pad provides a hands-on alternative to the supplied backlit remote control.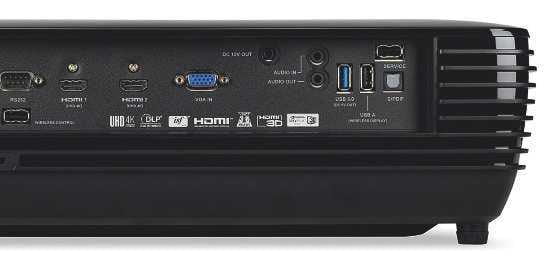 Video connections comprise two HDMI inputs, both of which are 4K/HDCP 2.2-compatible, and a VGA input. There's also an RJ45 Ethernet port for control, digital audio optical output, and two USB ports, one for a Wi-Fi dongle (supplied), and the other to play media files or power a streaming TV stick. System integration comes via a 12V trigger, or RS-232 control.
There's good news if you have plenty of 3D Blu-rays. The projector is DLP 3D compatible, although shuttering glasses are not supplied in the box.
The projector feels fresh when powered up, too. Acer's user interface isn't the traditional text menu. Instead we get a (whole screen) graphical OSD with Projector, Application and Settings tiles. The Projector button offers source (HDMI, VGA and USB) selection and display adjustment. Here you can tweak gamma, Dynamic Black and colour gamut (adjustable between REC.709 and HDR). Hit Application for access to the projector's USB media player, Wi-Fi streaming and Amazon Alexa settings.
In addition to Alexa control, you can also stream media to the projector using EZCast (yet another app for your mobile device). But here's the rub. When Wi-Fi is on (as it is when the PJ is paired with an Alexa speaker), a Wi-Fi signal gauge graphic appears onscreen and won't go away.
Presets are Movie, Standard, Silent, REC.709, Bright and User, plus ISF Day and Night modes. Honestly, there's not a great deal of difference between them, with the exception of Bright, which should be avoided. Standard and Movie
When Leia is blown free from her ship, debris is cleanly delineated against the backdrop of space
are good go-to choices. The Silent mode is literally that.
For a home cinema projector this option is almost too good to be true. The image loses a certain amount of brightness and visual snap, but for A Quiet Place on Blu-ray, it's a price worth paying. Operating noise in other modes isn't much of a concern either, although the PJ was prone to a sporadic squeal (which was a little disconcerting).
The projector supports HDR10 (and defaults to a single image preset option, named HDR). It's worth reiterating that HDR on a home cinema PJ is a different visual ball game to HDR on a TV display, not least because the hardware lacks the ability to project high brightness peaks. It's more about management of average picture brightness to favour highlights, which tends to darken the rest of the frame. To this end, HDR is variable (1-4) in the menus, with the frame getting ever brighter the higher you increment the setting. HDR 3 and 4 completely wash out the picture.
Rated at 2,400 Lumens (and dropping to 1,760 in Eco lamp mode), the V6820i isn't really bright enough to shine in ambient light, and wouldn't cut the mustard in a media room. It needs a full black-out environment to look punchy.
The projector doesn't do absolute black, but there's enough contrast to make the space battles in Star Wars:
The Last Jedi (UHD Blu-ray) look appropriately vivid. Sparks and explosions have impact.
When Leia is blown free from her ship and then Forces her way back in, debris is cleanly delineated against the backdrop of space. Expanses of shadow can look hollow though, as the projector's black level limitations are exposed.
Of course, with 4K DLP projectors what goes on beneath the hood is almost as interesting as what happens on screen. DLP models use visual sleight of hand to deliver their 4K image.
The V6820i employs Texas Instruments' XPR (eXpanded Pixel Resolution) 0.47in DMD, which switches two million mirrors four times in the blink of an eye (approx.) to display an 8.3m-pixel picture. It's partnered with a six-segment RGBRGB colour wheel, which covers 100 per cent of the REC.709 colour space. REC.2020 colour info on UHD Blu-rays is downconverted.
We've now seen a variety of these DLP solutions, and they tend to give different results. The V6820i is probably the least convincing of all the DLP 4K models I've auditioned, in so much as it is unable to display a 3,840 x 2,160 test pattern cleanly – an assortment of flickering artefacts over fine detail were noted. However, these flibbles really don't manifest themselves onscreen.
Content never looked less than sharp, and image clarity can be safely regarded as 'better than Full HD'.
The V6820i's media player is a little hit and miss.
While WMV, MOV and MPEG files all unspooled correctly, MKVs played without audio.
Amazon Alexa distraction aside, the Acer V6820i is an entertaining home cinema projector. It's well equipped, although arguably doesn't perform quite as well as Optoma's UHD51 [see HCC #287], with which it shares many similarities. But as a high-end display it acquits itself well in dark room situations. Having two 4K inputs is welcome, and the Silent image preset is a boon
Best ACER V6820i prices in the US ?

$

104.17
3 new from $98.99
in stock


$

107.17
1 new from $107.17
in stock


$

141.89
1 new from $141.89
in stock

Best ACER V6820i prices ?
MORE DEALS

See also TOP 15 projectors
3D: Yes. Active shutter 4K: Yes. 3,840 x 2,160 HDR: Yes. HDR10 CONNECTIONS:
2 x HDMI inputs; PC VGA input; optical digital audio output; 12V trigger; powered USB; RS-232; Ethernet BRIGHTNESS (CLAIMED): 2,400 Lumens CONTRAST RATIO (CLAIMED): 10,000:1 ZOOM: 1.3x DIMENSIONS: 398(w) x 127(h) x 297.5(d)mm WEIGHT: 5.5kg
FEATURES: XPR single-chip DLP; 2 x 5W built-in audio; lamp life rated at 4,000 hours (Normal), 10,000 hours (Economy), 15,000 hours (ExtremeEco); 25dB fan noise; AcuMotion processing; ColourPurity; 1.21-1.59:1 throw ratio; manual zoom/ focus; works with Amazon Alexa
AMAZON ECHO DOT:
One of the most affordable options for sampling the Acer PJ's voice control functionality is Amazon's small scale speaker. The Dot offers reasonable sound quality, but can connect to other speakers via Bluetooth or 3.5mm
1. As well as a backlit remote, the Acer offers on-body control keys
2. Use the powered USB port to hookup a streaming dongle