The 4K revolution may be in full swing, but there's still a place for Full HD projection, believes Jamie Carter – especially when the cost of admission is so low. Read our OPTOMA HD27E Review.
av info
PRODUCT: Full HD (and 3D compatible)
DLP projector
Position: Below Optoma's UHD lineup, but not quite entry-level
DEERS: BenQ W1050; Epson EH-TW5600
WHY WOULD ANYONE buy a Full HD projector? Ultra HD Blu-ray discs and 4K Blu-ray players have been on sale for a couple of years; Netflix, Amazon and others now stream in 4K; and it's becoming increasingly difficult to buy a TV that doesn't have a 3,840 x 2,160 pixel resolution. Meanwhile, 4K projectors have become drastically more affordable over the past six months. And all these add HDR into the mix.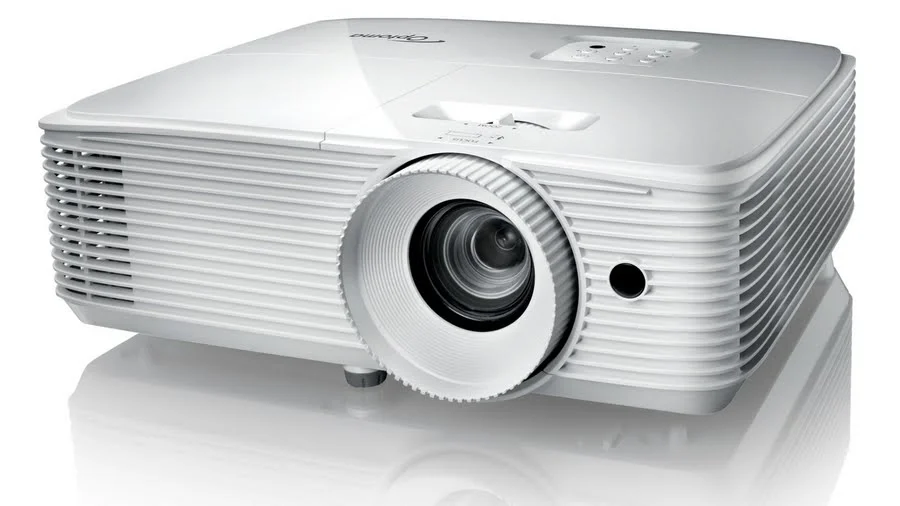 7Review earns Amazon affiliate commissions from qualifying purchases. You can support the site directly via Paypal donations ☕. Thank you!
See also TOP 15 projectors
So 4K is the future, right? Absolutely, but there is still a place for Full HD. The proof is right here in this diminutive DLP projector, which is at the vanguard of a new trend to significantly undercut the 4K format. Yes, its 1,920 x 1,080 pixel resolution equates to just a two megapixel image – not comparing well to the eight megapixels that UHD offers – but the HD27e's price of around £ makes it less than half the cost of even a budget 4K model.
It's also less than half the weight. At just 2.9kg, this Optoma is easy to transport between rooms, floors and even properties (an optional carrier bag is also available), although what really aids its versatility is its brightness. Essentially a much brighter version of the previous Optoma HD27 (released in 2016), this variant claims a peak output of 3,400 Lumens, making it potentially one of the punchiest projectors around. Add to that a built-in 10W speaker, and compatibility with dongles like Amazon Fire TV and Google Chromecast via its powered USB port, and the HD27e starts to look like a projector that is built for convenience and ease of use rather than image perfection. So: would you want to run your Blu-rays through it?
OPTOMA HD27E Review: Vertically challenged
Before going big with BD, you have to get the HD27e set up. This isn't a taxing process, but some feature short-falls don't make it ideal for all environments. It's acceptable that there's no motorised zoom or autofocus here (features reserved for pricier models), but the absence of any lens shift option means you're tasked with getting the PJ square on to your screen, or making do with its vertical keystone correction software.
Optoma suggests the HD27e can produce a monstrous 300in image, but that's going way over the top for a Full HD resolution device, is too big for the majority of rooms, and probably beyond the PJ's maximum luminance. Many buyers will instead be looking at an image between 80in-100in, and there's less flexibility here than you might hope. The Optoma's lens and 1.1x zoom result in a throw ratio of 1.47-162:1, which means for
This projector's 1080p image may lack the sharpness of rival 4K displays, but is always enjoyable
a screen size of 100in, you're pegged to a projection distance of 3.25m to 3.6m. As always, it's a case of measuring up before you buy.
Adding to its legacy reputation, the HD27e is 3D ready. Compatible with the DLP Link active shutter 3D system, using the HD27e in 3D mode requires purchasing Optoma's ZD302 3D glasses. None were supplied for this audition.
For a budget projector the HD27e is reasonably well connected. Around the back are two HDMI inputs (both version 1.4), the aforementioned USB port, and a 3.5mm jack for taking audio from the projector to an external sound system.
There is also a 12V trigger for merging the HD27e with a home cinema control system. Talking of control, this projector ships with a tiny, but otherwise impressive remote that's backlit by red LEDs as soon as one of its buttons is pressed.
OPTOMA HD27E Review: Cinema thrills
Used in the Cinema mode in a blacked-out room with the gorgeous Hacksaw Ridge on Blu-ray, the HD27e impresses with its realism and contrast. Its colour handling (the projector claims full delivery of the REC.709 colour space) is solid, with an even, well-balanced approach across the palette. Activating BrilliantColor processing, a bonus feature of Texas Instruments' DLP tech, didn't add much in this instance; for critical movie viewing the HD27e seems fine without it.
The nighttime sequences of Desmond Doss making repeated visits to the battlefield to save wounded soldiers have plenty of contrast, with just enough shadow detail in murky areas to give the image an involving depth.
Motion performance is also creditable. Blur wasn't a major issue, with detail generally retained during camera pans and fast motion. This 1080p image may lack the ultimate sharpness of rival 4K displays, but is always enjoyable.
Employed in daylight – surely the HD27e's party trick – proved a little disappointing by comparison. The searing impact of its claimed 3,400 Lumens brightness never materialised in practice, and the image created in a light-filled room (while watching a few World Cup football matches on BBC One HD) lacked the panache of its earlier movie performance, with a less assured approach to colour and contrast. Things improve with BrilliantColor engaged, and the Game and Vivid modes provide alternatives for viewing in ambient light.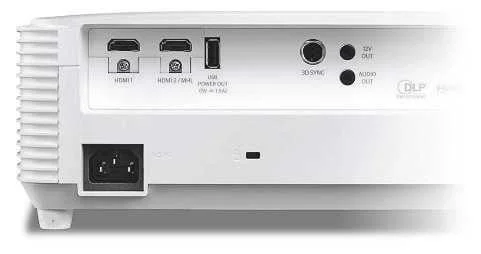 The HD27e actually surprised with audio. Not only is it noticeably quieter in operation than many rivals, its built-in 10W speaker delivers a sound performance that's easy on the ear and up to the task of filling a small room. Tested with games, films and broadcast TV, it always lacked musicality and breadth, but there was plenty of clarity with voices and other details. In short, this projector has a far better speaker than most.
OPTOMA HD27E Review: A decision to make
There's quite a lot to like about the HD27e, although I'd rate it a better performer in dark-room conditions. For those with large BD collections and no interest in 'stepping up' to 4K, it delivers a cinematic experience at a bargain price. At the same time, if you've already got a 4K TV, a Netflix plan, a 4K Blu-ray spinner and a stack of Ultra HD Blu-ray discs, the HD27e will surely feel like a step down, despite its ability to create genuinely largescale images.
It has the usual budget trappings (a meagre zoom, lack of lens shift) that might hinder its installation, and pushing its lamp to its extremes doesn't always reward, but couple the generally strong picture performance with its excellent built-in audio, HDMI dongle support and compact form factor, and the HD27e is hassle-free home cinema
OPTOMA HD27E Review: VERDICT 4/5
OPTOMA HD27E Review
It may only deliver Full HD pictures, but this good-value all-in-one projector can still cut the Blu-ray mustard. Not quite the bright star you might expect, though.
Add your review
|
Read reviews and comments
Best OPTOMA HD27E prices in the US ?

$

105.09
2 new from $105.09
in stock


$

108.99
1 new from $108.99
in stock


$

1,774.00
2 used from $599.95
1 new from $1,774.00
in stock

Best OPTOMA HD27E prices in the UK ?

£

261.10
2 new from £261.10
in stock

MORE DEALS

See also TOP 15 projectors
OPTOMA HD27E Review: SPECIFICATIONS
3D: Yes. Active shutter 4K: No. 1,920 x 1,080 HDR: No CONNECTIONS: 2 x HDMI inputs; powered USB port; 12V trigger; 3.5mm audio jack BRIGHTNESS (CLAIMED): 3,400 Lumens CONTRAST (CLAIMED): 25,000:1 ZOOM: 1.1x DIMENSIONS: 316(w) x 108(h) x 244(d)mm WEIGHT: 2.87kg
FEATURES: DLP technology; built-in 10W speaker; 25dB claimed fan noise; 1.47:1-1.62:1 throw ratio; backlit remote control; vertical keystone correction; manual zoom; REC.709 colour delivery; 24fps playback; MHL HDMI support; lamp life rated at 3,500 hours (Bright), 12,000 hours (Dynamic), 10,000 hours (Eco); image presets include Game, Vivid, Bright, Cinema and 3D; auto power off; wireless transmission support
OPTOMA HD27E Review: PARTNER WITH
HACKSAW RIDGE: Mel Gibsons startling true-life WWII drama mixes brutal action with gorgeous cinematography, making its BD release indispensable. Lionsgate's 2017 platter also packs a visceral Dolby Atmos soundtrack.
1. The HD27e offers a basic 1.1x optical zoom
2. Optoma's curvy handset is backlit, and easy to use
3. Not an extensive range of inputs, but dual HDMIs will be enough for most