Don't be fooled by its quirky looks – XGIMI's new projector has some serious skills, reckons John Archer. Read our XGIMI HORIZON ULTRA Review.
XGIMI HAS CARVED OUT a niche over the last four years on the back of terrific projectors. The Horizon series is the brand's home cinema line, with the standard model offering 1080p resolution and 4K limited to the Horizon Pro. XGIMI is now rolling out a new variant: the Horizon Ultra. Dubbed the next-gen model in the series, the Horizon Ultra features a hybrid LED and laser system, 4K resolution with Dolby Vision integration, and a low-latency gaming mode.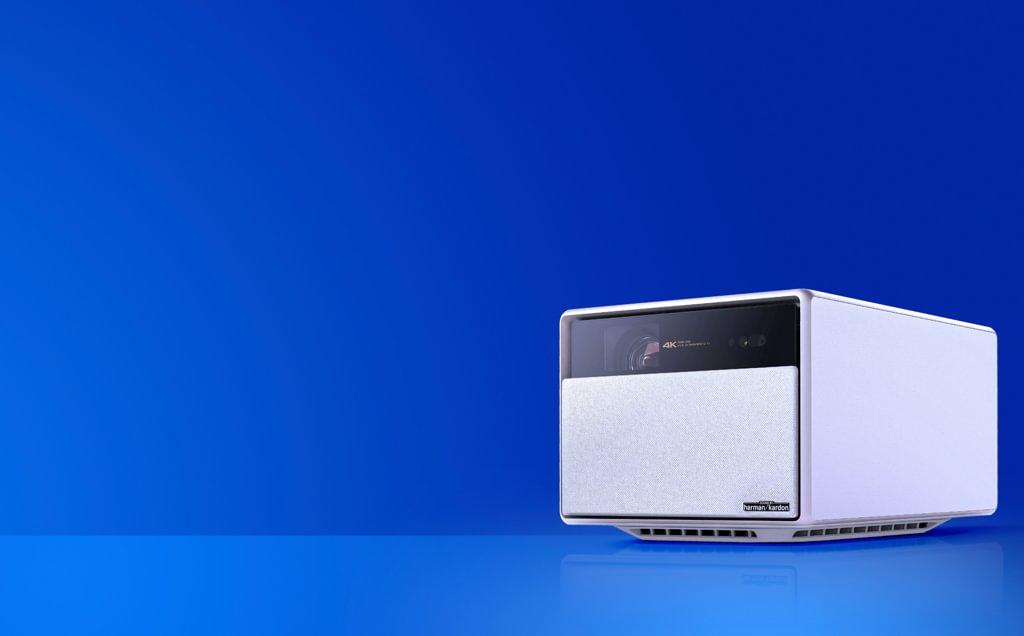 The best part is that the Horizon Ultra isn't selling at a significant premium; the projector is debuting at $—less than what the Horizon Pro launched for two years ago. Looks-wise, this projector is gorgeous; it's not something that you tuck away in a corner. Instead, it's designed to be the focal point of your living room.
AV Info
| | |
| --- | --- |
| Product: | 4K DLP projector with laser/LED tech |
| Position: | High up in XGIMI's home PJ range, but below the Aura UST model |
| Peers: | BenQ W2710i; Epson EH-TW7100; Optoma UHD55 |
| Website: | uk.xgimi.com |
For starters, it's the world's first long-throw 4K projector to support Dolby Vision HDR – complete with screen size and gain refinements. We've seen one or two BenQ projectors take on HDR10+, but for many AV fans Dolby Vision remains the 'premium' HDR format of choice.
The Horizon Ultra's other big innovation is its Dual Light technology. This sees XGIMI combining laser and LED lighting in one optical engine for the first time, resulting, it's claimed, in a more comfortable, accurate, and immersive image free of the fatiguing 'hot spots' and colour bleed often seen with laser-only projectors. Pictures are also said to be brighter (up to 2300 ISO Lumens) and more expansively coloured than those of typical LED systems, all while retaining the sort of long life span (25,000 hours) we've come to associate with both lighting technologies.
The home for this ground-breaking projection looks totally unique.
The Horizon Ultra sits so high on its compact footprint that it's almost a cube, and sports a 'Misty Gold' colour scheme that gives it a soft, living-room friendly feel. Its sides, remarkably, enjoy a leather finish, while a front cover that niftily slides down electronically to expose the lens when the projector's switched on is finished in a tasteful felt. The final result feels more like furniture than a hunk of AV hardware.
7Review earns Amazon affiliate commissions from qualifying purchases. You can support the site directly via Paypal donations ☕. Thank you!
RECOMMENDED VIDEOS FOR YOU...
See also TOP 15 projectors
Boost for gamers
XGIMI went with a standard set of ports at the back of the Horizon Ultra: you get dual USB 2.0 ports, two HDMI ports with one designated as eARC, optical and 3.5mm out, and an Ethernet port. One of the HDMIs is equipped with eARC functionality for passing lossless Dolby Atmos sound through to soundbars or AVRs – though it's slightly disappointing to find no support for the latest 4K/120Hz or variable refresh rate (VRR) gaming features. When it comes to wireless connectivity, there's Wi-Fi 6 and Bluetooth 5.2 LE. I didn't see any issues with connectivity, and the Horizon Ultra maintained a rock-solid connection to my router over Wi-Fi.
Like most XGIMI projectors, the Horizon Ultra has auto keystone along with auto focus, so setting up the projector is straightforward. XGIMI is rolling out the latest iteration of its Intelligent Screen Adaption tech, which uses a combination of software and hardware to make on-the-fly adjustments to the watching environment to deliver the best picture quality. On the hardware side, the feature relies on sensors that automatically adjust brightness, contrast levels, and colors, and you also get an optical zoom lens that assists with screen scaling.
But there are also optical shift and zoom options rather unhelpfully tucked away in a manual keystone correction menu.
Unusually, it has a system for adjusting the image's brightness automatically based on ambient light levels. This proves a bit bonkers, though, as it makes even HDR pictures look unwatchably dark if you're using the projector in a blacked out room.
If you're projecting onto a wall, there's a system for compensating for the wall's colour, and you can, of course, manually adjust most settings – including noise reduction and motion processing options (both of which are generally best turned off).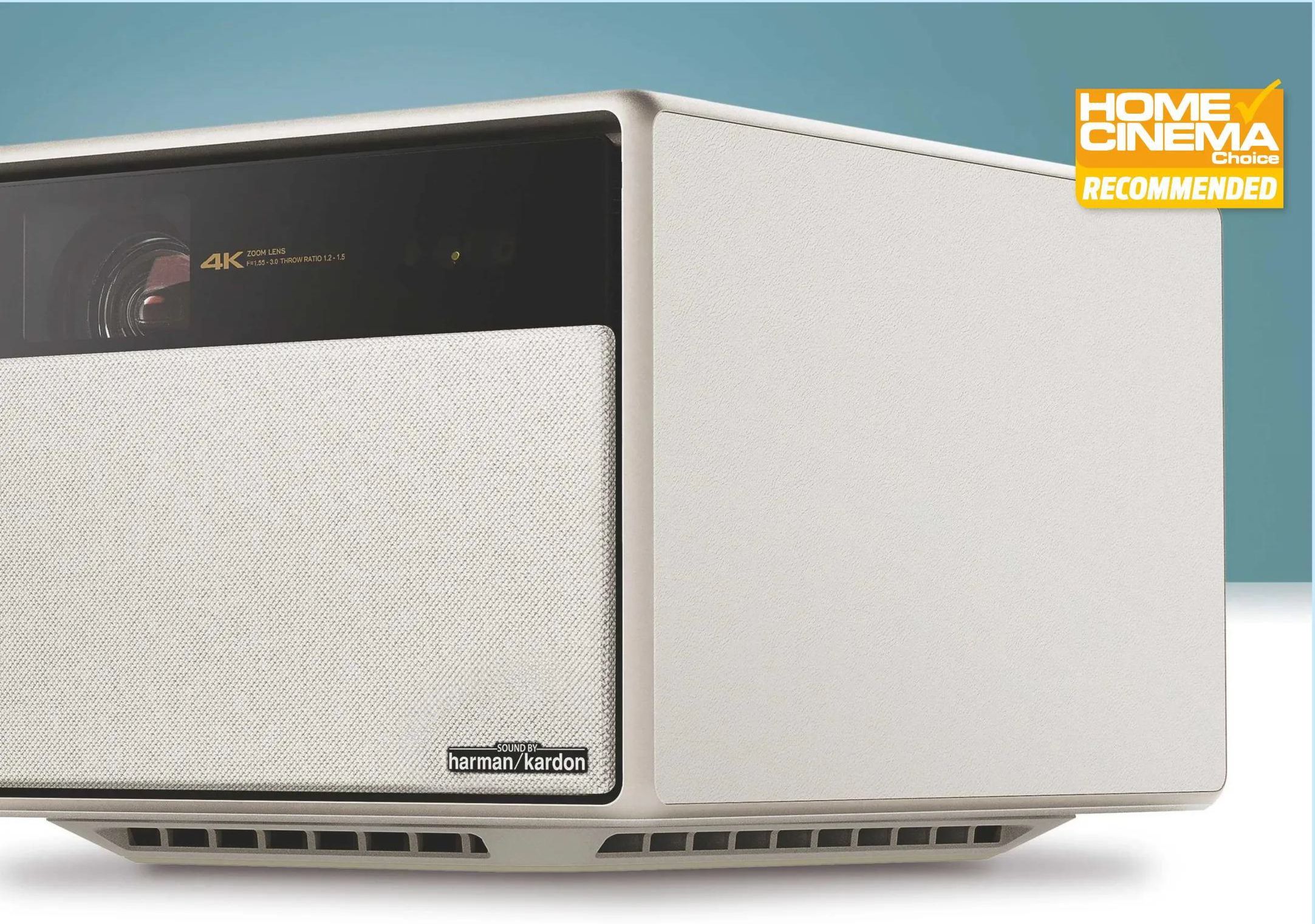 Power the projector up and the felt-covered panel slides down to reveal its lens
The Horizon Ultra has a throw ratio of 1.2-1.5:1, and it can project up to a 200-inch image. It is significantly brighter than the Horizon Pro, going up to 2,300 lumens. The Horizon Ultra isn't a native 4K projector, but like other products in this category, it uses pixel shifting to deliver a 4K image with a 1080p source.
XGIMI's Game mode is interesting because it reduces the latency to as low as 18ms, making it the obvious choice if you're interested in gaming on the projector. You don't get 4K at 120Hz, as it's limited to 60Hz, but it still makes a tangible difference over the other modes.
The projector does, however, get latency in its 'Boost' Game mode down to just 18.5ms, which joins with its high brightness and 4K resolution (courtesy of DLP's 'multiflashing' technology) to ensure it still delivers plenty of gaming thrills. Note, though, that the fastest responding Boost game setting deactivates the projector's auto keystone correction system. If you want to leave that on, lag increases to 35.2ms.
As the Horizon Ultra has all-rounder ambitions, it carries a 2x12W Harman Kardon-designed speaker system (with DTS-HD and Dolby Atmos format support), and, like a growing number of projectors now, is equipped with a built-in smart system – in this case, Android TV 11.0. Here you'll find native apps for Prime Video, Apple TV and YouTube, plus some of the UK's broadcaster catch-up services, but the Netflix app didn't function properly during  my audition, and there was no sign of All4 or iPlayer.
Great balls of fire!
First impressions of the Horizon Ultra's pictures are sensational, and it begins with its phenomenal brightness. Full-screen bright content, such as the daylight fantasy landscapes and cities in the 4K Blu-ray of Dungeons & Dragons: Honour Among Thieves, look as punchy and realistic as I've seen them on any projector at anything like the Horizon Ultra's £ price. XGIMI's projector also has enough brightness headroom to still create a sense of HDR's light peaks – such as the fireballs that Sofina rains down at the start of the film's final battle.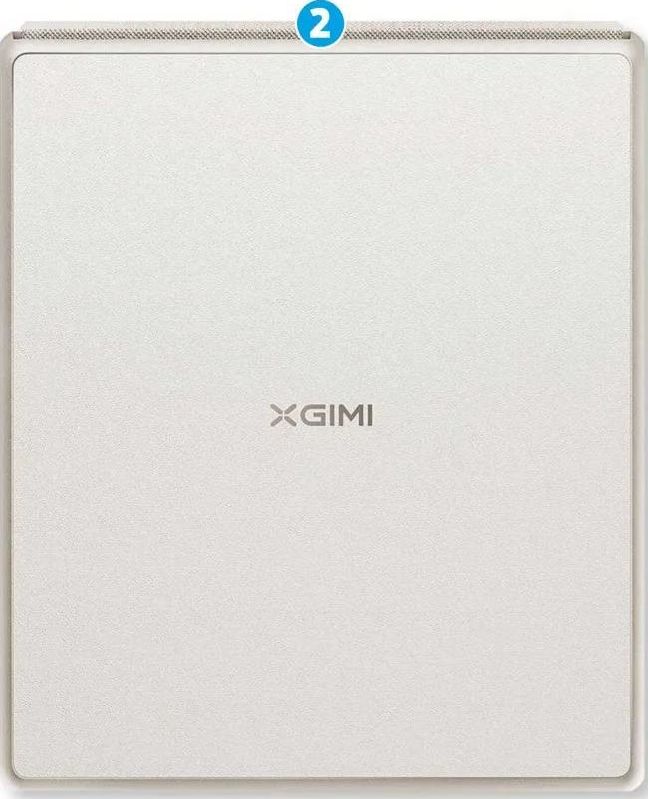 2. Nothing to see up top bar the brand logo!
Colours, meanwhile, look deliciously intense. The Horizon Ultra claims to cover 95.5 per cent of the DCI-P3 digital cinema colour spectrum, and this joins forces with the prodigious brightness and combined laser/LED light characteristics to deliver the spectacular tones of D&D's landscapes, opulently decorated armour, and irresistible treasure piles with ferocious intensity. Reds, especially, enjoy stellar richness and purity — perfect for those Red Wizards…
Colour extremes, however, are accompanied by excellent tonal subtlety and naturalism. Skin tones in particular are remarkably authentic right out of the box, with no blocking, banding, or plasticky feel. Nor is there any 'compression' or coarseness of colours in dark scenes. Dual Light engine – take a bow.
A little colour shading and detail can be clipped out in the very brightest HDR picture areas, but not nearly as much as you might expect from such a bright and affordable projector.

3. The remote continues the Horizon Ultra's stylish vibe. The Horizon Ultra remote's brushed metal design feels great in the hand. The only quibble I have is no backlit buttons, which is an issue in a dark room.
The Horizon Ultra also renders 4K material with impressive sharpness. Elements of D&D, such as the beautifully detailed outfits and the scenery in Neverwinter's Harbour, are pure eye-candy.
Frustratingly, though, while the Horizon Ultra is a beast with bright scenes, it struggles with dark ones. When our D&D posse question corpses (seriously) in a night-time graveyard, a marked yellowy grey wash hangs over 'First impressions of the Horizon Ultra's pictures are sensational, and it begins with phenomenal brightness' proceedings, muting colours, reducing depth, and detracting substantially from the naturalism that's so present with brighter content.
The biggest differentiator for the Horizon Ultra is Dolby Vision integration, and the projector does a brilliant job of handling HDR content. TV shows or movies that are coded with Dolby Vision have excellent color vibrancy and brightness levels. The projector also handles 1080p and SDR content really well, and overall there's a definite uptick in picture quality over the Horizon Pro.
This picture issue meant I mostly stuck with a brighter image in a dark room setup than I'd have liked – including using the Dolby Vision Bright preset rather than Dolby Vision Dark. This keeps shadow details more visible, and increases the chance that the colourful image content will distract you from the milky black levels.
There isn't really much else you can do to combat the black level shortcomings. Reducing brightness makes the image look less impactful. It's a pity XGIMI hasn't provided any system outside of the problematic auto brightness optimisation for adjusting light output in response to image changes (although not having such technology does mean the picture remains free of distracting shifts in brightness).
Of course, you're much less likely to notice the grey over dark scenes if there's ambient light around, so I'd suggest you use this projector with some gentle bias lighting.
Over the rainbow?
Pictures as impressive (in some ways) as those of the Horizon Ultra deserve to have us finish on a high. So let's do that by saying that its brightness and colour handling adapt well to SDR material; it upscales HD content brilliantly; and it suffers more rarely and mildly with DLP's rainbow effect than might be expected.
The built-in sound system is also rather good, managing to throw its sound clear of the projector's bodywork, which helps it appear connected with the distant onscreen action. Movie scores and effects are generally clear and well rounded; the stereo driver array brings out a decent amount of detail; and it manages to underpin big set-pieces with a decent dose of bass. Dialogue does seem a little more 'trapped' inside the cabinet than the rest of the sound, though.

4. Connections, plus power button, are neatly arranged along the rear of the cabinet
Dual Light fantastic
When the Horizon Ultra looks good, it looks spectacularly good. We surely haven't seen the last of XGIMI's Dual Light technology, and in its hands Dolby Vision for projectors proves perhaps surprisingly worthwhile, too. Yet while this projector is an outstanding option for rooms with a little light in them, its black levels are too compromised for dark room home cinema heaven. If XGIMI can combine its impressive new technology with a bit more adaptive light control next time out, we'll be looking at something truly special.
There's no native Netflix client either. XGIMI has a workaround that makes it relatively easy to install Netflix, but it's not an ideal situation, as you don't get Dolby Vision content—it's limited to 1080p. That said, the fact that you can actually install Netflix and stream content on the service is a big deal in and of itself.
The rest of the software is standard fare; you get the usual Android TV 11 interface, and while I'm not a fan of the recommendations, it is easy to navigate. Even though the projector has just 2GB of RAM, there isn't noticeable lag in daily use, and you get 20GB of usable storage. You also have full access to the Play Store, and can install your favorite streaming services without too much hassle.
VERDICT
Overall, the Horizon Ultra is one of the best 4K home projectors you can get at the moment, and the feature-set, combined with the stellar picture quality, makes the projector an easy recommendation.
Recommended
XGIMI HORIZON ULTRAS Review
XGIMI's new laser and LED light combi delivers fantastic bright, colourful scenes for the Horizon Ultra's money - but dark scenes are more of a challenge.
PROS
Outstanding picture quality
Bright 2,300 lumen projection
Vibrant colors with both SDR and HDR content
Android TV 11 out of the box
Auto keystone correction and auto focus
Dynamically adjusts colors based on viewing surface
Low-latency mode is great for gaming
Gorgeous design
CONS
Still no native Netflix integration
No media playback buttons on the projector
Remote doesn't have backlit keys
No 4K at 120Hz
Add your review
Best XGIMI HORIZON ULTRA prices in the US ?

$

1,599.99

$1,699.00
1 new from $1,599.99
in stock

Best XGIMI HORIZON ULTRA prices in the UK ?

£

1,749.00
1 new from £1,749.00
in stock

MORE DEALS

See also TOP 15 projectors
SPECIFICATIONS
Image Resolution 3840 x 2160
Software Android TV 11.0
Casting Chromecast built-in, Magicast
Connectivity Wi-Fi 6, Bluetooth 5.2 BLE
Display technique DLP
Display chip 0.47-inch DMD
Color Gamut 95% DCI-P3
Lamp Life 25,000 Hours
RAM 2GB
Storage 32GB
Dimensions 224 x 170 x 265mm
Weight 11.5lb (5.2kg)
3D Yes
4K Yes. 3,840 x 2,160 (by multiple mirror flashing)
HDR Yes. HDR10; HLG; Dolby Vision
CONNECTIONS 2 x HDMI inputs (one eARC); optical digital audio; headphone jack; Ethernet; 2 x USB
BRIGHTNESS (CLAIMED) 2,300 ISO Lumens 
CONTRAST (CLAIMED) N/A
ZOOM Yes
FEATURES DLP projector with Dual Light technology (combined LED and laser lighting); built-in 2 x 12W Harman Kardon audio; 25,000 hours claimed lamp life; Movie, Game and Sport picture presets; auto keystone and focus technology; front, rear, front ceiling and rear ceiling mounting support; up to 200in images; 0.47in DMD; built in Android 11 smart system; Chromecast mirroring; DTS-HD and Dolby Digital Plus audio support; Wi-Fi; Bluetooth 5.2
TESTED WITH
DUNGEONS & DRAGONS: HONOUR
AMONG THIEVES Criminally neglected on its theatrical run, this frequently funny fantasy adventure starring Chris Pine and Michelle Rodriguez arrives on 4K Blu-ray armed with a bright, richly coloured transfer the frequently plays right into the Horizon Ultra's hands.