Epson's upper midrange home cinema PJ, above TW7400. Read our Epson EH-TW9400 Review.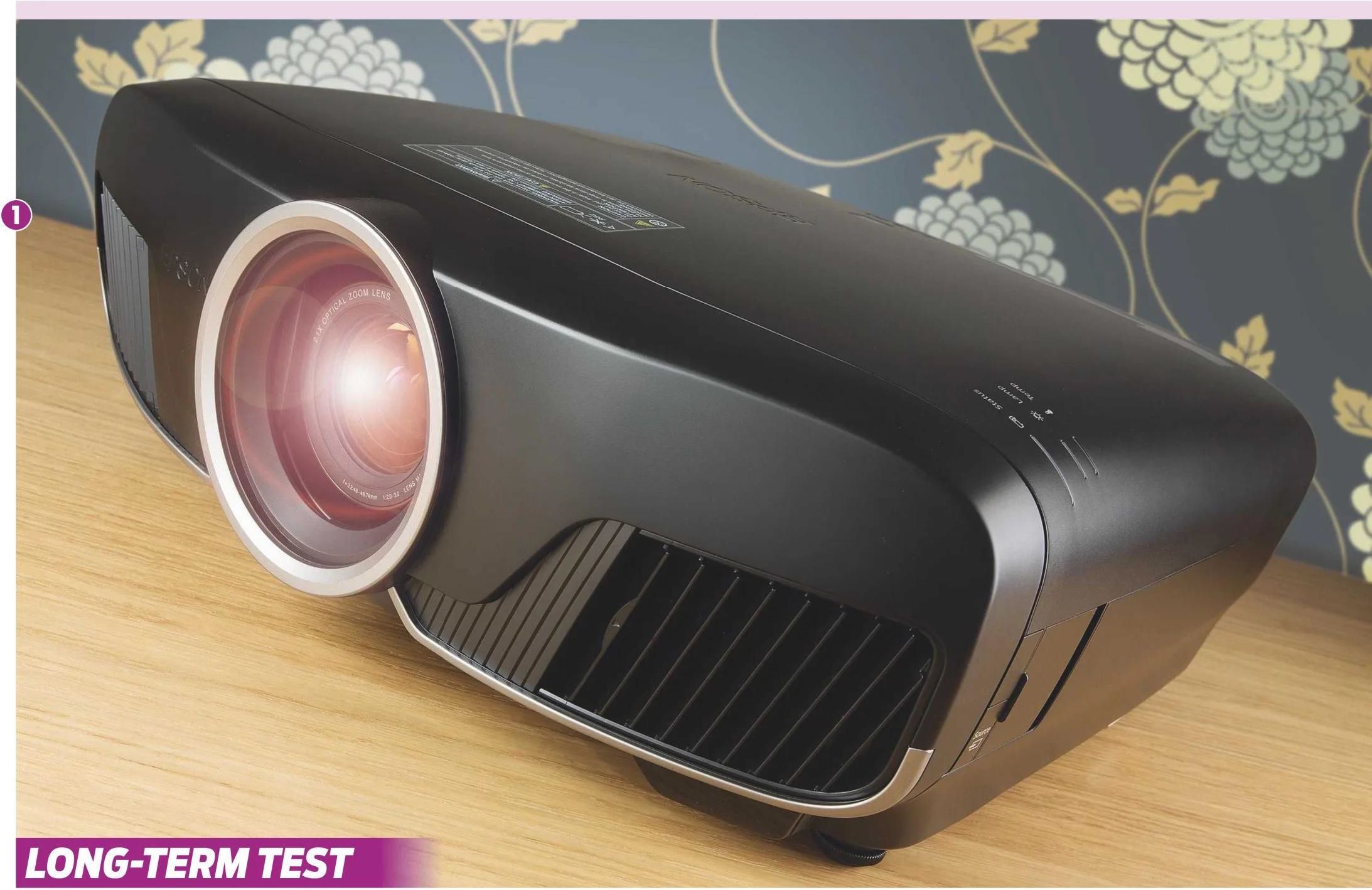 1. The large, albeit curved, cabinet marks the EH-TW9400 down as a dedicated home cinema projector
TIME ON TEST: Three years REVIEWER: Martin Dew
AV Info
Product: HDR/4K-capable
Position: LCD projector
Peers: Epson EH-TW7400; BenQ W5700
Website: www.epson.co.uk
7Review earns Amazon affiliate commissions from qualifying purchases. You can support the site directly via Paypal donations ☕. Thank you!
RECOMMENDED VIDEOS FOR YOU...
See also TOP 15 projectors
WHEN EPSON ANNOUNCED the availability of the EH-LS12000 home cinema projector last year (HCC #333), many thought it would be the natural replacement for the EH-TW9400. But although it shared some of the features of its 2018 forerunner, the LS12000 is laser light-driven and creates a true, but pixel-shifted, 4K image (8.3m pixels) onscreen. It also costs nearly two grand more at £. Read our Epson EH-TW9400 Review.
So, it's a blessing that the projector holding the number two spot in Epson's home cinema product hierarchy, the lamp-based TW9400, is still in circulation. Indeed, this £ beamer remains one of 16 home cinema models on the Japanese manufacturer's website. While touted as a '4K' projector, it doesn't quite muster the full complement of pixels to earn that badge. Dig in a bit deeper and you will see that Epson describes the TW9400's 2x pixel-shifting tech as '4K-enhanced' (more on this later).
After three years of solid duty in my home cinema, does the EH-TW9400 live up to expectations?
What's good about it?
The projector uses Epson's tried-and-tested 3LCD technology, with three aligned panels for RGB and a 15-element lens delivering images to the screen. This means there's none of the 'rainbow effect' of competing DLP-based models – to which I am quite susceptible – to worry about.
It's also something of a light cannon, claiming a 2,600 Lumens brightness, while its lamp is rated at 5,000 hours in Eco mode. Even after calibration in one of the dark room image presets, like Natural or Digital Cinema, there's plenty of headroom in Eco on my 2.4m-wide 2.35:1 screen.
Like its predecessor, the EH-TW9300, the EH-TW9400 used pixel shifting of two 1,920 x 1,080 positions per frame in the x/y axis to deliver 4.15m pixels onscreen – not the
'Epson's EH-TW9400 has plenty of image features and placement flexibility, and can produce a gorgeous picture' 
pixel count of a native 4K projector, as mentioned above. There were rumours that it would undergo an overhaul with the release of a firmware update to enable a third electronic pixel shift per frame, to produce over 6m pixels onscreen, but this hasn't yet happened.
2. Epson's lens, protected by a sliding cover, is motorised and offers a 2.1x zoom
High dynamic range playback (HDR10 and HLG) is supported, and Epson also claims its beamer can produce 97% of DCI-P3, the colour space you'd expect to find when watching movies at your local multiplex. An onscreen HDR setting from 1 to 16 allows you to push the brightness on an HDR title, particularly if it appears dark in the default 8 position, which it usually does; positions 3 or 4 typically produce the most satisfying images. Ultra HD Blu-rays look beautifully colour-saturated with excellent contrast, and there's a really impressive level of HDR impact for a projector at this price point.
The TW9400's motorised lens shift, with +/-96.3% and +/-47.1% in the vertical and horizontal plains, respectively, is a superb feature, and a throw ratio of 1.35 to 2.84:1 and a zoom factor of 2.1 increase its placement flexibility. Up to 10 lens memory positions can be stored, with two of your own presets accessible directly from the nicely made backlit remote. This is useful if you regularly shuttle between different aspect ratios in a constant image height (CIH) setup, like 1.85:1 and 2:35:1.
Often overlooked is the wonderful 'blanking' feature in the menu, something normally found on more pricey models. You can manually black out pixels at the top, bottom and sides, and therefore prevent overshoot of parts of the image onto your black perimeter screen masking. For example, I save a 2.40:1 preset mode whereby I crop the sides in by a few pixels to fit perfectly onto my 2.35:1 screen.
As well as the aforementioned Natural and Digital Cinema picture modes, there are Dynamic and Bright Cinema for well-lit/ambient light conditions, and Cinema. Natural has the best colour accuracy out-of-the-box and is my default for SDR content while HDR titles benefit from the wider colour space of the Digital Cinema setting.
Although 3D is not for me, there are two modes for such content: 3D Dynamic and 3D Cinema. Glasses can be purchased as an optional extra. If tweaking is your thing,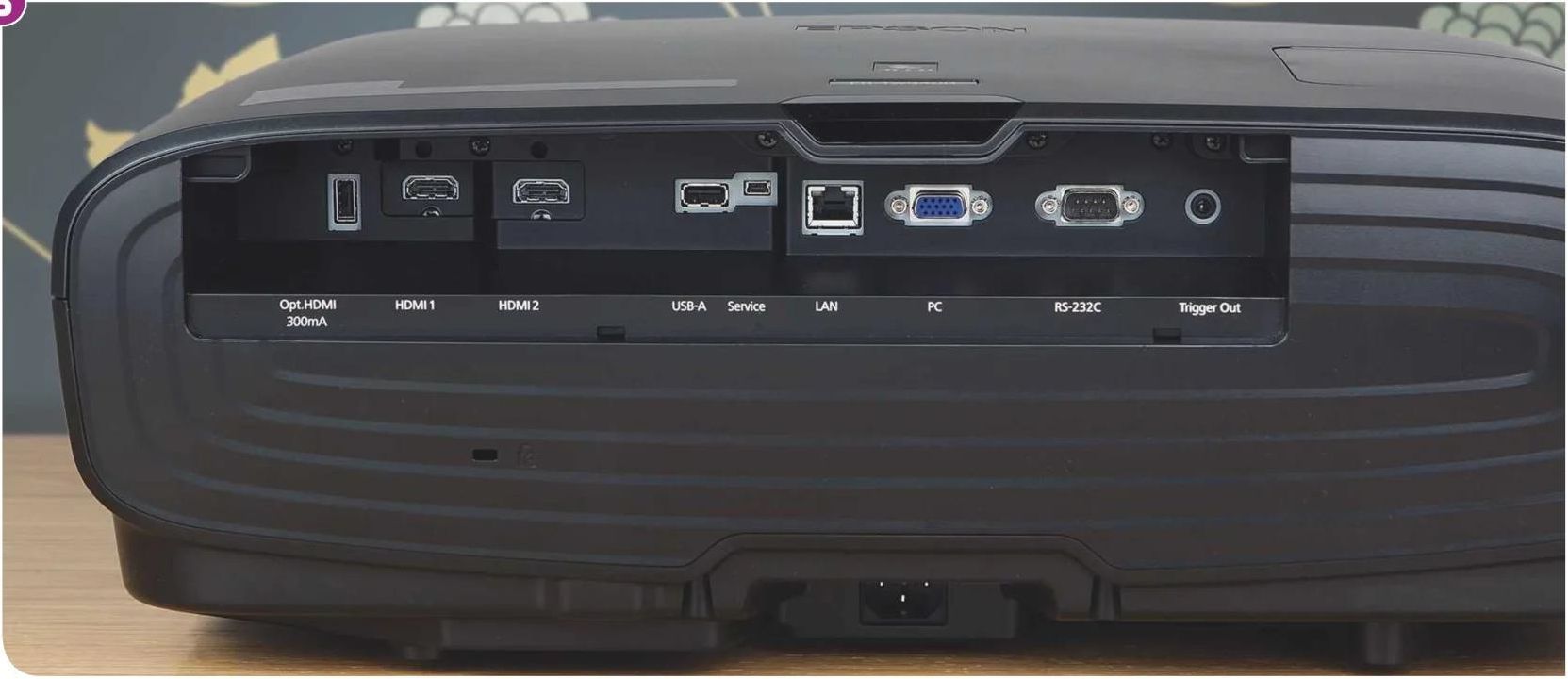 3. Rear-panel connections are generous, but note the HDMI inputs don't support 4K/120HZ
there is a vast array of settings and customisations to suit every whim. ISF Certification is standard, so a professional calibrator can tailor the image to your viewing environment.
What's not good about it?
In a perfect world, I would prefer it if the TW9400 had a smaller enclosure. While the matte black housing feels well-built, it's a beast at 52cm wide and 45cm deep and much larger than some of its predecessors. No doubt the addition of lens shift machinery and improved optics required the extra real estate. Keep in mind that an obvious competitor, BenQ's W5700, has a more manageable profile.
Another small gripe is the sometimes visible pixels from my seating position. At an approximate 45-degree viewing angle (perfectly acceptable for home cinema), pixel structure can suddenly rear its ugly head, particularly with action set against white or light grey backgrounds.
Should I buy it?
Epson's EH-TW9400 is a home cinema workhorse and won't be leaving my setup unless I can stump up the cash for one of JVC or Sony's native 4K beamers. It has plenty of image features and placement flexibility, and can produce a gorgeous picture. That all this can be achieved for £ is remarkable – Epson's PJ is right on the money.
Verdict
Recommended
Epson EH-TW9400 Review
Four years on, Epson's super-bright home cinema beamer is still a force to be reckoned with and the high benchmark for the sub-£ price category.
Add your review
Best Epson EH-TW9400 prices ?
MORE DEALS

See also TOP 15 projectors
SPECIFICATIONS
3D: Yes. Active shutter (glasses optional) 4K: PRO-UHD 4K Enhancement method HDR: Yes. HDR10; HLG CONNECTIONS: 2 x HDMI inputs (one with 300mA optical option); Ethernet port; 2 x USBs (one service only); 12V trigger; PC port; RS-232C BRIGHTNESS (CLAIMED): 2,600 Lumens CONTRAST (CLAIMED): 1,200,000:1 ZOOM: 2.1x DIMENSIONS: 520(w)x 193(h) x450(d)mm WEIGHT: 11kg
FEATURES: 3LCD projector; 5,000-hour claimed lamp life in Economy mode, 3,500 hours otherwise; 24dB max quoted fan noise; Wide Colour filter mode with DCI-P3 support; 1.35-2.84:1 throw ratio; vertical lens shift (+/- 96.3 percent); horizontal lens shift (+/- 47.1 per cent); 300in maximum image size; motorised lens and focus; 10-position lens memory; frame interpolation; ISF certification