Reviewed by Ren Alcantara
The sad reality is that through the course of any given day, I stare at my monitor longer than I get to stare at my girlfriend's breathtaking countenance.
This is not a sign of a greater love for my devices than for my girlfriend, but more an issue of having to work as a writer to get the bills paid. If you're anything like me though, you're likely in the same boat. Why then do we spend so much time staring at mediocre screens? ViewSonic, one of the leaders in display technology, has come to our rescue with the VX2776-SMHD IPS LED monitor, and while it's not as pretty as my girlfriend, it really is quite a monitor.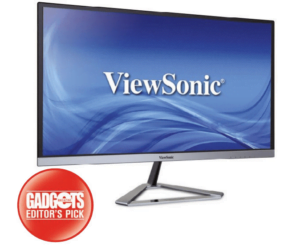 DESIGN
The VS2776 is a real looker. At 6.6mm, it's almost thin enough to shave with, and its borderless display, brushed metal accents, and simple, uncluttered looks make it stand out. Out of the box, you get the display itself, the gorgeous metal stand, and the accompanying power brick. It has some fine lines to it, and will be perfectly at home in the modern workplace. One little issue I had with the ultra-sleed design though, is that making it so didn't leave much room for a hinge at the back. While it can tilt a bit, it might not be enough of a change in angle to fit some people, or say, if you have an odd seat-to-desk height ratio. Some sacrifices must always be made in the name of beauty.
HARDWARE
The super-thin, bright IPS display is clearly the star of this show. The 27-inch screen is made to look much larger by the practically invisible bezel around it. The panel has a resolution of 1920×1080, and a maximum refresh rate of 60Hz. Controlling the features of the display are on-screen display buttons found at the bottom right-hand corner of the monitor. They're quite tiny, but not frustratingly difficult to press, though it's a bit of a crapshoot when you first try to access anything, since you won't know which button does what until you've brought the menu.
7Review earns Amazon affiliate commissions from qualifying purchases. You can support the site directly via Paypal donations ☕. Thank you!
The back of the monitor has your usual connectors. You have an HDMI port, a DisplayPort, and the old-school VGA port, as well as Aux in and a headphone jack, in case you don't feel like using the built-in pair of three-Watt speakers.
USER EXPERIENCE
A thing they got right, aside from the gorgeous display, was their menu system. Where every other monitor has a confused system of getting through the menus to access what would otherwise be useful features, this monitor is pleasantly intuitive. It's quite important in this particular display, because there's a lot going on in there. Aside from all the normal display controls, it packs some nice little goodies in there, with modes to reduce input lag, improve color reproduction, and even drop blue light levels to help reduce eye strain.
Even if you're one to quickly suffer from eye strain because of your screen, you're likely to find the right combination of tweaks to ease that problem a little. Once tuned and calibrated, it gives excellent, accurate colors, something creatives will appreciate along with the generous screen real-estate.
Gaming use is a bit of a mixed bag. While it does have a quick refresh rate, you can still see a bit of ghosting on the edges for titles with fast action.
It's more than serviceable of course, but if you're hardcore, and are used to smoother, you're likely going to notice. Is this a terrible thing? We don't think so. It's not really made to be a gaming display, and even then, the experience isn't terrible.
On maximum brightness, the screen is plenty bright, even for use in a well-lit room. We've tested other displays, of course, and while those can achieve higher levels, it's really not an issue, since maximum is likely too much anyway. Contrast, while not stellar, was also more than acceptable, and will only fail to satisfy the most discerning users. It's more than made up for by the experience of having such a large, bezel-less display anyway.
All told, I was quite happy with the monitor.
VALUE
While it's a gorgeous, functional monitor, some might find the price a little prohibitive. At about converted, people might choose to overlook the obvious strong points of the device, and fixate on the price, which is a shame. Would I buy it myself? Sure. I put a premium on space and design, and do my gaming on a laptop. Even with the weaker points, I think this isn't a bad deal.
SPECIFICATIONS:
Screen size: 27in
Native resolution: 1920×1080
Aspect Ratio: 16:9
Refresh Rate: 60Hz
Pixel density: 81.59ppi
Panel type: IPS matt
Response time (GtG): 4ms
Ports: HDMI / DisplayPort / VGA / Aux In & Out
Dimensions (including stand): 621x209x463mm
Weight (including stand): 3.71kg
PROS:
Gorgeous
Great Colors
Large screen for small footprint
CONS:
Might not be best bet for gaming
Price issue for some
BOTTOMLINE
It's pretty and it does the job. I think that's a winner in my book.
Celicious Privacy Lite 2-Way Anti-Glare Anti-Spy Filter Screen Protector Film Compatible with Viewsonic Monitor 27 VX2776-smhd
as of December 7, 2023 10:08 pm
Features
2-way landscape mode privacy screen protector film designed specifically for the Viewsonic Monitor 27 VX2776-smhd
Helps protect confidential data by narrowing the viewing angle to 30 degrees either side of the screen when the monitor is in landscape orientation
Matte surface helps reduce glare caused by ambient lite
Advanced silicone based adhesive backing bonds firmly to the surface of the screen without any air bubbles
Pack includes: 1 x Viewsonic Monitor 27 VX2776-smhd screen protector and application kit