Through the 5GHz barrier
Every processor chip is designed to run at a certain clock speed. But with a little bit of technical knowledge and some trial and error, it's often possible to increase that speed. It's all done by altering the BIOS settings for the PC's motherboard, and it can get you a faster computer for the same money, as long as you carefully monitor temperature to ensure the chip doesn't burn itself out. But just how far can you go?
This is a fast PC for the price, but beware overcooked chips
A few months back we tested a desktop PC from computer builder Palicomp that successfully overclocked an AMD Athlon X4 880K processor from 4GHz to 4.5GHz. The result was performance that beat many similarly priced models. Now Palicomp has overclocked Intel's new Kaby Lake i5-7600K, a much more powerful chip, from 3.8GHz to an eyebrow-raising 5GHz.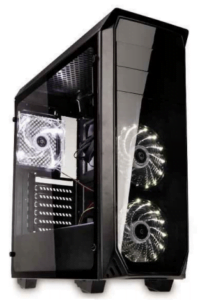 A few corners have been shaved to fit such an impressive piece of silicon into an PC, but nothing too drastic. The imposing Luminosity case, from Taiwanese maker Kolink, is a budget job with a plastic side window, but it looks the part, at least from a distance. Its twin front fans are studded with white LEDs and there's plenty of space inside. Two USB 2.0 and one USB 3.0 port are on the top at the front for easy access, with plenty more at the rear. However, there are no USB Type-C or Thunderbolt ports for high-speed external storage.
While a DVD burner is included, the only internal drive is a 1TB hard drive. An SSD would have made Windows 10 feel more responsive. You could easily add one (or even two) later, though, using the supplied mounting points and ultra-fast M.2 slots. The graphics card is also modest, but Palit's version of Nvidia's new GeForce GTX 1050Ti is fine for Full HD gaming, and its 4GB of memory should help to maximize performance in compatible graphics and video apps. The main memory is a generous 16GB.
So what about that rewed-up iS? Well, during our gaming session it proved a capable companion to the GPU, keeping everything running smoothly with the recorded temperature staying below the ideal limit of 60*C, give or take the occasional blip. Things didn't go so well when we fired up our suite of benchmark tests, which carry out a range of very intensive tasks (including photo and video processing) to push a system to its limits. The 5GHz Luminosity was only too happy to go to those limits, and then keep going until it crashed. Having replicated that result, we checked the logs and saw the CPU's internal temperature spiking through 100 degrees just before each failure. You don't need a degree in electronic engineering to see cause and effect here.
7Review earns Amazon affiliate commissions from qualifying purchases. You can support the site directly via Paypal donations ☕. Thank you!
Clocking down to 4.9GHz enabled it to get through our tests, and unsurprisingly the results were impressive. This really is a very fast system for the money. But we were still seeing readings over 90*C, which in regular use would cause throttling (when the processor slows itself down to avoid damage) and could shorten the life of the chip – by far the most expensive component in the PC.
Our benchmarks are deliberately taxing, and some users might never encounter the problems we did, but it is a concern. It's possible that the problem could be fixed altogether by installing a more effective CPU cooler than the small fan that came installed. We'll be interested to see if Palicomp chooses to do so, or simply reduces the overclock a bit, to create a more stable but still capable computer.
SPECIFICATIONS
5GHz i5-7600K quad-core processor • 16GB memory • 1TB hard drive • 4GB Palit GeForce GTX 1050Ti graphics card • 24x DVD writer • 6x USB 3.0 ports •4x USB 2.0 ports • Gigabit Ethernet port • 2x HDMI ports • 2x DVI ports • DisplayPort • Windows 10 • 525x245x510xmm (HxWxD) • Three-year warranty
VERDICT:
The overheating problem means we can't recommend it as supplied, but this ambitious overclock shows Kaby Lake's potential
ALTERNATIVE:
Chillblast Fusion Sentinel
If you'd settle for a slower i5-7400 processor, this also has a 1050Ti graphics card and adds an SSD