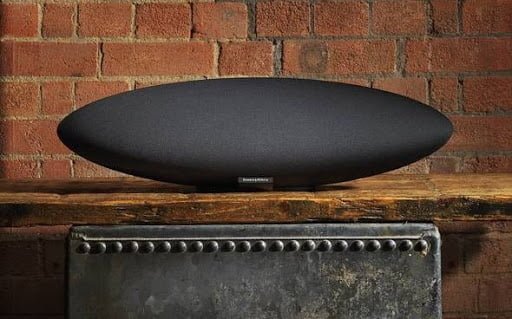 The debut of the iPod was so cataclysmic that it nearly hurled the planet out of orbit. "1,000 songs in your pocket" was a revolution on par with "perfect sound forever." And now it seems just as archaic. In fact, Apple no longer offers the iPod classic, and Bowers & Wilkins has quietly eliminated the iPhone/iPod dock from its formidable Zeppelin one-piece audio system. If you want to plug a wired device into the new Zeppelin Wireless, it'll have to go into the analog minijack in back—the servants' entrance, as it were. Only your wireless AirPlay and Bluetooth sources can waltz in the front door. The new Zeppelin is nearly an inch wider than the four-year-old Zeppelin Air, itself an update of the original Zeppelin from 2008. It shorn of its dock, it looks more than ever like a football—an American football, I should specify, since Mr. Bowers and Mr. Wilkins spoke with a British accent. On the front is a tab with LED indicators and buttons with backlit icons to pair Bluetooth devices and activate the aux input. On the back are the analog and Ethernet jacks; the USB jack is for service only. The composite video output has been eliminated along with the dock.
Inside, the single woofer has been enlarged from 5 to 6 inches, and the midrange pair (picking up B&W's FST driver technology from the 800 Series Diamond) has gone from 3 to 3.5. The tweeters (double dome aluminum) are still 1 inch, and rated power is still 25 watts per driver with the woofer getting 50. On the top are icon-shaped buttons for volume down, play/pause, and volume up. When using the Zeppelin for bedtime listening—in a completely dark room with a blackout curtain—I was able to adjust the volume by feel. As usual, I blocked the LED light pollution with a sock. (An insomniac has special needs that might be easily met with a dimmer control.)
Bowers & Wilkins went out of its way to reduce cabinet vibration. The fascia is 50 percent thicker and strengthened by glass fiber ribs. The manufacturer's computer analysis indicates that unwanted resonance, which once affected the entire enclosure, is now limited to a narrow area around the bass driver. While the AirPlay and Bluetooth wireless protocols are limited to 16 bits, the internal DAC upsamples all inputs to 192/24.
To connect to a network, use the Bowers & Wilkins Control app for iOS, Windows, or Mac. The alternatives are to type a numeric Internet address into a Web browser or just use Ethernet. Bluetooth does not require a network connection.
In play, the system defaults to the most recent input. That includes the analog input when a plug is inserted, though B&W hedged its bets by providing the front-panel aux button. The system accepts direct streaming from a device running the Spotify Connect app, though you'll need a Spotify Premium account to use it. A remote control is not provided—you can adjust volume on the unit or, more likely, in whatever portable device is running the unit.
This latest Zeppelin sounds more than ever like a pair of B&W speakers—minus the soundstage width provided by the usual physical separation, of course—with a clear-as-a-bell top end and detailed midrange. When the company treated the press to an A/B demo versus an older model, the midrange was notably more open and transparent. A bass bulge has been reduced, making the new model more suitable for use against a wall. With that boundary reinforcement, you get more bass, but in this case it's clean and tuneful bass.
7Review earns Amazon affiliate commissions from qualifying purchases. You can support the site directly via Paypal donations ☕. Thank you!
See also TOP 10 Subwoofers
I browsed the contents of my iPad mini retina, following an operating system upgrade that finally got AirPlay working. To my surprise, the standout was U2's Songs of Innocence, the free download iTunes loaded onto everyone's devices without permission. The first thing that grabbed me was the clever sculpting of The Edge's guitars, which the Zep delivered with loads of fascinating tone color. Once I was hooked, I stayed for the layering, which the Zep handled as any high-quality audio system would.
The DG release of Scarlatti's Sonaten, performed on guitar by Narciso Yepes, was another of my rare iTunes downloads. The exquisitely complex woody texture of the guitar and the rich ambience of the recording venue both shone through the lossy AAC encoding.
While the Zep benefits from lossless material, it isn't unduly merciless with the lossy kind. My Jorma Kaukonen obsession continued with various Hot Tuna albums. The acoustic numbers on Double Dose (ALAC) filled the room with lush hall ambience, despite the Zep's inherently limited stereo separation. More recent productions like Hot Tuna's Steady as She Goes (ALAC) and Kaukonen's Stars in My Crown (AAC) were airy and rhythmically nimble, with excellent imaging of the stringed instruments.
While not exactly light, the Zep is easy to carry around the home. It spent time on my dresser before I took it into the living room, where it moved around to face my desk, armchair, and exercise bike. It served every conceivable need from rambunctious foreground listening to relaxed background listening to almost subliminal bedtime listening and is one of the few wireless speakers I've reviewed that serves all purposes equally well.
The Bowers & Wilkins Zeppelin Wireless isn't the cheapest wireless speaker out there—and that's pretty much the point. It's for someone who would rather pay a little  more to get the best than buy something uninspiring to save a buck. It's still reasonably affordable, sounds gloriously musical, and without the dock, it looks more elegant than ever. I'd call it an excellent investment.
VERDICT
Bowers & Wilkins revises, revoices, and updates its popular highend Zeppelin speaker to eliminate the iPhone/iPod dock, focusing instead on wireless connectivity—and it sounds beter than ever.
SPECS
Drivers: 1 in aluminum-dome tweeter (2), 3.5 in glass-fiber-cone midrange (2), 6 in paper-Kevlarcone woofer (1)Power: 25 watts x 2 (tweeter), 25 watts x 2 (midrange), 50 watts x 1 (woofer)Inputs: Bluetooth (aptX, AAC, SBC), AirPlay (iOS 4.3.3, iTunes 10.2.2), Ethernet, 1-inch analog, USB for service onlyDimensions (WxHxD, Inches): 26 x 7.4 x 7.2Weight (Pounds): 14.3.
See also: Naim mu-so qb 2nd generation vs Bowers & wilkins zeppelin vs Sonos five