Dynamite dynamics that speak the truth from Triangle. John Pickford is impressed. Read our TRIANGLE BOREA BR03 Review.
Big sound from little boxes is a neat trick to pull off in loudspeaker design and that's exactly Triangle's aim with the Borea BR03 – a book­shelf speaker with the scale of a floorstander. Referring to them as little boxes might be slightly off though, as measuring 31.4cm x 20.6cm x 38cm (hwd), the BR03 is quite large for a standmount speak­er these days, so while Triangle market this model as a bookshelf speaker, you'll need a large shelf to prevent them toppling off.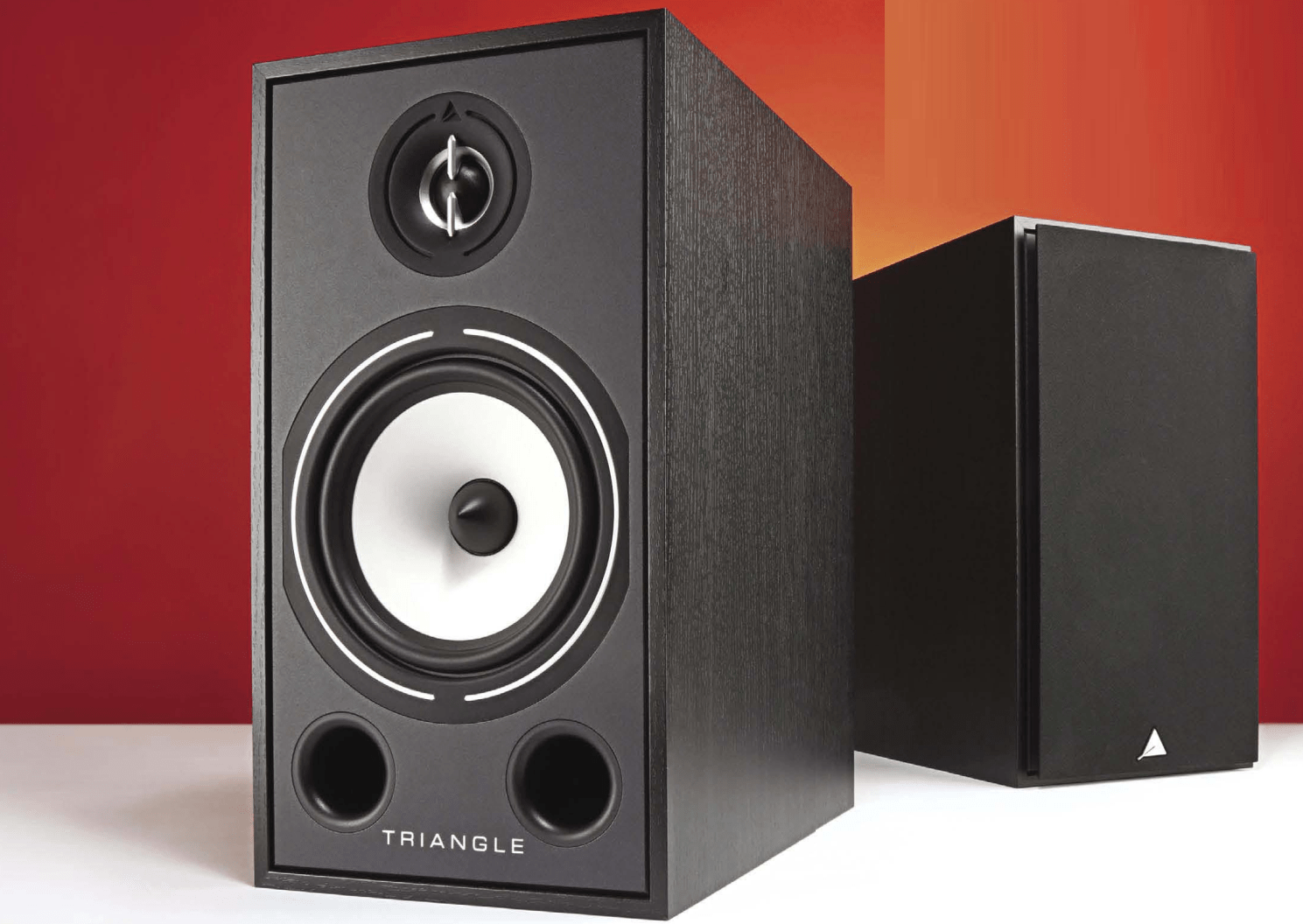 And though the front-firing ports might make them appear easier to place flush to a wall than rear-ported designs, they need a fair bit of free space behind them to give of their best – Triangle suggest a minimum of 40cm – so the idea of bookshelf placement becomes even more problematic. It's better then, to treat the standmount BR03s as medium­sized floorstanders in terms of placement and amount of floor space required.
Why not simply buy a floorstanding design then? Well, apart from the visual aesthetics, if you're not a fan of the additional cabinetry, standmounters offer the sonic benefits of allowing low frequencies to circulate freely beneath the base of the enclosure. As outstanding bass quality is a major factor of the speakers' overall performance, the absence of extra boxy contribution is unlikely to be missed.
At one pound shy of £, the Borea BR03 is hardly entry level, however it's almost the first rung on the ladder of Triangle's product range. I say almost because the BR03 is the larger of two standmount models in the Borea range, which also includes three floorstanders as well as a centre channel for those who go in for surround sound.
Handsomely proportioned, the conventional foursquare box looks sleek and elegant with grilles attached yet has a 1980s-style retro-futuristic vibe with drivers exposed. The white 16cm mid/bass driver is visually striking, especially set in the black baffle of the ash-finish review pair, reminding me of Yamaha's legendary NS10 monitors I've encountered in countless recording studios. It incorporates 'trickle-down' technologies developed for the company's more upmarket Esprit EZ range, namely a cellulose paper membrane with no additional surface treatment.
7Review earns Amazon affiliate commissions from qualifying purchases. You can support the site directly via Paypal donations ☕. Thank you!
See also TOP 10 Subwoofers
Even more visually striking is the 25cm silk dome tweeter, which benefits from Triangle's proprietary Efficient Flow System (EFS), making use of a phase plug to aid high frequency dispersion and reduce directivity. This type of design is more common in modern professional studio monitors, which often employ a diffusion controlling waveguide surrounding the HF driver to create a wider sweet spot.
A magnetically attached grille is provided, which snaps satisfyingly in place and is thin enough for the drivers to be partially visible while usefully obscuring the twin front ports, which add nothing to the front baffle's appearance. Grilles-off is the norm for serious listening with most designs, yet that's not necessarily the case here. Though Triangle don't insist the BR03s are best heard with grilles attached, as per BBC type monitors, I found grilles-on presented a better tonal balance.
SOUND QUALITY
Without grilles attached, treble was slightly over exposed, elevating hi-hat cymbals for example and making Kate Bush's vocals even frostier than usual. Some listeners – those who favour 'detail' above all else – may prefer this presen­tation, however the smoother tonal balance the grilles provided gave a more natural and even sound with gorgeous depth across all types of music.
On or off, the grilles made no difference to the speaker's superb dynamic expression, which allowed each musical part to remain
"superb dynamic expression allowed each musical part to remain distinct"
distinct beyond tonal or spatial separation. I noticed this listening to The Beatles' Drive My Car, from the 2009 pure analogue mono vinyl remaster of Rubber Soul. At the beginning of the guitar solo, the engineer subtly increases the level of the backing track, which, I guess, you're not supposed to notice. It does go unnoticed in many situations, however the dynamic drama the BR03s express meant I could visualise the engineer making his fader adjustment.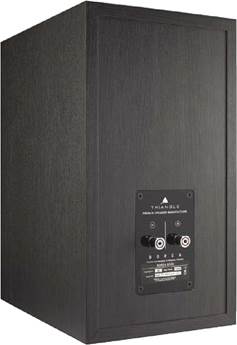 A single set of nicely engineered speaker terminals keeps things simple. No bi-wire malarkey here.
My afternoon listening to the Fabs also highlighted the accuracy of the speakers' bass response. Penny Lane, like most 60s pop, doesn't have much in the way of deep bass yet there is one note of bowed double bass (as the banker sits waiting for a trim) that's often masked by speakers with artificial lift in the 100Hz region. The BR03s even-handed approach to low frequencies means that when no deep bass is present in the recording, you hear none. Yet when true bass appears, you hear it without artifice – no boom, no thump, no waffle.
CONCLUSION
Deserving of good quality electronics upstream, I happily drove these (reasonably) efficient speakers with both my 70W Naim Nait XS3 and 14W from each of my ancient Leak TL12 Plus monoblocks. I could live with these speakers, which is more than I can say for most.
Fans of the 'loudness button' approach to loudspeaker balance – sizzling treble and one- note bass – are better served elsewhere. Lovers of naturally recorded music will appreciate the BR03's honesty, while pop music is reproduced as recorded, warts 'n' all. These are superb speakers deserving of your attention.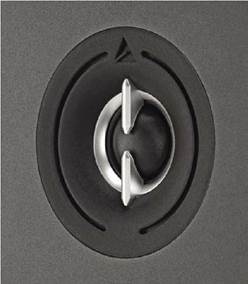 The EFS silk-dome tweeter is par­tially horn loaded and powered by a neodymium motor coupled to a cooling system for improved power handling.
MEASURED PERFORMANCE
With grille off third-octave pink-noise analysis shows there is some lift in treble but it is small enough at +2dB up to 9kHz to not be intrusive subjec­tively. The tweeter peaks up by +3dB maximum which is not ideal and will ensure some brightness, but the ear loses sensitivity fast above 7kHz. The grille reduces this usefully by 2dB or so to result in a near-flat response – as our published analysis shows. So for accuracy grille on, but for extra treble grille off.
Lower down the frequency scale there is no lift in output to add warmth, a high resolution chirp analysis showing smooth response. With no upper-bass lift the BR03 is best used in a small-to- medium sized room for 'room gain' to add some weight.
Bass extends smoothly down to 60Hz, as expected from a small volume cabinet, the port (red trace) adding output around 53Hz to allow the speaker to reach down to the common lower limit of 40Hz. In all then, a wideband and smooth loudspeaker, more accurate than most.
Measured using pink noise overall impedance was 6 Ohms, the bass unit being 4 Ohms as is now common. Sensitivity was high at 88dB from one nominal Watt (2.8V) of input. Consequently, the BR03 needs no more than 60 Watts to go very loud and amplifiers down to 30 Watts will suit.
The BR03 is relatively accurate by current standards, where so many designs have overly strong treble. High sensitivity makes it suitable for low power amplifiers too. It measured very well. NK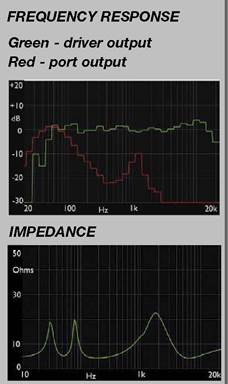 TRIANGLE BOREA BR03
OUTSTANDING – amongst the best.
VALUE – keenly priced.
VERDICT
TRIANGLE BOREA BR03 Review
Well-balanced, honest and easy to drive, sounding bigger than they look.
PROS
Dynamically expressive
Smooth tonal response (grilles on)
Engaging and involving
Superb depth of image
CONS
Explicit treble (grilles off)
Single wire only
Add your review
Best TRIANGLE BOREA BR03 prices in the US ?
Best TRIANGLE BOREA BR03 prices in the UK ?
MORE DEALS

See also TOP 10 Subwoofers
Specifications
| | |
| --- | --- |
| Product Name | Triangle Borea BR03 Hi-Fi Bookshelf Speakers (Walnut, Pair) |
| Number of drivers | 2 |
| Number of ways | 2 |
| Sensitivity | 90 dB/W/m |
| Frequency range | 46 Hz u2013 22 KHz (+/- 3 dB) |
| Power handling | 100 W |
| Nominal impedance | 8 u03a9 |
| Minimum impedance | 4,2 u03a9 |
| High frequency roll-off | 3600 Hz |
| Dimensions (inch) | 8,11 x 14,96 x 12,36 |
| Construction | Aluminum |
| Compatibility | 12 to 18 AWG |
| Color coding | Red/Black |
| Pack quantity | 5 pairs (10 plugs in total) |
| Conductors | Copper clad aluminum 16 AWG |
| Plug type | Gold-plated speaker banana plugs |
| Strand count | 26 x 0.254mm strands |
| Length | 100 feet |
Triangle +44 (0)1282 776776
www.trianglehifi.com/en