With its AMT ribbon tweeter, Fink Team's KIM loudspeaker delivers sweet sound thinks Noel Keywood. Read our FINK TEAM KIM Review.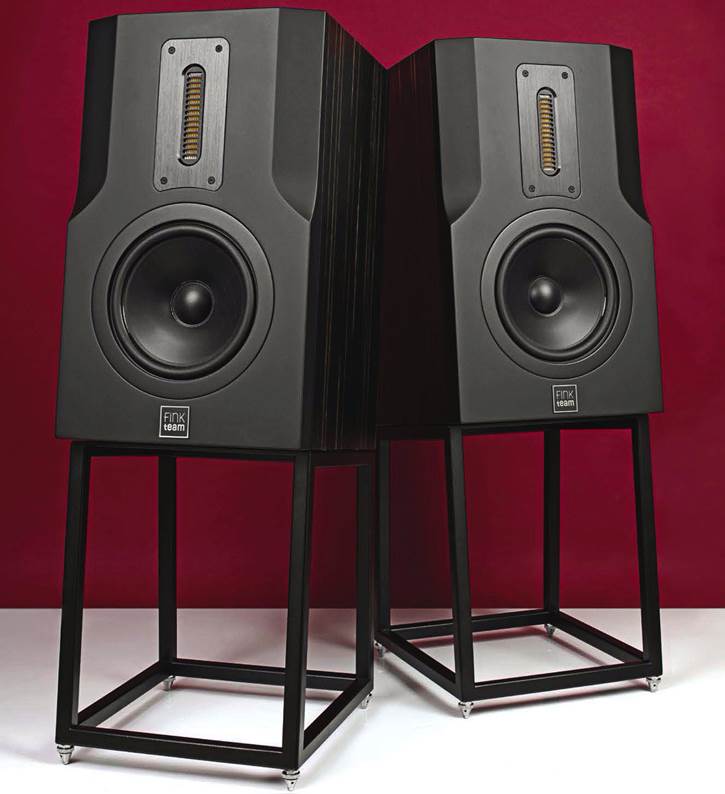 TIhink: ribbon tweeter. Domes measure well but my ears tell me ribbons sound better. Others think likewise: they are slowly creeping into main stream loudspeakers. Not so much in the UK, more in Germany where the ribbon appears to be popular, with companies such as Quadral for example, who make their own. Unsurprising then that German designer Karl-Heinz Fink should use them in his Fink Team 'speaker range, including the recent KIM I am reviewing here, That's quite a price tag, so you might hope for something special here.The press info doesn't say much about basic design ethos but I designed a loudspeaker with a ribbon tweeter in the early 90s and know the trade-offs, Graham Bank of Celestion produced a large, wide range ribbon for the Celestion 3000 loudspeaker back in the I 980s and Gilbert Briggs, founder ofWharfedale, interestingly attributes the drive unit to Schottky and Gerlach, developed by Siemens, who patented it in I 923 no less – so this type of driver has a German background.
At this point buffs of audio history may well be getting irritated – the KIM doesn't use a ribbon, it uses an Air Motion Transformer (AMT) – but this is a folded ribbon developed by Dr Oscar Heil, so a ribbon variant. With more surface area.AMTs typically run lower than ribbons and that is what Fink Team leverage here.The idea is
to cover more of the audio band with the ribbon so it makes a greater contribution to the overall sound. All of which is to explain that the AMT ribbon tweeter of KIM contributes strongly to sound quality, Quadral make their own, I said earlier.Why do that? Well, the AMT in KIM comes from Mundorf of Germany who are well known for their wide range of AMTs, But prices are breathtaking at Euros 580 for the Concert I 00X for example, which looks much like the unit in KIM.Add in the usual multipliers for manufacturer and dealer margin and these two items account for a big chunk of the KIM's price. We're talking around Euros 5k of the retail price here – half the price of the loudspeaker. That's why Quadral make their own!
Fink Team confirmed to me the unit was from Mundorf, but modified to meet their specifications, So when listening to KIM this gave me a handle on design ethos, but also an understanding of retail price. Make what you will of the issues of course,This is a specialist loudspeaker that uses expensive AMT drivers, instead of a dome tweeter that comes in at less than 1/1 0th the price.
Covering bass and midrange is an 8in paper cone drive unit with rubber surround. It has a central dust cap to radiate higher frequencies, as per usual. It is acoustically loaded by a rear port.
7Review earns Amazon affiliate commissions from qualifying purchases. You can support the site directly via Paypal donations ☕. Thank you!
See also TOP 10 Subwoofers
The cabinet is solidly built with internal bracing and double-layer internally damped acoustic panels to eliminate cabinet colouration. The cabinet measures 500mm high, 300mm wide and 3 15mm deep, but comes with integral stands that take height to 860mm.Weight is quoted as 25,1kg and the'speakers certainly feel solid.
Connection is through monowire terminals and there are three-position treble level and bass damping controls at rear. During tests the treble control had no measurable affect and the bass damping control minimal affect, position I giving -0,5dB less bass than position 3, Karl-Heinz Fink told me that the treble control was meant to be subtle, compensating for "cable differences". With the bass damping control Karl told me that internally the crossover network needs a 0,5 Ohm resistor for correct alignment in conjunction with low output impedance (high damping factor) transistor amplifiers – position I on the switch. At position 3 resistance is lowered by 0,25 Ohms to better match high output impedance valve amplifiers that insert their own resistance.
That's the theory. In use the bass cone is relatively undamped (acoustically) at subsonic frequencies, causing it to move substantially when playing modern (i.e. flat) LPs and the damping control did not affect this, I used the warp filter of our Pro-Ject RS2 phono stage to avoid LF cone movement that became large, if only at high volume.This is not an issue with digital, where there's rarely any energy below 20Hz analysis shows,
SOUND QUALITY
The KIMs were connected to our Creek Voyage i20 amplifier through Chord Company Signature Reference cables. Signal source was a MacBook Pro feeding in CD, hi-res and DSD to the i20's AKM digital convertor, I run the laptop from battery in this circumstance because measurement reveals earth currents can degrade digital dynamic range, but Mike Creek tells me the i20's digital inputs are all isolated to avoid such problems – an interesting aside!
Also used as a signal source was ourTimestep Evo modified Technics SL-I2I0 Mk2 Direct Drive turntable with SME309 arm and Audio Technica OC9X SH MC cartridge connected balanced to a Pro-Ject RS2 phono stage, itself connected balanced to the Creek amplifier through Chord Company Epic cables – all-balanced LP for total silence and a clean, clean sound.
In basic essence the KIM is full bodied in presentation and with a sweet, natural sense of unforced clarity,Where I mentally complain to myself about harsh treble from so many loudspeakers, the AMT
driver of KIM delivered highs in their full glory without harshness; it's seemingly not a bright loudspeaker in balance but it is well lit.
There's plenty of low end heft, allowing KIM to deliver my standard CD test tracks with calm ease: the stabbing synth kick drum that dominates Safri Duo's Samb Adagio had thunderous strength, powering this track along nicely. Less dry than many modern loudspeakers, KIM had the old fashioned quality of a "good big 'un", brought up to date with modern materials and construction to be svelte and composed, even when pushed hard.
What about bass damping?
The deep subsonic rumblings these speakers revealed with Samb Adagio were slightly more controlled with position I than position 3 with the iA20 – but differences were small quite frankly. I suspect many would prefer position 3.
Where I heard subsonic rumblings and eerie low events that surprised me, there were more surprises higher up the band.With Diana Krail's Narrow Daylight (DSD64) plucked guitar strings shimmered in front of me more powerfully than I am used to.Think alive and vivid. Also not harsh, just alluring in tonality. Here MundorfsAMT tweeter showed just why it is so expensive and why a tweeter so good can be paraded without fear.
Ribbon tweeters are known for pin sharp stereo imaging and here again the KIMs were superb, the Minnesota Orchestra's Dance of the Tumblers, from Korsakov's Snow Maiden (24/96) placing horns and strings with precision on the sound stage.They were lively too, orchestral sections jumping out with vigour when it was their turn to lead. Add in rumbling lows from timpani and there was nothing not to like.
Where the bass damping control was subtle in effect, the treble level control made no difference I could hear. I double checked with white noise that will reveal minute differences – nothing. FinkTeam say the impact is slight and may typically be used to balance cables. So this control does not raise or lower treble level by perceptible amount, unlike Quadral's treble level control allied to their ribbon tweeters for example.
With LP not a lot changed.The KIMs looked right into Something from Abbey Road (2019 re-master), with deep insight and a good sense of atmospheric depth captured by the microphone in front of George Harrison. Great sense of stereo too, the AMT making clear a sound stage the Fabs could be proud of. With plenty of low end power our new Abbey Road re-master when played balanced was quieter, more natural and certainly more grippingly dynamic than digital – something the KIMs with their insight made clear. However, the fundamental sound balance did not change, remaining big-bodied.
There was enormous grunt behind drums in Sing, Sing, Sing from the Syd Lawrence Orchestra on Big Band Spectacular, whilst the low end drone of synth in Alison Goldfrapp's Lovely to CU moved the room in suitable fashion.
As the tracks rolled by I was very aware KIM is a highly tuned, sonically optimised design. Reminded me of hauling standard electrolytic capacitors out of a valve amplifier and installing Black Gates. Oh! When you use highly tuned audio parts the improvements are gently beautiful and this is the quality I heard with KIM – and that's what you pay for. Definitely a lovely listen.
CONCLUSION
With a big bodied sound underpinned by powerful subsonics the KIMs were nothing other than impressive.Add in enormous
"I heard subsonic rumblings and eerie low events that surprised me
insight from the AMT tweeter and the final result is well worth hearing.This is a fine loudspeaker, that's for sure, a class act, if an expensive one.
MEASURED PERFORMANCE
A near-field frequency response analysis of the Fink Team KIM shows the bass/ midrange unit works from 60Hz up to 2kHz where it crosses over to the large AMT ribbon tweeter. The latter reaches up to 12kHz before output starts to fall, covering more of the upper midrange than most AMTs. It's size gives it lower reach but smaller ribbons reach higher.
Output of the 'speaker at low frequencies is slightly raised relative to the midband, giving a sense of
FREQUENCY RESPONSE
Green – driver output Red – port output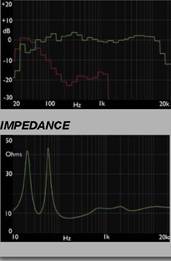 warmth and heft to the sound. Similarly the tweeter lifts by around +2dB above 3kHz to make its output obvious. The treble lifl/cut control on our review sample made no difference at all. The relative strength of output from the tweeter was also height dependent, which is why the cabinet tilts back on its stand I suspect.
The bass damping control had little affect, position 1 giving fractionally less (-0.5dB) bass output than position 3 (with short burst sequences). The d.c. resistance measured 6 Ohms at 1 and 5.5 Ohms at 3, again small changes.
The rear port is tuned to 38Hz our impedance analysis shows (by its dip) and the height of the trace (above 10 Ohms) shows relatively high impedance at low frequencies, overall impedance measuring 10 Ohms with pink noise.
This is much higher than the 6 Ohms common nowadays, resulting in a low- ish sensitivity figure of 36dB from one nominal Watt (2.3V) of input. Amplifiers of 60 Watts or more are needed.
The Fink Team KIM measures well, showing distinctive traits that relate to use of a large AMT folded ribbon tweeter with a bass unit tuned for obvious presence. The controls have minimal affect. NK
OUTSTANDING – amongst the best.
VERDICT
FINK TEAM KIM Review
Full bodied and powerful, with delicious highs. Well honed.
PROS
Strong low bass
Big warm sound
Clear detailed treble
CONS
A tad tubby
Controls have minimal affect
No bi-wire
Add your review
Best FINK TEAM KIM prices ?
MORE DEALS

See also TOP 10 Subwoofers
Kog Audio
+ 44 (0)24 7722 0650 www.kogaudio.com