Jon Myles is impressed by Thonet & Vander's Kugel Bluetooth loudspeakers. Read our THONET & VANDER KUGEL Review.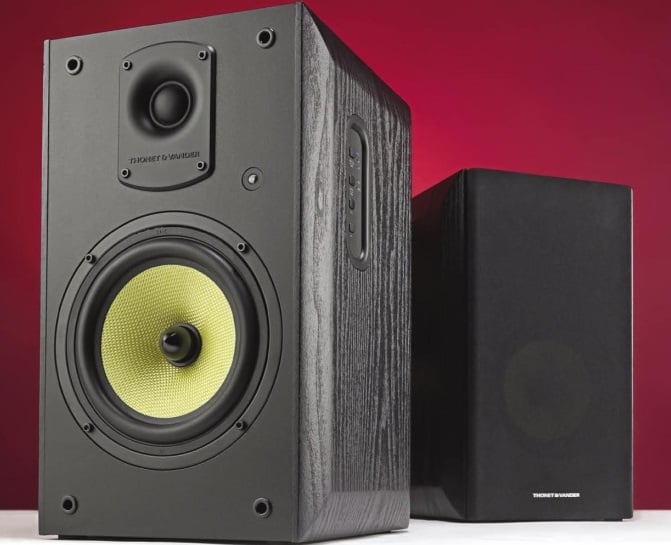 Thonet & Vander might not be a household name in the UK but they make a range of interesting products rang­ing from portable Bluetooth loudspeakers to soundbars and high-end equipment. This German company majors on a natural, smooth sound, with ease of connectivity a major factor.
Hence the Kugels – a pair of active loudspeakers giving 70 Watts per channel – so all you need is a source for a complete system. As for sources they'll accept Bluetooth and have a pair of RCA inputs, as well as optical digital S/PDIF.
Driver-wise these 'speakers feature a built-in 5.25 inch mid/bass unit made entirely of Aramid fibre to enhance bass, as well as a one inch (25mm) silk dome tweeter for high tones. The suspension ring of the mid/bass unit is made of highly flexible rubber, allowing large displacement and accommo­dation of strong bass beats. The bass reflex port system at rear increases the low-end response of the bass/mid- range unit, optimising efficiency and performance at low frequencies – as do all reflex ports of course.
The right loudspeaker contains all the controls and is connected to its partner by a supplied screw-in lead. Operation comes from a supplied remote – which is my one real gripe. It's about the size of a credit card and contains all the functions – unfortu­nately though it fails to indicate which input is in use. Some small LEDs above the input selections would have been useful, but they do exist on shadow controls on the loudspeaker itself.
7Review earns Amazon affiliate commissions from qualifying purchases. You can support the site directly via Paypal donations ☕. Thank you!
See also TOP 10 Subwoofers
Still, that's a minor gripe compared to the simplicity of the Kugels. Unbox them, plug the right hand 'speaker into a power outlet and then use the supplied chord to connect the pair before switch-on.
The supplied grilles were acoustically neutral. I invariably audition loudspeakers with the grilles off on the basis that they can colour the sound but with the Kugels, grilles on or off seemed to make no difference so I left them on.
Another feature is a set of tone controls for altering bass and treble. They're subtle but do have an audible effect that can be set according to personal choice.
The one thing I couldn't help notice is the colour of the main mid/bass driver – a vivid yellow that, to my eyes, was a good reason to keep the grilles attached!
I positioned the Kugels on a pair of sturdy stands and – as they are mainly positioned as Bluetooth loudspeakers despite the RCA/ digital inputs – relayed music from an iPhone 8 Plus. Pairing was quick and easy and stayed robust throughout, with no drop-outs throughout hours of use.
Sound quality
Immediately it was clear that these loudspeakers elevate Bluetooth playback to a different level. Forget the somewhat closed-in, occasionally rattly sound of some lesser Bluetooth 'speakers – the Kugels were more expansive and hi-fi sounding. In fact they put me in mind of good studio monitors.
Much of this can be attributed to the specially-designed reinforced wooden cabinet that is solid and sturdy, allowing the drivers to do
their job unimpeded.
With New Order's 'Blue Monday' I could hear every nuance of the track. Dialling in bass boost, Peter Hook's bass line gained a sense power – without being overly dominant. The internal amplifiers were crystal clear and there was wide dispersion to the sound.
It was the same with Mahler's 4th by the San Francisco Symphony orchestra. This is a powerful piece yet the Thonet & Vanders captured all its glory. Instruments were precisely placed with good weight and height – and with an air of separation rarely displayed by Bluetooth loudspeakers.
The main driver does an excellent job. In truth – due to its size – the bottom octaves of James Blake's shuddering 'Limit To Your Love' were missing but the spirit of the song remained intact so it didn't seem compromised. Switching to the RCA inputs driven by an Exposure XM CD player the presentation was much the same – if with a touch more refinement.
On 'Wonderwall' by Oasis, vocals were well projected into the room while acoustic guitar had bite and realistic decay. Pushing volume up, the 'speakers went loud with little input (see Measured Performance for full details). That's what makes the Kugel ideal as a Bluetooth loudspeaker for use with mobile phones, tablets, laptops and desktop computers.
As such these are probably the finest Bluetooth loudspeakers I've heard – easily matching pure hi-fi loudspeakers of the same price. They are truly different, offering convenience allied to good sound quality and easy set-up.
Conclusion
The Kugels by Thonet & Vander take Bluetooth loudspeakers to a new level. They are handsomely built but more importantly sound authoritative and expansive. The tone controls also allow users to tailor the sound to their taste. I can't help but think anyone would be impressed.
MEASURED PERFORMANCE
Via its Aux input, frequency response of Kugel measured flat from 60Hz to 20kHz our third-octave analysis of pink noise shows (green trace), measured on- axis. The grille did not affect this result so can be used on or off. Moving the
FREQUENCY RESPONSE
Green – driver output
Red – port output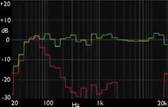 BASS LIFT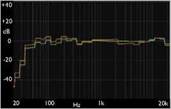 measuring microphone to 30degrees off-axis laterally changed response little too, again grille on or off, so the Kugel is consistent.
Vertical dispersion was reasonable, the large fabric dome tweeter being too far from the centre of the bass/midrange unit for no affect to be apparent, so listening height is best with ear roughly at the centre of the speaker.
The tone controls subtly trim level in five steps up or down, giving 3dB lift/cut maximum. Thonet&Vander have retained the speaker's basic accuracy here. Pressing Reset pulls changes back to zero.
At full volume the Kugel needed 150mV input (pink noise) into the analogue Aux input to produce a loud 90dB at one metre, so they are sensitive and can be run from a mobile 'phone or portable player.
These are well engineered loudspeakers in measured terms, being reasonably accurate but usefully adjustable.
OUTSTANDING – amongst the best
VALUE – keenly priced.
VERDICT
THONET & VANDER KUGEL Review
Bluetooth loudspeakers at their best. Demand to be heard.
PROS
Bluetooth
ease of use
looks
RCA inputs
tone controls
Add your review
Best THONET & VANDER KUGEL prices ?
MORE DEALS

See also TOP 10 Subwoofers
Thonet & Vander www.thonet-vander.com