Best known for its Silverback speakers, System Audio has a newbie in its range of compact saxo floorstanders. Read our System Audio Saxo 40 Review.
Although spanning only three speaker 'families', System Audio's range aims to offer a solution for every eventuality. The Danish manufacturer, based in Roskilde, west of Copenhagen, makes on-wall models, including the Legend 7.2, AV-specific centre channel enclosures and subs, plus various standmounts and floorstanders. Many can be bought in active Silverback guise (or upgraded at a later date), their potential then expandable via DSP 'RAM tweaks' and a WiSA-based wireless streaming hub. There is, to put it mildly, a lot going on.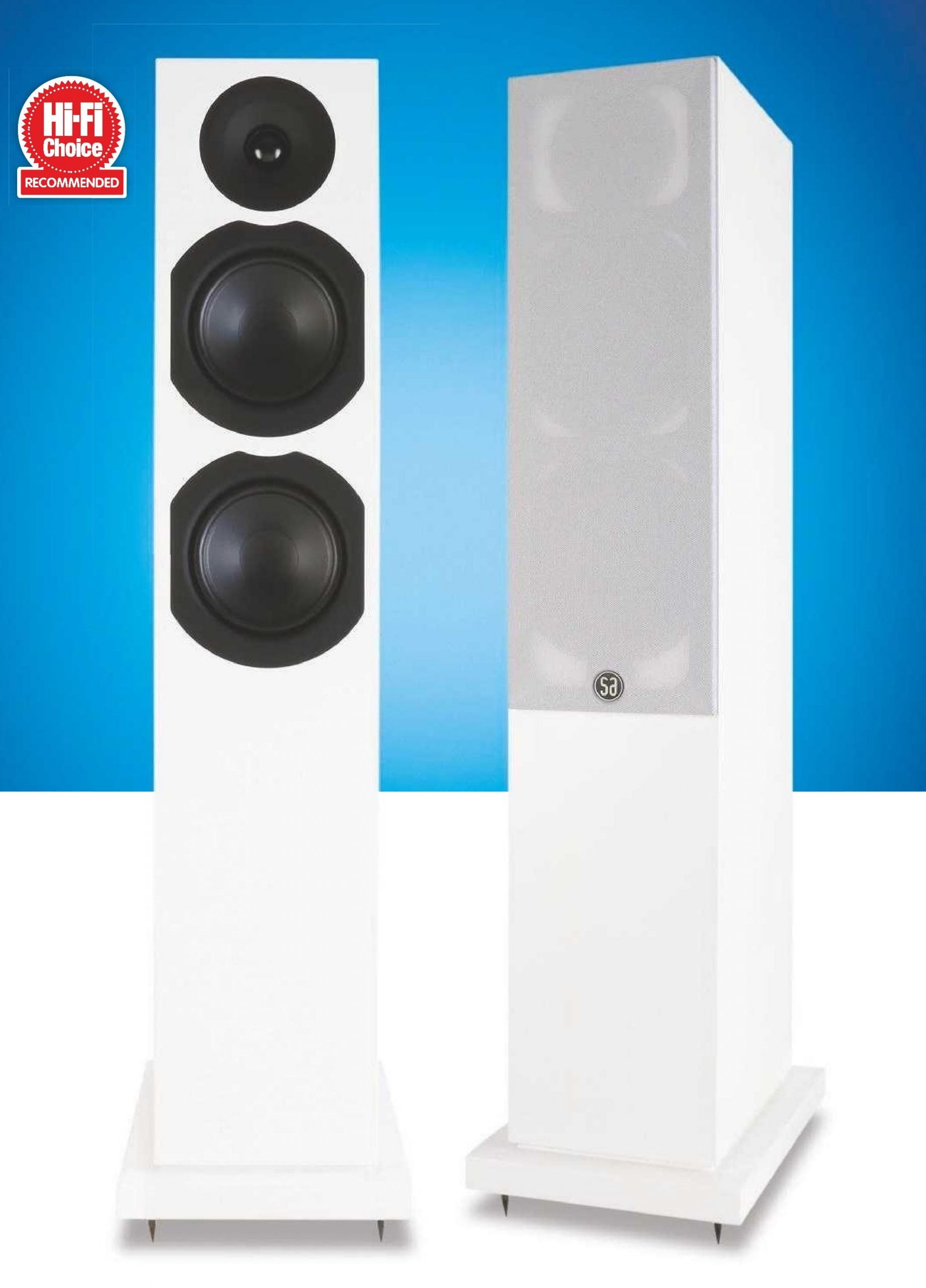 Even the affordable, passive saxo 40, tested here, feels a little unusual. A two-way floorstander, its mission statement is: "big sound without big speakers". We've heard this idea parroted before by many brands, but SA appears keen to take it to the extreme, resulting in a speaker that measures a meagre 85cm high, not to mention just 16cm wide, excluding its plinth stand. It's by far the most diminutive tower speaker that's ever graced our listening room, albeit part of a new breed of down-sized models that want to bridge the divide between standmount and floorstander.
It's best to remember that System Audio has left out the word 'relatively' when discussing that big sound. The moment you see the saxo 40 and its £ price tag, you'll realise it isn't going to challenge larger (and costlier) rivals when it comes to soundstage scale, output or full-range ability. Temper your expectations, however, and you might find it's just the ticket in a room where space is limited.
PRODUCT
System Audio saxo 40
ORIGIN
Denmark
TYPE
2-way floorstanding loudspeaker
WEIGHT
12.2kg
DIMENSIONS (WxHxD)
165x845x250mm
FEATURES
25mm soft dome tweeter
2x 40mm paper mid/bass drivers
Quoted sensitivity: 89dB/1W/1m
DISTRIBUTOR
Karma-AV Ltd
WEBSITE
system-audio.com
karma-av.co.uk
Adding to its discreet charms is a clean, unobtrusive – and, dare we say it, Scandinavian – aesthetic. The saxo 40 is available in white or black satin finishes (given multiple polishes for a nice sheen), with all-black driver materials/fixings and no branding on the cabinets. The supplied grilles, in both black or white, allow you to best match your decor, and carry an 'SA badge. The cost-conscious saxo range loses the gentle curves of the legend models and the outrigger feet, but otherwise feels cut from the same hand-built-in-Denmark cloth.
There are nine other models in the family, with the top spot taken by the larger, three-way saxo 60 (£). Below this is another floorstander, the saxo 50 (£), which approaches the compact speaker idea from another angle, measuring a more conventional 105cm high but an ultra-slim 13cm wide. Filling out the rest of the range are bookshelf, centre, on-wall and active models.
7Review earns Amazon affiliate commissions from qualifying purchases. You can support the site directly via Paypal donations ☕. Thank you!
See also TOP 10 Subwoofers
RECOMMENDED VIDEOS FOR YOU...
The saxo 40 features a pair of 140mm treated paper mid/bass drivers, working together across the same frequency range and with output bolstered by a rear-facing bass-reflex port. A 4th-order crossover ties them to the T25DXT Ti tweeter, a 25mm soft dome design framed by a patented 'DXT' acoustic lens/waveguide to improve high-frequency directivity.
The saxo 40 gives a lively, dynamic sound you might not be expecting
Rated sensitivity is 89dB, and nominal impedance is given as a broad 4-8ohm. Taken at face value, these figures might suggest an easy enough drive for an amp although System Audio does also say the speaker should be used in a: "good music system".
Meanwhile, installation is as easy as it gets for a floorstander. The slim plinth stands are pre-attached, which both saves you time with Allen keys and screwdrivers and gives you something handy to grip on to while you lift them into position (not that they are in any way heavy, weighing a moderate 12.2kg). Rubber feet and spikes are supplied.
Where to put them? Those rear-firing ports might give you pause about siting the saxo 40 close to a rear wall, even if the recommended distance is 5cm to 35cm. That said, this is one loudspeaker that clearly benefits from some boundary gain, and the installation we end up with gives them 20cm clearance. System Audio also recommends a distance between the cabinets of 2.5m to 3m. In the end, we plump for the minimum, finding this – plus toe-in – yields the best central image.
Many will admire the saxo 40 for its bijou construction, but wonder if its size limits its performance and when it comes to soundstaging, it does to a certain degree. However, System Audio's double contingent of mid/bass drivers means it never sounds small or shy in any way – it feels like it has an awful lot of heave and ho in reserve considering its price tag. Indeed, its bass handling is often the star turn, even while the saxo 40 has been tuned to deliver a top end that sparkles without sounding overly bright or brittle in any way.
Give the speaker pairing a push from a reasonably proficient amplifier (there's definitely not the feeling of valve-friendly sensitivity here) and you'll be rewarded with a lively, dynamic sound that you might not be expecting. Such a performance is apparent with Arch Enemy's 2017 album Will To Power, which finds the Swedish metal group in typically assured form, mixing ferocious blast beats with euphoric melodies and plenty of distortion. Set Flame To The Night requires the saxo 40 to separate the twin guitar parts – and wailing police siren in the background – to keep it listenable as the mix thickens. It then leaps gleefully into The Race, slamming out the million-miles-per-minute drums with appreciable heft and capturing the snarl of Alyssa White-Gluz's almost impenetrable attempt at vocals.
This isn't a piece that requires much in the way of subtle imaging or tonal acrobatics. Mike Oldfield's Cochise from The Best Of: 1992-1993 via Tidal MQA on the other hand, is all about the variances in his guitar tones, the sedate pacing and ethereal backing track. Notes are left to ring out, and the saxo 40 does a decent job of intimating an open, airy mix. We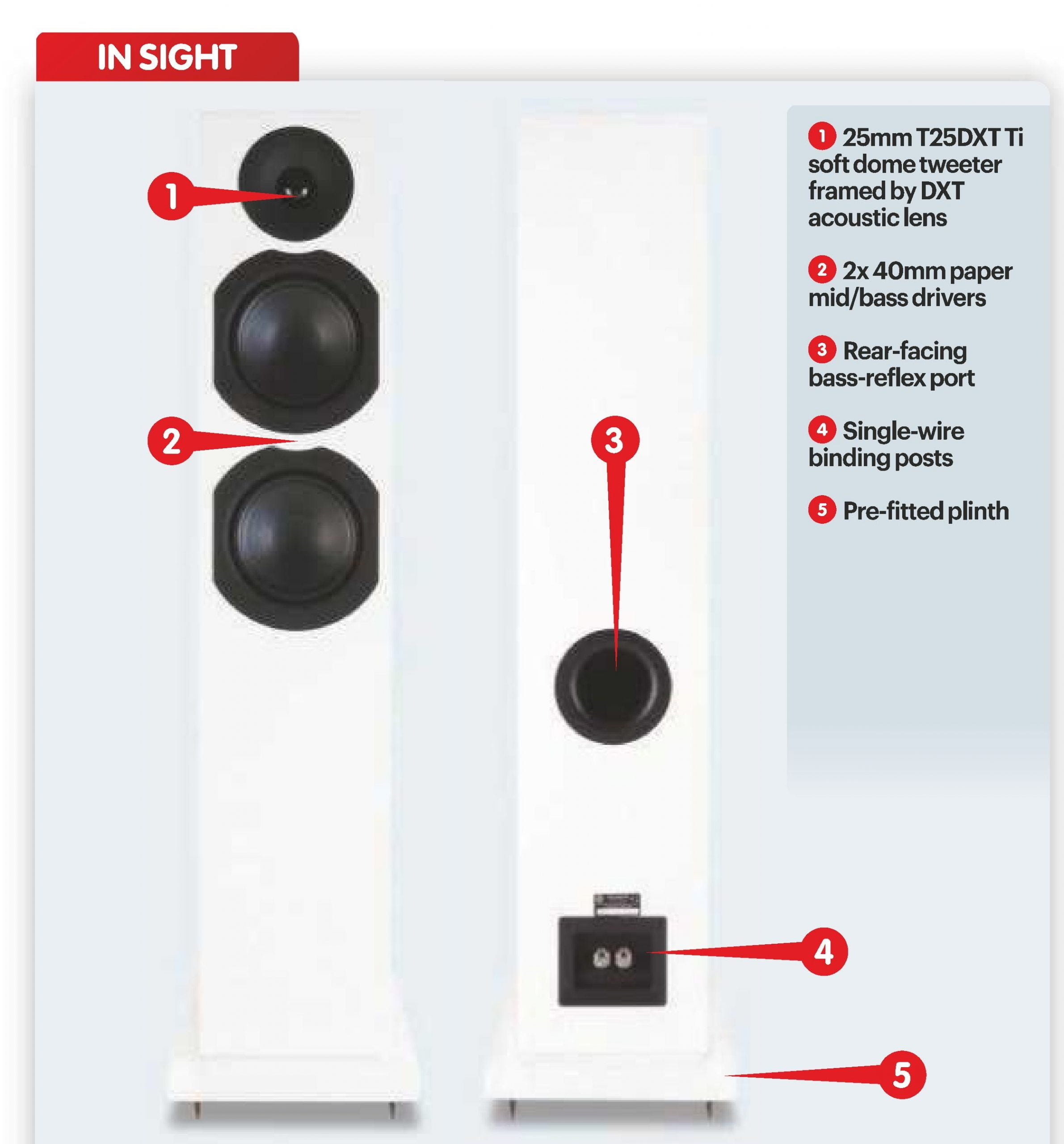 DO YOU WANT AN AMP WITH THAT?
System Audio first came into being in 1984, created in Denmark by a musician called Ole Witthoft who was failing to find speakers to suit his requirements, so decided to build his own.
"There were no loudspeakers that could reproduce the music in a live way," he reveals. "Most of them sounded boring. If you do not hear the details of the sound or sense the feeling because the reproduction is too poor, then you will never experience how exciting music can be. I wondered why the loudspeakers were competing about the best technical specifications when it is the sound that matters."
Today the company is arguably most famous for its Legend Silverback range of active speakers. We covered the wall mount version, the Legend Silverback 7.2, in our November issue (HFC 494). The enthusiastic review read thus:
"The mission is a union of true hi-fi performance and lifestyle minimalism, a potent coalition of wireless convenience, active driver tech and digital (DSP) tuning that makes messing around with multiple components, cables, dedicated equipment racks etc. a tiresome waste of time".
The saxo range, recently developed alongside the Legends, is System Audio's more affordable and compact option.
HOW IT COMPARES
SA's saxo 40 is one of a special breed of small floorstanders that occupy the same floorspace as a standmount (with stand), but whose larger cabinet volume promises an improved bass response and sensitivity. Fellow compacts include Scansonic's £, 935mm-tall M20 (HFC 474) and B&W's £, 985mm-tall 603 S2 Anniversary Edition (HFC474)while Cambridge Audio's 950mm SX-80 (HFC 473) offers especially good sound-per-pound at just £ Neat Acoustics'£ lota Alpha (HFC 414) takes a slightly different approach by placing its bass/ mid driver and AMT tweeter on an angled baffle to 'lift' the output to typical ear height. A downfiring bass driver within the cabinet assists in delivering a full-range performance. Expect to see more developments in this sector of loudspeaker design in the year ahead…
---
perhaps end up craving a little more presence in the midband, however, to really zone in on Oldfield's playing, while we can't help but miss the upbeat nature it had shown earlier.
Right on cue, the Tidal desktop app we are using throws up another track called Cochise, this time by a duo named Orson Welsh and DJ Maus, from a compilation album titled Big Room Bangers, Vol. 21. This, with its pounding kick drums, deep bass and male vocals, sounds hugely thrilling.
The low position of the saxo 40's tweeter does make this speaker both a little odd to look at and sometimes strange to listen to. While we have no issues with it from a seating position,
standing up to leave the room brings about a noticeable change in its frequency characteristic. The jangly guitars of The Bluetones' Talking To Clarry off their Britpop biggie Expecting To Fly become somewhat dulled, and, more so than with other floorstanders, we feel almost as if we can peer 'over the top' of the soundstage. Back in the vertical sweet spot, however, singer Mark Morris' soft, pleading vocals enjoy good projection.
Dire Straits' Telegraph Road off their world-conquering Vertigo album Love Over Gold is a track that seems to have been designed specifically to torture hi-fi systems and so proves to be a revealing test for the saxo. The opening high-frequency keyboard whistles have a slightly gritty texture, sounding momentarily discordant rather than sweet and pure, but way below these the speaker latches on to the deep synthesiser hums.
Meanwhile, Mark Knopfler's simplistic, two-note calling card remains clean and clear throughout, cutting through a little more than the background percussion. His vocals have an undoubted authenticity to their texture, but what is perhaps most impressive is the saxo 40's presentation of John Risley's bass playing, with his runs up and down the fretboard sounding completely unencumbered by bloom or smear, and part of a bigger musical picture without dominating.
System Audio doesn't supply any foam inserts to short the saxo 40's bass-reflex port, and it must be said that the cabinet really doesn't need it.
The Dire Straits track ends with an extended outro where piano chords fight for space with crash cymbals, bass guitar and hard-hit snares, and the saxo 40 keeps pace in terms of both rhythm and dynamics.
The low position of the tweeter makes the saxo 40 a little strange to listen to
A final run through of Lorne Balfe's orchestral/electronic hybrid score for Mission: Impossible – Fallout on Paramount Music; via a 16-bit/44.1kHz download, sees the saxo demonstrate equal comfort with the packed-tight low brass and strings, dramatic crescendos and rat-a-tat percussion. It sounds big, as advertised. Mission accomplished, then
Recommended
System Audio Saxo 40 Review
Does a great job for under a grand
CONS
Lacks a little oomph
You'll typically be listening over the top of the cabinet
Add your review
Best System Audio Saxo 40 prices ?
MORE DEALS

See also TOP 10 Subwoofers