With internet connection, an app and active drive, the Monopulse S A has it all. Noel Keywood explains. Read our Monopulse SA Review.
Here's an ingenious loudspeaker at a great price – £ for our version – one that's hand-built to order in the UK. A major reason for the price is that it's available direct only, a 50% deposit being required upon placing the order. Then Monopulse can provide their active Model SA in a variety of cloth colours and base veneers. What surprised me most though was that this is a streaming loudspeaker – yes, it has an app!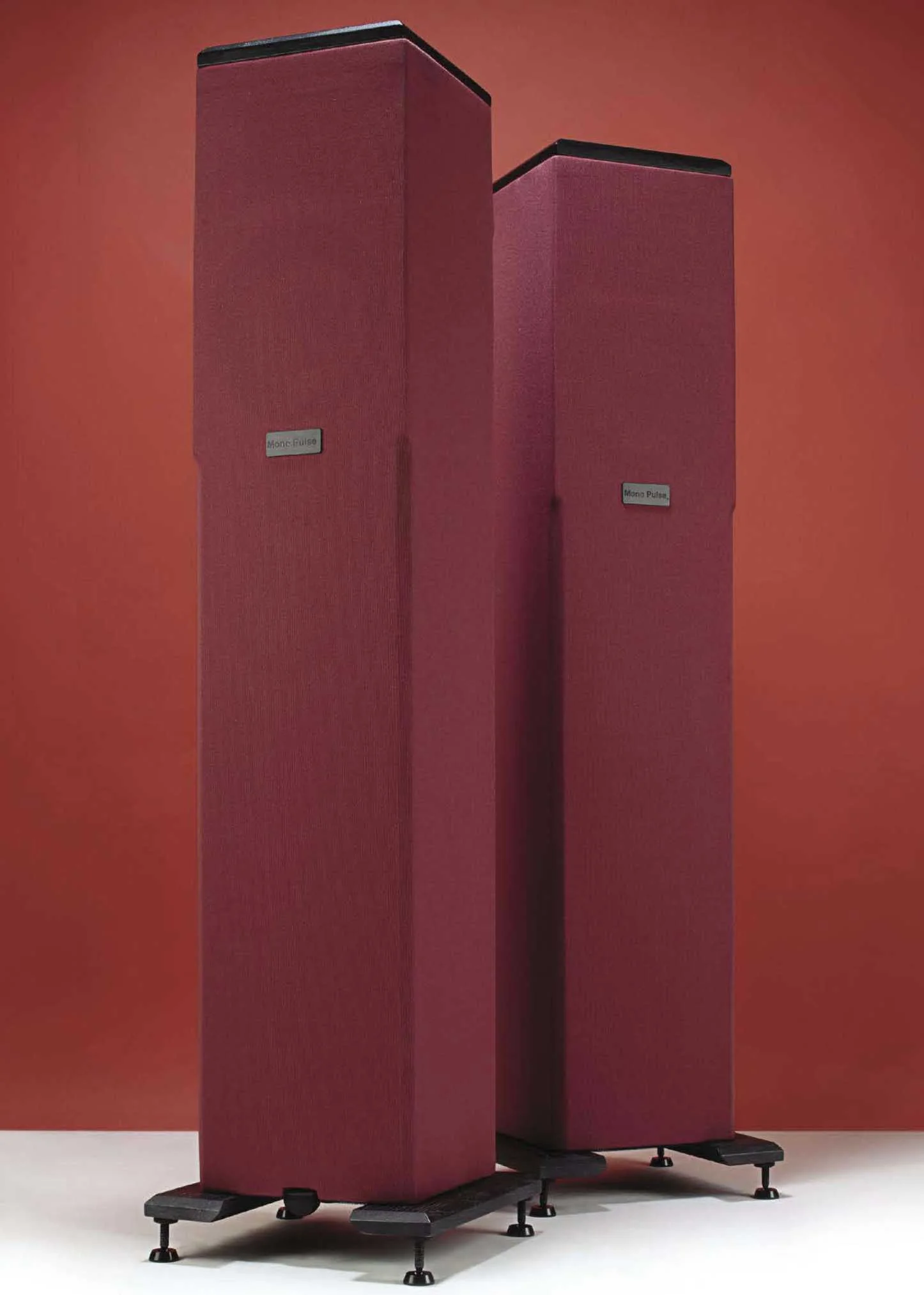 Bigger surprise – it was a good one. Unlike mconnect, 8player and so many other apps that I regularly wrestle with. Next surprise, it comes from China – not a place known for clarity of visual design or logical functionality. Making what could have been quite a difficult experience relatively easy. Monopulse are not responsible for this 4Stream app: it's allied to an Arylic S10 streaming module they attach to the rear of the powered loudspeaker.
That's just a quick resume of the Monopulse Model SA (A for active) floorstanding loudspeaker.
One loudspeaker is powered from the mains, carrying a FosiTBlOA TPA3I 16 mini stereo 35W power amplifier (see Measured Performance) with bass and treble tone controls. One channel of this amplifier drives the active speaker, the other drives a passive (unpowered) partner via a supplied cable, terminated in 4mm banana plugs.This is a relatively common way of doing things, the benefit being only one 'speaker needs connection to the mains for power and there's no duplication between 'speakers.
Central to operation is the remote/app controlled

Arylic S10 module that has broad ability. It connects into the home (local) network via wi-fi or wired Ethernet connection. There are multiple inputs:Aux (analogue), Bluetooth 5 (2016) that has a high data rate, USB Flash drive (mass storage memory), and an RJ45 Ethernet socket. The module has an Aux input and there is a direct Aux input too, so a conventional analogue preamplifier can be used, connected through phono socket terminated cables (unbalanced).
7Review earns Amazon affiliate commissions from qualifying purchases. You can support the site directly via Paypal donations ☕. Thank you!
See also TOP 10 Subwoofers
Insert a Flash drive at rear and you can read its music library from the app, with the one drawback that DSD goes unrecognised. Up to 24/192 PCM is seen and played however, including FLAC files.This module delivers an analogue output into the amplifier from digital inputs, so has an (unspecified) DAC onboard. What it lacks is a USB input for connection to a computer or S/PDIF digital inputs.
My PC (Windows 10) music library was seen as Home Music Share, allowing me to pull-play from it, including hi-res but not DSD. The Mac (Mojave) saw it as an Airplay device allowing me to push-play from the computer, but Airplay is CD quality only.
The app grabbed all this easily and quickly, presenting it over just three 'home' screens (one a redundant Settings screen with no settings). It also has a comprehensive list of commercial music servers (Spotify, Qobuz, Amazon etc, internet radio stations, opening these speakers to a wide array of music sources.
The way Monopulse pack in the small amplifier, a master power switch, input and output sockets I found initially confusing, but it all worked reasonably well, except that the 4mm loudspeaker output terminals are obstructed by any Flash drive in use and/or an RJ45 Ethernet plug, both of which I used. The remote has a power-off button but this is for the input module alone.
There's a master switch for power to the amplifier and module, but it is on the floor, and there's also an amplifier power switch! All this is a bit awkward.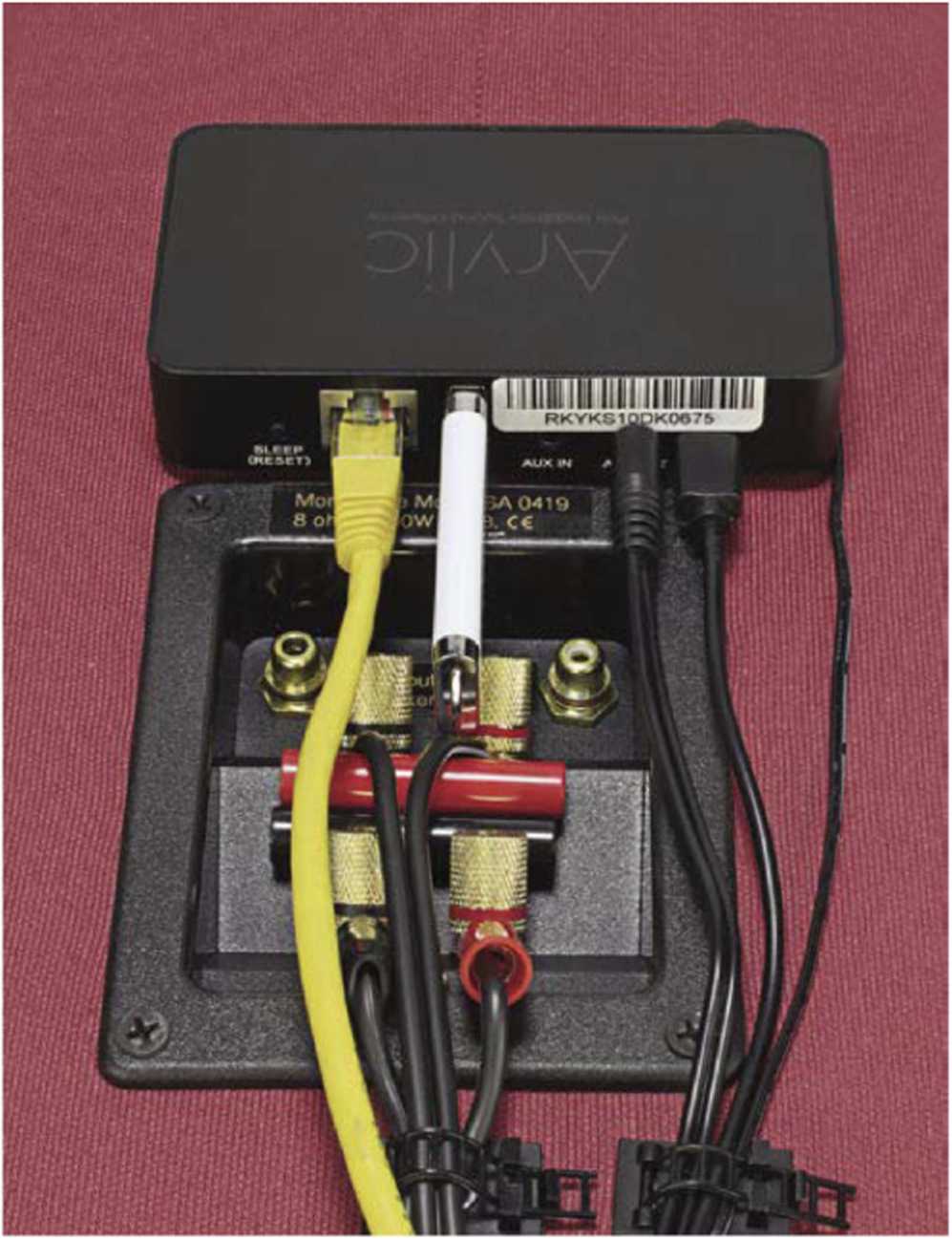 It's all a bit cramped at rear, where the Arylic streaming module sits just above a modified connection panel whose top 4mm sockets lie beneath Ethernet cable and Flash drive. The loudspeaker cable is not shown plugged in here. There are Aux in phono sockets too.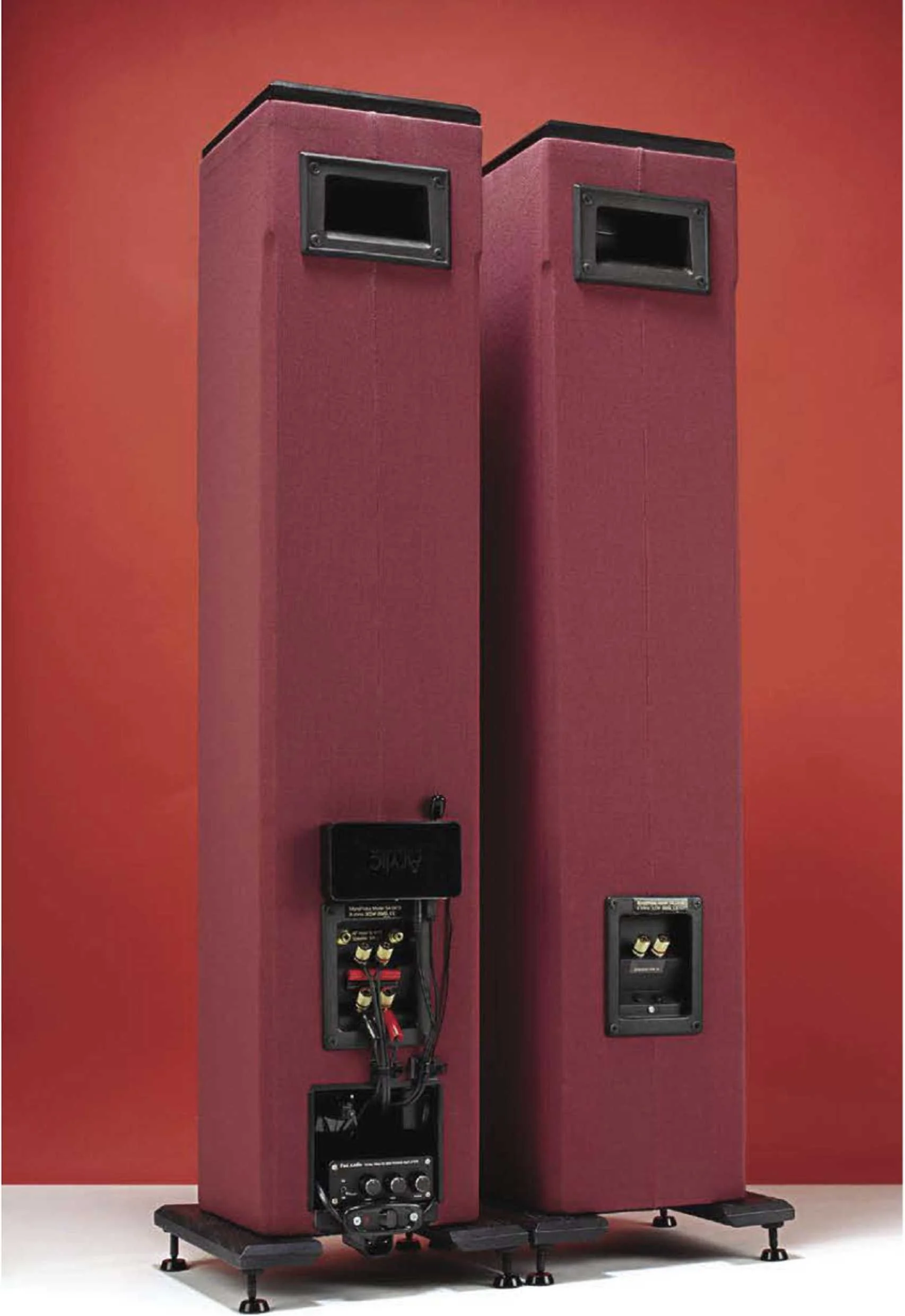 The active loudspeaker at left needs mains connection. The passive loudspeaker at right is unpowered, connected by a loudspeaker cable.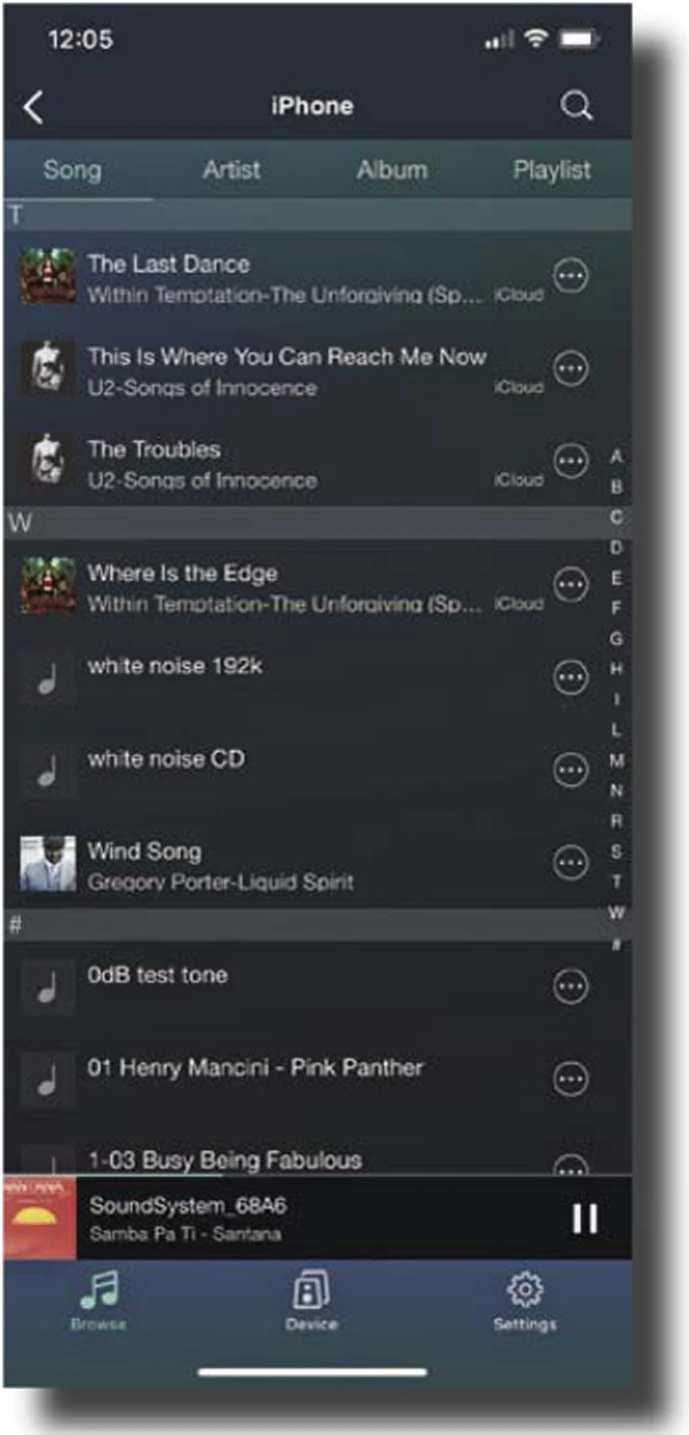 4Stream app music library list.
The amplifier's tone controls – difficult to get at – are best thought of as pre-sets, because there are also tone controls in the app. so things can be tweaked whilst listening. With tone controls on the amplifier set to I 2 o'clock the tonal balance was bass light/treble strong measurement and listening showed, but this was corrected by a quick twiddle to achieve reasonable accuracy. These controls in practice enable adjustment for personal preference of course. Measurement showed that for best accuracy bass needs to be lifted slightly and treble turned down.
The loudspeaker itself is a two-way with Kevlar cone I 60mm (6.5in) bass/midrange that is port loaded, crossing over to a 28mm silk dome tweeter. The port fires out through the base of the cabinet so cannot be seen.The grille cloth is a cabinet wrap that cannot be removed.
SOUND QUALITY
With treble and bass set flat on the amplifier tone controls the tweeter dominated, bringing a sharp edge to the sound – as expected because the tweeter is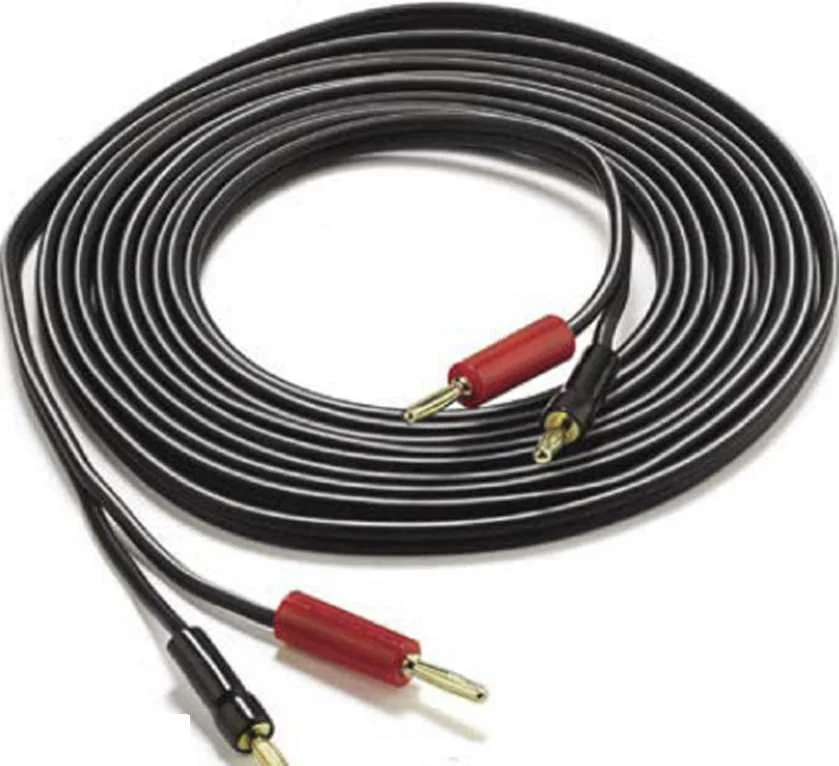 +4dB up at I 6kHz. I found the best balance at I o'clock on the bass control (slight bass lift) and 10 o'clock or thereabouts on the treble control (slight treble cut). Then the Model S A sounded nicely balanced, fast in its treble and clear, whilst not overly sharp, even with treble-heavy content like Nils Lofgren's Keith Don't Go that has strong harmonics up to 20kHz. I heard intense detail aided by the peak, plus super-sharp images on the sound stage: it was all quite dramatic.
The supplied black loudspeaker cable that interconnects the loudspeakers.
With classic Rock like Fleetwood Mac's Dreams (24/96 FLAG) there was plenty of punch from kick drum, that was tight and well controlled. This brought a good sense of scale to the track and Stevie Nicks chimed out clear at centre stage. Putting plenty more classic Rock through the system it all came out well: there was always obvious yet fast treble, intense high frequency detail and good sense of clarity, if with some slight sense of being box bound at high-ish volume. I say"-ish" here as I did not push the amplifier too hard, to avoid overload.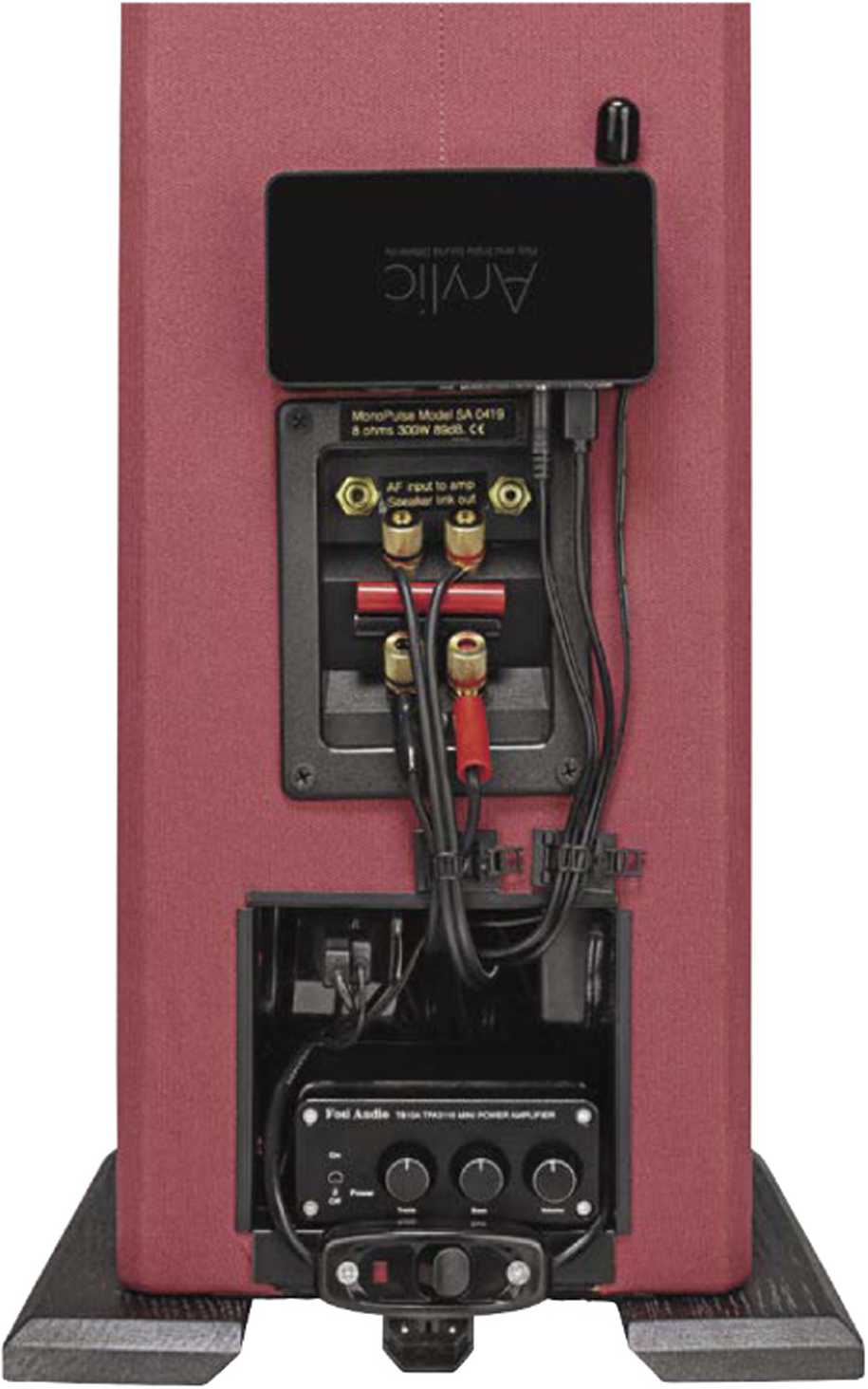 The small Fosi Audio Class D 35W stereo amplifier with uncalibrated bass, treble and volume controls, plus toggle power switch. Below is a main power switch and underneath that a mains power input.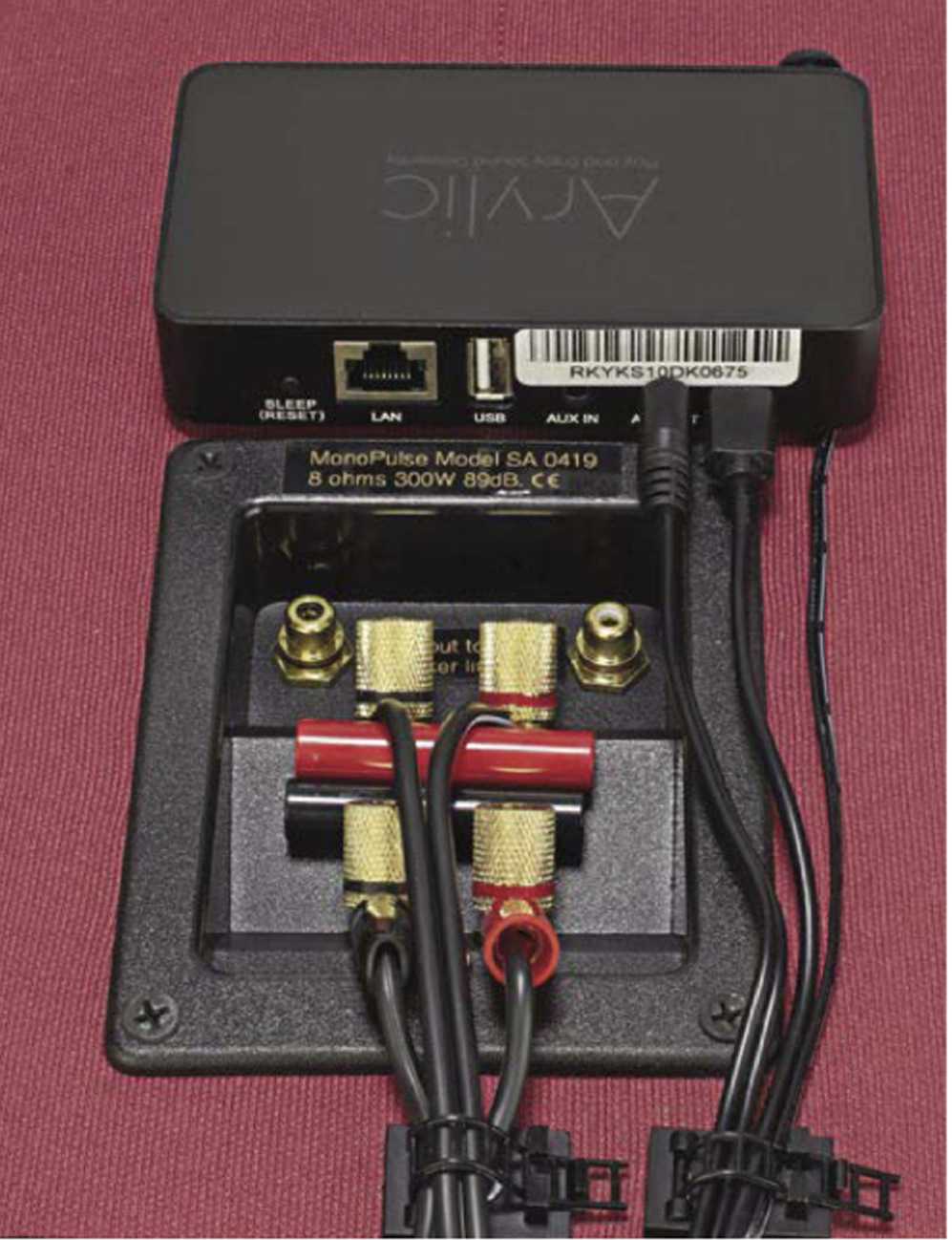 The underside of the Arylic S10 carries a variety of input sockets, including RJ45 for Ethernet and USB for Flash memory storage. At right analogue output and power input, plus Bluetooth aerial cable.
Swapping from 'WiFi'" to 'BT' I got a slightly firmer and smoother delivery, due I suspect to the Arylic's Bluetooth 5 status, and I also got to play DSD files, pumped out as PCM, instead of a rush of white noise over WiFi.To explain, the iPhone I IX Pro has Bluetooth 5.1 and an Onkyo HF player (hires version) that delivers 24bit resolution and converts DSD to PCM.This all came together nicely to provide fine sound quality. Sending DSD raw over wi-fi just produced noise. Playing from a USB Flash drive also gave excellent results.
With classical there was some limitation to stage depth but still a vivacious and detailed sound that was convincing and engaging. With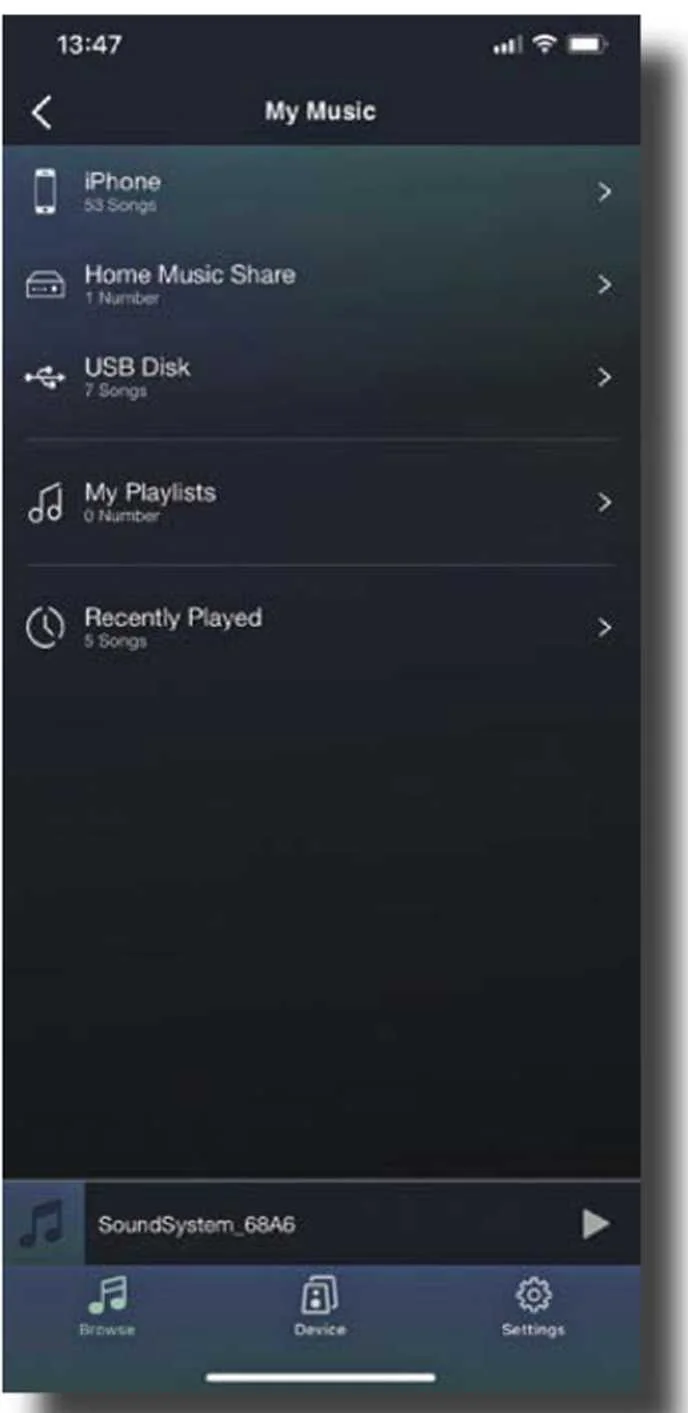 4Stream app source list.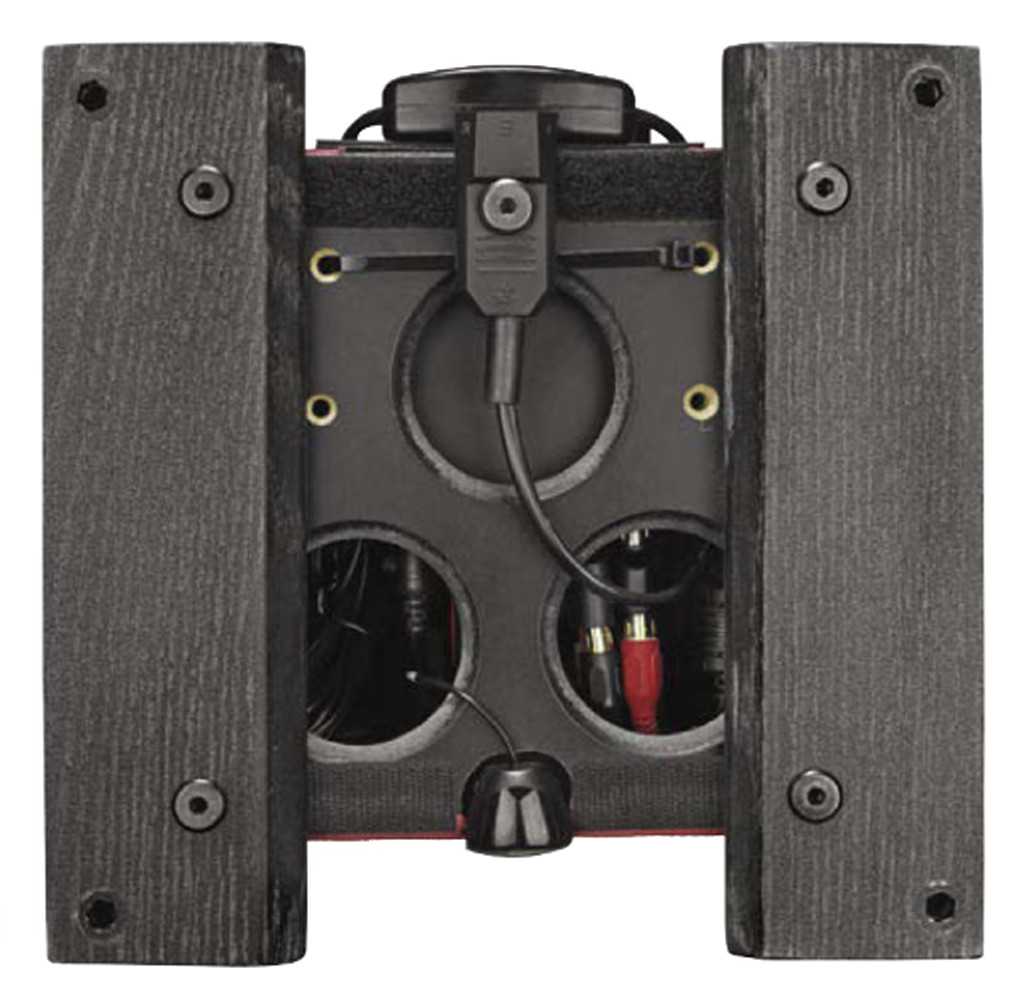 From beneath a chamber carrying connections can be seen, plus front remote control sensor. Spikes can be fitted. There is a port hidden inside too.
Bach's Concerto for Harpsichord, Flute and Violin instrumental timbre was broad and instrument definition crisp, only stage depth was limited.
CONCLUSION
The Monopulse Model S A was an impressive package all-round. It's adjustable for good tonal accuracy, has tight bass, clear midrange and crisp treble.There isn't a mass of power but it was sufficient to go loud. It's a bit fiddly to set up but after that worked consistently well, giving excellent sound quality from a wide array of sources. As a total package, great value at a low price. I even liked the app!
MEASURED PERFORMANCE
The Monopulse S A has a broad and reasonably even output around the OdB datum our third-octave pink noise analysis shows. Notable features are deep bass extension – full output being maintained down to a very low 30Hz – and a strong, sharp treble peak around 16kHz. There is also a crossover suckout at 2kHz, sufficient to subjectively soften the midband, reducing "fierceness". The downward firing port is tuned to 30Hz to augment deep bass (red trace).
This analysis was made with the bass and treble controls set to give best measured result. With the small knobs set to the 12 o'clock position treble output was around +2dB up and bass around -1 dB down – not accurate.
Our published result shows what is the best possible, but bass and treble can be raised or lowered by substantial amount to suit any preference. Pair matching between active and passive loudspeaker was good, within 1dB.
The small Fosi MB10A amplifier is built around a Texas Instruments TPA31160 Class D power amplifier chip that is rated as 50W per channel into 4 Ohms on its data sheet; we measured 16V into 4 Ohms – 64 Watts. It was 16V into 8 Ohms too (32W); Monopulse rate it at 35W. Distortion was low at 0.1%. It has full protection against shorts and overheating, as well as line voltage changes from the PSU. Input is analogue Texas note. Frequency response measured Class D peak free to 100kHz – impressive.
Supplying an analogue input to the amplifier is an Arylic S10 streaming module that has wi-fi, Bluetooth, and analogue inputs, plus USB Flash memory card socket.
This is a complex package that measures well at the price.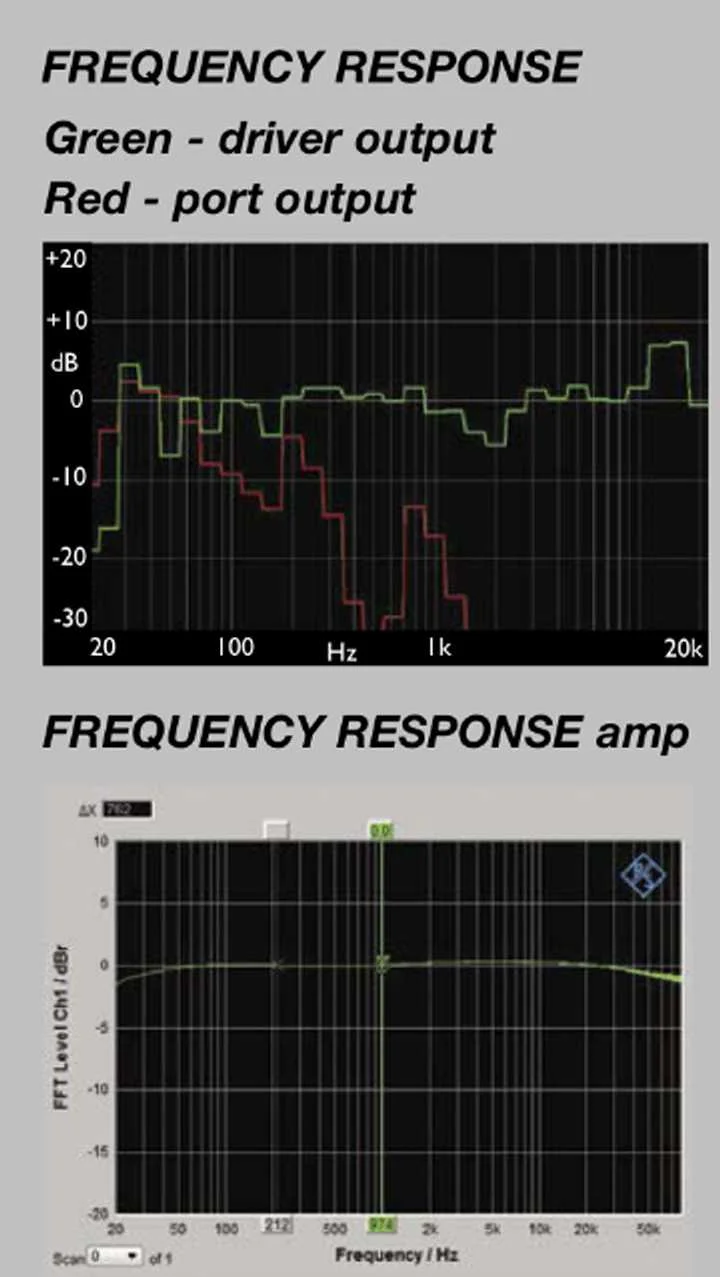 VERDICT
Monopulse SA Review
A complex 'wireless' loudspeaker that does a good job all round.
PROS
adjustable sound balance
clear and crisp delivery
multiple hi-res sources
app and remote control
CONS
mediocre finish
limited power
slightly boxy
Add your review
Best Monopulse SA prices ?
MORE DEALS

See also TOP 10 Subwoofers
MonoPulse
+ 44 (0)7785 558238
www.monopulse.co.uk