Synology's first router otters speedy dual-band performance, a NAS server and greater control over your network's connectivity
Synology is best known for making network-attached servers, so its perhaps not much of a surprise its first Wi-Fi router can also double up as a NAS. However, this is just the tip of the internet connecting iceberg for the RT1900ac. which actually has a host of other software innovations as well as also offering excellent Wi-Fi performance – at least at close range.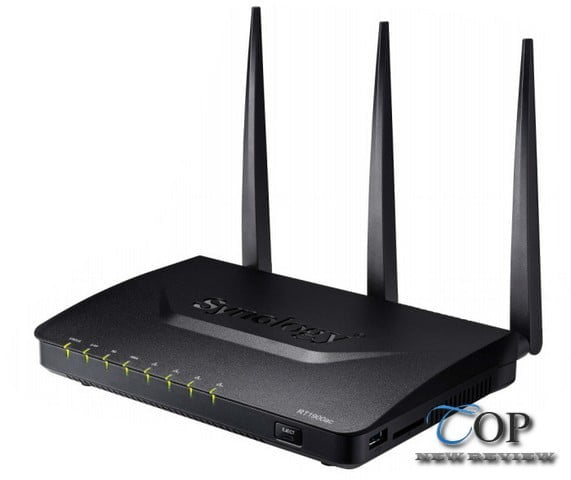 The [Synology RT1900ac] allows you to manage your internet and which devices use it in more detail.
As its name suggests, the RT1900ac is an AC1900 router, so this means on paper it's capable of 1.300Mbps on the 5GHz band and up to 600Mbps on the 24GHz band, which should make it suitable for lag-free gaming and buttery-smooth 4K movie streaming at home or fast file sharing in the office. Under the hood, the RT1900ac has a dual-core 1GHz processor and 256MB memory. This means it has
better specs than close rival the Asus RT-AC68U (which only has 800MHz dual-core), is equal to the Netgear Nighthawk R7000. but fractionally less than the Linksys WRT1900ACS (it boasts 1.3GHz). However. Synology's debut costs less than any of these market leaders, giving you considerable Wi-Fi bang for your buck.
The router also has four LAN ports and a WAN port, which will have to do for ADSL users as there is no built-in ADSL modem. There's also a USB 3.0 port so you can connect up a printer to your entire network more easily, or plug in a 4G dongle.
While you may have had no inclination to use your router's interface beyond setting it up and troubleshooting before. Synology Router Manager (SRM) might be about to change that. Though its a variation on the DiskStation Manager Synology uses for its dedicated NAS servers, even if you haven't used a Synology product before, the Linux-based interface couldn't be simpler to use. It apes a traditional desktop OS. complete with program icons, search bars and a customisable wallpaper. The SRM allows you to manage your internet and which devices use it in more detail, including seeing how much bandwidth is consumed by individual apps and devices, as well as being able to set parental controls and set two distinct guest users, so visitors can temporarily connect to the internet without accessing your local files.
Perhaps the best of the OS is Package Centre, essentially an app store that allow you to download add-ons created by Synology and other third parties, so you can further customise your router: for instance, turning it into a media center or adding extra security tools. However, a tad annoyingly, you will need to plug in an external hard drive or make use of the SD card reader in order to store any of these extra add-ons.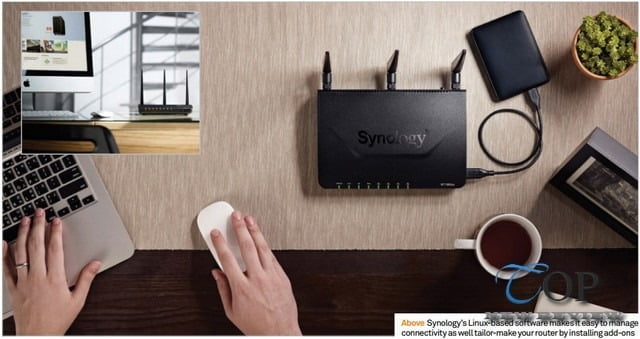 While we were very impressed with the SRM and think it has the potential to be quite revolutionary if third-party developers embrace it, none of this matters if the RT1900's performance isn't up to it. We're happy to report the RT1900 performed well in close range. Connected via the Ethernet cable, it racked up an impressive 936Mbps and the 5 GHz Wi-Fi scored a competitive 482Mbps at close range. The 2.4 GHz band clocked up 150 Mbps, which is still commendable. However, moving just 10 metres away from the router (albeit through a wall), the 5 GHz benchmark dropped to 217Mbps. Moving further away (and through more walls), it disappeared entirely. The 4.3 GHz band did perform better at range and this adds up to an overall good performance . What's more, you can also set the router to automatically switch between bands dependingon your distance from the hub. This is just another way Synology is using smart software to improve your Wi-Fi experienced Jack Parsons
Pros
Synology s debut is cheaper than its competitors, offers good cverall performance, includes an optional NAS and an advanced controls system
Cons
You can buy AC1900 routers with better specs, faster download speeds and longer Wi-Fi range for only E30-E50 more
Summreary
The Synology RT1900ac's connectivity management tools really distinguish it from other routers in its class, offering smart features that anyone can learn to use quickly. This will only continue to expand if third-party developers take an interest in creating add-ons. However if you just want no-fuss Wi-Fi that covers a large area, you might want to think twice
Specification
Website synology.com
Specs Dual core 1.0GHz
CPU 256MB
DDR3 memory 802.11ac (2.4GHz, 5GHz bands) 1 x WAN port
7Review earns Amazon affiliate commissions from qualifying purchases. You can support the site directly via Paypal donations ☕. Thank you!
4xLAN ports (10,100, 1000Mbit s/S)
1x USB 3.0 port
1xSD card reader
2 x guest networks