A slim and stylish display, with multiple input ports
AOC's latest monitor is a good-looking display with a native resolution of 2560×1440 pixels. First impressions are of an unfussy, quietly stylish display; slim, metal-framed, and with a strong stand that's a single leg of aluminum, bent into a half-closed rectangle. There are downsides to this voguish appearance, though: it has a tilt range of no more than 14 degrees, and – like many displays today – there's no height adjustment option, so if you want it to be higher, get a stand.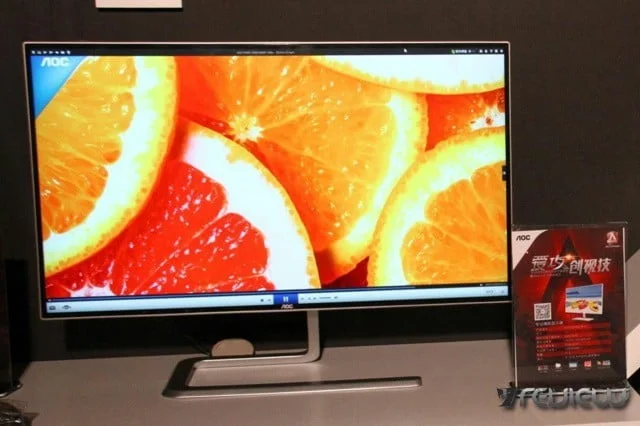 (Not a VESA mount, sorry; there's no fitting for that.) Most of this monitor is a simple slim rectangle, with a slightly thicker section on the back where the circuitry and ports live. This is where you'll find a DisplayPort, two HDMI sockets, and a VGA socket for any embarrassingly old tech. It can auto-switch to an active port or let you pick one manually, making this a good choice if you want to use it with, say, a Mac, a PC, and a games console.
AOC describes this as a "four-sided frameless" display, possibly aiming to tap into the gamer passion for treating displays like tile-friendly panels to be butted up together. In truth it's more like a micro-bezel; a couple millimeters of aluminum wrapped around perhaps 5mm of black surround. But the reality is more interesting than this technical description makes it sound. The product does a very good job of being physically unobtrusive, letting the active display area itself do the talking.
The LED backlit panel handles color well, although if you want a high-end proofing display, this isn't quite it. Our Datacolor Spyder colorimeter clocks it at over 100% sRGB, but 79% of Adobe RGB; very good, but not perfect for pro-level design work.
It's no 4K screen, but the 2560×1440 pixels look sharp. This 16:9 ratio is just a little more widescreen than a MacBook display's 16:10 shape; at this size it's a sensible width-height ratio, and the resolution doesn't demand more GPU horsepower than, say, a modest MacBook can manage.
It's priced pretty well for its class, the styling is far better than most, and it has multiple inputs. On the downside it has respectable but not industry-leading color reproduction, limited physical adjustment options and… well, that's more or less it.
the bottom line.An attractive monitor that would satisfy anyone this side of obsessive color proofing. Keith martin
7Review earns Amazon affiliate commissions from qualifying purchases. You can support the site directly via Paypal donations ☕. Thank you!
Features
27-inch, 2560×1440, DisplayPort 2x HDMI, VGA

PROS:
+ Attractively styled
+ Multiple inputs
+ Very slim bezels
Celicious Privacy Lite 2-Way Anti-Glare Anti-Spy Filter Screen Protector Film Compatible with AOC Monitor Q2781PQ
as of November 30, 2023 9:10 pm
Features
2-way landscape mode privacy screen protector film designed specifically for the AOC Monitor Q2781PQ
Helps protect confidential data by narrowing the viewing angle to 30 degrees either side of the screen when the monitor is in landscape orientation
Matte surface helps reduce glare caused by ambient lite
Advanced silicone based adhesive backing bonds firmly to the surface of the screen without any air bubbles
Pack includes: 1 x AOC Monitor Q2781PQ screen protector and application kit