Sony's best noise-cancelling headphones just got (slightly) better
The one thing that's truly surprising about the new Sony WH-1000XM3 it's that they're entirely consistent with what Sony has released in the last two years in the form of the WH-1000XM2 and MDR-1000X. To wit, they're a noise-cancelling pair of headphones that can beat anything Bose has with their arms tied behind their back.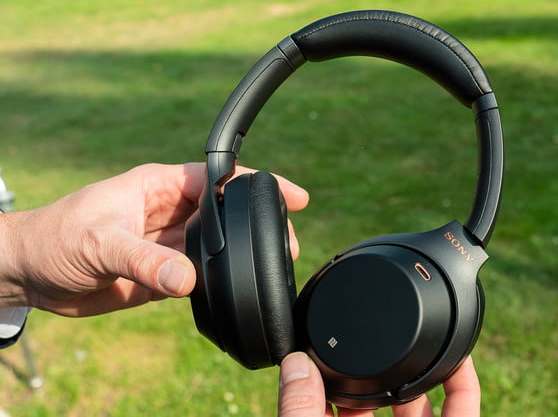 That's because, while Bose has done a tremendous job working out its noise-cancellation algorithm over the years, Sony's spent that time perfecting audio playback while simultaneously creating an adaptability algorithm that doesn't just create a single sterile sound barrier, but multiple kinds that can adapt to the situation you're in.
That excellent combination from last year, compounded with subtle tweaks like a more comfortable pad along the bridge of the headphone, a lighter design and a comparable price, make these headphones the new king of noise-cancellation…
Price and availability
The 1000XM3 are Sony's flagship headphones. They're feature-rich, and will sound like a premium pair of headphones should. Why so expensive?
7Review earns Amazon affiliate commissions from qualifying purchases. You can support the site directly via Paypal donations ☕. Thank you!
Sony's put a lot of hardware inside these headphones, not to mention the four microphones that are located inside the headphone and on the outer ear cups. Noise cancellation of this calibre also means the WH-1000XM3 have an NC1 chip inside that's running calculations in real time.
Design
The biggest changes to the 1000X are found in their design: they're lighter and more form-fitting than before. Weight-wise, they've shed 22 grams from last year's design. That might not seem like a lot, but considering you'll be wearing the 1000X for an extended period of time, every gram helps.
The other design change is the new flush fit that changes out the old padding on the bridge for something more cushioned. This makes the headphones more comfortable and less dorky- looking. Sony's also deepened the ear cup and changed out the silver accents for copper tones. Finally, Sony has swapped out the Micro USB port on the right ear cup for USB Type-C instead.
Around the left ear cup, you'll find the only two buttons on the headset. There's one for Power/ Bluetooth and another to cycle the noise cancellation between its three settings: On; Ambient Mode; and Off. Below the buttons you'll find an auxiliary jack, which is mirrored on the other ear cup by a USB Type-C port that's used to charge the headphones.
What's missing here, obviously, are playback controls. Luckily, Sony's just hidden them on the right ear cup in the form of a touch-capacitive covering. To skip forward, you swipe right on the right ear cup or swipe left to go back. Pausing is done by double- tapping, and resuming is then done the same way. Turning the volume down requires you to swipe down on the right ear cup, and turning it up is done by swiping up. It takes some getting used to, but soon becomes second nature.
Performance
According to tests done by Sony, the 1000XM3 are four times more
Mids are straightforward, highs are crystal clear and bass is weighty and has some real slam to it
effective at cancelling noise than their 1000XM2 predecessors – an impressive feat considering how well the M2 performed.
In practice, that claim holds true when confronted with both low frequencies, like you'd find while riding in a train or aeroplane, and in workplace environments where there's higher frequency noises like people talking or music playing. In nearly every scenario the Sony WH-1000XM3 performs admirably, often reducing noise from a loud hum to a more manageable buzz – and sometimes eliminating exterior noise entirely.
Like last year, the 1000XM3 are able to selectively allow some noises into the headphones as well. With Ambient Noise mode selected, announcements made over train station PA systems can be heard, while Quick Attention Mode enables you to quickly pipe in external audio without taking off the headphones by reducing the volume of the music and using the microphones located on the outside of each ear cup.
These headphones will sound a bit better while using an Android device that supports the aptX HD standard, but even on an iPhone they sound great. Mids are straightforward, highs are crystal clear and bass is weighty and has some real slam to it. They really shine on a device that supports the LDAC codec, but they're by no means limited to those devices.
The last aspect of performance worth analysing is the 1000XM3's call quality. In several phone calls made with the headphones, the people we spoke to reported that we sounded clear – if a bit quieter – than if we had used the phone's built-in mic. This is likely due to the extra microphones. That said, while these headphones are fine for occasional calls they're probably not what you'd want to use if you frequently make phone calls in an office setting – call quality isn't as good here as it is on other business- ready headsets.
KEY FEATURES
Headphone type Closed, dynamic Drivers 40mm, dome type Impedance 47 ohm (1kHz) (via headphone cable, unit on); 16 ohm (1kHz) via headphone cable, unit off)
Frequency response Normal/active: 40Hz-40KHz; Bluetooth: 20Hz-20kHz (44.1 kHz); 20Hz-40kHz (LDAC)
Sensitivity 104.5dB/mW (1kHz) (via headphone cable, unit on), 101dB/mW (1 kHz) (via headphone cable, unit off) Connectivity Bluetooth 4.2 (A2DP, AVCRP, HFP, HSP); NFC; stereo mini-jack Battery life Max. 30 hours (NC on); max. 38 Hours (NC off)
Supported audio formats SBC, AAC, aptX, aptX HD, LDAC, SCMS-T
Battery life
So how long will these headphones last on a charge? We found a good benchmark to be around 30 hours or so. While we were testing the headphones (five hours a day for four days) they didn't need to be recharged at all, ending the final night with 30 percent battery life remaining. That's around ten hours more than the Bose QuietComfort 35 when used wirelessly and ten hours less than the Bose if used in wired mode. Should you want your headphones to last a bit longer, you can use the Sony Headphones Connect app to shorten the time it takes for the headphones to go to sleep. The default is 15 minutes, but you can reduce that number to five minutes if you really want to wring every second of life out of them.
Summary
The Sony WH-1000XM3 are exactly the headphones we've come to expect from the new leader in noise-cancelling headphones… even if they're a bit too close to last year's model for comfort That said, unless you're a style-savvy frequent traveller in need of the most comfortable and best-looking headphones, you should probably save some money by picking up the Sony WH-1000XM2 – they're nearly as good and now cost less than they did before.
Sony WH-1000XM3 Review
Sony's made a lot of subtle tweaks to an already amazing pair of noise-cancelling headphones.
Add your review
Best Sony WH-1000XM3 prices in the US ?

$

259.00
4 new from $259.00
in stock


$

390.00
3 new from $385.00
in stock


$

494.03
11 used from $190.00
2 new from $494.03
in stock

Best Sony WH-1000XM3 prices in the UK ?

£

199.95

£330.00
11 used from £201.98
2 new from £199.95
in stock


£

235.00
2 new from £235.00
in stock

MORE DEALS