Sony is the latest brand to unleash a Dolby Atmos-enabled soundbar, and it's not a budget option. Does it give Steve May a taste of the home cinema high life? Read our SONY HT-ST5000 Review.
IT SAYS MUCH about the topsy-turvy nature of the AV market these days that this high-end Dolby Atmos-enabled sound bar sells for close on three times the price of Sony's STR-DN1080 Atmos AV receiver. Of course, you need to add speakers to an AVR. The HT-ST5000 'bar just needs content.
av info
Dolby Atmos- enabled soundbar/ sub combi
Position: Top of the range in Sony's soundbar arsenal
PEERS: Yamaha YSP-5600; Samsung HW-K950
A no-compromise subwoofer and soundbar duo, it has a feature set that goes some way to making the price tag easier to swallow. High-res audio support, dual-band Wi-Fi connection, Bluetooth and built-in Chromecast are among the specification hits.
Build quality seems exceptional, a hairline finish re-enforcing the HT-ST5000's premium position. The 'bar comes with a fabric cover, but I preferred it without its grille – with drivers as pretty as these, it's a shame to keep them covered.
Left and right are two matching coaxial speakers with gold-rimmed, high-frequency tweeters, while a step-down coaxial flanked by a mid/bass quartet takes centrestage. This arrangement translates to a slight timbre mismatch, although this isn't apparent in practice.
Up top, behind fixed metal grilles, are two upfiring Dolby-enabled speakers for Atmos and height duties.
Sony describes the HT-ST5000 as a 7.1.2 proposition. There's no codec support for DTS, but PCM plays up to 24-bit/96kHz.
7Review earns Amazon affiliate commissions from qualifying purchases. You can support the site directly via Paypal donations ☕. Thank you!
See also TOP 10 Soundbars & Soundbases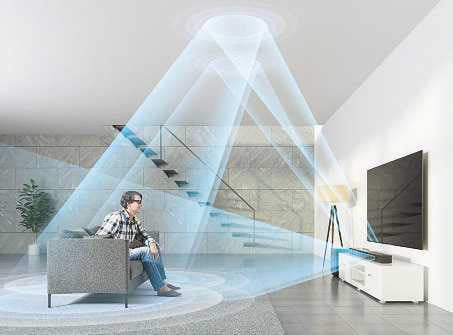 Connectivity, tucked around the back, includes four HDMIs (three inputs, one ARC output). All are HDCP 2.2-ready for 4K sources, but need to be configured before being used with UHD content. Take them from Standard to Enhanced, in order to support 4K 60p and 4:4:4 (and lower) settings.
In addition to HDMI, there's the option of an optical digital audio connection or stereo via mini jack. If you don't want to use Wi-Fi, there's an Ethernet terminal, while Bluetooth supports NFC pairing and LDAC (Sony's own high-bandwidth protocol). On the bar's right side is a covered USB port.
The HT-ST5000 offers similar user functionality to a standalone AV receiver. A tiled onscreen interface lists input options, along with any connected home network devices.
Subwoofers are typically victims of an ugly stick, but what we get here is no mere MDF box. Cosmetics comprise a forward-facing grille, matt lid and stylised plinth. There are drivers front-facing and downward-firing. The sub connects to the 'bar automatically during setup, with an LED-confirming handshake.
When Sony gets serious with hi-fi, it has a tendency to be overly-polite. But thankfully I never got the impression that the HT-ST5000 has been tuned by black-tie engineers.
The 'bar images high and wide, and etches sonic detail with astonishing accuracy. Inevitably, though, there are expectations that the Dolby Atmos decoder will offer overhead audio and even surround effects. But in that regard, some users may find the HT-ST5000 lacking.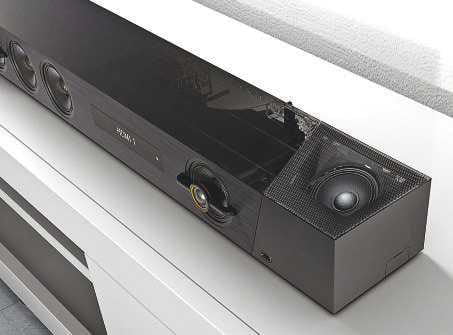 When rain pitters down at the climax of John Wick on Blu-ray ('No more guns, John'), it's as if a cloud sits forlornly about the soundbar itself, rather than the listening position.
Yes, those upfiring drivers can dispel a sprinkling of sound, but much depends on how far you sit from the soundbar and the height of your ceiling.
After some experimentation, I found a distance as short as 1.5m worked best; this delivered a consistent
This system, unlike some 2.1 systems we've seen, can really kick LFE butt. I feared neighbours would complain
panoramic soundstage that canopied toward my listening pouffe. But even then I wouldn't compare the experience with that of a dedicated AV receiver running speakers in a 5.1.2 (or greater) configuration.
Sit further back and the presentation becomes overtly stereophonic, albeit with a greater sense of width and height than you might get from a more standard two- channel soundbar.
Of course, as Dolby repeatedly points out to me, Atmos is an experience designed to reflect the hardware it plays on. So maybe there is actually no wrong or right to the presentation?
Not that I didn't love what the HT-ST5000 was doing. Ghost in the Shell: Innocence (Blu-ray) with its spectacular parade sequence, features choir, drums and seagulls all intelligently delineated. The mix is big and spacious.
And this system, unlike some Sony 2.1 (sic) packages we've seen, really can kick LFE butt. The subwoofer claims a drop to 31.5Hz, and you can expect dislodged plaster at 50Hz.
When an anchor nearly lands on Mark Wahlberg's head in Transformers: Age of Extinction (Blu-ray), the sub rings like a lead bell. When the Star Ferry follows, I feared my neighbours might complain. The soundbar crossover is set to 100Hz.
All of the HT-ST5000's drivers can be used, even if your Atmos library is thin on the ground. Height-scaling can be applied to all sources, and many will probably leave this on by default. While uplifting a flat soundmix can be hit and miss, I found it can really enhance the ambience of live music. With the Legends of Jazz Blu-ray, the HT- ST5000 uses its upfiring duo to noticeably bolster the atmosphere of the recordings.
It handles disparate genres well, too. With a claimed total power output of 800W, you would expect this 'bar/ sub combi to belt out a 24-bit/96kHz FLAC vinyl rip of Rust in Peace, by Megadeth, with some gusto. But in 3D Surround mode, iconic opener Holy Wars appears to herald Armageddon.
Sony is leading the charge when it comes to mass- market hi-res audio, and even endows its soundbars with DSD file support. Marianne Thorsen's Mozart Violin Concerto in D Major, from Mozart Violin Concertos (2L), is wonderfully precise. Shut your eyes and the performance could be live.
While the HT-ST5000 is very much a high-res audio component, you can upscale compressed audio files using its DSEE HX processor. There's also a DRC (Dynamic Range Compression) control, but this should be left off unless you want the guts ripped from your music.
This can be considered a superior soundbar proposition. While it doesn't envelope as effectively as Samsung's HW-K950 or Yamaha's YSP-5600 (both a shade more affordable), and lacks DTS:X compatibility, it offers superb high-res articulation which goes a long way to justifying that toppy ticket price
Recommended
SONY HT-ST5000 Review
Sony's Atmos debutant doesn't surround as it promises, but is nevertheless a sweet-sounding 'bar with an ear for hi-res audio and a smart design.
Add your review
Best SONY HT-ST5000 prices in the US ?

$

3,999.99
1 new from $3,999.99
in stock

Best SONY HT-ST5000 prices in the UK ?
MORE DEALS

See also TOP 10 Soundbars & Soundbases
DRIVE UNITS: 2 x Dolby-enabled upfirers; 3 x coaxial tweeter/woofers; 4 x mid-range drivers AMPLIFICATION (CLAIMED): 800W total CONNECTIONS: 3 x HDMI inputs; 1 x HDMI output (ARC); 3.5mm stereo minijack; optical digital audio input DOLBY ATMOS/DTS-HD MA: Yes/No SEPARATE SUB: Yes, wireless REMOTE CONTROL: Yes DIMENSIONS (SOUNDBAR): 1,180(w) x 80(h) x 145(d)mm WEIGHT (SOUNDBAR): 8.2kg DIMENSIONS (SUB): 248(w) x 403(h) x 426(d)m WEIGHT (SUB): 14.1kg
FEATURES: Bluetooth with LDAC and NFC; dual-band Wi-Fi; Ethernet; surround processing modes (incl. 3D surround); wall-mountable; wireless subwoofer; DLNA compliant; file support includes FLAC and DSD; USB input; HDCP 2.2 on all HDMIs
JOHN WICK: CHAPTERS 1 & 2:
We review the sequel on standalone Ultra HD Blu-ray this issue but John Wick freaks may want to pick up this 4K double-pack.
Both movies feature reference-grade Atmos mixes.
1. Sony's flagship soundbar (approx 1.2m wide) is best suited to large TVs
2/3. Atmos drivers are housed at each end to reflect audio to your listening position