HARMAN KARDON ENCHANT 800

The eight-driver wonder of the world?
Harman Kardon's Enchant 800 soundbar looks the part. But will its proprietary audio processing leave Mark Craven applauding its performance too?
Product:
Eight-driver soundbar with Chromecast Built-in
POSITION:
Below Harman Kardon's Enchant 1300 and Citation soundbars
7Review earns Amazon affiliate commissions from qualifying purchases. You can support the site directly via Paypal donations ☕. Thank you!
See also TOP 10 Soundbars & Soundbases
Samsung HW-Q60R; Sony HT-ZF9; Bluesound Pulse Soundbar
SOUNDBARS REGULARLY SHIP with subwoofers these days, wireless models that require just a mains connection, a bit of carpet space and practically zero setup consideration before being ready to rumble. Yet that doesn't mean one-box systems face extinction, and Harman Kardon's Enchant 800 is a fine example of a 'bar that delivers the cinematic goods from just one enclosure.
Previously [see HCC #296] we looked at the Harman Kardon Enchant 1300, this soundbar's larger, more costly brother. The Enchant 800 shares much of that bar's features and design principles – so much so that I reckon it might actually be better value.
Once again, there's no Dolby Atmos or DTS:X decoding offered here; Harman Kardon instead focusing on a 'flat' soundstage enlivened by its Multibeam Surround Sound system. This equates to a soundbar with both front-facing and side-firing (but angled slightly forward) drivers, allied to DSP and automated room calibration. There are eight drivers in total – six midbass and two HF – leading to the Enchant 800 moniker and an 'eight-channel' designation. The Enchant 1300 offers – surprise – 13 drivers.
There's no eight-channel audio format I can think of, so the terminology is confusing. But what becomes clear using the Enchant 800 is that its driver array is adept at delivering a soundstage with clear effects movement and localisation.
The soundbar is 86cm wide, making it a good physical match for 55in/50in TVs, although there's nothing to stop it being used with a larger screen. It doesn't stand particularly high, which is good, but has more depth. If you opt to wall- mount, it may protrude a good way beyond a skinny TV.
Style-wise, Harman Kardon has hit a home run. The Enchant 800 is gorgeous, mixing slight curves to its chassis with chrome details and a neat cloth grille.
Connect the Enchant 800 to your TV via its HDMI ARC port and CEC protocols will likely let your screen's remote govern volume. For much of the time this is how I ended up using it, but it's necessary to use the Enchant's remote for setup and source selection.
Beyond that ARC-enabled output, connections are limited to a digital optical audio jack, analogue 3.5mm input, USB port (for audio file playback) and an HDMI input. There are less expensive soundbars on the market with additional HDMI connectivity, and I've been sniffy about other premium models going down the single input route, so it's only fair to raise this as a criticism. However, I can appreciate the Enchant 800's streamlined ethos (no subwoofer, achingly smart design) may also extend to keeping connectivity simple. And one input (with 4K HDR support) is certainly better than none.
Wireless features run to built-in Wi-Fi for Google Chromecast audio streaming (including multiroom with other Google devices via the Google Home app, which is also used for software updates), plus Bluetooth.
Once wired in, you're advised to run Harman Kardon's Automatic Multibeam Calibration (AMC) tool – by holding down a button on the remote for a few seconds – but you don't have to. A series of bleepy test tones are emitted as the 'bar measures your room, aiming to adjust its output and deliver a finessed sound performance.
Riding through the glen
With the Enchant 800 laced up to a Samsung Q8D TV and Oppo UDP-203 via HDMI, it passed the HDR10+ encode of Robin Hood (Ultra HD Blu-ray), extracted the Dolby Digital core from the Atmos mix, and reworked it to its driver array. The result was rather enticing.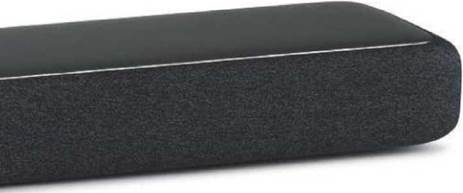 The presented soundstage is rife with detail that links to the onscreen action. Early in the movie we join Robin at the Crusader camp, a location awash with metallic effects and groaning prisoners. Some emanate from wide left or right, others more central, all nicely distinct. Dialogue is strong and raised above the hubbub.
Chapter 8 begins with Robin stealing bags of gold and setting off on horseback through night-time streets, evading chasers, and showering the townsfolk with coins. There's an urgency to the score here that the Enchant 800 conveys well, thanks to solid upper bass/mid-range tones and considerable dynamism; the swell of the soundtrack when he spies a handy steed is genuinely impressive, while less forceful details, such as the trebly tinkle of gold hitting stone paving is nicely defined and not splashy or harsh.
And Robin Hood's fizzy approach to surround sound provides a useful challenge to Harman Kardon's eight- channel implementation. In the above sequence (around
The Enchant 800 sounds theatrical and purposeful, with depth to its soundstage and accuracy in its steering
00.40.42), our hero fires an arrow directly at the camera, its tip growing larger at it comes toward you. The Enchant 800 has enough depth to its soundstage and accuracy in its steering to impart the sense of a 3D effect. Horizontal pans across the soundstage are also well delineated.
The overall experience is something of a halfway house between stereo soundbar and surround. It sounds theatrical, purposeful and fairly largescale, while not offering the precision clarity or (more obviously) the back-of-the-room ambience of multichannel.
Whether the absence of a subwoofer (it can be paired with the optional Enchant Sub) is a deal- breaker depends on how you approach it. The 'bar has a decent low-end reach, tight, punchy delivery of bass effects and good integration. The London shootout/chase sequence in Fast & Furious 6 (4K Blu-ray) is peppered with gun-shot impacts and deliberate LF swells as cars tumble through the air, and the Enchant 800 adds these to the rest of the mix with efficiency. It never gets close to the bass performance of a dedicated woofer (even if you set the level to max), and that's a drawback, but nor is it using the crowdpleasing boom of a sub to mask flaws elsewhere. Taken as part of the overall package, complaining about a lack of genuine depth and slam seems a bit churlish.
As a side-dish to the Enchant 800's enjoyable movie playback, it performs excellently with music, sounding organised and well timed. A Tidal stream of Greta Van Fleet's Highway Tune layers Led Zeppelin-esque guitar riffs on top of rhythmic percussion and wailing vocals, and had my foot tapping. It is a soundbar that appreciates a bit of volume, though, sounding more open and expansive the higher you crank it.
Credit is also due to Harman Kardon when it comes to sound presets. The Movie, Standard, Music and Voice modes all have enough of a different signature to make them useful, without being over-egged (well, Voice does sound overly thinned out, but I suppose that's the point). Music, in particular, seems to tighten the soundstage in pursuit of a more typical stereo presentation, while still utilising all eight drivers.
All-round appeal
The Enchant 800 combines installation simplicity and useful streaming provision with a classy, refined and energetic sound performance that's comfortably ahead of budget 'bars. Well worth investigating

VERDICT
Recommended
HARMAN KARDON ENCHANT 800 Review
An accomplished soundbar that misses out on some features, but gets the best from what it does have. It's smart, easy to use and performs with panache.
Add your review
Best HARMAN KARDON ENCHANT 800 prices ?
See also TOP 10 Soundbars & Soundbases
SPECIFICATIONS
DRIVE UNITS; 6 x 2in midbass units; 2 x 1in side-firing drivers ONBOARD POWER (CLAIMED); 90W CONNECTIONS; 1 x HDMI input; 1 x HDMI ARC output; 1 digital optical audio input; 1 x 3.5mm input; 1 x USB DOLBY ATMOS/DTS;X; No/No SEPARATE SUB; Optional Enchant Subwoofer, with 10in woofer and claimed 200W integrated amp REMOTE CONTROL; Yes DIMENSIONS; 860(w) x 65(h) x 125(d)mm WEIGHT; 4.3kg
FEATURES; Chromecast Built-in; Google Assistant-compatible; Multibeam Surround Sound; Automatic Multibeam Calibration; 4K HDR passthrough over HDMI; Bluetooth; dual-band Wi-Fi; Movie, Music, Voice and Personal presets; wall-mountable; USB file playback supports 192kHz FLAC and WAV
PARTNER WITH
HARMAN KARDON ENCHANT
SUBWOOFER: Adding Harman Kardon's wireless woofer doubles the system price, but introduces a 10in bass driver (with 200W power plant) to the mix, bringing both impact and detail to the low-end.
1. The Enchant 800 is a size match for 50in/55in TVs
2. Connections are recessed on the soundbar's rear