A portable Bluetooth speaker is a handy accessory to take on holiday, down to the park or Into the back garden. Even indoors, it's good to have a little more power than your phone, tablet or laptop's built-in speakers can usually manage.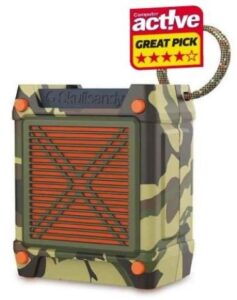 Our favorite model at the moment is the UE Boom 2, which has the advantage of being fully waterproof, but it's quite expensive. At the other end of the scale, there are lots of cheap plastic wireless speakers around, but they can sound tinny and feel flimsy.
A loud, robust and inexpensive speaker, albeit a little garish
The Shrapnel from Skullcandy -a company known for its fashion headphones – is a good compromise. It's affordable but quite well made, with a reassuringly rugged finish. The plain black model will cost you a little more than this camouflage option, and there's also a multicoloured design. The speaker is only splashproof, so it won't survive a dip in the pool, but it's also described as 'drop-proof, and seems sturdy enough to survive minor accidents. Its t small enough to hold comfortably in one hand, which makes chucking it around like a tennis ball rather tempting, but there's a strong fabric safety loop if you prefer to hold on to it. Weighing just 381g, if s lighter than an iPad Air, so it won't have much impact on your luggage allowance.
We're used to seeing small speakers that produce a big sound, and some have more bass than the Shrapnel. But it's undeniably loud, especially if you press both volume buttons at once, which activates a high-volume 'Beast' mode. Sound in the mid-range and treble is dear, and the rechargeable battery lasts about 10 hours. There's also a microphone, so you can take calls from your smartphone through the speaker (useful if your hands are wet), as long as you're reasonably close to it. For non-wireless sources, such as an MP3 player or portable DVD, there's a standard 3.5mm audio Jack input, and a cable for this is helpfully supplied.
SPECIFICATIONS
Monophonic speaker with mlc • Bluetooth (requires computer, phone or tablet supporting Bluetooth A2DP) • 3 5mm analogue stereo input • 115x97x66mm (HxWxD) • 0.38kg. One-year warranty
VERDICT:
The styling may be a bit garish, but this Is a solidly practical little speaker that1 s easy to carry anywhere
7Review earns Amazon affiliate commissions from qualifying purchases. You can support the site directly via Paypal donations ☕. Thank you!
See also TOP 10 Subwoofers
ALTERNATIVE:
Braven BRV-1
This larger IPX7 Bluetooth speaker has been discounted to less than half its original price, making it good value